Internet in Cuba was introduced in the late 1990s and its use did not scale like other markets around the globe. But this digital market has been slowly improving from 2007.due to reduced prices and promotion of internet,40% of Cubans were using the internet as of 2016. And here comes the 3g in Cuba in 2018.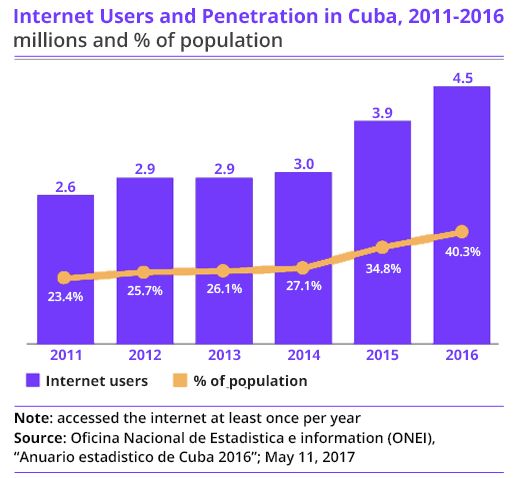 By January 2018, there were public hotspots in 500 public locations giving access in major cities like Havana. But still, internet accessibility is still behind other countries. In mid-December 2016, Google and the Cuban government signed a deal allowing the famous company to provide faster access to its data by installing servers on the island that will store the company's most popular content. Also, There is a huge demand between the well-educated Cuban population. When buying computers were legalized in the year,2008, the private ownership of computers in Cuba soared with a 23% increase from 2007.
China, Cuba's second largest trading partner and the largest importer of Cuban goods, has already promised to provide assistance to Cuba to help its social and economic development. networking development and expertise are top notch and China has past experience building domestic communication infrastructure in developing nations too. As Cuba advances into the 21st century, internet development will play an increasingly important role. Better internet infrastructure in the years to come tells us about the successful ventures that can come forward.
The launch of 3G in Cuba
In an effort to increase the access of the internet, Cuba recently announced that 3G internet would be available for cell phone users from 6th December. 3G in Cuba is the third generation of wireless mobile telecommunications technology. This means that the country will have access to faster internet services than ever. Internet in today's world means a more significant opportunity. Faster internet opens doors for entrepreneurs and investors to benefit from this digitization.
Before the launch of 3g in Cuba
After the fall of Cuba from soviet union, the development in the country has been considerably slower than other Latin countries. But, the future for Cuba is brighter than before. Warm relations with the USA, bigger tourism industry and so many other markets are waiting to boost their economy. The government runs most of the businesses, but this doesn't mean that enterprises can't be a part of the growing economy.
Around 70% of Cubans live in urban area. Urban life means a rapid life which demands immediate services. Here the on-demand economy can step in and do wonders for the businesses who wish to explore the future and also the Cuban economy. With better internet services, digital solutions could be enhanced in modern ways. The Internet opens the possibilities of better connection among people and transforms the traditional market into a modern one. This connection can be used as a part of wiser marketing strategies.
The on-demand economy for the Cuba
On-Demand Economy is that economy that takes all other markets and industries and makes their availability easier, faster and simpler. This economy demands internet to function, hence faster, more accessible internet means better possibilities for this economy to grow in the coming years.
This creates a favorable time for the on-demand economy in Cuba. Better internet accessibility means more internet users. A bigger audience will result in growth for the emerging industry which revolves around immediate demands of the people. Development of On-demand apps would offer services for the active lives of the Cubans in a convenient way. This gives a head start to the investors before the major companies like Amazon, Uber step in this market. Entrepreneurs could start investing right now by building platforms for different verticals of the on-demand sector. This decision could result in on-demand taxi apps, home services apps, laundry apps, grocery apps, delivery apps, logistics apps, retail apps etc.
Faster internet services not only opens doors for better on-demand services for the Cubans but also has the ability to change, enhance other markets of other nations. For example-It has been known that Cuba produces organic agricultural products. These products could be exported, managed and sold wisely with an on-demand app for a country like the USA where the popularity of organic products is booming. Now, A digital solution can be created for the logistics management team and production sales for the given example. This example showcases the power of digital transformation! Opportunities for investing in other Cuban industries are also better because accessible internet certainly means efficient digital solutions which would expect effective results.
With the launch of 3G in Cuba, we could say that Uber-like business models could pop up around bustling cities like Havana. Soon, traveling, shopping, buying any commodity could be possible under one single tap on their mobile phone. The launch of 3G in Cuba is going to enhance the marketing of other industries as well. This digitization can bring employment and tremendous growth for the people of Cuba 2019 will be the year of the on-demand economy for the world and the rise of the on-demand economy for Cuba. Now, the enterprises decide to either embrace this tech development or let other businesses be a part of this digital market.
Who are we?
Appsrhino is a powerful on-demand app development company. We aim at providing highly customized on-demand mobile apps and business apps to help businesses achieve their real potential. Have an innovative idea for the growing economy? Let's talk! We have already teamed up with so many entrepreneurs that we have the expertise to guide you along this digital path.