In today's digital landscape, technology plays a vital role in the success of businesses across various sectors. Web applications have become the cornerstone of modern businesses, enabling efficient operations, enhanced user experiences, and seamless connectivity.
Among the many frameworks available for web development, ASP.NET stands out as a powerful and versatile tool. ASP.NET developers are highly skilled professionals who utilize the ASP.NET framework to build robust, scalable, and secure web applications.
Their expertise and knowledge make them indispensable assets in the modern tech industry. From small startups to large enterprises, businesses increasingly recognize the value of hiring. ASP.NET developers to drive their digital transformation and stay competitive in the market.
In this blog, we will delve into the various advantages of hiring ASP.NET developers in 2023!
Who are ASP.NET Developers?
ASP.NET is a web development platform that offers a programming model, comprehensive software infrastructure, and various services to create robust web applications for PC and mobile devices.
ASP.NET developers are proficient in modern language constructs such as generics, Language Integrated Query (LINQ), and asynchronous programming and can work more efficiently and effectively.
These developers create new applications, provide user support, monitor existing applications, and configure systems.
Furthermore, ASP.NET developers possess exceptional attention to detail, strong problem-solving abilities, a deep understanding of SQL servers and the ASP.NET framework, and superior software development expertise.
Why should you hire ASP.NET Developers in 2023?
When it comes to building a web presence, hiring a dedicated ASP.NET developer is a smart choice due to the wide-ranging benefits of the framework.
However, with the growing demand for these professionals, focusing on one that adds the most value to professional outcomes cost-effectively is essential.
This is where hiring an ASP.NET developer can pay off in several ways:
Mature and Established Framework
ASP.NET is a mature and widely adopted framework developed by Microsoft. It has been around for several years, which means it has a large community of developers and extensive documentation available. This stability and maturity make ASP.NET reliable for building robust and scalable web applications.
Versatility
ASP.NET may be used to create various applications, from straightforward websites to intricate enterprise-level solutions. It provides a flexible development environment and supports multiple programming languages, including C# and Visual Basic. NET. This versatility allows ASP.NET developers to address various business needs and create customized solutions.
Integration with Microsoft Ecosystem
Hiring ASP.NET developers can ensure seamless integration with your existing infrastructure if your organization already uses other Microsoft technologies. ASP.NET works well with other Microsoft tools and frameworks, such as Azure cloud services, SQL Server, and SharePoint. This integration can improve efficiency and productivity within your development and IT teams.
Scalability and Performance
ASP.NET is designed to handle high-traffic and demanding applications. It offers features like caching, session management, and load balancing, which help improve performance and scalability. ASP.NET developers are experienced in optimizing application performance, ensuring that your web applications can handle increased user loads as your business grows.
Hire Dedicated Developers for various technologies such as Android, Angular, React, IOS, PHP, Node, Joget, MongoDB, and Java with AppsRhino: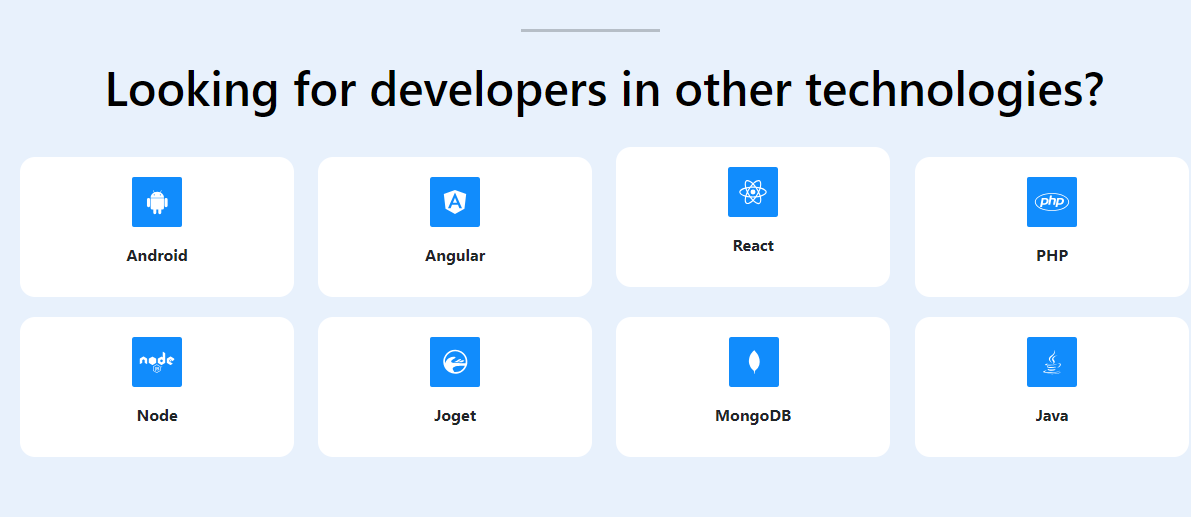 Security
Security is a critical concern for any web application. ASP.NET provides built-in security features like authentication, authorization, and data encryption. ASP.NET developers are well-versed in implementing best practices and can ensure your applications are protected against common security threats.
Cross-Platform Development
With the introduction of .NET Core, ASP.NET has expanded its reach beyond Windows and can now be used for cross-platform development.
Thus, ASP.NET programmers are able to create applications that work on Windows, Linux, and macOS. They can now aim for a wider range of platforms and devices as a result of this.
Abundant Talent Pool
ASP.NET has been popular for many years, resulting in a large pool of experienced developers available for hire. Finding skilled ASP.NET developers should be relatively easier compared to newer or niche frameworks. This accessibility to talent makes it more convenient to build and maintain your ASP.NET-based projects.
Overall, hiring ASP.NET developers in 2023 offers a proven, versatile, and secure platform for building web applications. It provides access to a mature ecosystem, abundant resources, and a talented developer community, ensuring the success of your projects and enabling your organization to stay competitive in the evolving digital landscape.
ASP.NET Developers: What does the future hold?
The future of the ASP.NET framework is filled with potential and excitement.
At Microsoft's Build 2019 event, the company revealed plans to release the next-generation version of the framework—ASP.NET 5—which will include a variety of new libraries and tools to make the development process more efficient.
For example, developers will no longer need to learn JavaScript for single-page application frameworks.
This is due to the introduction of Blazor, and the need to learn Python for machine learning applications will also be eliminated thanks to the new ML.NET.
Whether you are a budding developer or a recruiter seeking to hire ASP.NET developers, these advancements in the framework will make it an increasingly attractive choice for companies.
As a result, ASP.NET developers are expected to have a bright future!
Conclusion
In the past, Microsoft faced criticism for utilizing aggressive business strategies and maintaining a closed ecosystem, all with the aim of preserving its dominance in the desktop operating system market.
However, the company has since adopted a different approach, with a focus on open-source and cross-platform technology.
Now that it has gained widespread acceptance and respect in the IT sector, ASP.NET is regarded as one of the greatest platforms for building desktop and web apps.
Despite its current success, it is still unknown what other advancements and developments are yet to come from the platform.
If you are searching for a skilled ASP.NET developer or team of developers, look no further than AppsRhino!
At AppsRhino, we take great care to ensure that your project has the highest quality resources.
Our developers possess a wealth of experience and utilize top-of-the-line tools and techniques to help expand your business.
The combination of skillful talent, smooth communication, and precise implementation allows our clients to feel at ease and experience an upward trajectory in their business.
You can hire our team of top-notch programmers and developers on a project-by-project or hourly basis—to help your company reach its full potential.
So, what are you waiting for?
Begin your partnership with us today!