Introduction
Video on-demand app (VoD) has transformed how we consume video content. Binge-watching allows users to watch their favorite movies, TV shows, and videos whenever and wherever they choose.
Streaming apps like Hulu and Netflix, like GrubHub and Uber, have become an essential part of our life. Furthermore, the increased use of Smartphones and Smart TVs has increased the number of subscriptions to VOD services worldwide.
For nearly a century, the broadcast sector has stayed mostly unchanged. Television sets the standard, with viewers tuning in at specific times to see specific shows, movies, or competitions. However, the landscape has evolved dramatically since the introduction and the growth of the internet of things (IoT).
Streaming is quickly becoming the dominant medium. The number of consumers viewing video on demand (VoD) content on smartphones increased from 23% in 2019 to 30% in 2020, with no signs of decreasing. Revenue in the sports industry alone is predicted to reach $85 billion by 2024.
Summary
A video-on-demand app is a piece of media application software that allows users to select and stream any video file listed in any intelligent device view system.
Video on demand (VOD) is a trend here to stay.
Experts expect that as more families switch from cable to online streaming services, the business will increase by billions of dollars.
So, there must be something special about Video On-demand apps. The blog takes you through a detailed analysis of the following:
What exactly is a VOD app?
Why and how is VOD on the rise?
Platforms for on-demand viewing and exclusive content
The benefits are:
Convenient
Variety of content
Works on all devices
Binge-watching
User-friendly
Video On-demand development benefits:
Multilingual
Search
Profile
Social features
Watch List
Screen Mirror
Social media integration
What Exactly Is A Video On-Demand App?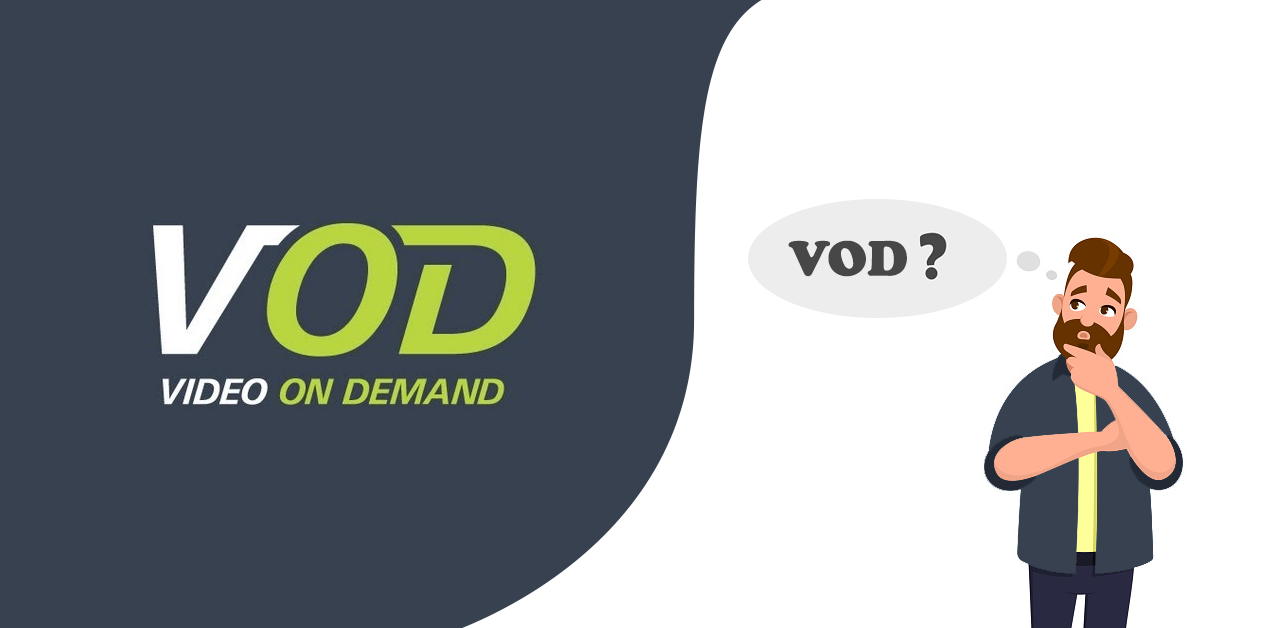 A video-on-demand app is a piece of media application software that allows users to select and stream any video file listed in any intelligent device view system. They can watch it live or download it for later viewing.
Its anytime flexibility, affordability, and variety, combined with the freedom to watch films of choice, make it appealing to the general public. Naturally, the demand for such programs has skyrocketed.
VoD is on the rise
VoD began with movies. Streaming platforms such as Netflix and VoD services linked to cable subscription accounts were quickly adopted by consumers. However, video streaming material has moved promptly beyond mere movies. Customers are now searching for television shows, sports broadcasts, and other information. This trend was already rising, but the COVID-19 epidemic accelerated it.
According to a Rapid TV news forecast for 2020, global subscription video on demand (SVoD) users will increase by 5% to 949 million due to pandemic lockdowns. Individuals who adjusted to spending more time at home, streaming, and over-the-top (OTT) platforms reacted to the increased at-home media consumption.
In addition to growing demand, there has been a significant increase in high-quality productions worldwide, partly attributable to more widely available technology. Many of these new creations, ranging from movies to television series to documentaries to new sports leagues, are aimed solely at and driven by OTT platforms.
Platforms for on-demand viewing and exclusive content
Significant stakeholders have not unnoticed this tendency in broadcast and content creation. Every major broadcast or cable network (e.g., CBS, ABC, NBC, HBO, ESPN) now has its own OTT platform, as do significant studios such as Disney (Disney+) and Paramount (Paramount+). In addition to streaming-only services like Netflix, Hulu, and Amazon Prime.
Each of these players is releasing its exclusive material. Netflix alone published over 370 original content titles in 2019 and has proceeded to accelerate its pace since then. In the same year, Amazon Prime debuted approximately 300 hours of original content. While Disney+ has released the great bulk of its library, ESPN+ (also owned by Disney) has provided a cornucopia of live and on-demand sports content. At the same time, notable brands such as the Star Trek franchise are available — with bonuses – via CBS All Access. These moves represent a significant shift where the best content can be found – and demonstrate how essential VoD has become.
Benefits of Video-on-demand app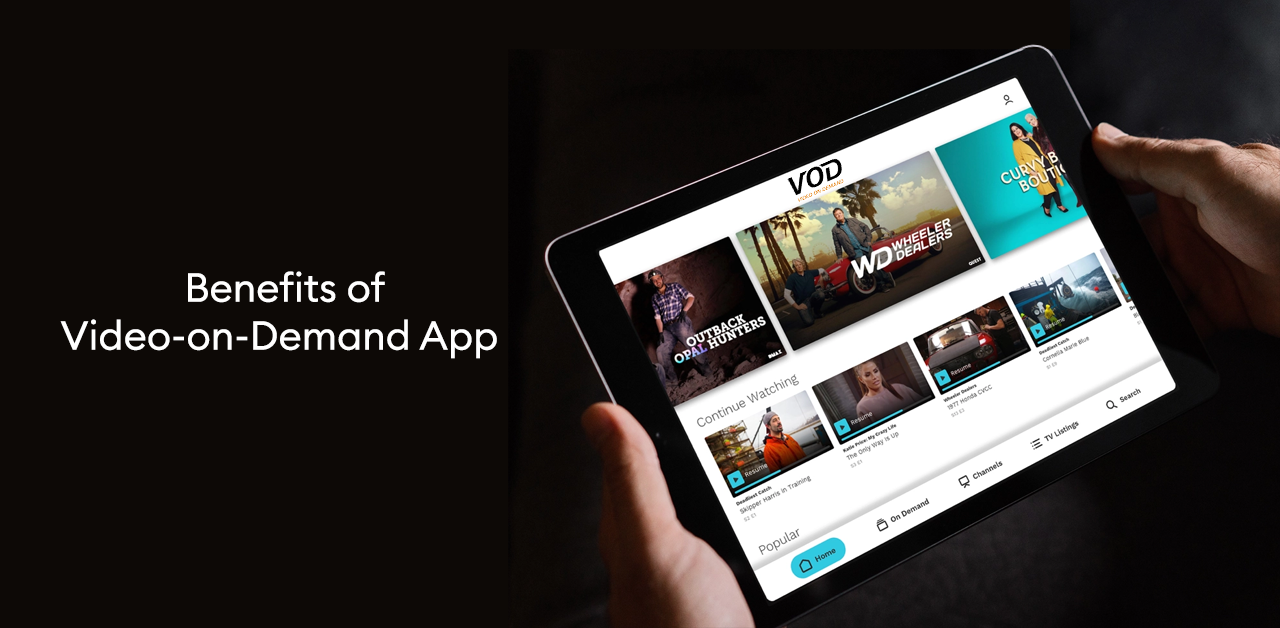 The top six reasons people choose video streaming applications over traditional TV content are as follows.
Everywhere, at any moment, at Convenience
The ability to broadcast and watch videos without regard to location or time constraints without interfering with one's daily schedule is a significant advantage of any VoD program.
A Broad Range of Content
Video streaming applications provide a diverse selection of videos that cater to the tastes and preferences of each family member. Every genre is segmented for quick and easy access, from movies and web series to health and sports.
There is no reliance on any device
Unlike cable television, VOD applications can broadcast information to various devices. Users can watch videos without interruption on any device, including a laptop, smart TV, iPad, or smartphone.
Viewing Experience Without Ads
A significant disadvantage of watching television is the constant influx of random advertisements between sports broadcasts, movies, and shows. However, viewers may binge-watch programs without interruption with on-demand video streaming sites.
User-friendly in terms of cost
People want plans that are both affordable and entertaining. Material owners can create platforms that provide limitless access to a wide range of video content on any device with cost-effective solutions.
Passive Income Stream VoD apps make revenue from content creators and distributors that utilize the platform to publish and promote their videos. Aside from that, the monthly fees give monthly passive income.
Video On-Demand App Development Benefits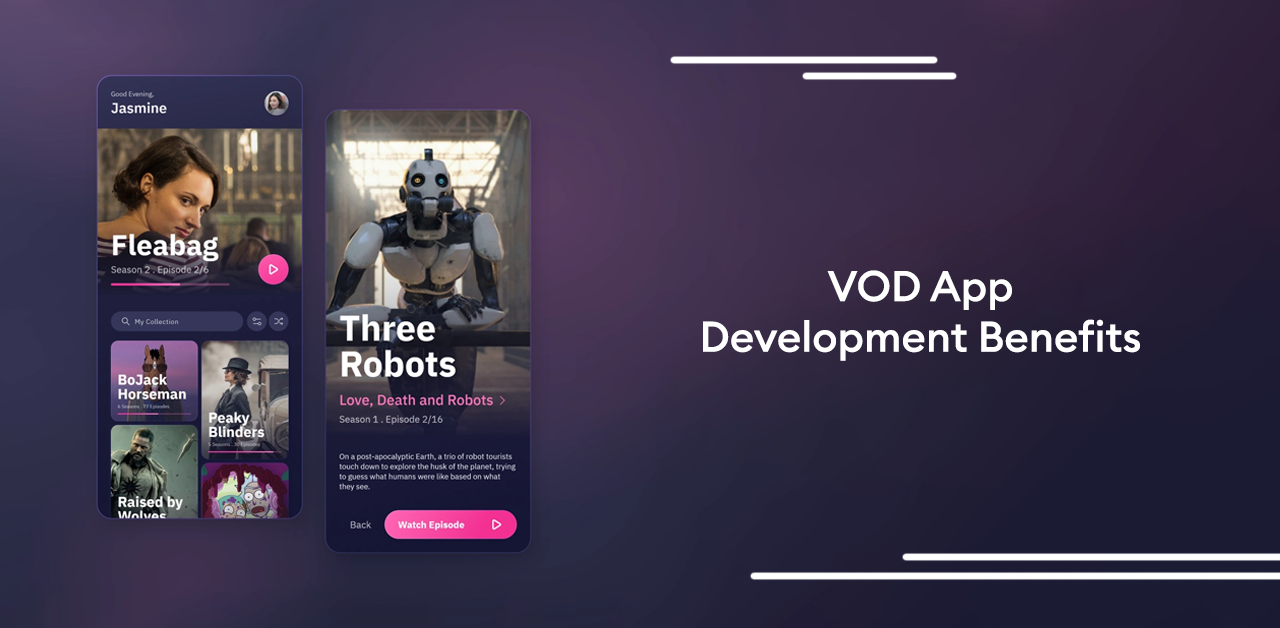 Include Social Features
People would instead get recommendations than attempt something new. The majority of individuals watch the series and films popular on social media.
Using social media will help your platform expand, just as it has helped many other apps develop.
Search
A VOD app must have a search function. Ensure that this functionality is visible to people of all ages. Your skill resides in the percentage of celebrity alternatives and filters you include in the menu because the more opportunities, the more excellent the user traction.
Profile
Your platform must provide a user profile where users may manage their information, such as the payment option they choose, suggested information that they should look at, and advanced topics based on their past.
Content in Multiple Languages
You want to bring in many people to broaden the demographic boundary and expand your firm beyond its limits.
The analytics should be improved by taking into account the users' languages. Please confirm that the software supports several languages, as having only one language would not have gotten the app to the top.
Watching list
The Watch list capability should be included in the platform without fail.
This section allows users to add items they might like/want to observe later. It is because the bulk of VOD apps is well-known for this feature.
Mirroring of the screen
It is the most superficial portion, but it may be more advantageous for users, as they can access the app from any display, such as a TV, Desktop, and so on, rather than just mobile apps.
These functionalities are frequently achieved by creating apps available on mobile phones and televisions.
Include Social Media
Allow your users to share their thoughts or feedback via social media networks with their group/network. It's an essential component of the whole VOD experience.
Conclusion
Instead of watching it at the exact broadcast time, a video on demand (VOD) system allows users to select and watch video material such as movies and TV shows.
The growing number of VOD mobile app users demonstrates that video streaming mobile apps are the future of the entertainment business. VoD is not only expanding; it has also become the de facto method of consuming material, whether it is TV, movies, standup comedy, documentaries, or sports. OTT platforms, in particular, provide the kind of simplified cost-to-revenue model that businesses need, and nearly anyone with the right platform can launch an OTT service.
AppsRhino is a mobile app development company that powers on-demand mobile apps and business apps for entrepreneurs and enterprises.