Introduction
A company or organization grows with time, and that happens when you recruit new members to your organization. The sole aim of recruitment is to hire someone talented, ethical, and a good fit for your company. In the olden days, a company would issue such opportunities in newspapers, and a candidate would send in their resumes. But today, companies use recruitment apps for hiring people with capabilities. Recruitment apps help you segregate a set of notifications from others, thus saving you from going through unnecessary information. They also let recruiters and candidates communicate in real-time and access information anytime.
A good recruitment experience is what a job seeker looks for, as 63% of job seekers are likely to reject a job offer because of an unpleasant candidate experience (Software Advice). This number is alone a convincing reason for businesses to develop recruitment apps for themselves. Though everyone can make recruitment apps, only a few know how to do it well.
Summary
Numerous recruitment apps like LinkedIn Recruiter, Interview Assistant, SmartRecruiters, Workable, etc., exist that help employers get in touch with talents who can bring success to their organization, but a personalized app makes things better. The reason is that you get to plan everything that your app would have and what extra features it should have. 68% of recruiting professionals believe that they can improve recruiting performance over the next five years by investing in new recruiting technology and recruitment apps; these apps reduce human errors, enhance engagement and lead to instant feedback. At present, 75% of recruiters and talent managers use recruiting or applicant tracking software in some form (Capterra).
Stick around if you want to know how to build a recruitment app.
Key takeaway points:
What exactly are recruitment apps?
Is it worth it to develop recruitment apps?
Features to add to your recruitment apps
How to build a recruitment app in 2022?
What exactly are recruitment apps?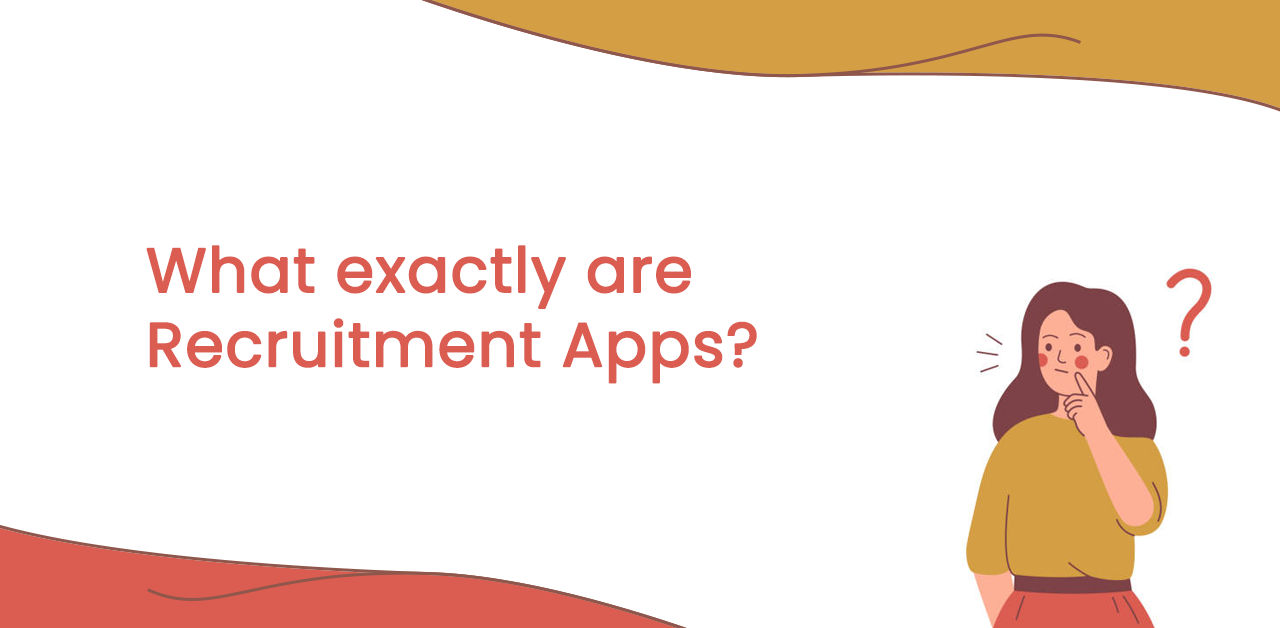 Recruitment apps utilize recruiting software on mobile devices to perform all the steps in the recruitment process. Such software helps recruiters to create job openings, review candidates and their applications, message candidates immediately, and offer team collaboration tools.
Is it worth it to develop recruitment apps?
Recruitment apps let candidates apply for the desired job vacancy easily and quickly. It is made possible by integrating ATS with your company website. Moreover, candidates can easily read about your company through recruitment apps.

Recruitment apps are a great way to store truckloads of data organized and allow hiring managers to search the database for worthy candidates.

Custom recruitment apps are flexible and scalable and can adjust to answer your recruitment management needs. The customized app grows as your company does.

The apps improve information transmission amongst human resources managers and candidates.

Recruitment apps make it easier to post job openings, and you can message potential candidates quickly.

Candidates can easily give their feedback and engage in interactions without any delay.

Recruitment apps attract young talent who will constitute over 25% of the workforce in the next ten years. The mobile-first generation is familiar with the technology and can easily use it.

Being data-driven is among the chief benefits of excellent recruitment apps. These insights let you understand your target audience well and allow you to know how to share the right messages.

Recruitment apps remind recruiters of critical assignments, meetings, or events by sending them notifications. These apps let them choose what push notifications they get, determine what is more important to them, and how recruitment apps can assist them efficiently.

Recruitment apps allow you to make job descriptions more engaging by adding videos, tags, and images. Doing so increases the chances of potential candidates applying for the job.

Recruitment apps provide HR professionals with resume parsers. Thanks to Artificial Intelligence, HR managers can now assess candidate job applications and find those whose skills match the requirements.
Features to add to your recruitment apps?
Though you can add several features to recruitment apps, there are a few essential features that you can not do away with during recruitment apps development. We list them below:
Candidate Panel
Signup/login:

Recruitment apps should have a signup/login page for registering as an app user through a mobile number, email address, or social media account.

Edit Profile:

Recruitment apps require an edit profile page to add important information like top skills, work experience, past workplaces, referrals, etc.

Upload Resume:

You should include it to upload and update the latest resume.

Job Filters

: Users find it easy to filter jobs and view open positions matching their skill-set and experience.

Job Notifications

: This feature lets users get alerts when recruiters post jobs matching their preferences or when a recruiter wants to connect with them.

Saved Jobs

: The feature helps save jobs candidates are interested in applying for later.
Recruiter Panel
Register

: This page in the recruiter panel is the same as the candidate panel.

Job Post

: The Job Post page allows the recruiter to upload available job vacancies. They can also mention the required expertise and experience included.

Job Invitation

: This feature allows recruiters to invite the best talent to apply for a job post and schedule interviews.

Resume Filter

: This feature of recruitment apps lets HR professionals filter the top talent having the most relevant skill sets.

Resume Download

: Recruiters can download shortlisted resumes via this page.
Admin Panel
User Management Dashboard

: This page of recruitment apps manages employers, candidates, and all app users' related data.

User Profile

: User profile verifies candidate profiles and recruiting company's authenticity. It excludes fake job listings and users.

Real-time Analytics

: This recruitment app feature collects insights on job searching practices, the number of candidates offered jobs through the app, linked recruiters, etc.

Job Ad Management

: It manages all job-related ads running on the app and third-party platforms.
How to build a recruitment app in 2022?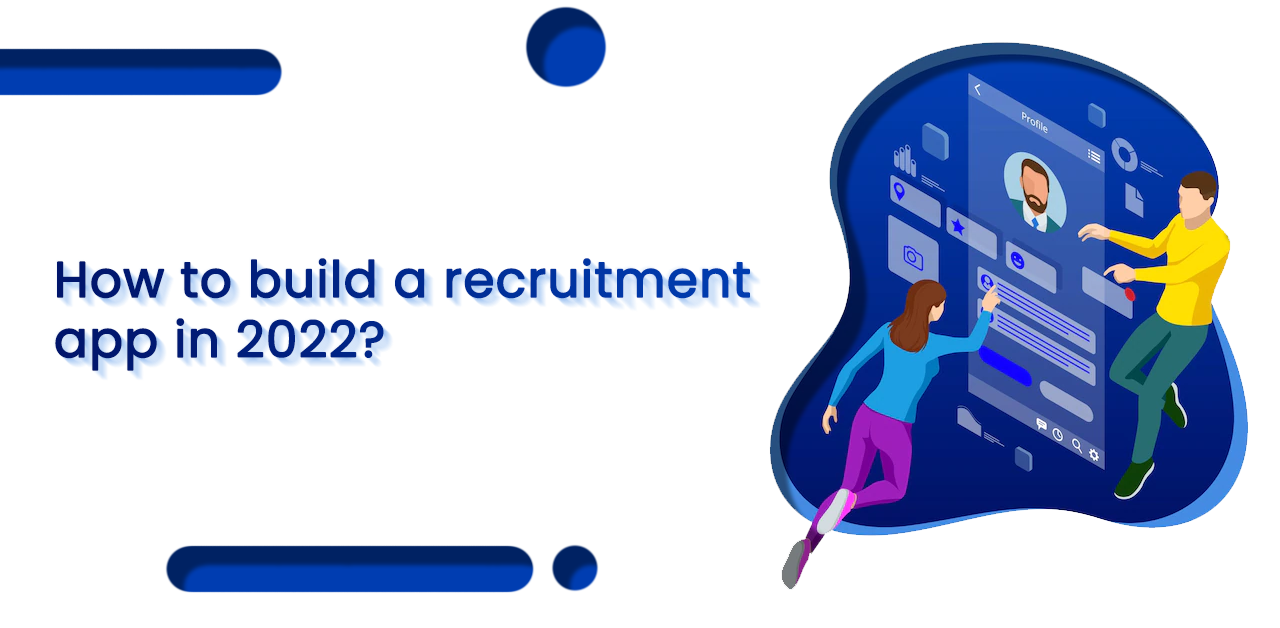 Now is the time to answer an essential question, How to build a recruitment app? Recruitment apps development makes sure that the following steps are included in the process. We list the processing of building recruitment apps below:
The recruitment apps development process usually consists of the following stages:
Project Planning and Requirement Gathering
Before building recruitment apps, one should outline the required project software specifications. It includes details on app design, feature development, and maintenance.
Build Software Development Team
You should include the following people in your team to make a market-competitive product:
A UI/UX designer,

Mobile app developers;

Mobile app testers;

A project manager.
Set up Application Development Infrastructure
Every application has two components:
front-end application

backend services supporting the front-end
You require a scalable infrastructure for your mobile recruitment apps with no downtime, quick loading speed, top-notch security, etc. Cloud-based solutions are the best choice; mobile backend as a service providers handle the backend processes such as API integrations, data storage, server configuration, etc.
Select App Development Methodology
A software development methodology aids in planning out the design, development, and test phases of application development. Usually, project managers go for the Agile methodology for developing mobile applications. The agile method backs the iterative development of mobile applications, and developers prefer it since it helps them deliver a working product to consumers at the end of each development iteration for their approval.
Design App User Interface and Front-end
Your recruitment apps should have an interactive app user interface. You should carry out the process while keeping in mind users' needs, preferences, and how to best maintain their engagement.
A top-notch UX/UI, if your customer is satisfied, builds your brand identity and brings instant ROI.
Develop a Minimum Viable Product
Developers need to start by building core features of recruitment apps, and this is your minimum viable product or MVP. Consider the following technical expertise before developing a first-rate mobile app.
WEB APPLICATION DEVELOPMENT
Frameworks

Programming Languages
MOBILE APPLICATION DEVELOPMENT
Native Android

Native iOS

Hybrid
It would help if you also took care of data management, cloud services, and the latest technologies while developing recruitment apps.
Test Your Recruitment App
Your developers should develop bug-free recruitment apps. They can do so by critically performing code reviews to ensure that an app meets its functional and non-functional requirements. You should ensure that your developers are skilled in performing unit testing of code modules. Testers who are good at using Espresso ( android apps), XCTest (iOS apps), and Appium (react-native apps) should perform product testing.
Release your app on the App store
After a comprehensive QA of your recruitment apps, you can deploy them in the user market. Once your app gets released, your focus shifts to how well your app performs on the app store and what feedback it gets.
Gather user ratings, reviews, and suggestions. Tools like Qualaroo and UserReport are of great help for this purpose as they help create instant popup surveys and represent data as intuitive graphs
Improve your MVP
It is time to improve your MVP according to client feedback, and for it, you have already gathered all the data for this purpose. Professionals can perform data analysis through tools like Tableau to gain crucial insights into customer satisfaction. Always try to improve and enhance your app features, run test cases, and release app updates for users to install and use.
Conclusion
Online recruiting will be an important trend to monitor in 2022. With more people and organizations using the internet, there is a significant likelihood that millions of people will look for work online. As a result, it makes sense to employ the correct technologies to assist you in recruiting bright people via the internet.
Did the recruitment apps development go over your head? Do not worry if it did. The best thing about modern times is that you can always get in touch with the required people anytime. Since building customized recruitment apps is a daunting task, you can always reach out to AppsRhino!
AppsRhino has catered to multiple clients globally so far and can deliver your app within no time.