According to Digital Journal Report, At 34% CAGR, Online On-Demand Laundry Service Market is Projected to Reach USD 96 billion by 2024.
The on-demand industry has been creating magical, revolutionary ripples worldwide, and there is no denying the fact.
To the masses, it is offering tons and tons of convenience. And to the businesses, it is showing more and more ideas and opportunities to expand and win.
Laundry is one area where the on-demand model has worked exceptionally well for people since it takes away their cumbersome task of washing dirty clothes.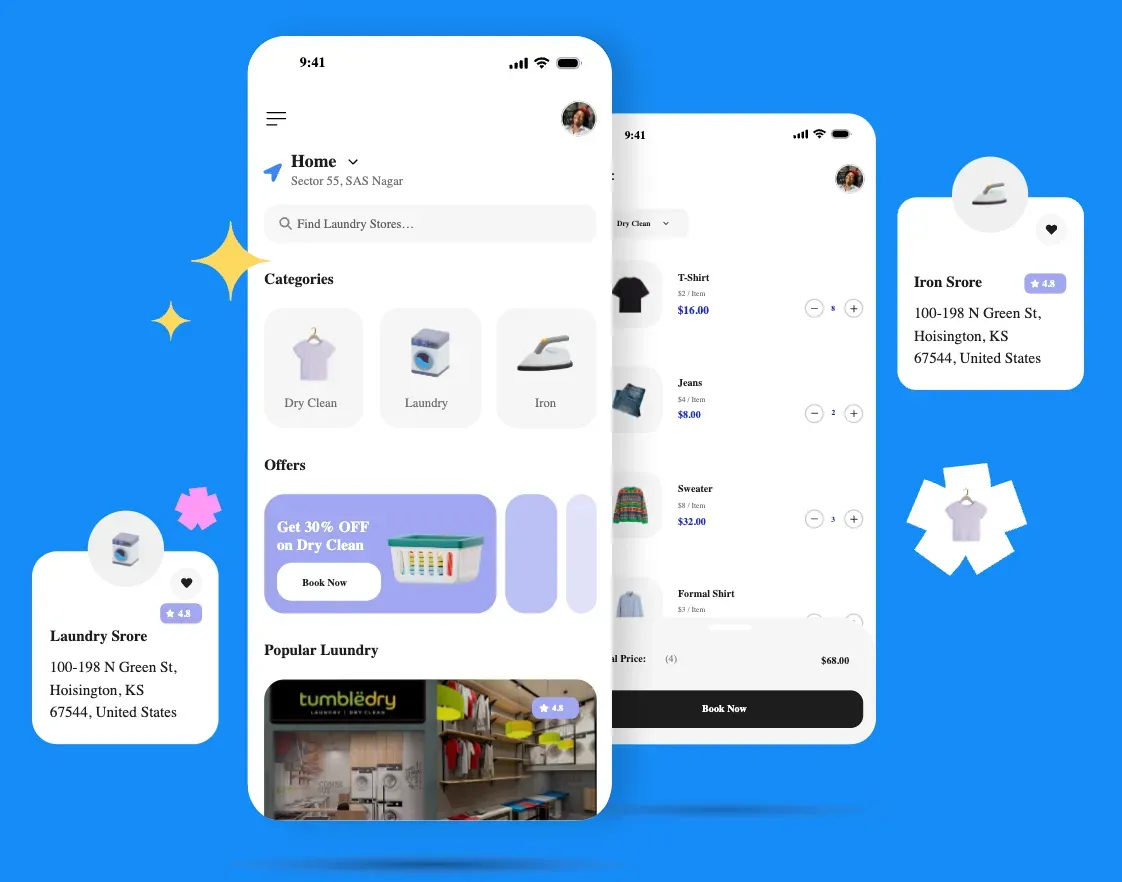 Well, doing your laundry can be a headache at times! So, as the consumer was looking for a solution, the on-demand model emerged to hit the nail right!
An on-demand laundry app allows users to pick up their dirty clothes at a specified time and get them washed and cleaned clothes delivered to their doorstep, again at the desired time. It takes away another hassle of the consumer dropping and picking up clothes at the laundry store.
Witnessing these rising consumer interest levels and considering the massive potential for growth, many traditional laundry set-ups have reinvented their business models to move the on-demand way, and many newcomers have taken a deep dive into technology to join the bandwagon.
It is essential to establish a business model that clearly defines your goals and objectives in both cases.
How to start a laundry pickup & delivery service business
Follow these steps to start a laundry delivery service: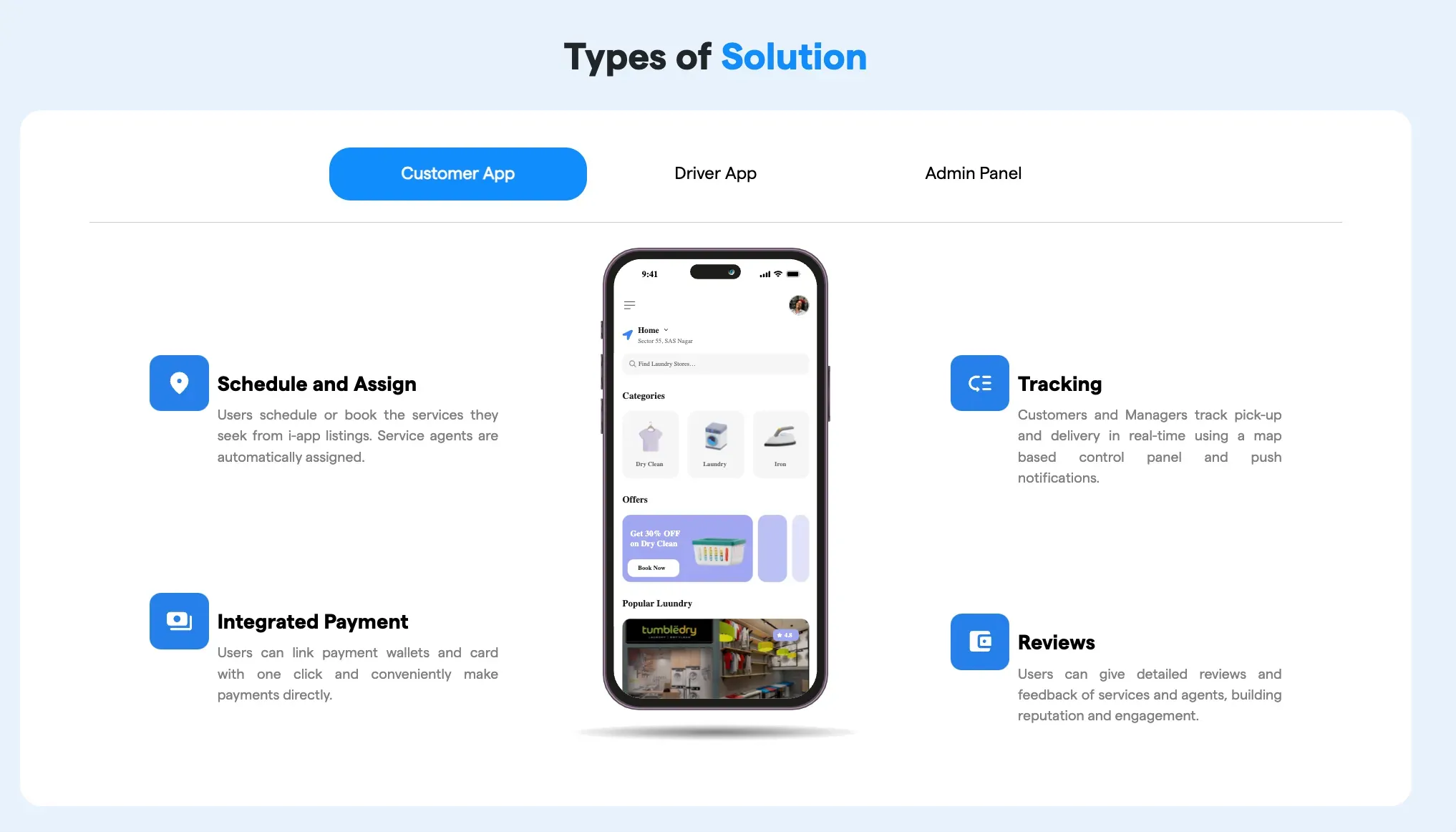 Make a plan for your laundry delivery service
A well-thought-out plan is essential for achieving success as an entrepreneur. It will assist you in mapping out the specifics of your business and uncovering some unknowns.
Here are a few important topics to think about:
What are the initial and ongoing expenses?
Who is your intended audience?
How much money can you charge your customers?
What will you call your company?
Create a legal entity for your laundry delivery service
Sole proprietorships, partnerships, limited liability companies (LLCs), and corporations are the most common business structures. Creating a legal business entity, such as an LLC or corporation, is advantageous. Businesses must register taxes for their laundry delivery service.
Before opening for business, you must register for several state and federal taxes. To register for taxes, you must first obtain an EIN. It's straightforward and completely free!
Create a Business Bank Account and a Credit Card
Personal asset protection requires the use of dedicated business banking and credit accounts. When you mix your personal and business accounts, your assets (your home, car, and other valuables) are at risk if your company is issued. It is referred to as piercing your corporate veil in business law.
Furthermore, learning how to build business credit can help you obtain credit cards and other financing in your company's name (rather than your own), better interest rates, higher lines of credit, and other benefits.
Create an accounting system for your laundry delivery service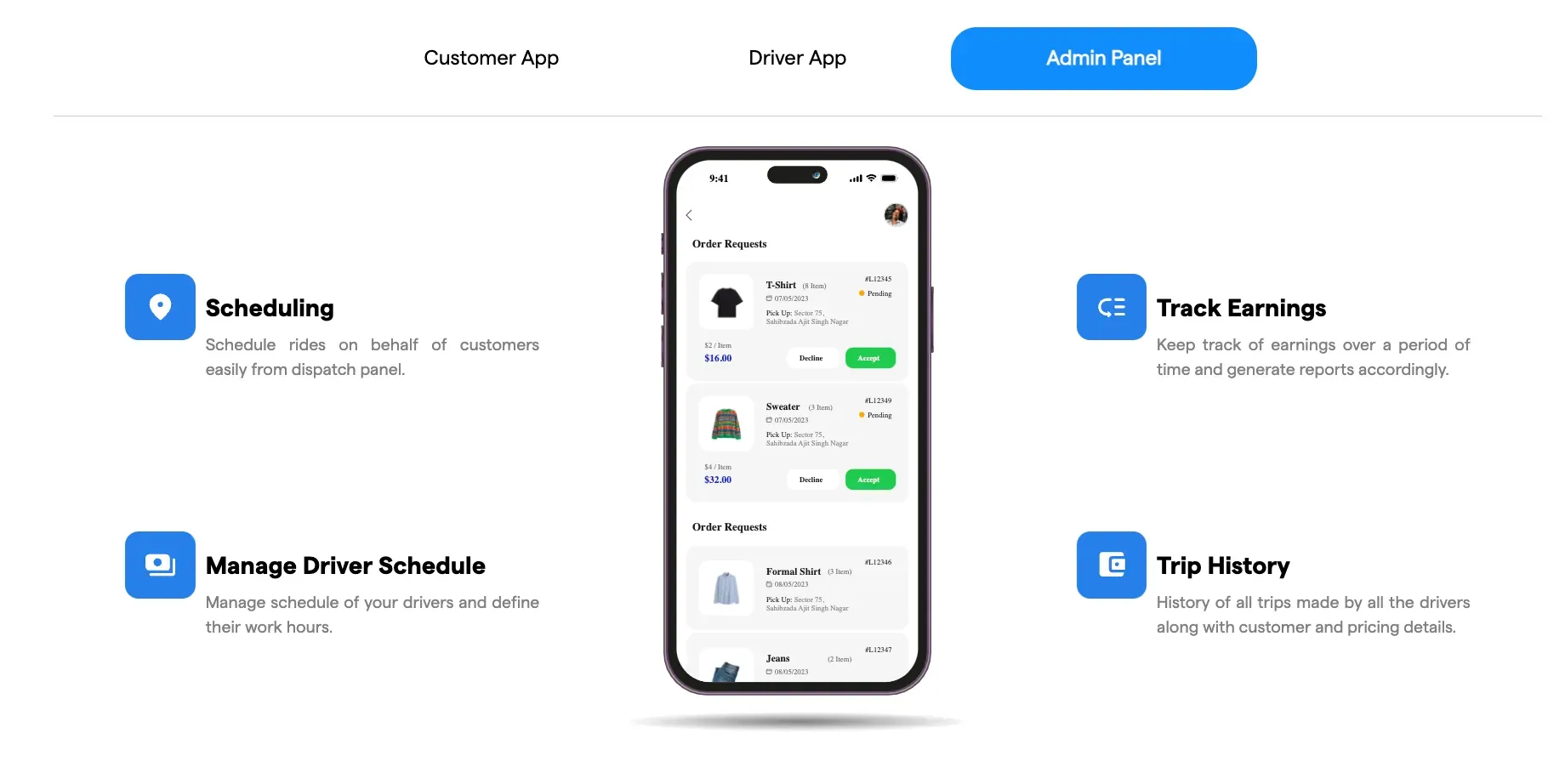 Recording your various expenses and sources of income is critical to understanding your company's financial performance. Keeping accurate and detailed accounts also makes annual tax filing much more accessible.
Obtain the Required Permits and Licenses for Your Laundry Delivery Service
Failure to obtain necessary permits and licenses can result in hefty fines or even the closure of your business. Specific states may require permits and charges to run a laundry delivery service.
A laundry business is typically run from a large building or a residence. A Certificate of Occupancy is generally required for companies that operate from a physical location (CO). A CO attests that all building codes, zoning laws, and government regulations have been followed.
Purchase Laundry Delivery Service Insurance
Insurance, like licenses and permits, is required for your business to operate safely and legally.
In a covered loss, business insurance protects your company's financial well-being. Various insurance policies are designed for multiple types of businesses with varying risks.
If you're not sure what kinds of risks your company might face, start with General Liability Insurance. Small companies require this most common type of coverage, so it's an excellent place to begin for yours.
Workers' Compensation Insurance is another vital insurance policy that many businesses require. If your company has employees, your state will likely require you to carry Workers' Compensation insurance.
Create a brand for your laundry delivery service
Your company's brand is what it stands for, as well as how the general public perceives it. A strong brand will help your company stand out from the competition.
You should advertise your company both online and offline. Online work entails developing a user-friendly website that explains how you work, who you are, and how people benefit from your services.
Use highly searched words like 'laundry services' in your copy, and keep a blog to keep your content updated regularly. Distribute your business card and flyers to all local businesses to promote yourself offline.
Call every company you believe might require your services and make a brief introduction.
Create a website for your laundry delivery service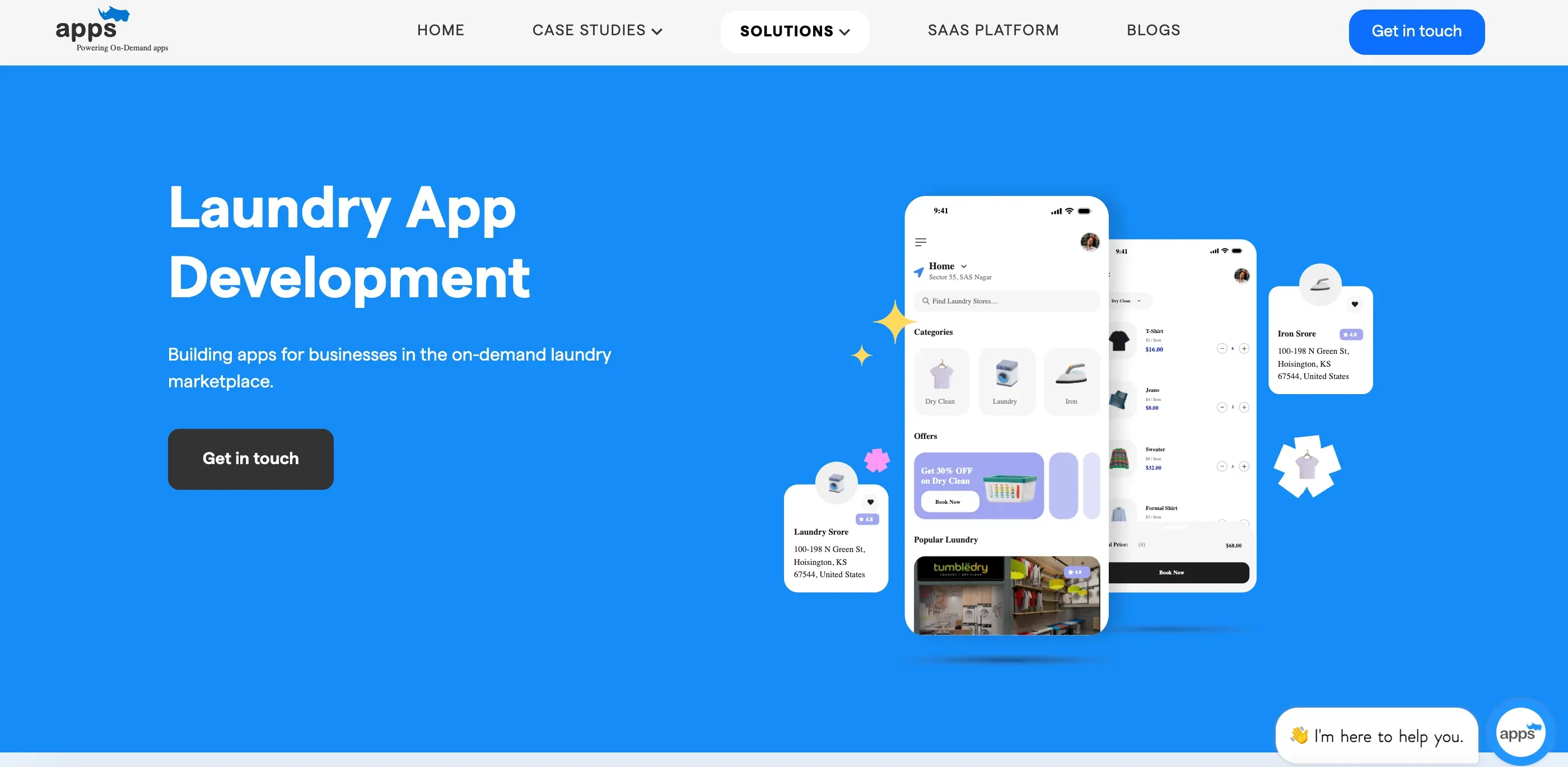 After you've defined your brand and designed your logo, the next step is to build a website for your company.
While creating a website is an important step, some may be concerned that it is out of their reach due to a lack of website-building experience.
While this was a reasonable concern in 2015, web technology has made significant advances in recent years, making the lives of small business owners much more accessible.
Configure your Business Phone System
Getting a phone for your business is one of the best ways to keep your personal and professional lives separate and private.
That isn't the only advantage; it also helps you automate your business, gives it legitimacy, and makes it easier for potential customers to find and contact you.
Entrepreneurs who want to set up a business phone system can choose from various services. We reviewed and rated the top companies based on price, features, and ease of use.
Key Features of an On-Demand Mobile App for Laundry Business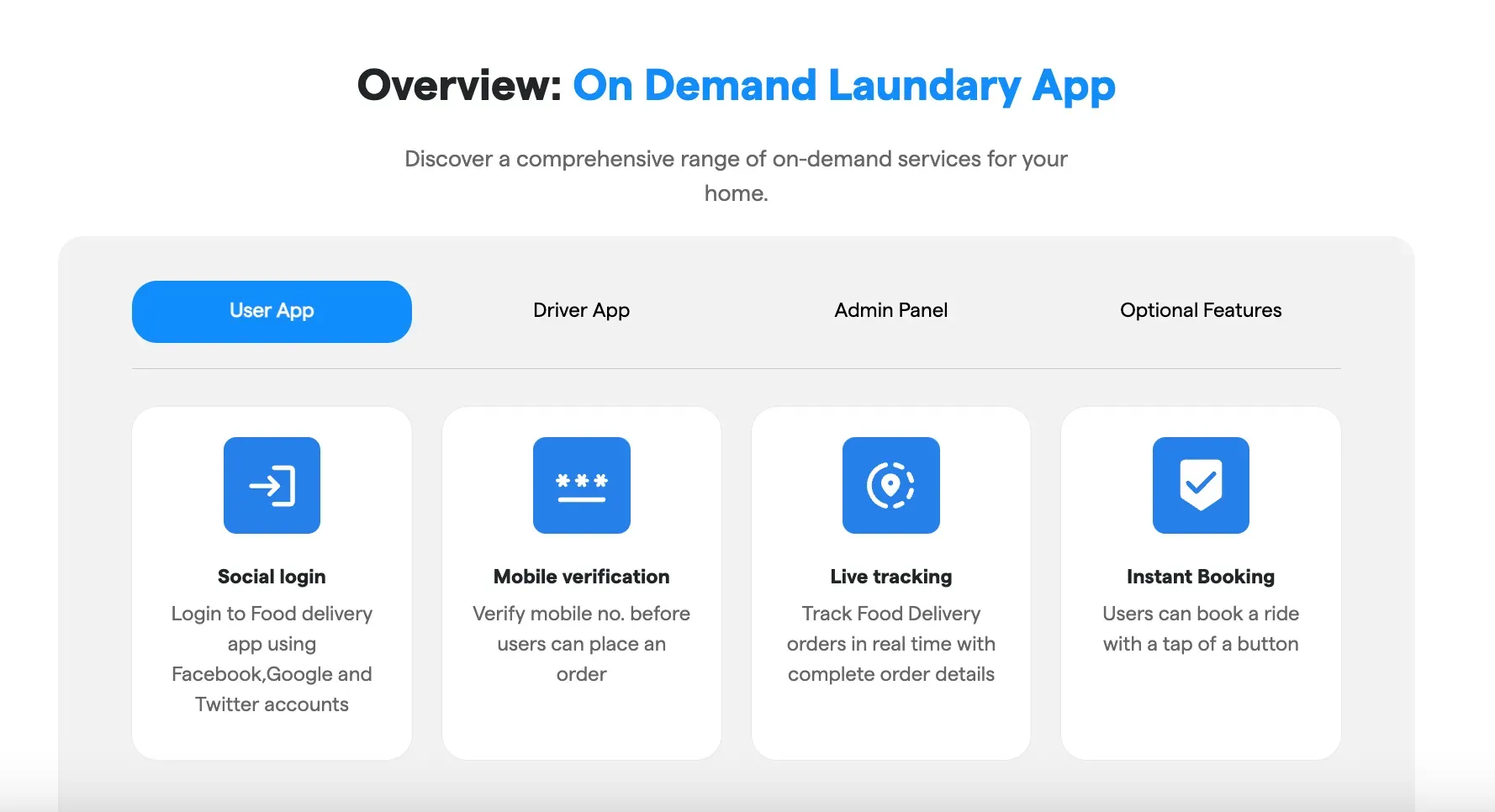 Easy and Convenient App for a start
The 'term convenience' has become very special over the period and needs to be the primary offering of each business.
An on-demand dry cleaning/laundry app needs to be user-friendly and convenient. Please don't make the user juggle with too many features or too much information, which could drive him away.
Instead, the interface should be kept very simple to make his way through the app easily.
Schedule pickup and drop off
Understand that pickup and drop-off of laundry should work around the schedule of your customers, even if that means a lot of effort on your part.
Allow the user to schedule the pickup and delivery date and time according to his convenience, and plan your services accordingly.
Moreover, in the end, make sure that you follow the timings mentioned by the customer and don't make them wait, something that could drive them furious.
Notifications
Send prompt notifications on the user's phone when their clothes are ready. With such statements, the customers feel updated and do not panic.
And this would also help you avoid the massive rush of phone calls or queries through apps to check the garment status.
The order status
The app should have a feature that allows users to virtually track the status of their order whenever they want to. The customer should find out whether their garments are in processing or are out for delivery.
By knowing the exact status, they are assured that their garments are safe, further strengthening their confidence in your services.
Moreover, the app should also consist of an option where the user could review the entire history of his orders if he wants to note any previous service.
Add some unique features
Try to be creative and make your app more interesting by adding unique features that could earn you an extra point.
For example, you could add a feature where the user could specify whether any particular cleaning method needs to be adopted for a specific garment or where the customer could highlight certain stains by sharing pictures.
Exciting offers and discounts
Discounts and offers always work well with all kinds of businesses. Make sure that you introduce these from time to time and highlight the same in the app so that the customer can instantly avail of the benefit.
It works exceptionally well if you have recently launched your on-demand laundry service.
For example, 25% off on the services at the launch time could help you catch hold of more customers and ensure a great start. Over time, once the users' trust is earned, the business will grow.
AppsRhino offers the best Tech-driven solutions for Home services, Laundry delivery, Alcohol delivery, Grocery Delivery, On-demand Cannabis, and Taxi Services: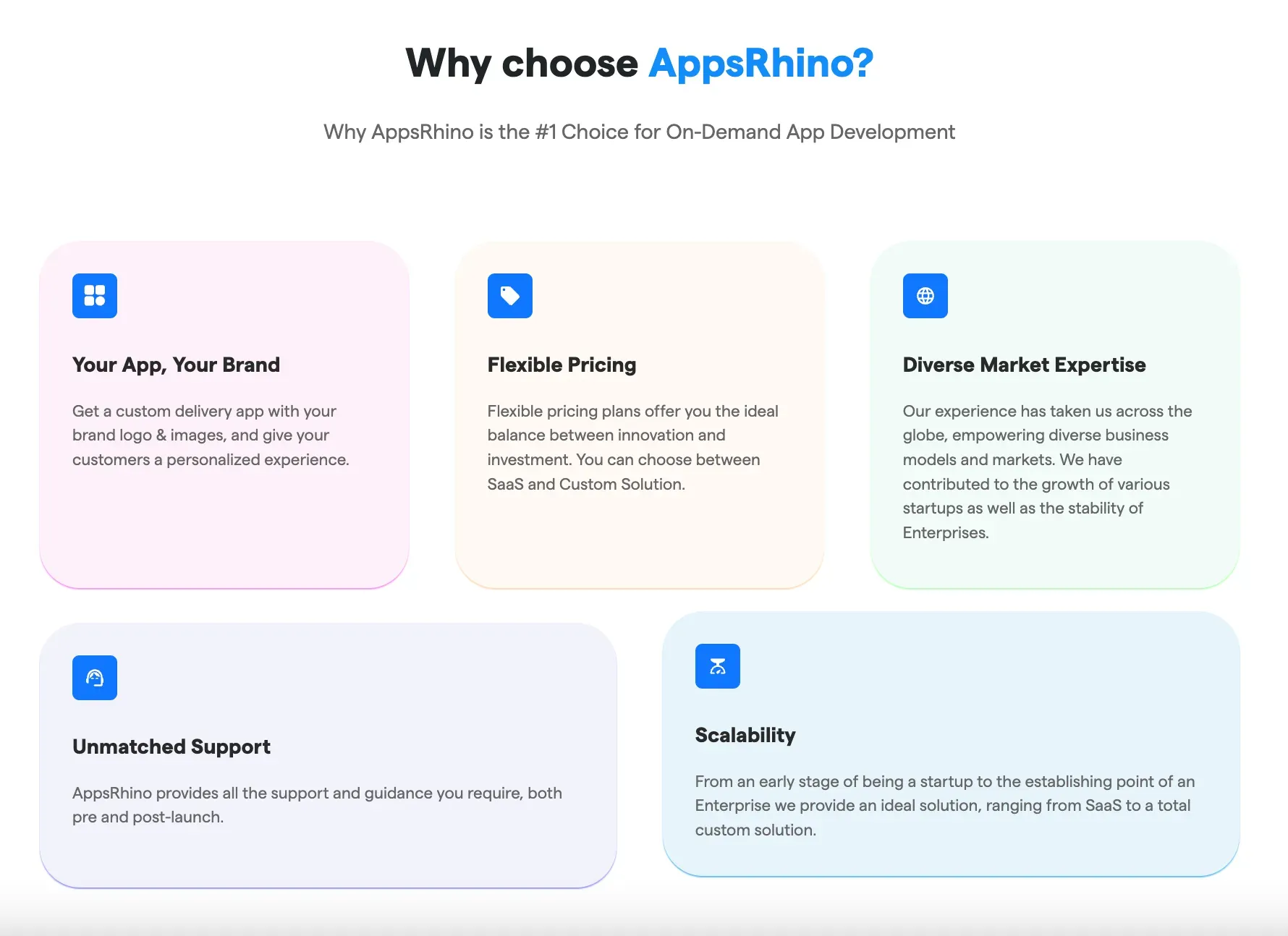 Challenges in the on-demand laundry industry
Running a successful laundry business can be quite challenging, especially in the on-demand sector. There are several hurdles that businesses in this industry face on a daily basis.
Let's take a closer look at some of these challenges and how app development can help overcome them.

Finding Professional labor
One of the biggest challenges in the laundry industry is finding skilled laborers. While technology and software have made certain tasks easier, there is still a significant reliance on manual work.
Finding professionals who can handle the machinery and deliver high-quality services is crucial. However, many companies struggle with this issue as they are hesitant to offer fair wages, fearing it will eat into their profit margins.
This creates a shortage of skilled labor, making it difficult to meet the demands of customers.
Lower margins
In the on-demand laundry business, customers often expect the convenience of having their laundry delivered to their doorstep without having to pay extra for it.
This puts pressure on businesses to find a way to offer competitive prices while still maintaining profitability. With the laundry industry becoming increasingly competitive, it is challenging to sustain a business on thin profit margins.
Finding a solution to this problem is essential for the long-term success of any laundry business.
Experiences of the customers
In today's fast-paced world, customers have high expectations when it comes to service quality and personalized experiences. They want their laundry to be handled with care and delivered on time.
Any mistakes or delays can lead to dissatisfaction and loss of customers. Therefore, it is crucial for laundry businesses to find ways to personalize the customer experience and ensure that every interaction leaves the customer delighted.
This requires efficient management and effective communication throughout the entire laundry process.
Customer Retention Rate
With numerous options available for customers to choose from, both online and offline, it is challenging to retain customers in the on-demand laundry industry.
Low customer loyalty can lead to a decrease in customer retention, which can have a significant impact on the business's bottom line.
To overcome this challenge, laundry businesses need to focus on building strong relationships with their customers, providing exceptional service, and offering incentives to encourage repeat business.
Establishment in the market
Establishing a strong presence in the market is crucial for the success of any on-demand laundry business. To do this, businesses need to attract skilled laborers to their platform.
This can be a significant milestone as it requires implementing policies and incentives that entice professionals to join the on-demand laundry platform.
By offering competitive wages, flexible working hours, and opportunities for growth, businesses can attract and retain skilled laborers, which will ultimately help establish their brand in the market.
What are the skills required to launch a successful laundry delivery service?
Reliability and integrity will be the most valuable skills. Clients need to know they can rely on you to finish their clothes on time and without damaging them.
Owners must maintain a friendly and courteous demeanor, even when confronted with a particularly unpleasant customer. You'll also need some salesmanship skills, as you'll need to get your name out there.
However, it may take more than simply your company name to persuade people that outsourcing their laundry is not too indulgent or wasteful.
What is the potential for growth for a laundry delivery service?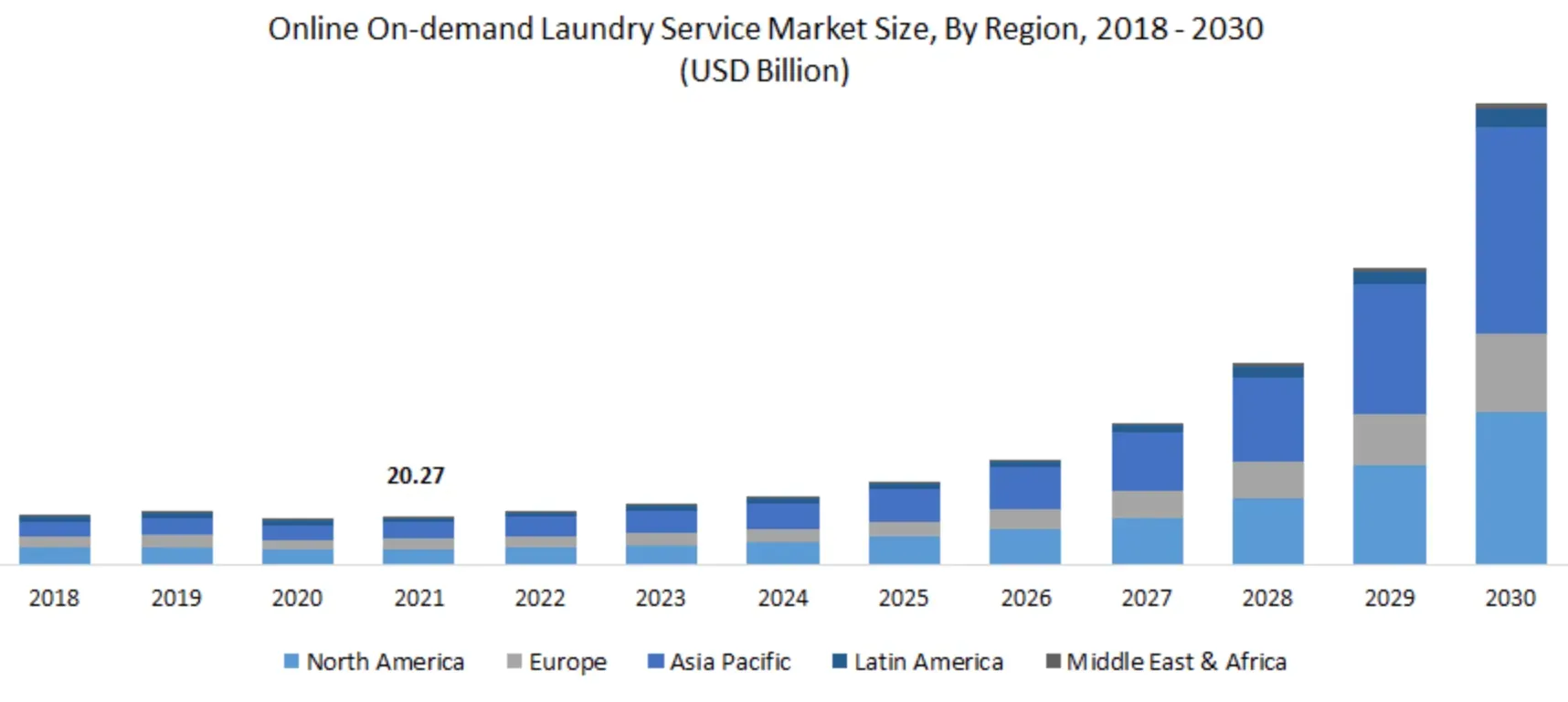 It is determined by the level of competition in your area and the types of people who live nearby.
Your geographical location constrains you, so first, ensure that those in your neighborhood can afford to spend money on laundry. However, as everyone's lives become more hectic, the demand for these types of services will only increase.
After only a few months of ensuring quality and guaranteeing satisfaction, you may find yourself needing to scale your services to meet demand.
Make sure to follow a transparent approach and hire the best developers to design an exclusive on-demand laundry app.
Frequently Asked Questions (FAQs)
How to start a laundry pickup and delivery service business?
To start a laundry pickup and delivery service business, you need to research the market, create a business plan, obtain the necessary licenses and permits, secure funding, purchase equipment and supplies, set up a pickup and delivery system, and market your services to attract customers.
What equipment do you need to start this business?
Some essential equipment you will need for a laundry pickup and delivery service business include washers, dryers, laundry detergent, laundry bags, hampers, delivery vehicles, and a computer or mobile device for managing orders and scheduling pickups and deliveries.
How to attract customers to your laundry pickup and delivery service?
To attract customers, you can use various marketing strategies such as creating a professional website, utilizing social media platforms, offering promotional discounts or packages, partnering with local businesses, and providing excellent customer service.
How to set a price for your laundry pickup and delivery services?
Pricing your services will depend on factors such as the local market, competition, operating costs, and desired profit margins. It is important to research the market and analyze your costs to determine a competitive and profitable pricing structure.
How to ensure the safety and security of customers' laundry?
To ensure the safety and security of customers' laundry, you can implement measures such as using secure laundry bags, tracking systems for pickups and deliveries, background checks for employees, and implementing strict quality control processes.