Introduction about Uber
Uber Technologies, Inc. is an American multinational transportation network company (TNC) offering services which include but not limited to Ride booking, peer-to-peer ridesharing, ride service hailing, food delivery, and a bicycle-sharing system. San Francisco Based transport giant has its operations over 785 metropolitan areas worldwide. Its platforms can be accessed via its websites and mobile apps.
As of 2019, Uber is the market leader in US Transport market with the estimated 110 million users worldwide. It has a 69% market share in the USA for passenger transport and a 25% market share for food delivery.
Uber Founding Team, Funds Raised and Uber's Journey so far
Uber was founded in 2009 as UberCab by Garrett Camp, a techie and the co-founder of StumbleUpon, and Travis Kalanick, who had sold his Red Swoosh startup for $19 million in 2007.
The founders invested $200,000 in seed money in 2009 upon inception. In 2010, Uber raised $1.25 million from investors and by the end of 2011, Uber had raised $44.5 million in total funding. Till date, Uber has raised a total of more than US$23 billion in private venture funding.
From just an idea that clicked the mind of Travis Kalanick and Garrett Camp to a multi-billion dollar global taxi app development solution, Uber has shown exponential growth in the past decade which is evident by its revenue growth in the past years.
Uber Business Model – How Uber Works?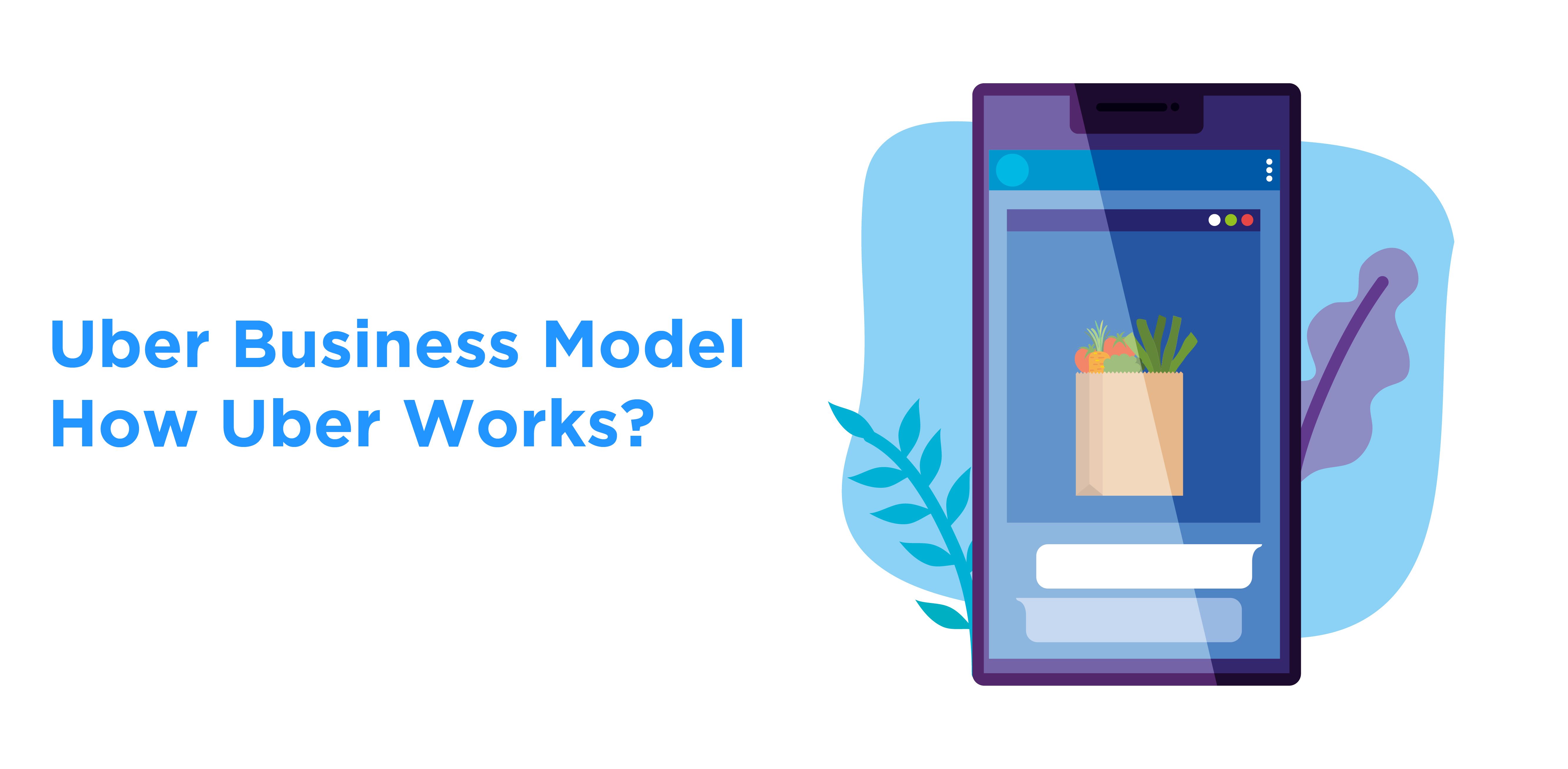 Uber has a two-sided marketplace business model. There are two primary sides of Uber Business Model: Taxi Drivers: Uber provides their taxi driver better flexibility in work and addition income as per their terms. It's very easy to become an Uber driver. A shortlisting process is done at the Uber offices, after which the drivers are registered as Uber drivers and provided with Uber phones for connecting to passengers.
Passengers: Uber fulfills all kinds of transportation needs of the Passengers. Uber enables passengers to avoid car ownership and transport inefficiency. Passengers need to download the Uber app to avail its services. Uber provides the details of the driver and the estimated fares to be paid at the destination. Moreover, passengers could also track their booked rides.
Uber Business Model Canvas
Features
Uber is now providing a wide range of services to its customers. Its service starts from cost-effective rides to premium luxury cab booking in advance as per the convenience of the customer. Few of the major services as follows:
1. Real-time ride tracking - Real-time trip details could be shared with friends, colleagues or family members. needs to swipe up on the app and tap 'Send Status', then select who you would like to follow your trip from their contacts. They'll receive an SMS with a link to follow the journey in real-time, including the details of passenger's car and driver.
2. Plan ahead with Scheduled Rides - Rides could be booked in advance if somebody wants to catch early morning flight or any other important work.
3. Add multiple drop-off points - Multiple Destinations lets you include extra stops along your ride, so your driver can pick up and drop off others with ease. Passengers can add up to two extra stops, either when they request a ride, or while they are on trip.
4. Split the fare seamlessly - Fare could be split among passengers based on mutual agreement. They'll receive a text to accept the split, and each person will be charged a 30 cent fare split fee. After accepting the split the involved parties can pay their share using a credit card, debit card, Apple Pay or any other payment method depending on the country.
Uber's Cost Structure
Acquiring customers is a challenging task for any company and Uber is no exception. Customer Acquisition Costs (CAC), which includes sales, marketing & promotion cost is the biggest cost element for Uber. For instance,they spent roughly $3,200,000,000($3.2 billion) on sales & marketing in 2018 of which $1,800,000,000 is direct media/HR cost to drive customer acquisition. In 2019 first quarter this amount has already crossed $4 billion in the first quarter.
Apart from this, there are several other costs involved as mentioned below:
Infrastructure cost
Research and development
Platform maintenance
Legal and settlement costs
Insurance costs
Customer support, and more
Uber's Revenue Model – How Uber Makes Money?
Uber's revenue model is unique in itself as it is based on a variety of factors. It not only includes the revenue through the customer's trip commission but also the surge pricing, revenue from cancellation of rides and endorsement of other products on the app. However, the principal revenue generation is contributed by 20 % of the fare charged to the customer, while the driver is entitled to the remaining 80%. Furthermore, the details is as follows:
Trip Commissions
Uber keeps 25% of each fare booked through its app, while its rival Lyft takes 20%. Uber sets different rates for every city. The fares vary according to the immediate demand for rides and the user's choice of vehicle and service.
Surge Pricing
Uber increases the rates based on certain algorithms. This helps Uber to gain extra revenue and make better profits during peak hours and on special occasions. Uber is the winner in the case of demand-supply mismatch.
Premium Rides
Uber started as a simple cab booking business but after its success it increased its offerings and capturing every segment of society that is those riders who want to go places economically and those for whom money is not a big issue and they are willing to shell out extra money and book luxury sedans and sports-utility vehicles(SUV).
Cancellation fee
As per Uber's policy, if anyone cancels the ride after booking it, he/she has to pay a cancellation fee.
Leasing to drivers
Uber has a good option for those who are willing to join Uber as drivers but do not have their own car. Uber provides them an option to lease cars at minimum lease rate in the market.
Brand Partnerships/Advertising
Since Uber has a large customer base, it helps other businesses to advertise their services and products and charges them accordingly which becomes a significant source of revenue for Uber.
New Uber Ventures
UberEats
On-demand food delivery apps like UberEats provide customers with the opportunity to order from their favourite restaurants online. Uber's delivery partners deliver the food to the customer's doorstep. These delivery partners utilize their app to deliver their orders as fast as possible. This has proven to be beneficial to restaurants as well. They can raise their profiles and become more visible in their online platform.UberEats is comprised of 3 revenue sources:
Advertising income with Restaurant Partners.
Customer Delivery Fee.
Shares in Revenue with Restaurant Partners.
As of August 2018, Uber Eats changed its flat $4.99 delivery fee to a rate that is determined by distances.
Looking for more? Don't forget to read: 8 best food delivery apps in india.
UberFreight
Uber Freight is a business-oriented transportation service app. It provides its customers with a convenient way to handle their transportation goods. It is a free app that allows shippers to use a button and book whatever goods they want to ship.
How and Why Uber uber business became so successful?
Uber's strategy has been to first gain popularity and customer base in big cities and metros and that has been one of the primary reasons for its popularity. Also, part of the reason is the fast rise of smartphone users globally. People are becoming more smartphone savvy and need more convenient methods in terms of apps for day to day needs such as city rides. Uber just came in at the right time sensing the right need in the changing times.
Strengths of Uber's Business Model
Brand Equity
Uber is a recognised Brand Globally with presence in over 50 countries. With increasing internet and coming of age technology, Uber is expected to grow rapidly in future. Its current valuation stands at over $68 Billion. High market valuation attracts new investors as well.
Low Fixed Investment
Uber, being an aggregator does not require high fixed investment and so it becomes easier for Uber to add more cities to its network. It has expanded rapidly because there is no fixed investment or infrastructure required.
Focus on Customer Satisfaction
Uber has always prioritized customer satisfaction. Uber has understood that it is serving in a totally customer-driven market where competition is increasing. To keep an edge over rivals, it needs to provide better customer satisfaction and enhanced user experience.
Dynamic Pricing strategy
Uber has adopted the dynamic pricing strategy which works on the demand supply principle of economics. Higher the demand, the higher the price. This becomes really beneficial for the company and the drivers. In peak hours as well as in Nighttime, drivers earn a good amount of money.
Adaptive
Uber is also known to adapt very well to business conditions. Because of its international exposure, Uber faces various problems in various regions. Smart marketing strategies has helped Uber to adapt to new markets.
Future Growth Potential
Currently, Uber doesn't own any taxi and because of that Uber can show a higher amount of its earnings as profits. The initial reinvestment will be a modest amount, but enough to slow down future earnings. Growth opportunities for Uber are vast, it already covers 200 cities in 55 countries and will progress to dozens of new cities within a year. Uber is a highly profitable company and revenues are doubling every 6 months. It has far better expansion opportunities than most of the Fortune 500 companies.
What Entrepreneurs can/should Learn from Uber's Business Model
When starting a new business, one has to face criticism and lawsuits for disrupting other businesses but that should not stop business from growing.
In most cases, owning inventory is a liability and the Uber model of business is a big relief in this regard.
Maximum use of new technology and the internet for business growth.
Deliver a swift and efficient service and charge at least 15% commission for any transaction.
Take full advantage of the economy and try to capture potential overseas markets.
There is no such thing as bad publicity, Uber's frequent visits to the courts, actually helped the company to grow.
Takeaways from Uber Business Model
Despite all the obstacles, it's not that difficult to start up an on-demand ride-sharing and on-demand taxi-hailing business like Uber, if new businesses only start focused with one city first. Small is good, small is beautiful that slogan should be kept in mind. – Think Big,Start Small.As I have covered in this article about Uber's mantra,it also fragments its business and operates on per city level.
Conclusion
Since inception Uber has revolutionized the taxi booking service and has provided a very easy and convenient way to commute. It started with the basic product offering and gradually went up to the ladder from ride-booking to premium luxury rides, different economies, and services like Uber Eats. Uber didn't become Uber in one go, Step by step, with data-driven decisions and moderately brave experiments made Uber today the market leader in online taxi ride market.