Mobile apps have completely changed the face of user action in today's world; taxi booking through these magical icons has become a vital part of our day-to-day lives. There are some essential factors to consider while building a taxi booking app.
So, are you too planning to dive into this burgeoning space and launch a ride-hailing app of your own?
Indeed, a great idea to pursue, considering the enormous opportunity that the lucrative sector holds for all the budding entrepreneurs! The revenue in the Ride-hailing & Taxi segment is likely to reach US$314,224m in 2022. And project a market volume of US$386,274m by 2026. The meteoric rise of such services, followed by the grand success of Uber, has paved the way for so many others, making it a robust developing segment.
Factors to consider while building a taxi booking app
Get your steps moving in the right direction before you start building a taxi booking app by considering the following key factors.
Know your market
Before you begin the process of taxi booking app development:
Make sure you dig deep into the landscape of the targeted market.

Conduct an in-depth market analysis and identify the already existing players in the picture who might be offering similar services.

Study their business model, unique features, pricing strategy, etc., and then chalk out your unique business model, which would help your app stand out.
Stick to simplicity
Keep the layout of the app simple; do not clutter it with too many features, as it would unnecessarily confuse the user. The UX/ UI should be kept neat and impressive to make the user's booking experience as smooth as possible.
App loading time
Make sure that your taxi booking app does not take too long to load. Remember, the user is always in a hurry and might not want to wait. Typically, 10-15 seconds is the ideal loading time of each mobile app, beyond which there could be a lack of interest.
Differentiate your app from others
Numerous taxi-booking apps are available, which already promise speed and efficiency, besides other vital offerings. So, how do you plan to make your app visible? Make sure that you introduce a few unique elements in your app, which could be a new design, new features like free Wifi, pricing, a new marketing approach, etc., which would draw the user's attention.
Automated fare calculation
Adopt a fair pricing policy, where the passenger could automatically calculate and view the fare for the entire distance traveled. The passenger must also be provided with multiple payment options to ease the payment process.
Use of Analytics
A well-designed analytics system is an essential must-have, as it helps you gain insights about your business on a day-to-day basis. You could draw a sense of how your business is performing by viewing the number of bookings, the source of bookings, and other parameters. The loopholes could be identified, and analysis could further improve the business.
Test for any errors
Before finally launching your taxi booking app in the market, ensure that you conduct all the necessary trials and tests to provide an error-free experience.
Conclusion
Developing an app comes unexpected surprises. So the best approach is to partner with a leading taxi-app development company with the right technology and expertise to make your app shine brightly in the market. The factors mentioned in the blog are primarily based on the app development company. And coming to it, AppsRhino can help you ace your journey in taxi booking app development.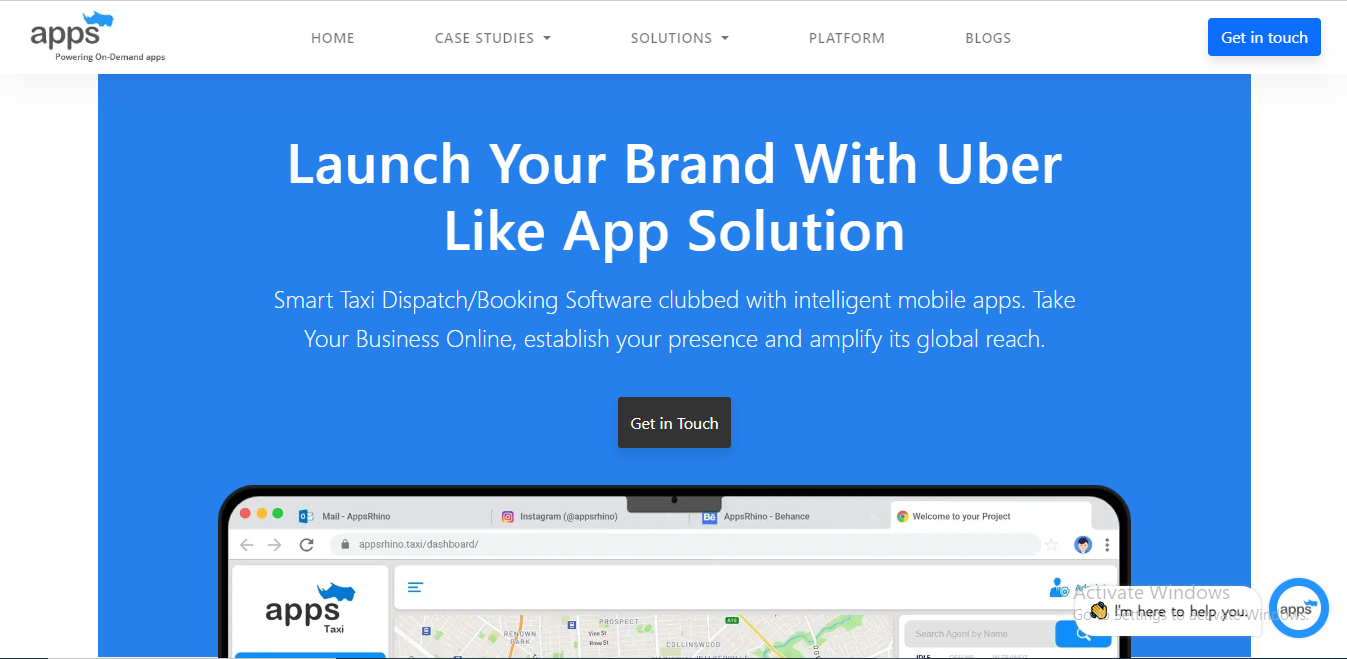 Apart from custom mobile app development, AppsRhino offers the best Tech-driven solutions for Home services, Laundry delivery, Alcohol delivery, Grocery Delivery, Food Delivery, and Taxi Services: