Traditional Taxi Services find it hard to thrive in this era. A survey unearthed that 65% of people use online taxi booking app services. Also, the study revealed that 80% of people prefer Ola and Uber compared to booking regular taxis plying on the roads. This staggering number can help new taxi booking app start-ups obtain potential customers. This changed consumer behavior is due to the digitization of the world and the young generation's excessive preference for online on-demand services.
Let us talk about Uber. Uber is an online on-demand taxing service provider and has completed approximately 2 billion rides. Further, this number of rides enabled it to generate a revenue of about $20 billion. The sole reason Uber managed to attain such numbers is its App. Yes, an excellent taxi booking app can revive a dud taxing service business. But numerous such businesses overlook the significance of a taxi booking app. They fail to realize that with an increase in smartphones, the demand for mobile apps has also skyrocketed. And today, people love to download and use apps to solve their real-life problems.
If you are a taxi business owner and are grappling with achieving your expected ROI, read this blog to know the benefits of Taxi mobile app development.
Types of Taxi Booking Apps
Depending on your business model, you will need to get one of the following types of mobile taxi apps:
Taxi booking app

Rental car app
Taxi booking and rental car app Whichever mobile taxi app you require, they will provide you with the following benefits.
Tracking the Location of Taxis in Real-Time
Tracking the location of your taxis in real-time is of massive significance. It often happens that drivers cannot contact customers or find their destination. In such situations, tracking their locations will let you guide them and help them whenever necessary. This advantage of a taxi booking app saves your resources like petrol/ diesel. Also, it lets you see how much time your driver takes to reach their destinations. If you observe that your driver is taking a longer route, you can prompt them via a message or call. You can also send further details like traffic or something else if you have a taxi booking app to monitor their activities.
An Opportunity to Obtain High Visibility
The number already states that having a taxi booking app means you have more reach to a large number of customers. Moreover, tourists prefer using a taxi booking app to traveling by traditional/ local taxis. This preference is the sense of security and safety that taxi providers with apps bring to the table. Tourists know that the taxis they will commute by are authentic and verified, and the drivers are less likely to try to harm or rob them. However, such a thing is missing from traditional taxis.
Collecting Passenger Data
The second perk of having a taxi booking app for business is gathering and storing valuable data about your passengers. The collected data includes their email ids, mobile numbers, etc. Besides this, a taxi booking app also helps monitor crucial details such as how often they book rides with you. Furthermore, how long they take to reach their destinations and how much distance each ride usually covers. All this data lets you send personalized notifications to your users and come up with customized offers and discounts. It is an excellent way of retaining and attracting customers.
Helpful to Build Brand Value and Credibility
Do you know that Uber took its annual revenue bar from $0.4 billion in 2014 to $11.1 billion in 2020? Also, Uber operates in approximately 90-plus countries and over 700 cities globally. In addition to these feats, Uber completed 4.98 billion trips in 2020. Uber managed to do so because of its high brand awareness. It is the only way to develop any business. You can also do this with the help of a taxi booking app like Uber did. A good taxi booking app generates awareness about your brand, makes you look credible, and vouch for your unmatched services.
A Way for Customers to Provide Feedback
This feature is also one of the stark differences between traditional taxis and online on-demand taxi services. Traditional taxis do not offer a platform for travelers to express their views and experience with their services. But with a taxi booking app, you will gain insight into the customer experience and improve your services accordingly. This move makes customers believe that you want to work on your drawbacks and give them the best ride experience.
A Way to Gauge Your Drivers' Efficiency
A taxi booking app helps you know how your drivers work and gauge their efficiency. Things that help you evaluate them are reviews left by customers, how their interaction went, issues they might have had with customers, etc. All this makes you aware of how well your drivers drive vehicles, behave with your customers, and how carefully they drive. When equipped with this knowledge, you will know which one to fire and how many to hire.
Auto-Pilot Mode Assists in Business Development
A taxi booking app means you do not need to search for and converse with your riders. You can send them the driver's details, ride details, cab details, and payment details in advance via auto-pilot mode. This feature reduces a lot of work for taxi owners, and customers can now easily book and pay for a ride.
Expanded Profits/ High Return on Investment (ROI)
Aggregators charge taxi owners a hefty amount for displaying their services on their platforms. This thing means a lot of money is flowing out of the pockets of taxi owners. But suppose taxi owners develop their taxi booking app. In that case, they do not need to pay anyone for using a taxi booking app, expanding their business' revenue. In short, you will not need to pay a commission to anyone. This increase in your overall revenue gives you more money to grow your business.
So what you are waiting for? Increase your ROI, with AppsRhino's taxi app solution and get your very own Taxi App.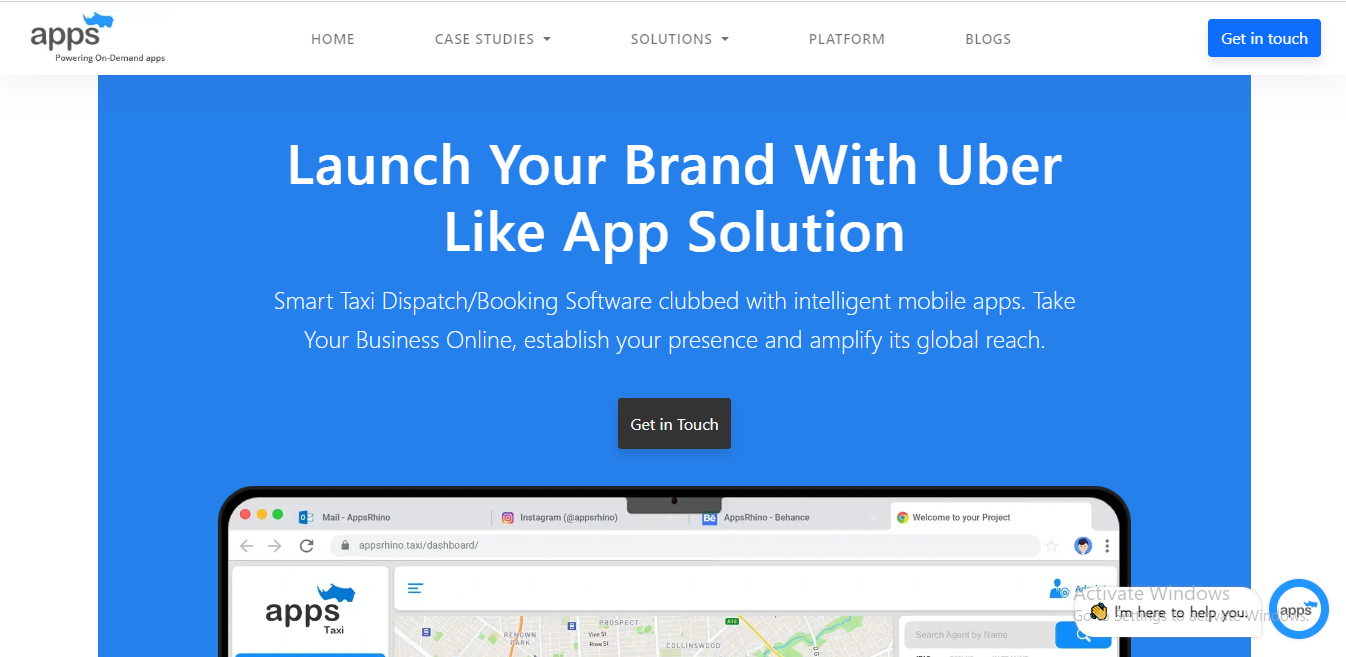 Apart from custom mobile app development, AppsRhino offers the best Tech-driven solutions for Home services, Laundry delivery, Alcohol delivery, Grocery Delivery, Food Delivery, and Taxi Services:
Multiple Payment Options
Traditional taxis demand customers to pay via cash. There are instances when users do not have some money on them. But on-demand taxis have a taxi booking app that lets people pay digitally, solving the issue of cash payment.

Increased Customer Loyalty
Two things help a business thrive: a positive brand image and customer loyalty. Therefore, as a taxi service provider, you need to work on these two aspects. A taxi booking app assists you in doing so. A taxi booking app gives you insight into customers' expectations and requirements, giving you ways to retain them for good. Here, the review and rating feature plays a pivotal role in making customers voice their opinions. Such a feature is conducive to converting visitors into potential customers.
Communication Transparency
An important and challenging thing to do is to maintain transparent and proper communication between drivers- customers, customers-companies, and companies-drivers. It is what a taxi booking app provides to online taxi services and is lacking in offline taxi services. Thus, a taxi booking app takes care of the hassle of providing an effective communication channel. As the communication gets better, the working of your business also gets refined.
Effective Cost Pricing
There are instances when customers and cabbies quarrel regarding the fare. And such petty arguments sometimes escalate into heated altercations—instances like this malign a company's reputation. But a taxi booking app keeps such things at bay by giving customers an estimate of total charges in advance. This estimate allows customers to decide whether to continue availing themselves of the services or not. It leaves no room for such negotiations, and both parties know what their accord is.
Conclusion
Owning a taxing app is no longer a thing of fancy. It is something to act upon as a taxi business that will bloom and scale at great heights, courtesy of the numerous benefits of a taxing booking app. However, the taxi booking app you will employ for your business is like clay. You need to chisel it well to turn it into a breathtaking sculpture. And you can find competent sculptors in the developers at AppsRhino. So what is stopping you? Contact us today to get an exceptional taxi booking app.
Frequently Asked Questions
How can a taxi mobile app benefit my taxi business?
A taxi mobile app can bring numerous benefits, including increased customer convenience, improved operational efficiency, expanded customer reach, enhanced booking and tracking features, streamlined payment processes, and the ability to gather valuable customer data for better business decision-making.
Does a taxi mobile app provide safety and security benefits?
Absolutely! A taxi mobile app enhances safety and security for both passengers and drivers. It includes features like driver verification, real-time tracking, SOS buttons, and digital payment options, ensuring a secure and trustworthy ride experience for all parties involved.
How can a taxi mobile app help me manage my business more effectively?
A taxi mobile app provides valuable data and analytics about customer preferences, popular routes, peak hours, and more. This information helps you make informed business decisions, optimize resource allocation, and devise effective marketing strategies to stay competitive and grow your taxi business.
Can a taxi mobile app simplify the payment process for passengers?
Yes, a taxi mobile app simplifies the payment process by offering cashless options such as in-app payments, digital wallets, or card payments. This eliminates the need for passengers to carry cash, enhances convenience, and provides a secure and seamless payment experience.
Does a taxi mobile app offer benefits for drivers as well?
Definitely! A taxi mobile app provides benefits for drivers too. It offers them a platform to receive ride requests efficiently, navigate using GPS, and access passenger information. Additionally, features like driver ratings, incentives, and flexible schedules contribute to driver satisfaction and income growth.