Introduction
Everything is online, and people continuously search for information, whether buying something or communicating with someone. In this instance, having a solid internet presence is critical. As a result, every business has an online presence on numerous social media platforms so that as many people as possible can contact them.
Numerous taxi firms offer cab services online, and we find that booking a cab online at any time is more convenient. Accessing the service via the internet allows us to track our journeys or positions, which is critical for our safety. We are even permitted to check how long we would have to wait for the cab, among other things. On the other hand, a user-friendly website is a vital component of an online system.
In the last few years, the online taxi booking sector has risen to prominence due to app-based systems. It has disrupted the taxi and auto-rickshaw markets and caused automobile OEMs to rethink their marketing strategies.
What is an online taxi booking system?
The approach in which riders and drivers are available on a single platform is known as online taxi booking. Riders can hire a vehicle in a single click to travel to any place by selecting their preferred vehicle type. The nearest driver will accept the booking. The customer is then picked up and dropped off at their location by the driver.
It is a product that can handle all cab booking issues from a smartphone (Mobile device). This system has two key modules:
Operator Module: Driver registration, and customer support around the clock.
Passenger Module: Android app for booking cabs, paying fares, and tracking the driver who picks him up for the journey.
The goal of an online taxi booking system is to bring riders and drivers together on one platform. The online cab booking system makes traveling easier in this digital age by allowing you to move from one location to another with a single tap.
Objectives of an online taxi booking system
The primary goal of an online taxi booking system is to make taxi booking more convenient for customers.
Convenience for Customers

Bringing Riders and Drivers Together

Booking a taxi is simple.

To make traveling easier to enjoy when scheduling benefits and offers

To assist around the clock

Riding safely and securely

Simple payment methods

Customer satisfaction is the goal.

Booking without stress
What is the best way to create a taxi booking app?
Give your taxi booking app a unique name.

Choose a design scheme that will suit your demands and incorporate the company's themes and logos in the interface of the instruction app.

Enhance the educational app with the functionalities you require.

On Android and iOS, test and launch your app.
India's best taxi booking apps
Uber

Meru Cabs

Ola Cabs

Savaari Car Rentals

Carzonrent

Mega Cabs

Mega Cabs

Fasttrack Taxi App
Primary objectives that an online cab booking app should fulfill
Layout and design
An outstanding layout and very intuitive behavior are necessary for the Online Cab Booking system. An application should be carefully defined and primarily focused on the design and user interface to attract the target market, and it should be user-friendly.
User manual
Users must have a well-defined user guide to launch an application for the first time. The manual must encompass all aspects of the program and simplify and complete the task for the users. Such an app introduction guide will aid the user in understanding the app's features and primary functions.
Simple sign-up procedure
Please don't put your users through a lengthy sign-up process by asking them for any payment information when they sign up. Most consumers prefer to pay with cash rather than using a credit card or an online money transfer tool.
Keep the sign-up process accessible so your users have minor trouble getting started. Users have abandoned an app entirely if they go through a lengthy sign-up process. Simple questions-
Name

Mobile phone number

Email

Username

Password
User-friendly booking procedure
The app should assist the user to the home screen once they have completed the user registration procedure. They can then choose the ride by themselves. There are a few things that it should include in the cab booking process:
Enter pick-up location.

The current position is detected using GPS.

View the selected location on the map.
Location tracking and a user-friendly interface
The most appealing aspect of an online taxi booking app is the convenience of the booking procedure for the user. When users are booking cabs in a hurry, they are likely to want something that allows them to complete the transaction in just a few taps.
The app should include:
A search menu for pick-up and drop locations.

A choice of ride type.

GPS detection of the current location. Also, it should have a map where users can view their location and their taxi.
Your app should also have a function that allows users to store their locations, such as their office, home, or favorite restaurant. It will help them save time because they don't have to choose sites all of the time. Your app's design should focus on minimalism and efficiency.
Booking versatility
After picking a convenient mode of transportation, the user should have the choice of riding immediately or later. Users must also be provided a feature to schedule the journey for a later date by using a pop-up box where they can select the appropriate date and time.
It is helpful during peak hours when it's challenging to obtain a cab without dealing with the headache of a time-limited booking. It is a nice feature in the Cab Booking app.
Arrival time estimation
The application must display the option of selecting a cab of the user's choice and the expected arrival time for the user's convenience. It must inform the user of the expected arrival time right away. It is a valuable feature that every cab booking software should have.
Fare precision
Your app must display the user's estimated fare. Every app worth its salt includes a function that allows users to calculate the cost of a ride before using it. Cabs have several pricing charts, as well as surge rates. Users always want to see the price before using the cab service.
Confirmation of cab
Suppose a user indicates that they want to schedule a ride right immediately. In that case, the app should provide a confirmation screen with complete information on the ride and a free estimate. It also allows users to apply any reductions using coupon codes.
Transparent booking system
Transparency in pricing is the deciding feature that makes any online taxi booking service a hit among users. The program displays information about fares directly to the users.
Ride specifics
Once the journey is confirmed, the app should allow the user to see the current location of the cab, as well as the projected arrival time and other details. For instance -
Name of the Cab Driver

Name of the Cab Driver

The driver's phone number

The driver's phone number

Name and make of the car Another critical option is "Cancel Ride," which allows the user to cancel the booked ride before the driver arrives at the pick-up spot. Users might use this option if the user's ride plan requires specific unavoidable alterations.
Ride evaluations
After completing the ride, it may prompt the user with a screen showing the distance traveled and total cost. For user engagement and better feedback, the app should prompt the user to provide a rating for the ride experience to the driver. The driver's rating must not be for future reference; rather, it must aid the corporation in determining the level of client satisfaction.
Real-time tracking
The time tracking feature allows the user to check the current state of the booked cab and the current status of the travel. It enables them to acquire user experience, stay up to date on live traffic, and make assumptions about when the cab will arrive at the drop place.
Preferences for cab types
The cab application should have options for different sorts of cabs. For example, a user who wants Economy (low-cost shared ride), Premium (large, cheap automobiles), or More (Compact rental, Local city travel).
In-app messaging
This functionality will benefit both the user and the driver. They can communicate within the application using this platform.
My rides
This feature will display a thorough list of all completed bookings and upcoming rides. It will allow the user to keep track of all the rides they have booked.
The upcoming portion will give you a sneak peek at forthcoming rides, while the completed section will show you the history of the ride you took.
Different payment gateways and a wallet
As the world moves toward digital payment systems, one can pay using a mobile wallet or various payment gateways. The most popular are Internet Banking, Card Payments, UPI, etc.
When the user arrives at their destination, it will automatically deduct the fare via payment API. Also, it will email an invoice copy to the user's registered email address.
Emergency Contact
The app should include a security function that allows users to input emergency contact information for everyone to provide a safe ride.
Furthermore, the user can share the information with an emergency contact each time the ride is taken. It is a crucial aspect of online taxi booking apps.
Get every crucial aspect covered in your taxi booking app, with the help of AppsRhino's taxi app development.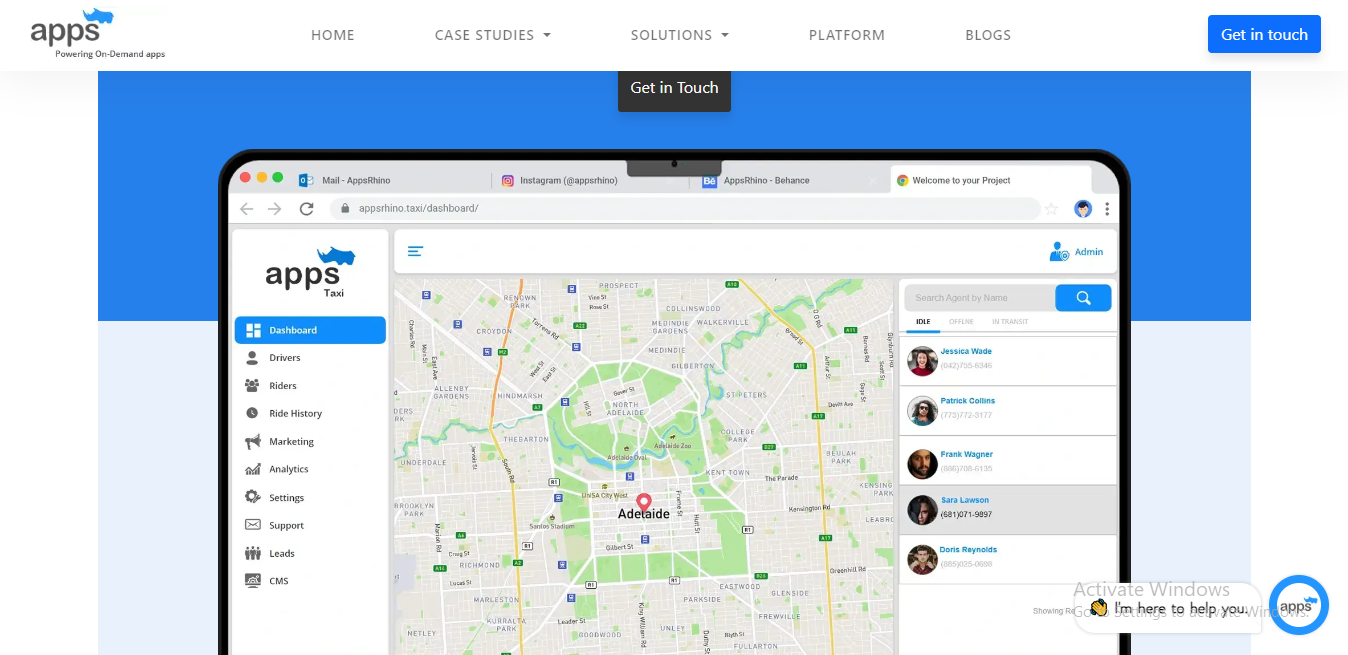 Apart from custom mobile app development, AppsRhino offers the best Tech-driven solutions for Home services, Laundry delivery, Alcohol delivery, Grocery Delivery, Food Delivery, and Taxi Services:
SOS button
In an emergency, you can include an SOS button in the app that sends the ride data and the current location to the police and a predetermined contact. It is a critical feature to increase customer trust in your mobile app.
Invite and earn
The market for online taxi booking services has exploded. The app can offer a referral program to acquire a massive piece of the market by allowing its users to recommend users using the referral code. Through referrals, they can receive excellent discounts on the ride. A user can also send an invitation by email, SMS, or social media sites like WhatsApp, Facebook, and Twitter.
Conclusion
Keeping this in mind, more than 60% of consumers nowadays use cab booking services. Because of their mobility and simplicity, developing online taxi booking apps is a good concept for entrepreneurs and enterprises. To be sure, enterprises must keep track of the project scope, application functionality, and revenue strategy.
Entrepreneurs can utilize a variety of online taxi booking scripts to get started with their taxi booking service quickly. Make your online taxi booking system successful by finding the proper and finest taxi booking software.
Frequently Asked Questions
How can developing a taxi mobile app benefit my taxi business?
Developing a taxi mobile app offers numerous benefits, including increased customer convenience, improved operational efficiency, expanded customer reach, enhanced booking and tracking features, streamlined payment processes, and the ability to gather valuable customer data for better business decision-making.
Can a taxi mobile app help me attract more customers to my taxi service?
Yes, a taxi mobile app can attract more customers by offering a convenient and reliable platform for booking rides. With features like real-time tracking, estimated fares, and user-friendly interfaces, a taxi mobile app can increase customer interest and preference for your taxi service.
What financial advantages can I gain from developing a taxi mobile app?
Developing a taxi mobile app can bring financial benefits such as increased revenue through higher customer demand, cost savings through automation and optimized operations, and the potential for additional revenue streams through partnerships or advertising opportunities within the app.
Can a taxi mobile app help improve customer loyalty and retention?
Absolutely! A taxi mobile app allows you to offer personalized promotions, loyalty programs, and seamless user experiences. By staying connected with your customers through the app and providing added benefits, you can build strong relationships, foster loyalty, and increase customer retention.
Are there marketing benefits associated with having a taxi mobile app?
Yes, a taxi mobile app provides marketing benefits by allowing you to send targeted promotions, push notifications, and updates to your customers. It serves as a direct communication channel, helping you increase brand visibility, engage with customers, and stay ahead of the competition.