Square is a mobile payment company that offers business software, POS systems, payment devices, and small business services. Unlike most payment processors, Square is open to all types of businesses and offers the most comprehensive free POS system available. Over 33 million people have downloaded Square's payment and POS app, and there are over 2 million active vendors.
The initial mobile payment processing app and card reader is Square. It had a high acceptance rate when it initially launched since it allowed companies to take card payments anywhere instead of relying on cash or peer-to-peer payment apps. It also eliminated the complicated contracts and long-term commitments demanded by many merchant services.
Summary
Square is a mobile payment processing app and card reader. It had a high acceptance rate when it initially launched since it allowed companies to take card payments anywhere instead of relying on cash or peer-to-peer payment apps. It also eliminated the complicated contracts and long-term commitments demanded by many merchant services.
Square's payment processing begins with an easy, flat-rate credit card, contactless payments, and ACH transfers. Then, within its ecosystem, it provides various products that all work together to provide a complete small business management solution. However, some of the answers, such as Payroll, can be used as a stand-alone product.
This blog includes all the details about Square.
What is Square?
Square, Inc. (SQ) was formed in 2009 by entrepreneurs Jack Dorsey and Jim McKelvey with the goal of inventing technology that would allow merchant services and mobile payments to be combined into a single, easy-to-use solution. Square is currently used by millions of small businesses to process credit cards, track sales and inventory, and arrange funds.
Cash App, a free mobile application that allows users to transfer and receive money, and Square Point-of-Sale, a free tool that allows merchants to accept payments through smartphones, are two of Square's products.
Square's Financial Development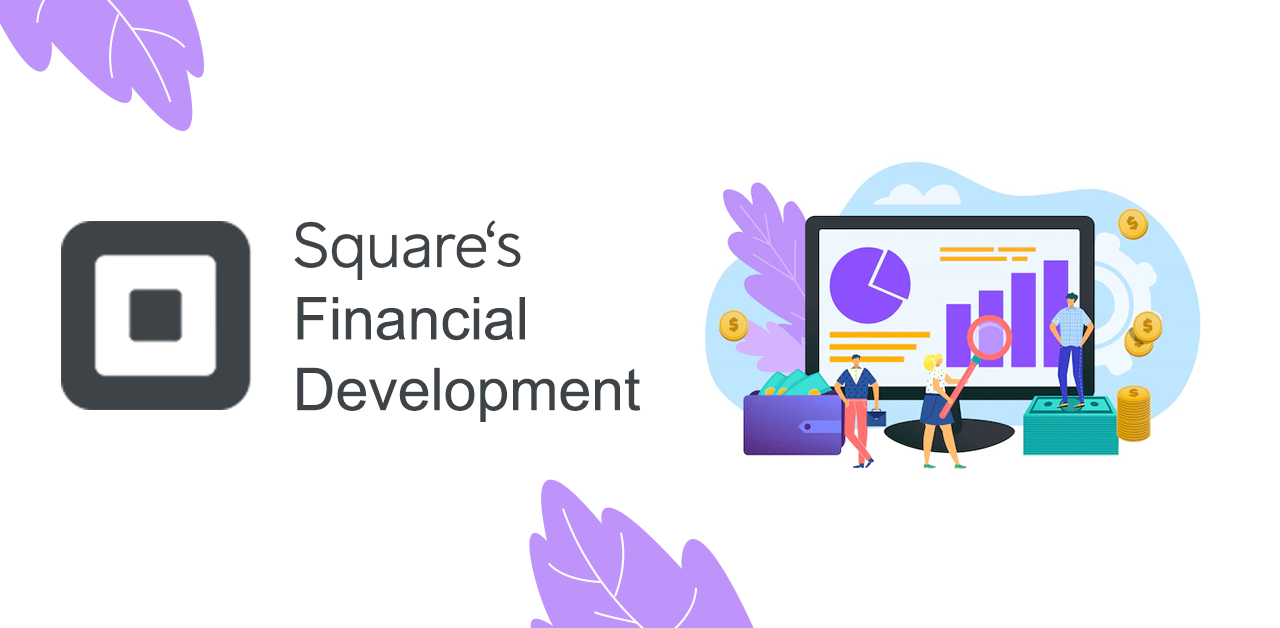 Before coming public in November 2015, Square attracted seven rounds of private funding. Acequia Capital, Sequoia Capital, and Khosla Partners were significant investors. Square's shares started trading on the New York Stock Exchange on November 19, 2015, for $9 per share, with roughly $3 billion in corporate capitalization. Square was trading at $265 per share on April 15, 2021.
In November 2017, the Cash App unveiled a trial program that allowed certain users to trade bitcoin. The company then expanded its bitcoin trading services to Wyoming in March 2018, propelling the stock to all-time highs at the time.
What Kinds of Products and Services Does Square Provide?
Square charges retailers 2.60 percent of the sale price plus 10 cents for every swipe, insert, or tap transaction and 3.5 percent plus 15 cents for any manually keyed-in transaction. Customers may pay, tip, and sign on a merchant's mobile phone or tablet, while businesses can accept credit cards, gift cards, and cash.
The software may also be used by business owners to send and manage invoices, personalize items, email receipts, apply discounts, administrate refunds, view real-time sales data, and track inventories in real-time.
Square POS is generally used with Square Reader, a small gadget that can be placed on a smartphone or tablet and reads credit and debit cards. By logging onto the app's dashboard, users can view this information and participate in these activities. Typically, funds from merchant transactions are put into their bank accounts within two business days. Other Square products include Square Analytics, a free collection of tools that may be used in conjunction with the company's POS devices. Square Appointments, an online tool that allows users to arrange appointments, is also available through the company.
One of the company's few physical products, Square Stand, allows consumers to transform an iPad into a complete point-of-sale gadget. With products like Square Capital, which gives cash advances to merchants without tying them to payback schedules, the corporation has also expanded into funding small businesses. With Square Payroll, the company can now provide complete payroll services to businesses in all 50 states.
How Simple Is It to Use Square Online?
The Square Online sign-up process entails answering a few questions about your company. It only gets easier after you have an account.
When you create an online store with Square, it's nearly difficult to "go wrong," and the setup procedure is rapid. You'll be given a general plan to work with, which you can customize with your company's logo, colors, and fonts. To begin selling on Square Online, you do not need any prior technological skills; however, the price is that customization choices may be limited.
Features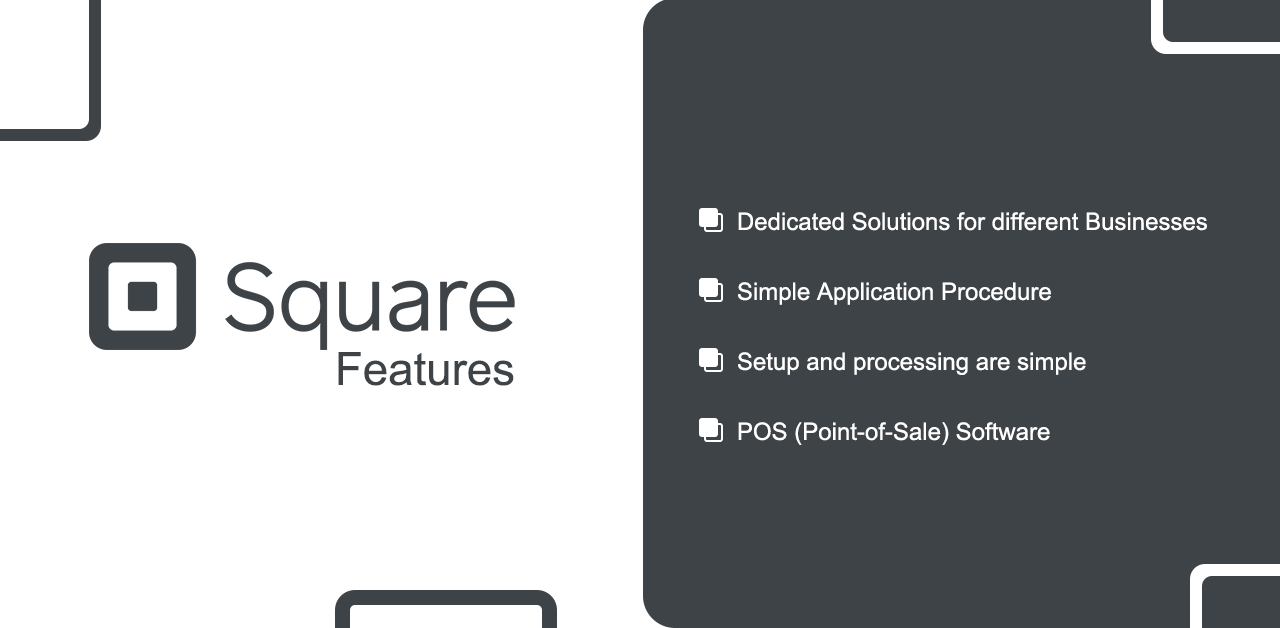 Square works with a wide range of businesses and industries, and it is one of the few credit card processing systems that people can utilize. Here are some of the features that Square provides to its merchants.
Dedicated Solutions for different Businesses
Square can be used by almost any type of merchant. Square can be used by online businesses and those with physical locations, in addition to mobile merchants who ring up sales and services on the go. Retail, food and beverage, service providers (professional services, beauty experts, transportation, and home and repair), health and fitness, organizations, and entertainment are among the industries and company types with specific solutions. However, before joining up with Square, be sure it supports your business type by reviewing its list of forbidden goods and services. If it doesn't, and you still sign up, the company has the right to freeze your funds and close your account without warning.
Simple Application Procedure
Square is a merchant aggregator that adds you to its master merchant account as a sub-merchant. This makes the application procedure more straightforward and faster than other organizations, and it also implies that almost anyone may utilize the service and register an account immediately.
There is no need to worry about a credit check or providing proof; all you need to provide is essential information. If you use Square as an individual, you must provide the firm with your full legal name, date of birth, home address, and Social Security number so that Square can validate your identification and U.S.-based bank account information, allowing it to deposit your money once you begin processing transactions.
Setup and processing are simple
Square's mobile credit card scanners and Square Point of Sale payment software are simple to use, and this plug-and-play solution is simple to set up. According to the small company owners we spoke with, using Square is as simple as connecting the credit card reader to a phone or tablet and using the free Square app to make purchases. Customers swipe, dip, or tap their cards through the card reader. That's all there is to it – the transaction is completed in a matter of seconds. Square's ease of use makes it simple for both businesses and customers, providing buyers and sellers with a positive experience and a quick way to complete purchases.
POS (Point-of-Sale) Software
The Square Point Sale app is compatible with both Android and iOS devices. Although it is free and straightforward to use, it provides a slew of POS features and tools that can help you manage your business more efficiently. The Square POS app accepts cash, checks, and gift cards in addition to credit and debit card payments. You can also execute the following tasks:
Split tickets and open tabs

Prompt clients, for suggestions directly on the screen.

Set discounts automatically.

Offline transactions should be processed.

Receipts can be emailed, texted, or printed.

Collect and manage contact information for customers.

Save customer cards securely on file for future use.

Configure employee permissions.

Customers should be able to place orders for pickup.

Make QR codes available for self-service ordering.

Send digital invoices to your customers, who can then pay them online.

Inventory may be tracked in real-time, and custom notifications can be established.

The dashboard allows you to view analytics and generate a wide range of reports.

Accounting software and other company systems should be integrated.
Processing Machines
Square provides a variety of processing gear for use with the Square POS. You can begin with an introductory credit card reader and gradually add accessories and services as your business expands. This is the method utilized by several small business owners we spoke with. It allowed them to keep their hardware expenditures low while remaining with a single payment processor for the duration of their operation.
According to the small business owners we spoke with, using Square is as easy as connecting a credit card reader to a phone or tablet and making transactions using the free Square app.
Square Reader for Magstripe
This simple mobile credit card swiper plugs into the Lightning connector on your iPhone or the headphone jack on your Android phone. Launch the POS app and swipe the card. After you open an account, the company will send you the first one for free. Each additional unit costs $10.
Square Contactless and Chip Reader
This wireless, pocket-sized device accepts chip cards and contactless payments via mobile wallets such as Apple Pay and Google Pay, as well as contactless cards. It includes a complimentary magstripe reader, allowing you to continue accepting magnetic stripe cards as needed. It costs $49 if you buy it with a charging port, or $78 if you buy it without.
Square Stand for contactless and chip
The Square Stand may be used to transform an iPad into a stationary POS system that rests on the counter in the checkout area. It contains a built-in magstripe card reader, a contactless and chip reader, and a dock that plugs into the unit. If you wish to go mobile again, remove the iPad from the stand and connect a Square Reader to process credit cards from anywhere. It is priced at $169.
Square Terminal
If you don't want to utilize your mobile device to collect credit card payments, this is the card reader for you. It's a credit card terminal that includes a screen, card reader, and receipt printer. It is priced at $299.
Square Register
This countertop device is likewise self-contained and does not require a smartphone or tablet to operate. It instead has two touchscreens, one for you and one for your customer. It features card scanners built in that take magstripe and chip cards and mobile wallets like Google Pay and Apple Pay. Square's POS software comes preinstalled, and you may upgrade with devices like a cash drawer, receipt printer, and barcode scanner. The price is $799.
Other Advantages
Square provides services to assist merchants in running and developing their businesses and processing credit cards on mobile devices. Business software, a finance program, and e-commerce capabilities are among them.
Extra Services
Square provides several software apps that you can install on your system. For some, the transaction fee is the only expense. Others require a monthly fee. Here are a few examples of free options:
Analytics.

Scheduled appointments (for a single user).

Customer contact information.

Digital gift cards.

Invoices.

Management of a Group (the basic tier).
Online Storefront for Free
You can begin selling online by creating a mobile-friendly web store. You get a pre-built, customizable shop, so you don't need any web design or coding experience to get started. It integrates with Square Point of Sale, ensuring that your inventory and orders are constantly updated. It allows for in-store pick up, which benefits both businesses and restaurants. This service has four tier tiers, with the basic tier being free - all you pay are the transaction fees for your credit card sales.
You can also utilize Square Online Checkout to generate a payment link that you can text, email, or share on social media.
Chargeback Defense
Square recommends that you use its best practices for accepting card payments since they prevent chargebacks. However, Square will work with you to resolve the matter without charging you a fee if a consumer disputes a charge. This is uncommon because most credit card processors charge $25 for every dispute, regardless of whether it is resolved in your favor or not.
Square places a hold on money from that transaction and sends you a document requesting information once your consumer calls their bank to dispute the charge. You have seven days to respond with documentation and determine whether to refund the customer's money or contest the dispute. If you deny it, Square will transmit the documentation you provided to your customer's bank, which will then determine who wins the argument. A decision can take up to 90 days.
Program for Referrals
If you introduce your merchant friends to Square, you can get up to $1,000 in free processing over six months. You'll also get a $20 one-time discount on a Square contactless and chip card reader.
Financing for Small Businesses
When cash flow is tight, or for new equipment, additional inventory, or a new location, eligible retailers can borrow money through the Square Capital program. The money is automatically repaid from your credit card transactions. Payments are made based on a defined proportion of each transaction. If you repay the loan early, there is no penalty.
Square's Sales Tools and Features
Adding New Products
It's simple to add products to your store and much easier to create variations of those products. You may also add modifiers to your products, allowing buyers to personalize them - excellent if you're selling gifts.
And adding new categories is a breeze. So simple that Square Online will recommend types based on how similar products are classified across the web.
Managing Inventory
Every store manager's biggest nightmare is selling a product on their website only to discover that they sold the last one in their store just a few minutes earlier. Sound inventory management systems are essential to avoid awkward conversations, complicated returns, and dissatisfied consumers.
Square Online, thankfully, has you covered. If you already have a physical business and utilize Square as your POS system, this is when the combination shines. You can monitor all inventory from your consolidated dashboard, including stock levels available in various locations. Keep this updated, and Square will handle the rest.
Square Online can be used to update your stock to reflect the following changes:
Stock received: This function adds the number you input to the current total for existing stock and sets the stock number for new goods.
Inventory recount: Replaces the current stock total with the number you input or assigns a stock number to new goods.
Restock return: This function adds the amount you enter to the existing stock total.
Damage: Reduces the stock number by the amount entered.
Theft: Reduces the stock number by the amount entered.
Loss: Reduces the stock number by the amount entered.
Square Pros and Cons
Pros
Excellent features at an affordable price.

The site dashboard is simple to use and keeps track of product sales, customer journeys, and abandoned cart recoveries.

Built-in marketing capabilities support everything from email marketing to sponsored adverts.
Cons
Customization options are limited.

To avoid higher transaction fees, you must use the Square payment gateway.

There is a slight learning curve when you initially start using the platform.
How much does Square cost?
Here's a quick rundown of each Square Online plan's monthly price and transaction fees:
By definition, the free plan is an incredible value. It is infrequent to be able to access these things for free. Of course, there is a cost; in this case, it's Square Online advertising in your site's bottom and a domain name that ends in '.square.site.' You'll also be unable to add PayPal as a payment option because you'll only be allowed to process payments through Square.
| | | | |
| --- | --- | --- | --- |
| Plan | Monthly Cost (Monthly payment basis) | Monthly Cost (Annual payment basis) | Transaction Fee |
| Free | N/A | N/A | 2.9% + 30¢ |
| Professional | $16 | $12 | 2.9% + 30¢ |
| Performance | $29 | $26 | 2.9% + 30¢ |
| Premium | $79 | $72 | 2.9% + 30¢ |
You want your company to appear established, and these details may have the opposite effect. That's why, despite its fantastic value, we wouldn't advocate sticking on the free plan for an extended period.
You pay somewhat more than with the Professional plan, but it's still quite reasonable at $26 per month. Additionally, you may send abandoned cart and customer review emails at this fee, both of which are critical tools for fostering long-term success for your firm. You can also print shipping labels directly from your dashboard and accept payments via PayPal.
Limitations
Although Square is one of the most user-friendly and feature-rich mobile credit card processors, it is not flawed. One disadvantage is that, unlike other big credit card processing firms, its customer care is not available 24 hours a day, seven days a week, so you won't be able to reach someone if you need assistance late at night or on weekends.
Square has received numerous online complaints concerning holding funds and account closures. This type of processing service is more risk-averse than standard credit card processors, and it will place a hold on your funds if a transaction or your account triggers an alarm. If the company detects that you are selling products or services on its forbidden list, it will terminate your account. Please visit AppsRhino for more details.