We frequently equate our bodies to machines and treat them similarly. Our bodies adapt well to the everyday grind, whether it's the daily commute, continual multitasking, sending emails, attending meetings, or catching up on everything else. And then life becomes a little too busy and takes over, and we forget about ourselves, our wellness, and our bodies to make ends meet.
It will help if you put yourself first now and then, where massage comes in. But what about massages in today's world? Who has time to keep appointments in the first place? It is where on-demand marketplaces come in to save the day.
With everyone being tremendously busy with their schedules and massive workloads, people don't have time to keep appointments with a masseuse. It is where you apply the concept of an on-demand massage application. While many still enjoy a full spa day at a resort, something is appealing about opening an app. Moreover, selecting the best massage therapist based on your needs, reserving an appointment, and having the masseuse come to you. It was essentially the high point of any on-demand massage therapist app.
Summary
Customers will utilize an on-demand massage app if it is of high quality and trustworthy, owing to its convenience. They no longer have to get ready, go to the spa, and spend their time reading magazines. Furthermore, individuals can access the same from the comfort of their own homes via on-demand apps. The on-demand concept has given massage business owners a breath of fresh air. They are working hard to implement it as effectively as possible.
AppsRhino is #1 for massage app development due to its explicit services and cost-effective strategy. This blog talks about how AppsRhino is the best choice to develop a massage app. This blog covers:
Key Strategies
Business Plan Development
Features of Massage Apps
Massage Apps for different Stakeholders
Stages of Massage App Development
Cost of massage app development
The On-Demand Massage App's Key Strategies by AppsRhino
Putting Convenience First
The goal of a massage session is to make the consumers and massage therapists as comfortable as possible.
When you least expect it, stress can build up at any time. Recognizing this reality, send a therapist as soon as possible if your Massage app users want it. The therapists arrive with essential tools, such as a massage table, oils, lotion, music cords, etc. Essentially, it turns your business or house into a makeshift spa.
They have a massage therapist app that allows them to track their appointments and accept and deny massage booking requests on the therapist's end.
Providing a High-Quality, Secure Service
The quality of service and the massage app are essential factors in any business's success. Ensure that users receive skilled massage therapists' most incredible massage treatment services. Only certified, and you should include licensed therapists in the app.
The app user receives the scheduled therapist's photo and bio, with user and therapist safety as a top concern. On the other hand, the therapist gets the booked user's precise location and requirement description.
Expansion of Business
Consider branching out and expanding your offerings after establishing a solid basis with your mobile massage app. You can even expand your massage services to include beauty services or other services if you like.
Another strategy to ensure the success of your on-demand massage app development is to keep consumers and therapists pleased and satisfied. You can accomplish this by reviewing user input and taking appropriate action. You can also give them different massages, such as Swedish massage or prenatal massage.
Assistance in Business Plan Development
To pursue massage app development, you must have a proper business model definition, and AppsRhino provides you with that. The goal of on-demand massage apps is to bridge the gap between massage therapists and their customers. It maintains a consistent flow of functionality from the beginning to the completion of the procedure. The therapists see you as a marketing platform for their services, while the customers see you as a market.
AppsRhino helps you build your business plan around that, and the app development will follow. Determine your pricing models for each service the therapist will provide ahead of time. It also helps determine how the revenue stream will flow and how much profit you will need to distribute to them. These are essential areas of business planning that You must address during the beginning stages of massage app development.
Features in Massage Apps
By choosing AppsRhino for your massage app development, you get many features among the most wanted ones.
The application's feature set will define its functions and determine whether or not people will prefer it. A Massage app's functionalities can vary. The development team will guarantee that the features are appropriate for the intended audience and include all fundamental functionalities. The essential features are as follows:
Real-time tracking enables users to track the status of their requested services in real-time.

A notification would keep users up to date on all essential information regarding services, offers, discounts, and products.

Multiple payment options offer numerous payment alternatives in the app. Consumers do not experience any difficulties when making payments. Include cards, wallets, and UPIs for the users' convenience.

Ratings and reviews – Customers should be able to review and provide appropriate comments on the services they have used. Rating their experiences assists the firm in gaining new consumers and focusing on areas that require improvement.

The service portal is the most significant portal for consumers. They may look for the massage service they wish to use and reserve a time window that works for them.

Simple Cancellations- At times, the client may make a blunder. The fee gets debited from their account, and they now wish to cancel their appointment and receive their money back. In this case, customer service must be perfect. The refund should not take millennia to be processed back into the user's account. If the consumer merely wants to reschedule, you should make arrangements. The customer should not be concerned about losing money during the session. It is another aspect where AppsRhino has expertise.

Comprehensive Review System- Reviews function as a framework for clients to evaluate their therapists and vice versa. An efficient and successful review mechanism gives both sides of the market a heads-up on what to expect. Clients should be able to provide detailed feedback, and You should investigate any negative experiences. Similarly, the therapists should be able to evaluate the client. This openness promotes excellent behavior all around. AppsRhino includes a feedback system in every app they develop.

Therapist Safety- Therapists are one of the primary stakeholders of massage apps. Therefore, massage app development companies should place a high value on therapist safety. There are several approaches to dealing with the intricacies of client screening and therapist security during consultations. It would be best if you thoroughly vet new clients. You must follow up on sudden address changes during bookings. Therapists should be able to check-in and out of appointments. AppsRhino enables the company to check on their therapists' location and well-being.
Massage Apps for different Stakeholders
There are three crucial stakeholders of an on-demand massage app, and so there are three panels that AppsRhino prepares based on the client's request. These are
Customer Panel
Log in or sign up

Access the massage therapist's profile, ratings & reviews, and charges.

Search & filter bar for fast results.

Easy cancellation or rescheduling of the request.

Feature to place a bid or hire a specific massage therapist according to requirements.

In-app chat feature.

Push notifications for when the massage therapist accepts requests or when you add a new feature.

Promos & offers.

Reviews and ratings.

Multiple payment methods feature.
Massage Therapist Panel
It Provides a Simple log-in or sign-up process for massage therapists.

Enables massage therapists to create and manage their accounts flawlessly by adding their charges, services, and experience.

Feature to set availability

Option to handle, accept or reject or cancel a request

In-app Map feature to reach the customer's location.

Manage reviews & feedback

In-app chat module feature

Payment management feature
Admin Panel
Feature to Manage Dashboard

Enable management of Massage therapist profile

Customer profile management.

To Manage the price & earnings.

To Manage ads & featured listing

Flawless Payment management

Push notifications

Analysis of performance

Promos & code management system
Stages of Massage App Development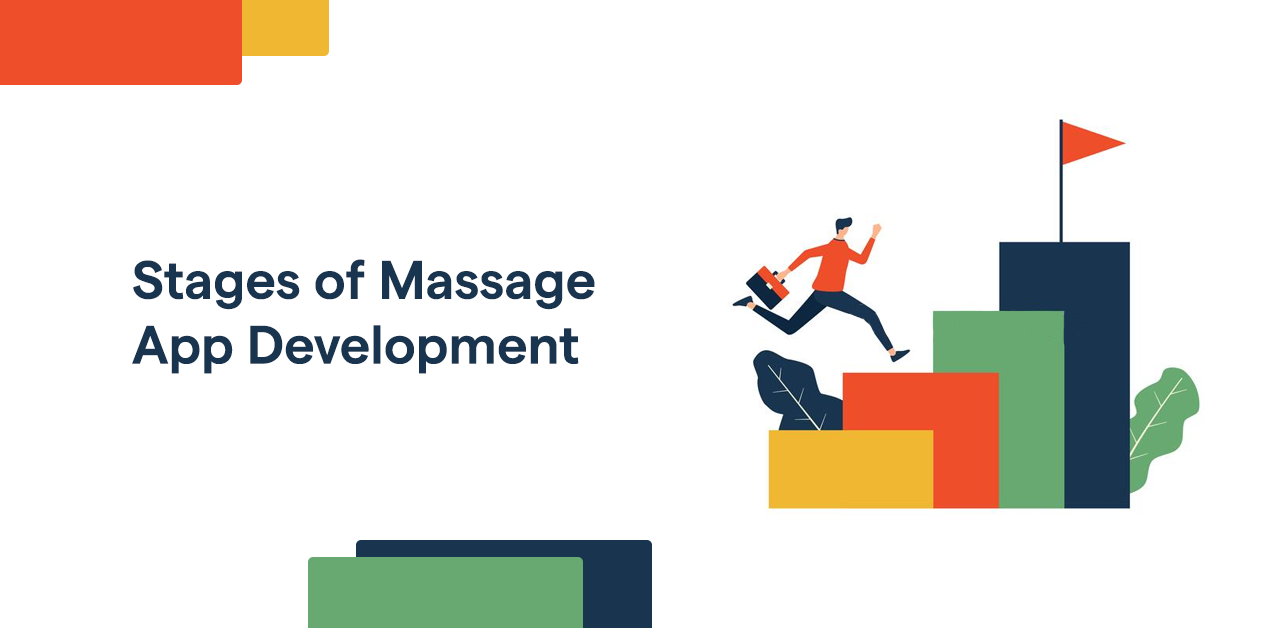 There are three segments when developing an on-demand app: pre-segment, during development, and post-app creation. AppsRhino is there at all stages. It is critical to define your on-demand massage app's development fundamentals on a solid basis. You should create an app with advanced technologies to keep up with the marketplace. The following are some critical steps in the development of a massage app:
Market Analysis
After determining the Massage app's specialty, it is critical to properly study the application's design and requirements. The following are some things to think about:
Target Audience: Prospective purchasers make up the target audience. The organization will earn more if the massage service's operational range concentrates on places with the most clients. Based on your understanding of your target market, make the appropriate changes.
USP: There are numerous applications on the market right now; you should have a Unique Selling Proposition (USP) to stand out with your on-demand massage app.
Target Platforms: Before constructing the massage app, the application's development method, whether native or hybrid, must be determined. The native development strategy focuses on apps for Android or iOS. In contrast, mixed development is for concurrent iOS and Android app development.
Competitor Analysis: Conduct a competitor analysis to understand your competitors better and make the required changes to your on-demand massage app.
Massage App Development Methodology
It is also known as the front-end development method. The design of the application must be appealing. The many processes involved in front-end development are as follows:
Information Architecture: It serves as a road plan for the app's displays. A complete flow chart is created, with each heading and subsection listed. You can use this information to generate the app's subsequent pages.
Wireframes are graphical representations of front-end elements such as icons, buttons, etc. Moreover, The wireframe method gives you a precise and clear outline without going too deep in development.
Mockups: Mockups are test runs to determine if the actual app adheres to the design.
Massage App Development
It is the stage at which the whole app is produced: the front-end, backend, and API are all created.
Backend Development: This is integrating server-side technology and databases into the program.
APIs: Application Programming Interfaces (APIs) are pieces of software that connect the app to the backend.
Frontend Development: This is the point at which end-users interact. It intends to provide customers with an engaging and fantastic experience.
Massage App Testing
The next step is to test the on-demand massage app after being developed. The goal of testing is to identify and correct any flaws in the application.
What Does It Cost To Create A Massage App?
Many factors influence the cost of developing an on-demand massage app, including the app's design, the technology utilized for development (Android, iOS, or both), the time necessary for growth, the functionality, and features, and the developer's expertise. The anticipated development cost would be between $10,000 and $15,000.
Conclusion
It is not enough to have a fantastic idea; you also need an app to attract investors' attention. Suppose you are a startup eager to differentiate and provide ease to users. In that case, you may get the attention of investors and their money.
It would be best if you had a road map for your on-demand massage app. with a road map, you can design an application to provide the best user experience.
AppsRhino is #1 when it comes to Massage App Development. It is your one-stop solution for on-demand massage app development.