Introduction
Medicine is a significant industry and has been in existence for centuries. It is the only sector an entire generation depends on to treat their ailments.
The availability of medicine has changed the face of humankind. The technology sector has also evolved, and the applicability of new technologies has affected every level of human activity in the past few decades.
Look around you, and you will notice how people get their medicines delivered to their doorstep via an app. All childhood illnesses and chronic diseases depend on medicine delivery apps for quick relief.
As the industry grows, more and more people are turning into users and service providers.
Do you want to develop a medicine delivery app for your business? Here you can find an amazing list of features every medicine delivery app should have.
Is the industry growing? YES!
We anticipate the pharmacy delivery market will grow by 6.4% CAGR to 1,694.7 billion dollars by 2023. Aside from the increasing number of chronic disease patients who require ongoing medication supply, other major factors include technological advancement and the release of new products.
The COVID-19 pandemic has boosted medicine delivery to an unprecedented level, particularly since the beginning of 2020.
Implementing such a possibility into your online pharmacy may force business growth. Furthermore, all medicine delivery apps must provide accurate drug identification and information about the medication.
Online pharmacy retailers are an excellent way to make medicine available to patients while maintaining social distance in 2021.
Features your Medicine Delivery App must-have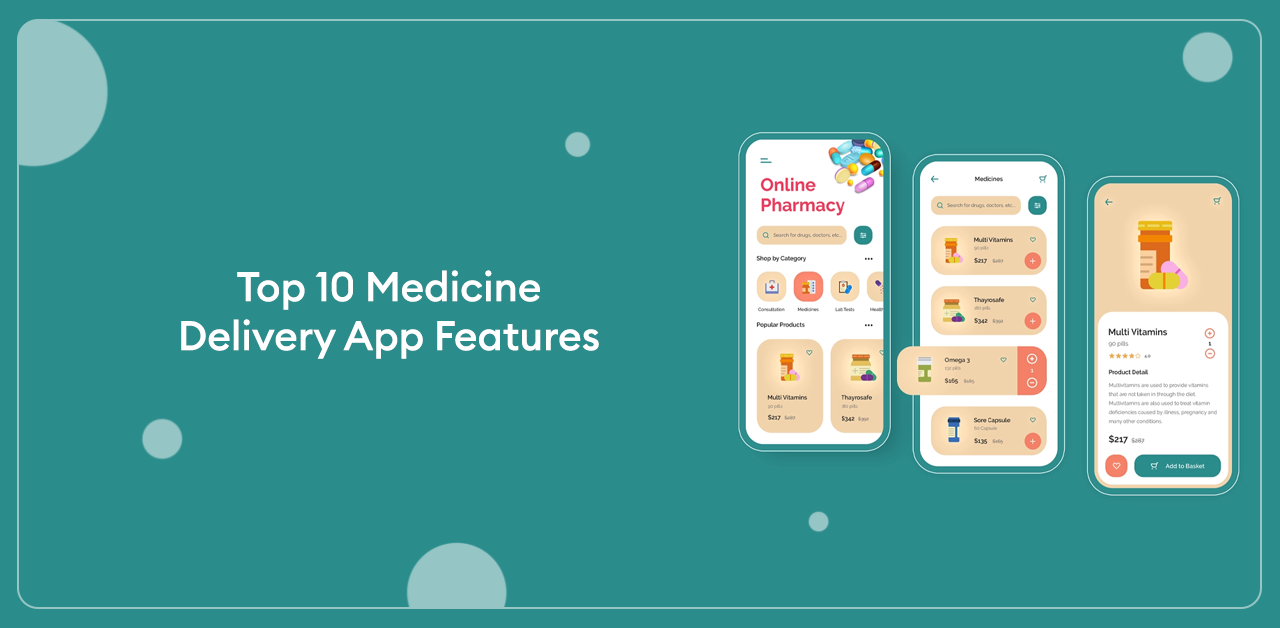 What do you look for in an application? Comfort, good services, easy experience, customer support, problem resolution, etc. This is exactly what your users would look for in your medicine delivery app.
A medicine delivery app is intended to make ordering drugs smooth and effortless, and your app should contribute toward it.
Here are the ten key medicine delivery app features
1. Drug Description/Instruction
Suppose a person has a headache and they cannot bear it. They google and look for medicine. However, they need to find out if it would be safe or how frequently they have to take it. They would be clueless here.
But, if your app can solve these doubts, users will come to you.
Your medicine delivery app should include all the necessary patient information, such as medicine consumption details and side effects. It's also a good idea to have medication pre-packaged in the correct dosages and guidelines to help consumers take their medicine correctly.
2. Upload Prescription
We know doctors aren't that good with words (the handwriting is a bit difficult to grasp, isn't it?), so it gets difficult for the patient to manually type in the name of the medicine they need.
To solve this pressing issue, you can include a feature wherein the user can upload their prescription. This would ensure they don't accidentally order the wrong drug, and at the same time, they would get all the details they need.
3. Chat Support
There may be times when your customer might require some support. They may have received the wrong package or need a pharmacist in emergencies. They may face some issues while ordering the drugs, or they may be facing some glitches.
To address such concerns, you should have people looking after the customers' needs. Online chat support is a much-needed medicine delivery app feature.
4. Add a request
Sometimes, a particular drug is out of stock on your medicine delivery app. In that case, you should allow your users to add a request so that you know what all drugs you need to arrange for.
5. Automatic Refill
Let's create a scenario. A user creates an account and uploads their prescription. You send them the prescribed medicines (an amount that is enough for 15 days). Fifteen days have passed, and they have to re-order, but they forgot about it.
What if your medicine delivery had a feature where you would automatically refill their dose a day before the previous one ends? It would be great!
You'll be deemed more reliable, and people will revisit. So, make sure your medicine delivery app has an option of allowing refill every 15 days or whatever cycle suits the user best!
6. Multiple Payment Options
Not all users are the same, and not everyone would choose the same payment method.
Some may want to use PayPal, while others may pay on delivery. Your medicine delivery app should allow the customers to choose the method that suits them the best.
7. Easy Navigation
Another important medicine delivery app feature is its being user-friendly. If your app has a good UI and UX, it is more likely to be liked by the customers.
People rely a lot on their eyes, even when it's something as serious as ordering medicines. Hence, your app should look great and feel great.
8. Push Notifications
To stay relevant in this fast-paced era, you must remind your users that you are living on their devices.
You can send in recent offers, discounts, and coupons through push notifications, notify them of the availability of medicine, etc.
9. Tracking
Suppose a user has ordered some medicine while their child is sick. They are tensed and waiting for the package to arrive.
Your medicine delivery app must have a feature wherein the customer can track the location of their order. This gives them an idea of how much time it would take to reach them
10. Substitutes and Comparisons
Another essential medicine delivery app feature is where you provide an option for your users to see the substitutes and compare.
Allow them to analyze all the aspects like the reviews, cost, side-effects, etc.
Conclusion
To summarize, medicine delivery apps have changed the pharmaceutical industry by leveraging the power of smartphones and IoT. They have strived to make customer and patient satisfaction easier and more accessible.
You can now extend customer care services to those who may not be physically close to a pharmacy or health care center. It is convenient and very helpful for the customer and can reduce time wastage. Even though a few issues still need ironing out, the above features guarantee this technology space in the future market scenario.
Look no further if you want to enter the industry and get a medicine delivery app made! Contact AppsRhino and get the best quality services at the most affordable rates.
Book your demo today!