Introduction
You know how unfeasible it is to open different apps for anything you want to order. You have to install a different app for food delivery, a different one for medicine delivery, and another one for grocery delivery. This is where Rappi App comes in handy!
It's simply a one-stop solution for all on-demand delivery solutions. One does not need to roam around different apps to have an on-demand delivery to their home. They can use your Rappi Clone as an alternative!
Businesses around the globe use the Rappi Clone app for all their on-demand delivery solutions. According to Statista, the current market value of Rappi is 5.2 billion US dollars!
Apps like Uber and Amazon are their tough competitors. There is no denying that these apps top the list. Even then, apps like Rappi are inspiring young entrepreneurs from all over the world to use an app like Rappi. This enthusiasm is only possible because of its salient features.
Let's read this blog about how a Rappi Clone will help boost your business!

What is Rappi Clone App?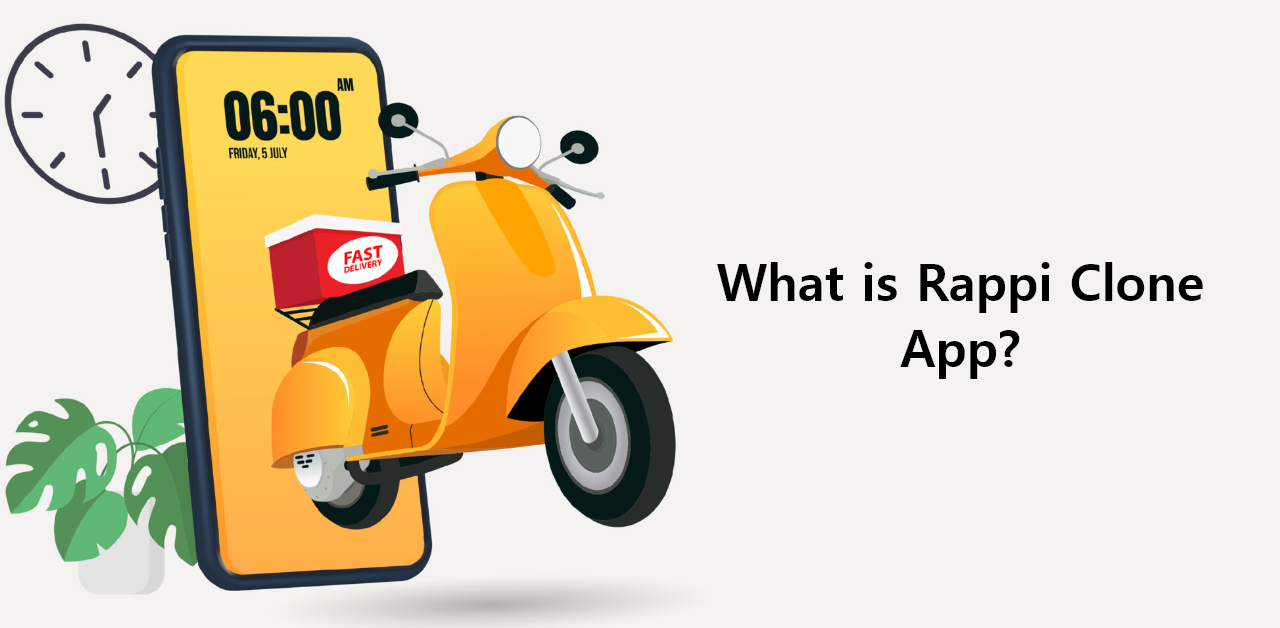 A Rappi clone app is a substitute for the Rappi app that offers a convenient user interface and similar functions. The clone app will bring all hyperlocal delivery management systems under one roof, wherein retailers and customers can contact under the same platform. This application helps encourage businesses. Especially for startups, it's a transformational boost.
A well-developed Rappi clone App can help build an effective hyperlocal delivery management system. It creates an app that is an integrated version of all features for the convenience of customers, delivery partners, and retailers.
Cloned apps save you time by eliminating the initial effort that the creators of the original apps have already completed. Market research, business strategy, and the execution of the UI design are all included in the task. Clone applications need a lot less work than independent apps do to produce.
How a Rappi Clone App will help you boost your business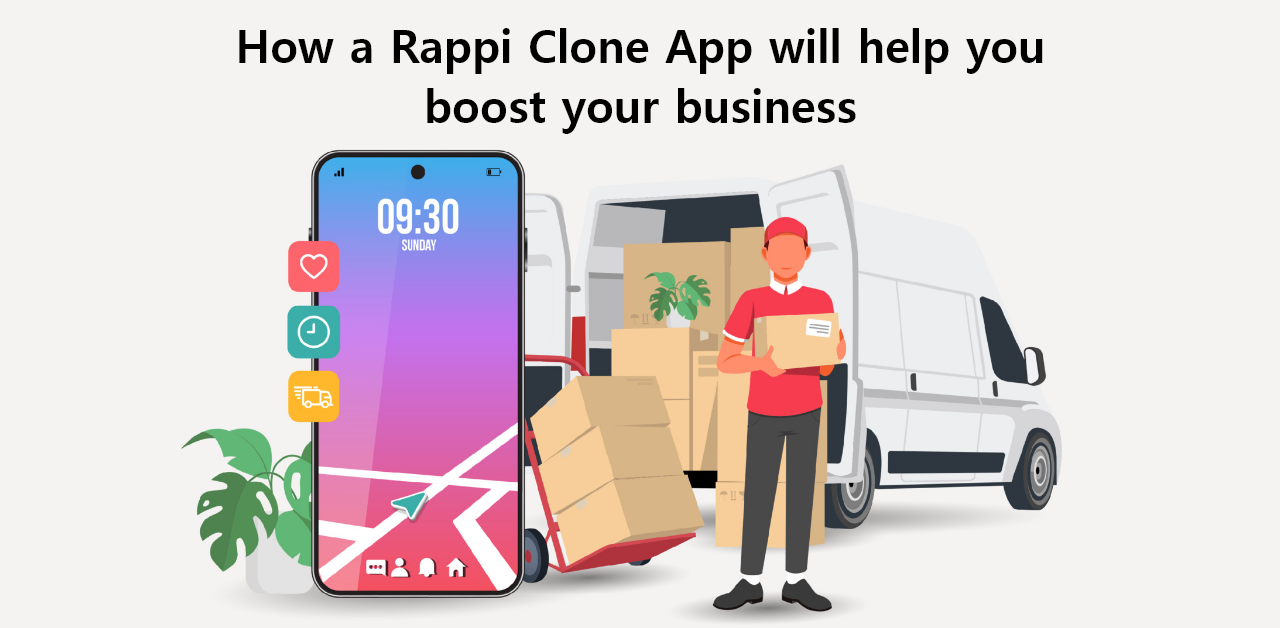 The features of this application App make it one of the best choices for startups and businesses and provides Rappi Clone App scope! Some must-have features for your clone app are here!
Application for the user
User Interface
The application's users may quickly sign in or log in using their phone number, email address, and social network credentials.
All the crucial information is filtered using advanced search options. While users are using search and filter tools, they can find numerous services they want.
The user interface allows you to reach customers at better rates and from multiple regions!
Payment
The Rappi Clone App provides different modes of payment for users to choose from. One of Rappi Clone App's scope is multiple payment gateways for all customers like credit cards, debit cards, e-wallets, cash on delivery options, and others.
Before using the service, you can inform the users about the anticipated cost and time for the specific order.
Placement Of Order
Users may phone and talk with delivery executives directly using the in-app call/chat feature if they have any questions.
Users may choose a delivery date for their goods based on their availability, the right location, and other factors.
Reviews and rating
Users get a platform to express their ideas and comments on the services they receive via the Rappi clone application. Additionally, you can allow them to rank honestly on a scale of 1 to 5. Future shoppers might take notice of it based on these ratings and reviews.

Push Notifications
Users receive push alerts for all of the most recent changes. You shall inform the customers of all updates via their email addresses, text messages, and in-app alerts.
This feature allows users to rearrange all of their previous orders. You can attract customers and let them open your Rappi Clone App with push notifications!

Application for the Provider
Login
The application may be readily registered by delivery executives using their email addresses, home addresses, and phone numbers.
OTP is given through SMS or email for the verification procedure to confirm the authenticity of user information submitted.
Using GPS for Navigation
The delivery staff can locate the users' delivery location thanks to the supplier app's real-time navigation system.
Delivery executives may also utilize their profiles, which include all the necessary information and images. Any information can be updated or added at any moment.
Delivery executives can use the toggle mode to switch on or off their status according to their convenience and availability.
Route Improvement
The application's built-in maps aid in appropriate navigation as well. Executives can accurately see the best and quickest paths using the message. They can then adhere to the instructions.
Opening a Bank Account
The delivery executive can add the information for each bank account to receive payments from the admin team. They can additionally add information about each bank account. Moreover, they receive an additional commission in their bank account.
This function can be possible with your Rappi Clone App scope!
Easy Onboarding for Store App Panel
Through the registration process for the Rappi Clone App clients using their email IDs, phone numbers, or social media accounts, store owners may showcase their extensive service variety.
Processing of Orders Customers may place orders with a store, and the store owner is authorized to fulfill such orders. They often update the order status.
Product Listings Using the Rappi clone, store owners list every product detail. They can then examine the items' availability and how they work.
Hence, you can reach customers and onboard Store App Panels with your Rappi Clone App!
Categories/Subcategories
Your Rappi Clone App can allow grouping the items into several categories and subcategories.
The store owner may control the merchandise offered on their websites and mobile applications. This feature will help in the effortless arrangement of available services.
Limit on Minimum Orders
Store owners on your Rappi Clone App can define the maximum and minimum limits for ordering products via the application.
Moreover, they can limit the amount a user may order via the application per the specified product quality.
Rappi Clone App Services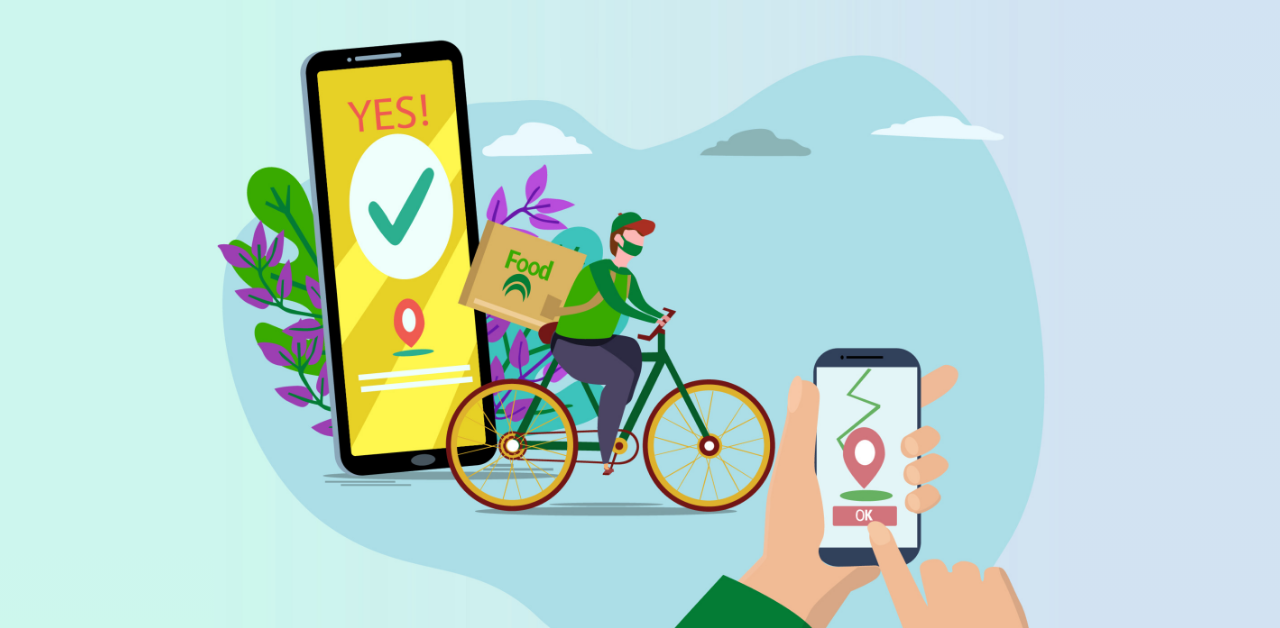 Rappi Clone App is the replica of the rappi app, which offers on-demand delivery solutions. The Clone app allows you to customize features and facilities according to your wish. Some services offered by the rappi clone app are as follows
Food Delivery Services
Similar to other online food delivery services, Rappi clone programming services allow its clients the opportunity to best satisfy their requirements and offer the necessary arrangements.
Like any other app, it allows users to order food from local vendors or restaurants. After this, the recipients pick up the delivery requests, and food is delivered to the customer's doorstep.
Grocery Delivery Service
One can also order groceries through Rappi Clone App. Customers place a request which then moves on to the recipients, who pick it up, and the order is at the customer's doorstep.
Medicine Delivery Service
It's a quick and feasible way of ordering medicines through the clone app. One can order medicine from the pharmaceuticals of their choice. They can also add prescriptions for better diagnosis.
Gas and Fuel Delivery Service
Your vehicle or automobile can't move an inch without gas or fuel. One can get it deliveries as well using Rappi Clone App.
Courier Delivery Services
You may provide clients with the option to use the courier delivery services by letting them select the kind of vehicle they wish to use. The applicant's drop-off and pickup locations must be carefully entered.
Stationary Delivery Services
Stationaries are essential items for households as well as offices. These stationery items may be delivered to your door with the Rappi Clone App.
Bottled Water Delivery Service
Water is essential. None can live without water. You can always get bottled water delivered using this clone app.
Bakery Delivery Service
The bakery also gets into the category of food. Additionally, customers may swiftly place orders for bakery goods with this application. They can place orders from neighboring retailers and deliver them to their door in the allotted time.
Conclusion
To sum up, we can say that Rappi Clone App is a replica of the Rappi App, with similar features and utilization. These features contribute to boosting one's business. You can add additional features and remove some per your requirement and target audience.
The best part is that it is customized. One can always add or remove features as one wishes. This option also gives it scalability. As of now, you have n number of options to choose from.
It is quick and easy to build the Rappi Clone app with appropriate help.
Cloned applications don't need to spend money on initial research because they copy the real thing, which has already been studied and is well-liked in the market. The expense of creating the app from scratch and the cash required for brand and app marketing is lower. All this proves that cloned apps have a greater chance of success and have the ability to boost your business. Do you want to engage in Rappi Clone App Development but don't know where to start?