How Lucrative is the on demand cannabis industry?
Cannabis on-demand, a much lucrative space to dive into, has lately caught attention and interest of many entrepreneurs, start-ups, and many deep-pocketed investors. This is largely due to the fact that consumers have been deriving tons of convenience by ordering the product online, the access to which had been legally restricted for many years. Patients had to undergo all sorts of trouble by rushing to the nearby dispensary in the midst of their illness or depend on some courier services to get hold of cannabis. The introduction of instant delivery services worked as a relief strategy, as one could bid adieu to such tiresome situations. Moreover, as many countries started to legalize the use of cannabis owing to its extensive medical benefits, the industry got an added push and was set on the path of expansion.
Today, there are a plethora of weed or marijuana delivery apps that help medical patients order superior quality, safe cannabis products on demand, without having to worry about the legal repercussions or the price differences. These apps usually require patients to submit the prescription or medical cards confirming the need for marijuana consumption. Once the verification is completed, it allows patients to conveniently choose and order products, which are then delivered to their desired destination in no time. Behind the scenes, these cannabis delivery platforms usually tie up with the legally-approved dispensaries from where the products are sourced.
Globally, there are certain markets where on-demand cannabis framework has tasted huge success. The market is fairly established in the United States, where the sale of medical cannabis is expected to grow to $13.3 billion by 2020, and the sale of recreational cannabis is expected to reach $11.2 billion. California has been topping the chart, witnessing a spurring growth of start-ups in this segment, accompanied by Canada, where an increasing number of on-demand cannabis players have been operating successfully with licenses.
Due to the scope of promising revenues, the sector has paved way for a lot of investor interest. While initially, most of the investments in the cannabis industry came from small venture capital and private equity funds, even the large established funds have now been tempted to invest in the cannabis on-demand market.A recent survey has revealed that investments are being made across numerous verticals within the cannabis industry, including medical cannabis, technology platforms and software and cannabis information resources.And these funds are in turn being used for a variety of purposes like campaigns to legalize cannabis, educational initiatives, legal assistance, facilitating medical assistance, and many more.
Crowdfunding has also been seen as a great option by the on-demand cannabis players to raise funds. As the government takes key steps to relax certain regulations, we would certainly see more investors coming forward to invest in cannabis.
In the U.S, cannabis start-ups raised $225.3 million in 2017, up from $142 million raised in 2016.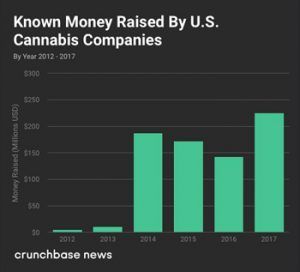 Needless to say, the industry is experiencing a gamut of changes, which range from legal to cultural and technological, and all this is going to set the stage for new players to enter the market with innovative on-demand cannabis services. Analysts project the on-demand cannabis market to be worth $50 million in the next four years, a positive projection which would create more room for opportunities, innovation, and investment.
Related Articles:
Future Of Cannabis Industry - Buying And Selling Online
Million Dollar Opportunity: Marijuana On-demand Delivery Business