The IT architecture of an organization may connect various systems and applications thanks to MuleSoft, a top integration platform. Businesses can increase data integrity, automate procedures, and streamline operations using MuleSoft. Having knowledgeable developers that can create and implement unique solutions catered to your company's requirements is essential if you want to take advantage of MuleSoft's advantages fully. AppsRhino can help in this situation.
MuleSoft development services from beginning to finish are offered by AppsRhino, a highly regarded software development firm, to companies of all sizes. AppsRhino has established a reputation for providing high-quality solutions that meet and surpass clients' expectations thanks to its years of experience designing complex integration solutions.
With AppsRhino, hiring MuleSoft developers is a simple procedure that only requires a few easy steps. You must first communicate your project's requirements to the AppsRhino team. They will offer you a free consultation and price quote based on your needs. After you accept the terms and conditions, you can work with our knowledgeable MuleSoft developers to create a tailored integration solution that addresses your company's needs.
You can anticipate a hassle-free development process, prompt delivery, and ongoing support and maintenance with AppsRhino's MuleSoft development services. Our team of professionals has developed MuleSoft integrations for a variety of businesses. For this reason, AppsRhino is the only place to turn if you want to hire MuleSoft developers.
Read on to discover how to find the best Mulesoft developers from AppsRhino!
What does a Mulesoft developer do?
Simply put, a Mulesoft Developer is in charge of creating and establishing connections between APIs (Application Programming Interfaces), allowing diverse applications to communicate. It supports clients' efforts to transform their businesses digitally.
Companies have been aware of this procedure for a very long time. But now, more than ever before, it's crucial.
Since switching from paper to typewriters, physical files to Excel sheets, and so forth, we have been doing this.
In the modern day, automated ETL (short for extract, transform, load) solutions are gradually taking the role of human transformation.
This procedure is significantly simplified by utilizing libraries with extensive lists of connections for each application.
Even though everything seems wonderful, there is a serious problem. Only two apps can connect at once using the so-called point-to-point technique.
Companies require improved solutions like AI and IoT due to the constantly increasing demand for quick data interchange in our contemporary and digitalized society. In this situation, Mulesoft is useful.
The MuleSoft Anypoint Platform allows developers to build custom integration solutions and scalable, reusable, and convenient APIs on the same platform.
It allows you to manage the entire lifecycle of an API, from development to implementation and deployment, both on-premises and in the cloud.
Responsibilities of a Mulesoft developer
MuleSoft is a well-known integration platform that allows companies to link various IT systems, programs, and data sources. MuleSoft developers are essential to designing, building, and maintaining MuleSoft interfaces that help companies automate procedures, increase data quality, and streamline operations.
The following are some of the responsibilities of a MuleSoft developer:
Design and develop Mulesoft integrations
MuleSoft integrations, which allow various systems and applications to communicate and share data smoothly, are designed and developed by MuleSoft developers. They create APIs, connectors, and other integration components that link various systems using MuleSoft's Anypoint Platform.
Configure and test integrations
MuleSoft connectors must be configured and tested by MuleSoft developers to ensure they adhere to business requirements and function as expected. They collaborate closely with business stakeholders and other IT specialists to comprehend integration requirements, identify data sources, and build integration procedures.
Troubleshoot and debug issues
When developing and deploying MuleSoft integrations, developers are responsible for troubleshooting and debugging problems. They employ debugging tools and methods to find and fix problems with connectivity, data mapping, and other integration components.
Maintain and enhance integrations
MuleSoft integrations must be maintained and improved by MuleSoft developers for them to continue serving business demands and evolving business requirements. They keep track of integration performance, pinpoint problem areas, and apply updates and improvements as necessary.
Provide technical support
Technical support for end users and other IT professionals using MuleSoft integrations is the responsibility of MuleSoft developers. They assist in identifying and resolving problems with connectivity, performance, and other integration-related components.
Through the seamless integration of disparate systems and applications, MuleSoft developers help businesses streamline their operations and improve the quality of their data. They are in charge of planning, creating, setting up, testing, resolving issues, sustaining, improving, and offering technical support for MuleSoft integrations.
How to hire a Mulesoft developer with AppsRhino?
Define your project requirements
Specifying your needs is the first step in hiring a Mulesoft developer. The project's scope, the features and functionalities you wish to include, and the deadline for completion are all part of this process.
It will benefit you to engage AppsRhino engineers with experience in creating similar projects and describe your project properly.
Check their experience and skills
Following the definition of your project's requirements, the next step is to evaluate the Mulesoft developer's expertise and experience.
Mulesoft professionals with expertise in creating complicated web apps make up AppsRhino's team.
Conduct technical interviews
Technical interviews are crucial to guarantee that you select the finest Mulesoft developer for your project.
AppsRhino has a strict screening procedure to ensure that only the top applicants are chosen for the position.
Technical interviews are part of evaluating the candidates' expertise and background in Mulesoft development.
Evaluate their communication skills
Any project must have effective communication, so hiring Mulesoft developers with these abilities is critical.
It will ensure that the client and development team are in constant communication, resulting in a good project outcome.
AppsRhino assures that all of its developers have outstanding interpersonal and communication abilities.
Look for a developer with a problem-solving approach
Hire a developer with a problem-solving mindset, technical expertise, and communication skills.
It implies they can recognize prospective problems and offer workable methods to resolve them.
The Mulesoft developers at AppsRhino have a problem-solving mindset and can function well in a fast-paced, dynamic setting.
Consider their availability and pricing
Finally, considering the Mulesoft developer's availability and cost is crucial.
To meet the needs of your project, AppsRhino offers multiple hiring models, including hourly, part-time, and full-time.
They also offer affordable prices. It guarantees that you get the greatest value for your money.
Benefits of hiring from AppsRhino
Expertise
A team of skilled developers at AppsRhino is knowledgeable in various technologies and programming languages.
This means that whether you need help creating a mobile app or a custom web application, you can locate developers with the specialized skills you want.
Scalability
Thanks to our committed developers, you can expand your team up or down as necessary.
Businesses with varying workloads or must swiftly ramp up their development efforts may find this extremely helpful.
Cost efficiency
It is frequently less expensive to hire specialized developers through an outsourcing company like AppsRhino than it is to hire them internally or as independent contractors.
You won't have to pay the overhead expenses associated with recruiting, onboarding, and managing a full-time workforce to access a group of skilled developers.
Quality assurance
Thanks to the company's exact hiring procedure, all of AppsRhino's developers are highly qualified and experienced.
Additionally, the business offers ongoing training and support to ensure its developers know about the newest techniques and technologies.
Hire Dedicated Developers for various technologies such as Android, Angular, React, IOS, PHP, Node, Joget, MongoDB, and Java with AppsRhino: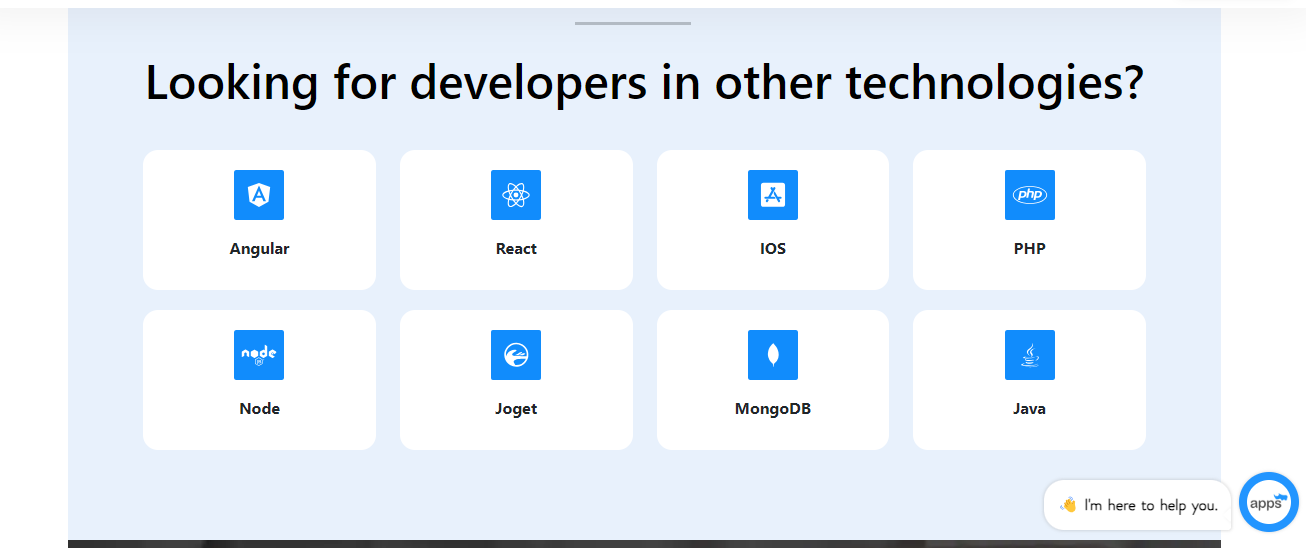 Unmatched support
The creators of AppsRhino provide all the guidance and support required by the user, both before and after launch.
AppsRhino has the ideal option for startups to large corporations, ranging from SaaS to a fully customized solution.
Flexible payment plans
Dynamic Pricing is one benefit of AppsRhino. The ideal balance between innovation and investment is enabled by flexible pricing.
After selecting the developers, your business can talk with them about the payment terms. We can set up interviews with Mulesoft developers who have been shortlisted, and you will manage their projects and payments.
Numerous clients use our services due to the flexible and dynamic pricing. As a result, both small and large businesses can choose to work with AppsRhino to find top Mulesoft developers!
Conclusion
Working with Mulesoft developers from AppsRhino should be your top priority if you want to create a top-notch product and help your company succeed in the market.
They are top-notch experts who can assist you with anything, including turning your idea into money and developing an intriguing integration.
One advantage of dealing with a business like AppsRhino is that they take care of all the administrative and logistical tasks related to employing a dedicated developer.
In contrast to getting bogged down in the finer points of hiring and onboarding, businesses can concentrate on the project's essential components.
By working with AppsRhino, businesses can streamline hiring, access a pool of highly qualified and experienced Mulesoft developers, and confidently complete their projects.
Please don't hesitate to contact us at AppsRhino if you have any queries, suggestions, or issues, as we're eager to establish ourselves as your go-to technology and strategy partner.
In the near future, it would be our pleasure to assist you.
Why are you holding out? Contact us immediately!
Frequently Asked Questions
What is Mulesoft and why is it important for businesses?
Mulesoft is an integration platform that enables businesses to connect different systems, applications, and data sources seamlessly. It plays a vital role in enhancing operational efficiency, facilitating data exchange, and streamlining business processes.
How can AppsRhino help in hiring Mulesoft developers?
AppsRhino specializes in providing skilled Mulesoft developers for businesses. They have a comprehensive hiring process that involves screening, technical assessments, and evaluating candidates' experience and expertise in Mulesoft development. They ensure that businesses find the right talent for their specific requirements.
What are the key factors to consider while hiring Mulesoft developers?
When hiring Mulesoft developers, it is important to consider factors such as their experience with Mulesoft Anypoint Platform, proficiency in relevant programming languages (Java, XML, etc.), understanding of integration patterns, knowledge of API design and development, and problem-solving abilities.
Can AppsRhino provide developers with experience in specific Mulesoft modules?
Yes, AppsRhino can provide developers with experience in various Mulesoft modules, including Mule Runtime, Anypoint Studio, API Manager, DataWeave, Connectors, and more. They can help businesses find developers specialized in the modules they require for their integration projects.
Can AppsRhino help in hiring remote Mulesoft developers?
Yes, AppsRhino offers the flexibility of hiring remote Mulesoft developers. They have a network of skilled developers who can work remotely, allowing businesses to access talent from around the world and scale their development team based on their project needs.