When everyone on the planet generates 1.7 megabytes of data every second, it's critical to know how to sort through information and arrange, understand, and present it meaningfully.
This vast volume of data, known as big data, has raised the need for qualified data scientists. As the US Bureau of Labor Statistics points out, the employment of data scientists is anticipated to expand 15 percent by 2029, far faster than the 4 percent average for all occupations. However, becoming a data scientist is not required to utilize the power of big data.
Anyone with access to data can benefit from it. Data science can learn about behaviors and processes, create algorithms that handle massive volumes of information rapidly and efficiently, improve the security and privacy of sensitive data, and lead data-driven decision-making.
Knowing how to make sense of data, the terminology used to navigate it, and how to harness it to create a good influence can be crucial assets in your job in today's corporate world. Here's a primer on data science and its application in business.
What is Data Science?
Data science is known to create, clean, and organize datasets to evaluate and extract significance. On the other hand, data analytics is analyzing and understanding data. Both of these techniques are useful in the workplace and have many similarities.
Data science necessitates that you:
Create hypotheses

Conduct experiments to collect data.

Analyze the data's quality

Datasets should be cleaned and streamlined.

Data should be organized and structured for analysis.
Why is Data Science important? The ways, a Data Scientist, can help a company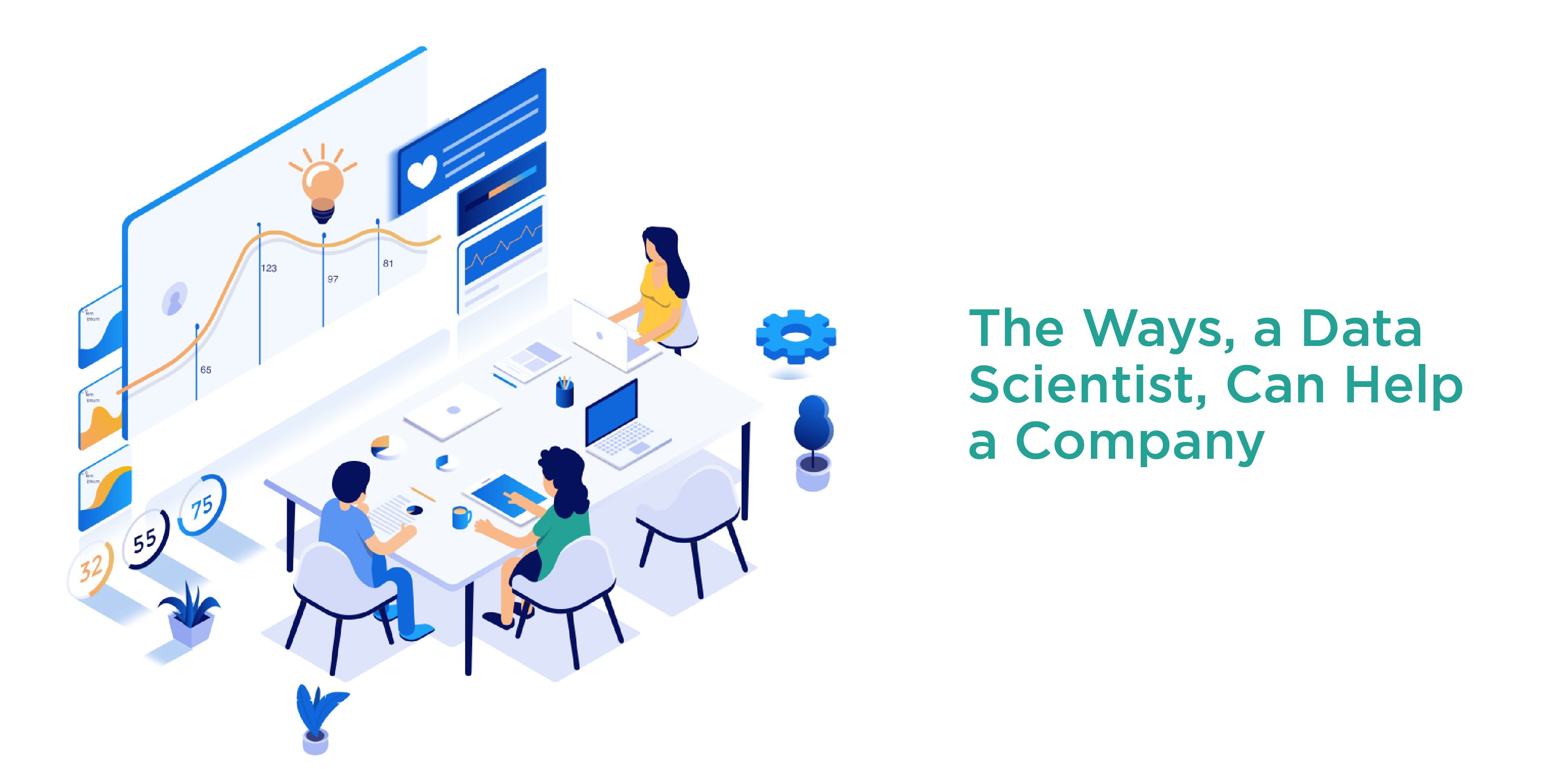 Giving Management and Officers More Decision-Making Power
A data scientist is likely to be a valuable counselor and strategic partner to the Organization's top management if they ensure that the staff's analytics capabilities are maximized. Analyzing and documenting performance indicators and other data is a data scientist's job, and they use this information to improve business processes.
Taking actions based on trends, helps to define goals.
A data scientist evaluates and investigates the Organization's data before recommending and prescribing specific measures to enhance the institution's performance, engage customers better, and ultimately increase profitability.
Encouraging Staff to Adopt Best Practices and Concentrate on Issues that Matter
One of a data scientist's responsibilities is to guarantee that the Organization's analytics product is well-known and understood by the personnel. They set up the team for success by demonstrating how to use the system effectively to extract insights and drive action. When the workforce knows the product's capabilities, their focus can shift to tackling significant business concerns.
Recognizing Opportunities
Data scientists evaluate existing procedures and assumptions while interacting with the Organization's present analytics system to build new methodologies and analytical algorithms. Their employment needs them to consistently and continuously improve the value derived from the Organization's data.
Here are some reasons why your firm must hire a data scientist from AppsRhino
Make Money From Your Data
Facebook monetizes the data its users collect, and you can do the same. Many merchant websites, for example, include a section that states, "Customers Who Bought This Item Also Bought," which shows things that are likely to improve sales. This form of creative analysis can help you increase revenue at your company if you hire a data scientist from AppsRhino.
Reduce Your Company's Risk
One of the responsibilities of data scientists is to analyze client churn patterns, which allows you to respond proactively rather than reactively if you observe a trend of clients selecting competing firms over yours. You can win back clients by sending out teaser bargains or other reductions and preventing the shift of leaving consumers.
Data scientists at AppsRhino also analyze data from companies you may want to collaborate with. It helps to reduce risk. Our data scientist, for example, could evaluate the information provided by a third-party payment processor about a firm you're considering doing business with. That study could be used to determine the company's creditworthiness.
Hire Dedicated Developers for various technologies such as Android, Angular, React, iOS, PHP, Node, Joget, MongoDB, and Java with AppsRhino: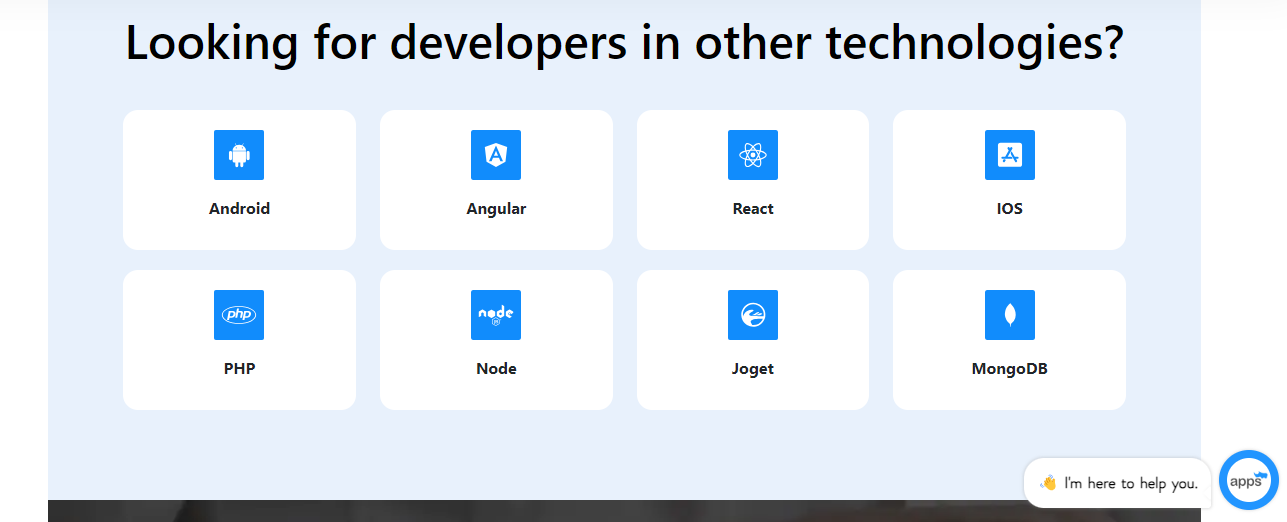 Improve Your Understanding of Your Customers
Customer behaviors evolve, and it is impossible to track that evolution without the assistance of a data scientist. Airbnb, for example, recently studied consumer behavior during online searches and modified its algorithm engine to deliver more tailored results. Bookings and reservations increased as a result. Our data scientist could discover insights into your consumer base's behavior to improve your business strategy.
Provides an accurate estimation
Working with your business data through machine learning and neural systems has been used to forecast results in the past, and our data scientists are skilled in both areas. For example, a business owner who has been in business for a long time knows seasonal fluctuations and can forecast the festive seasons.
Assist with business development
By hiring a data scientist, you may be able to identify new businesses that could profit from your products or services. Your public relations activities may be dependable, but our data scientist can examine them and determine the number of new consumers from a particular drive to proceed with future operations. Data science can also identify current trends or select which catalog items will have a more significant direct impact on sales.
Make more objective choices
Data speaks for itself, and having big, trustworthy data on support can help you make objective decisions. Data scientists at AppsRhino can assist if your past attempts have been hampered by personality, passion, or a tendency to do things the same way year after year.
Top Industries that hire Data Scientists
The BFSI
Highly increased use cases in the Banking, Financial Services, and Insurance sector have resulted in a steep rise in data that must be examined and acted upon. This segment has primarily integrated data science into all decision-making processes based on actionable insights from customer data.
There are various ways that data science and AI can assist financial institutions in being more effective in providing services to their clients, some of which are as follows:
Detection of Fraud

Management of lending and loan appraisals

Modeling risk

Customer data security and management

Lifetime value estimation

Segmentation of customers

Trading with algorithms

Credit scoring and underwriting
Automobiles
Data Science has assisted the automotive sector in remaining competitive by enhancing everything from research to design, production, and marketing processes. Furthermore, the use of advanced analytics has resulted in the development of autonomous automobile systems like as sensors, cameras, and radar, as well as the Global Navigation Satellite System (GNSS), Light Detection and Ranging (LiDAR), Inertial Navigation System (INS), and much more.
Data science's role in the automotive sector is not confined to –
Using cognitive IoT can improve vehicle safety.

Reduce repair expenses

Make and manage schedules more efficiently.

Improve production line performance

Using predictive maintenance, identify flaws in manufactured components.

Give firms more control over their supply networks, including logistics and management.
Without data science, it was impossible to monitor wear and tear and report mileage, fuel efficiency, and routes as automobiles became more complicated and could gather more data. Prepare for self-driving automobiles that communicate, collaborate, and maneuver without human involvement! All because of the power of data.
Digital Marketing
Search pages, social networks, online traffic display networks, movies, web pages, CRMs, and other services increasingly collect massive data from their clients. An analysis of such large quantities of data necessitates a high degree of business intelligence, which can only be obtained through proper data science approaches. For these reasons, data science is rapidly being used in digital marketing for analytical objectives. This data-driven information can assist marketing/brand managers in obtaining critical information like–
Make better business decisions by predicting user behavior.

Anticipate the user's wants and provide them highly tailored offers and information they want, improving the likelihood of conversion into leads.

Recognize patterns and trends that can aid in product development.

Market segmentation and more efficient user interaction.
Cybersecurity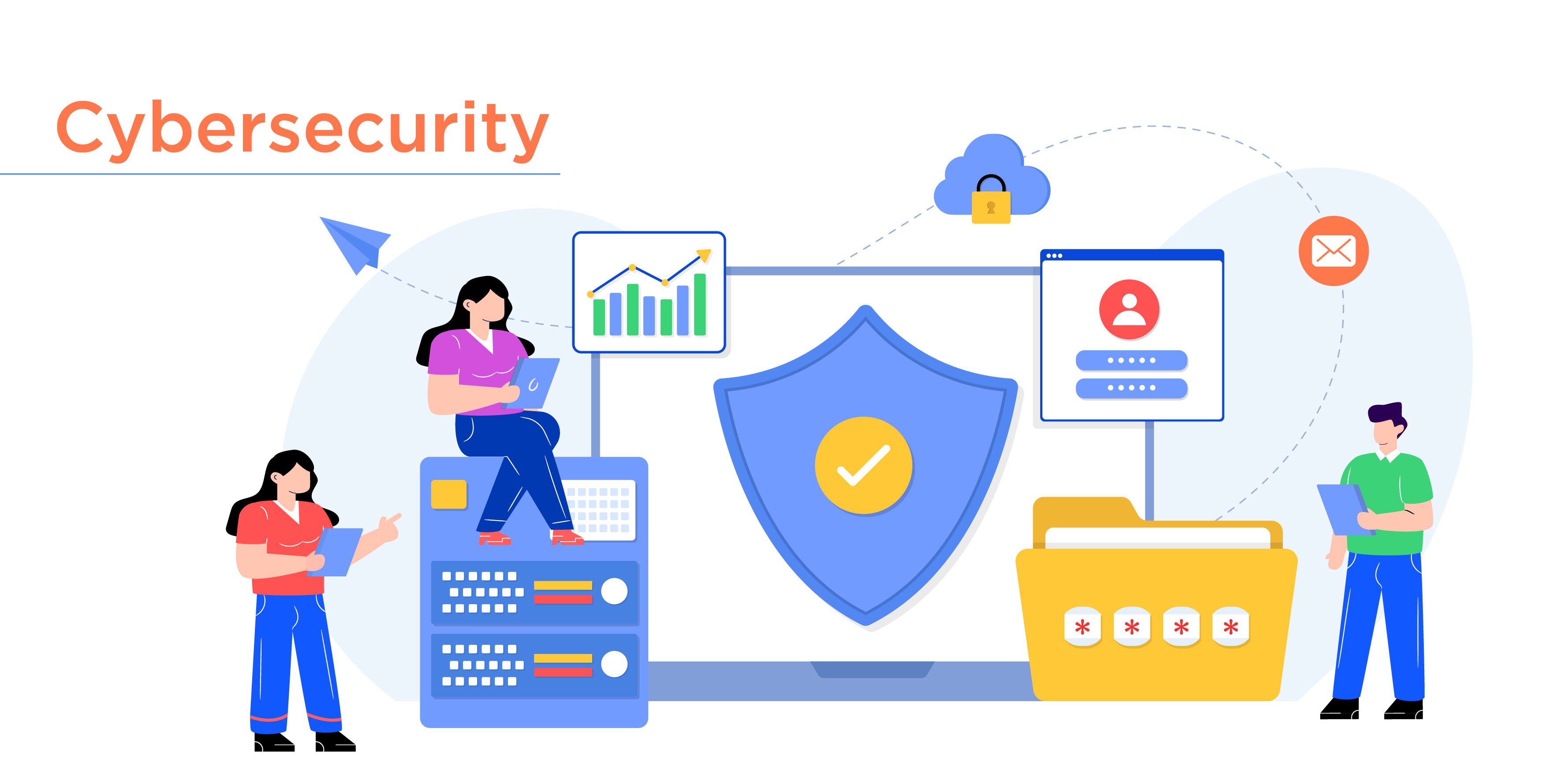 According to Cybersecurity Ventures, worldwide cybercrime expenses would increase by 15% annually, reaching USD 10.5 trillion annually by 2025, up from USD 3 trillion in 2015. It's worth noting that hackers nowadays utilize increasingly complex Artificial intelligence and deep learning techniques to conduct cyber attacks.
The cyber security industry is now embracing data science and AI to prevent the expanding use of algorithms for harmful purposes. Data scientists utilize AI and machine learning techniques to discover the source of malicious activity. They read attack patterns, devise strategies to combat these attacks, and avoid their recurrence.
Compared to traditional information processing, data science in cybersecurity has made computing operations more actionable and intelligent. It establishes a framework for data collecting from important cybersecurity sources and analysis that supplements data-driven patterns. This convergence of data science and cybersecurity suggests a partial shift from traditional security solutions like user identification, access control, cryptography, and firewalls toward systematic data management.
Mining, quarrying, and oil and gas extraction
Process automation is the primary benefit that technology delivers to any company. The oil sector is no exception, especially in a high-risk industry that must operate 24 hours a day, seven days a week. Data science is increasingly used in the mining and oil and gas industries, and its applications are not restricted to exploration and production. Industrial transformation and distribution have made extensive use of data science.
Many geographic information systems (GIS) feature probability modules, for example, to find the locations with the highest production potential. Similarly, with Measurement During Drilling (MWD) technology, terabytes of petrophysical and fluid information may be collected and analyzed using data mining techniques to define the reservoir better.
Last Thoughts
Finding a data scientist can be difficult. If you already have employees with strong IT backgrounds, they may be able to learn data science software tools quickly. Another possibility is posting your open position on Indeed or Kaggle (which caters to data scientists).
Just be selective in choosing someone who can competently and significantly improve your business operations. Or you can hire the best-in-class Data Scientists from AppsRhino.
Frequently Asked Questions
What is AppsRhino?
AppsRhino is a leading platform that offers top-skilled data scientists for hire. It is a trusted marketplace connecting businesses with experienced data scientists to meet their specific requirements.
Why should I hire a data scientist from AppsRhino?
Hiring a data scientist from AppsRhino ensures access to highly skilled professionals who possess expertise in handling complex data-related tasks. They can help businesses make data-driven decisions, improve operational efficiency, and uncover valuable insights.
How does the hiring process work at AppsRhino?
At AppsRhino, the hiring process is straightforward. Businesses can post their data science requirements on the platform, and data scientists with relevant skills and experience can submit their proposals. Businesses can review these proposals, assess the candidates' profiles, and select the most suitable candidate for their project.
What qualifications and skills do data scientists at AppsRhino have?
Data scientists at AppsRhino are highly qualified professionals with strong educational backgrounds in fields such as computer science, statistics, or mathematics. They possess expertise in programming languages, statistical analysis, machine learning, data visualization, and other relevant tools and technologies.
Can I hire a data scientist on a short-term basis?
Yes, AppsRhino offers flexibility in hiring data scientists for both short-term and long-term projects. Whether you need assistance with a one-time project or require ongoing support, you can find suitable data scientists to meet your specific needs.
What industries do data scientists at AppsRhino specialize in?
Data scientists at AppsRhino have experience working across various industries, including finance, healthcare, e-commerce, marketing, and more. Their diverse backgrounds allow them to understand industry-specific challenges and provide tailored solutions.
How do I ensure the confidentiality of my data when hiring a data scientist?
AppsRhino prioritizes data security and confidentiality. Before hiring a data scientist, you can sign a non-disclosure agreement (NDA) to protect your sensitive information. Additionally, you can discuss data privacy measures and confidentiality protocols with the selected data scientist.
What is the cost of hiring a data scientist from AppsRhino?
The cost of hiring a data scientist from AppsRhino varies depending on factors such as the project complexity, duration, and the data scientist's experience. You can discuss the budget and negotiate the rates with the selected candidate.
Can I interview the data scientist before hiring?
Yes, AppsRhino allows businesses to conduct interviews with the shortlisted data scientists. This enables you to assess their skills, experience, and cultural fit for your organization before making a hiring decision.
What if I am not satisfied with the performance of the hired data scientist?
If you are not satisfied with the performance of the hired data scientist, you can communicate your concerns with AppsRhino. The platform provides assistance in resolving any issues that may arise during the engagement. In case the situation cannot be resolved, AppsRhino may offer alternative options or refunds based on their policies.