Want to make your free-to-use app but not quite clear about the business model? Want to understand how to make money online by building a free-to-use app?
We have all heard the famous quote, "There is no such thing as free lunch." Then how is it possible that we don't have to pay anything to download or use most of the apps from the app store?
Such apps make tons of money depending upon the app's popularity. The difference is that they do not charge the customer directly; instead, alternate channels let them earn and grow.
This post looks at how well-known free apps made money, offers tips on establishing an app monetization plan, and discusses which software development services and technologies to use.
How much money do free apps make?
Before knowing how to make money, let us first learn more about the earning potential of a free app. An average mobile device owner now utilizes 7-8 applications every day. At the same time, just 5-10% of mobile app users are willing to pay for a paid app, with free mobile apps accounting for 98 per cent of profit and downloads. A vast majority of mobile app users prefer free apps, and this number is steadily increasing.
The number of free app downloads on Google Play climbed by 16,4 per cent in the first half of 2019, bringing in $41,9 billion in revenue. Free apps can produce a significant profit because they are more popular than premium apps.
Ultimately, it boils down to the business or combination of models you adopt. But how can you pick a suitable monetization model for your app? Let's understand the various models to help choose a suitable one for our app.
How do Free Apps Make Money: Revenue Models
Neither Google Play nor the Apple App Store pays for app downloads, even though millions of people have done so. Establishing revenue streams becomes essential for generating money from a free app in such a scenario.
Let's delve deeper into the various monetization channels used by such companies to generate revenues:
Referral Marketing
Referral marketing is closely related to the previous monetizing of your app through in-app advertisements. There's a marketing discipline called affiliate marketing. The software contains educational content about an affiliate company. You are rewarded for clicks and installs. These incentives are calculated using a cost-per-action (CPA) or revenue-share approach. The referral marketing approach is applied in various ways, including promoting other apps. Advertisement within the app using the in-app-store to promote products or services. Many affiliate network firms (AdMob, Flurry, etc.) specialize in selecting the right affiliate for your application. This approach can be integrated using a variety of software packages and tools. Campaigns used in affiliate marketing are similar to those used in advertising:
CPM (cost-per-mille, cost-per-impression) - You get paid based on the number of impressions, while the advertiser is charged for every 1,000th impression
CPC (cost-per-click) - You are compensated according to the number of times a displayed app clicks.
CPV (cost-per-view) - Compensation based on the number of video views or other ad interactions that you generate.
CPI (cost-per-install) - You get paid every time the advertised app is installed through an ad in your product.
Advertising
Mobile advertising is the easiest and most prevalent way to make money from a free app these days. 7 out of 10 apps currently contain advertising that generates revenue based on how many times they are displayed (per impression), clicked, or installed. In a mobile app, there are five different ad types to use:
Banner Ads
These advertisements appear at the top or bottom of the screen of a mobile device. These are less intrusive because users may still use the mobile app regularly. On the other hand, Banner advertising has lower engagement rates (CTR- click-through rate) and relies on brand familiarity.
Video Ad
A 10- to 30-second video ad is included and plays automatically within the app. A rewarded video ad is a subset of the video ad category. Customers are compensated for watching the video ad through (app currency, extra points, etc.).
Native Ad
These ads are meant to blend in with the rest of the app. Sponsored material or videos promoting a specific brand or product are examples of these additional features. Because they integrate seamlessly with the app, they are perceived as the least annoying and tiring. This makes them increasingly popular as a monetization model among app developers.
Interstitial Ad
These advertisements are full-screen pop-ups that appear precisely in an app. When the app is opened or dismissed, these are usually displayed. The user has two options: close the ad or check out the promoted content with two touches.
Incentivized Ad
Everyone enjoys receiving incentives and despises advertisements. Rewarding users for a specific in-app action or engagement, such as filling out a survey or sharing content using a toolset, is possible. These app perks have the potential to promote app loyalty and engagement. This strategy generates revenue through in-app currencies and sponsorships. What matters is that these incentives are strategically placed as part of the app's engagement.
Drawbacks
The most common way for apps to make money is through advertisements. It's no surprise, however, that this sometimes angers and irritates customers. Ads are no longer as effective as they once were, with less than 20% of people clicking on them. Furthermore, this monetization technique is only successful for apps with a huge user base, not for developing businesses.
In-App Purchase & Freemium Model
In the freemium app paradigm, in-app purchases are a widespread tactic. It's possible to sell virtual or physical products, provide premium features or bonuses, disable adverts, or add new content to an app. The app store handles all of these transactions, and the proprietor is paid a commission on each one. There are three different types of in-app purchase strategies:
Consumables: These are primarily utilized in mobile games and are only used once. They are made an integral part of the app so that the user can not progress in the game without them and ends up buying sooner or later. Example: digital currencies, health points
Non-consumable: These are features that are always in use. Example: ad blocking, extension in-app functionality
Subscription: This permits you to access additional content and services for a limited time. Example: monthly or annual service subscription
Drawbacks
The approach is only viable and profitable for the most popular apps in the segment with a large user base. Because of the complicated payment system development and interconnections, this system is more challenging to implement. Another disadvantage of this technique is the high commission fee (30%) charged by app shops. There are two app types in a freemium app model: lite and complete, and a user can only utilize the free version.
AppsRhino offers the best Tech-driven solutions for Home services, Laundry delivery, Alcohol delivery, Grocery Delivery, Food Delivery, and Taxi Services: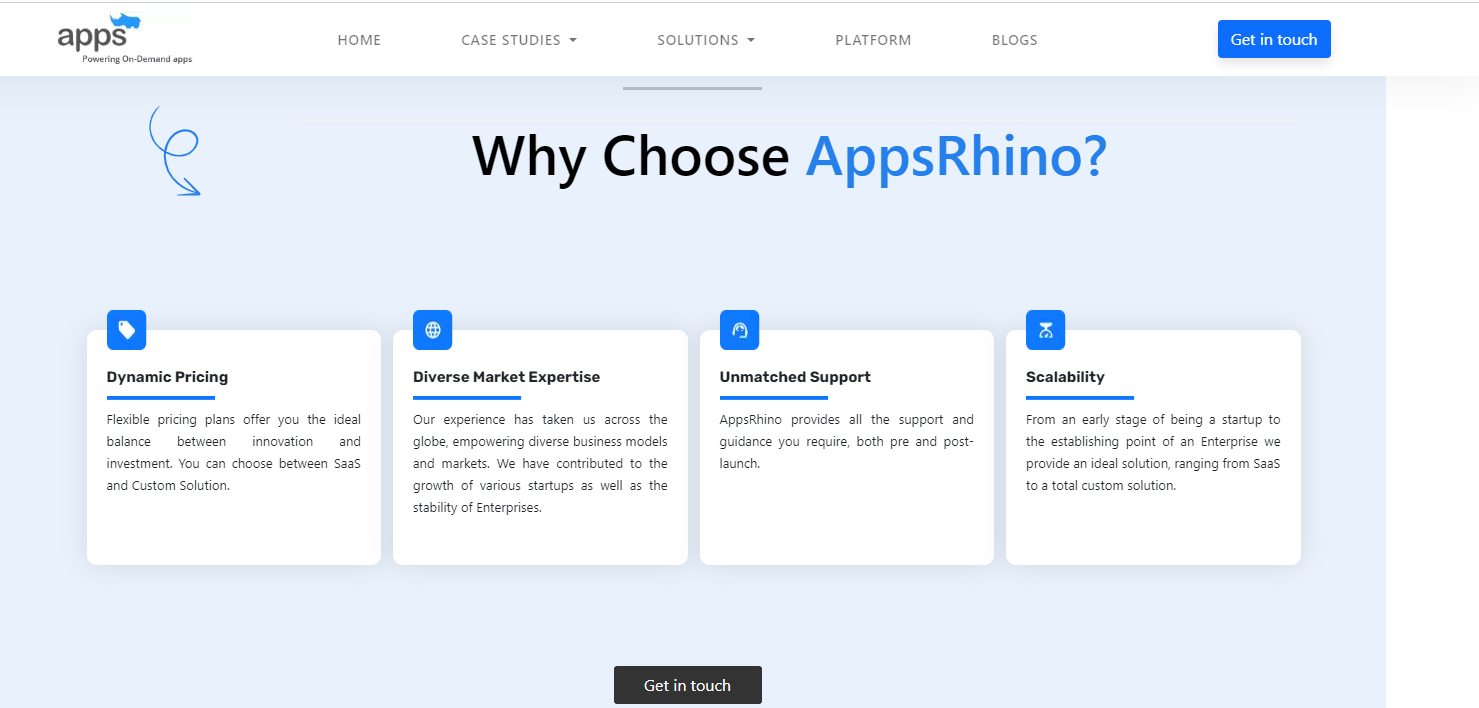 Sponsorship Model
Obtaining sponsorship is a lucrative approach for making money from a free app. This strategy is typically accessible for programs with many regular users. Applications having a specific market niche might receive the most significant benefits. As a result, you can approach sponsors in various industries with similar offerings and interests, provide information in the app or adapt the app design to their brand. There are two major sponsorship deals: split the money from the app evenly, or set a monthly sponsorship price.
Drawbacks
This strategy works best with a niche and a unique app concept. Finding a suitable sponsor might be difficult, even with the perfect app and speciality.
Subscription Model
The subscription model, as previously said, establishes revenue streams from weekly, monthly, or annual subscriptions for a specific service supplied by the free app. Cloud services, audio or video content providers (Spotify, Soundhound), and digital news sites adopt this paradigm. Consumers have access to the content based on the subscription package they choose.
Drawbacks
To stay ahead of the competition and ensure a high subscriber service quality, you'll need resources and specific content strategies to deliver fresh, up-to-date content.
Crowdfunding Model
It is a relatively new approach to commercializing a free app. Kickstarter, crowdfunding, Indiegogo, and AppsFunder are sites that custom software developers can use to raise app development and marketing funding.
Drawbacks
There are thousands of candidates, making crowdfunding extremely tough. It is vital to demonstrate the products and ideas are worth taking a chance and investing in.
App Merchandise & E-commerce
The e-commerce business is booming, and more and more people are turning to the internet to shop. The majority of tangible things are sold through free mobile apps. Amazon's Merch tool, a straightforward program that allows app owners to develop and market their branded items within their apps, provides a possibility to benefit from this app model. Amazon handles all logistics: manufacture, selling, payment, and shipping, and you earn a cut of the profits.
Drawbacks
Only the most popular apps with an influential audience have this option. Another option is to create a free app for your everyday business and sell products/services you offer.
Email Marketing
Email marketing has always been a profitable technique in any business, and it's a solid practice for restaurant app development. It is an old method of gathering user information, mostly email addresses, and delivering marketing materials to pique subscribers' interest in a product or service. It helps notify users about new features, awards, app news, or when their retention indices drop. Methods for acquiring email addresses:
a pop-up message asking for the email in exchange for something (app coins, bonus)
a Facebook SDK for a user to join up where it collects emails
utilizing third-party tools to facilitate email collecting
Never fail to inform, get permission, and declare the purpose of using confidential user data in any situation. According to the GDPR, this is a risk, especially if your target audience is European(General Data Protection Policy).
Drawbacks
Email marketing has grown less effective as a result of its widespread use. The most significant advantage is top-tier branded apps, but it is less potent for startups.
Conclusion
Compared to paid apps, free mobile apps have a larger market share. There are numerous free mobile app monetization tactics available. They are used for a different user engagement rate and generate additional revenue. Choose a revenue plan based on your app's specialization, purpose, and target audience. While building a free app, the ultimate aim must be acquiring a large user base. It becomes vital to make the app interface user-friendly to increase its adoption. To generate high revenue, choosing a suitable business model is key.
If you want to build your free app, contact AppsRhino for guidance, support and quick delivery. We have built more than 100 apps for customers across the globe with an impeccable record of user satisfaction.
Frequently Asked Questions
What are the different models through which free apps generate revenue?
Free apps typically employ various models such as in-app advertising, freemium, in-app purchases, subscriptions, sponsorship, data monetization, referral marketing, and affiliate marketing.
How does in-app advertising generate revenue for free apps?
In-app advertising involves displaying ads within the app interface, and app developers earn money when users interact with or view these advertisements. It can be in the form of banner ads, interstitial ads, native ads, or video ads.
What is the freemium model, and how do free apps monetize it?
The freemium model offers basic features for free, while advanced or premium features are available for a fee. Free app users can choose to upgrade to a paid version to access additional functionalities, content, or features.
How do free apps make money through in-app purchases?
In-app purchases allow users to buy virtual goods, premium content, upgrades, or additional features within the app. App developers receive a percentage of the revenue generated from these purchases.
What is the subscription model, and how do free apps utilize it for monetization?
Free apps can offer subscriptions that provide users with exclusive content, ad-free experiences, or premium features for a recurring fee. App developers earn revenue through regular subscription payments.
How does sponsorship help free apps generate revenue?
Sponsorship involves partnering with brands or advertisers who pay to have their products or services featured within the app. This can include branded content, sponsored events, or sponsored placements.
How do free apps monetize through data monetization?
Free apps may collect user data and utilize it for targeted advertising or market research. They can sell this anonymized or aggregated data to third parties, generating revenue through data monetization.
What is referral marketing, and how do free apps benefit from it?
Referral marketing incentivizes users to refer the app to their friends or contacts. App developers reward users for successful referrals, which can lead to increased user acquisition and app visibility.
How does affiliate marketing help free apps make money?
Free apps can partner with affiliate networks or individual companies to promote their products or services. App developers earn a commission when users make purchases through affiliate links or codes within the app.
Can free apps use a combination of these revenue models?
Yes, many free apps employ a combination of these revenue models to maximize their monetization potential. They may integrate in-app advertising alongside in-app purchases or subscriptions, offering users multiple options for generating revenue.