When it comes to meeting immediate human needs, on-demand services are proving a blessing in disguise. You order meals, groceries, or medicines, and they are delivered the same day without you having to leave your house. This prosperous industry has attracted more than 22.4 million customers and a total value of $57.6 billion, with $4.6 billion spent on food and groceries.
In today's world, on-demand grocery delivery is a booming business. It has displaced traditional grocery stores by meeting day-to-day necessities in hours. The ever-increasing demand necessitates the creation of a highly functional on-demand grocery delivery app, such as Instacart.
Instacart was named America's Most Promising Company in 2015, according to Forbes Magazine. It hasn't taken a step back since then, either. Entrepreneurs have been taken aback by the increasing number of users, workers, and services in numerous cities. In today's world, enthusiasts are clamoring to create an app similar to Instacart.
Summary
So, like Instacart, you've got an idea for a Grocery Delivery App development and are eager to get started with its implementation. However, you're still stumped when estimating the cost of developing an app like Instacart. You're still confused by questions like how to get started with grocery app development and cost estimation when you don't know what aspects will influence it or how much a limited feature app will cost to construct an MVP first.
Well, you've arrived at the correct location. In this post, we'll go over the basics of Instacart and the many aspects that influence the cost of developing grocery applications like Instacart, such as the business model, numerous services, the team needed, and so on, to integrate an on-demand Grocery Delivery App. So let's jump right into an in-depth examination.
Key takeaways:
A quick overview of Instacart
The procedure for using Instacart
Type of on-demand grocery delivery app business model
Commission Model
Subscription Model
Service Charges
Pricing strategy of Instacart
Price on Instacart vs. price on store
Other factors influencing the pricing
5. Features required for an on-demand grocery delivery app like Instacart
User panel
Admin panel
Delivery panel
How much does it cost to build an on-demand grocery delivery app like Instacart
A Quick Overview of Instacart
Instacart was founded in 2012 and has rapidly expanded across the United States. The app is available in various areas and has hundreds of local food businesses registered.
During the covid-19 outbreak, Instacart saw a tenfold surge in sales. Furthermore, sales increased by 20 times in California, New York, Washington, and Oregon.
What is the procedure for using Instacart?
Instacart is a famous grocery shopping and delivery app that guarantees delivery within five hours after placing an order. Users can browse the store's inventory, add products to their carts, and schedule deliveries.
As Instacart does not have its inventory, any item that is not accessible is assisted by the app for users to find alternatives.
For any order over $35, the user will be charged $3.99 for a planned delivery or $2.99 for delivery within two hours. It also costs $5.99 for orders that are delivered within one hour.
The program costs $7.99 for two-hour delivery and $9.99 for one-hour delivery if the user's order is less than $35.
For $99, consumers can join Instacart and receive free delivery.
An On-Demand Grocery Delivery App Business Model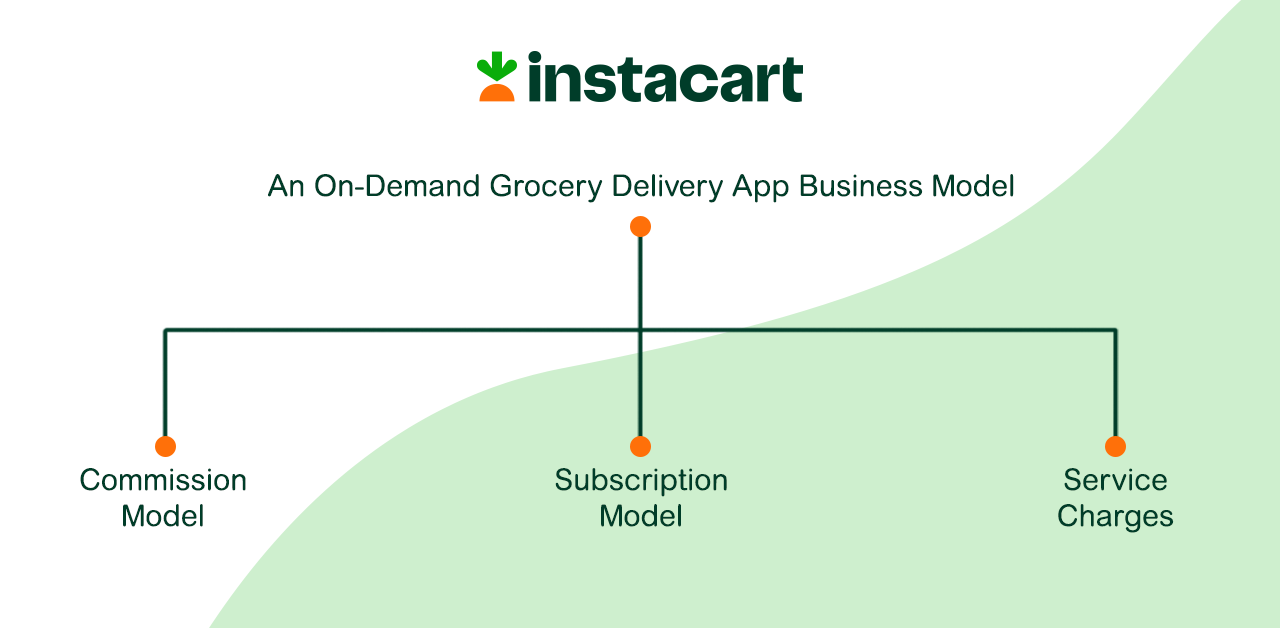 The business model to build an On-Demand Grocery Delivery App Development consists of three models for making money from selling services and goods: commission, subscription, and service charges. Here are the specifics for each:
Commission Model
In this model for on-demand app development, different commission rates are implemented on other commodities, depending on the trending products or the products in demand in the market.
Subscription Model
A subscription-based business model is dependent on the subscription plan purchased.
Service Charges
This revenue strategy entails operating autonomously and making earnings through online businesses; additionally, a subscription plan can be of interest if used alone.
What is the pricing strategy of Instacart?
Instacart uses a sharing economy-based business strategy, which has helped the company gain a lot of traction and expand into new cities.
The pricing for delivery stays the same as before; however, Instacart's pricing structure is as follows.
Price on Instacart vs. Price in Store
Instacart mark-up costs are usually the same as in-store rates, although they may change slightly for specific retail outlets like Costco (usually 15% higher).
Other factors that influence pricing
Instacart offers convenient services and high-quality items. According to its report, it has over 40,000 stores in over 5500 cities in the United States and Canada.
Instacart guarantees value for money and keeps client satisfaction at the top of its priority list. Customers prefer Instacart to other apps because of its consistent and transparent pricing.
Features Required for an Instacart-like On-Demand Grocery Delivery App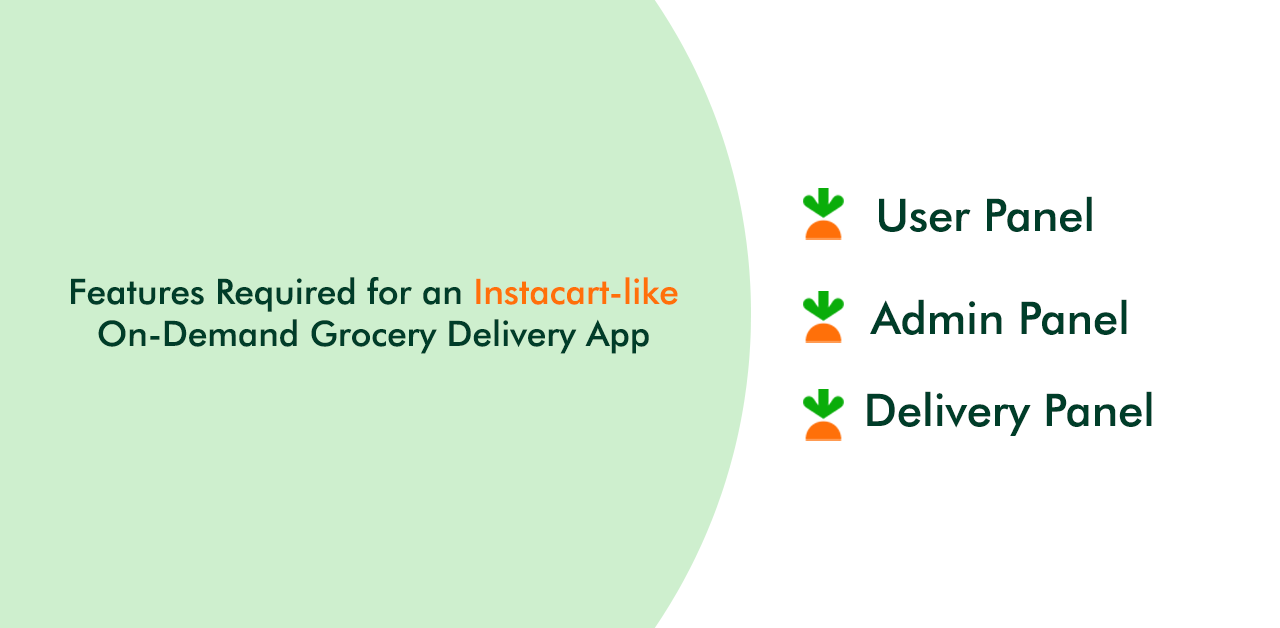 User Panel
User profile and registration
It is a feature that allows users to log in and sign up to the app with their preferred communication methods, such as email, social network accounts, or phone numbers.
Feedback & Reviews from customers
Customer feedback and reviews on various products are helpful for others while buying, especially when making their first purchase.
Search Option
The grocery delivery app feature allows consumers to search for specific products in specific categories based on their price range and brand preferences.
Track the delivery of the product
Instacart app's delivery tracking feature allows users to track delivery details such as order arrival.
Managing the order
This feature of Instacart allows users to manage their orders and replace them without going through the entire product list again.
Multiple Payment Options
As this on-demand grocery delivery app offers a variety of payment options, people can shop without worrying about carrying their wallets for cash every time they shop for groceries.
Schedule the delivery time and date
Instacart's schedule delivery feature allows customers to schedule the arrival of their orders according to their schedule.
Admin Panel
Dashboard
It is a one-stop-shop for tracking and controlling all orders submitted by customers, which also aids in the maintenance of a dependable on-demand grocery delivery app.
Order Allocation
This component entails the allocation of fresh grocery orders to various grocery stores.
Managing Payments
This feature enables the acceptance and management of all payment modes, which is very useful for a growing grocery business.
Assign Managers
This grocery delivery app feature provides smooth operation and execution of orders, allowing users to trust the app. It also involves shop managers who are in charge of this.
Inventory Management
This feature helps the administrator efficiently manage the complete inventory by properly receiving and managing customer orders.
Manage Customers
This function allows grocery app owners to manage their users via an app, including observing and cooperating with them.
Delivery Panel
Geo-Whereabouts Services
This feature of the Grocery Delivery App assists the delivery boy in tracking the customer's location by integrating Google Maps with GPS.
Accept/Reject Delivery Request
It is accepting/rejecting an order request based on the customer's location or when it has to be delivered.
Delivery Request Notification
The store manager can be notified anytime an order is made or asked to be delivered, including the order number, by using this feature.
In-app Calling/In-app Chat
The in-app Chat or call allows drivers to communicate or discuss issues using an app, such as changing the route or delivery time of order.
Obtain Delivery Confirmation
It entails informing the driver of the order's delivery status to obtain the customer's delivery confirmation and grocery stores.
How much does an On-Demand Grocery App cost to develop?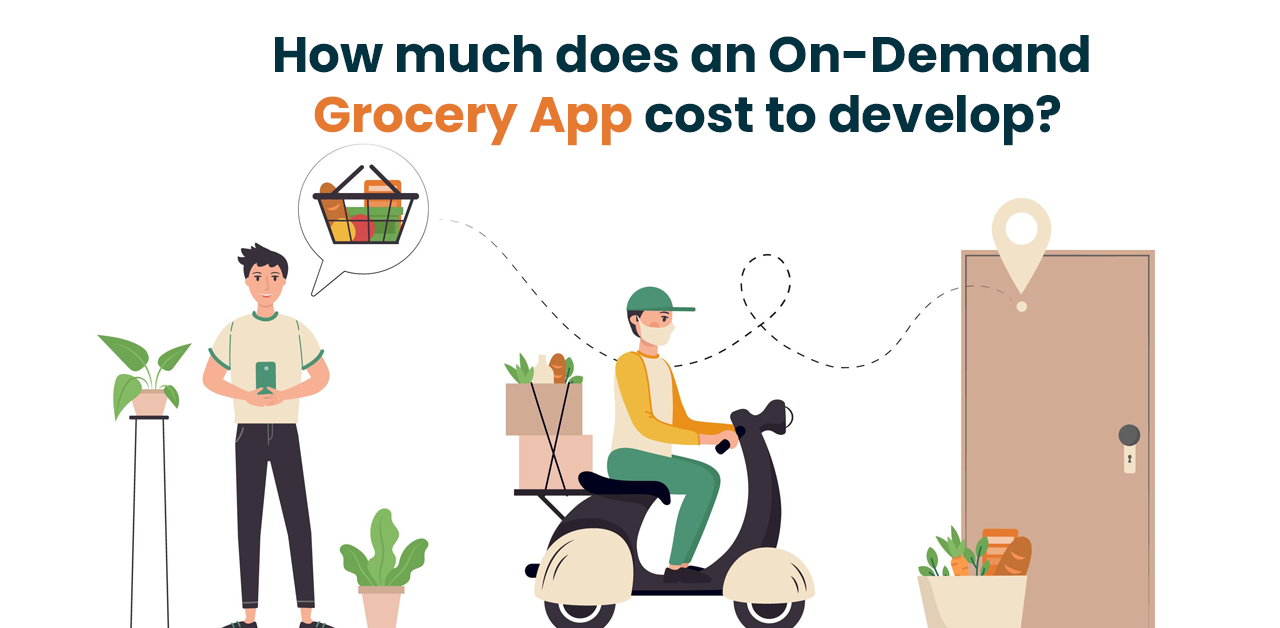 To estimate the cost of on-demand grocery delivery app development, consider the following factors:
the complex features and functions of the app

the number of platforms you want to launch it on

the country in which it will be launched

the audience will target

Eastern European app developers range in price from $80 to $150 per hour.

The cost of grocery app developers in the United States ranges from $50 to $250 per hour.

App developers in India charge between $10 and $80 per hour.
The cost of coding an On-Demand Grocery App with a limited number of features is determined by the following factors:
The cost of technical documentation ranges from $1000 to $2000.

QA and testing might cost anywhere from $2000 to $4000.

UI/UX design costs range from $1500 to $3000.

Front-end and back-end development costs between $10,000 and $20,000.
Conclusion
Finally, considering the criteria above, the cost to build an on-demand grocery delivery app like Instacart ranges from $10,000 to $20,000 on average for a single platform such as Android or iOS. However, as the number of features or more increases, the cost rises, so establish a list of everything you need to add to your grocery delivery app.
Still have questions about developing an Instacart-style app, or are you looking for a more accurate cost estimate? AppsRhino is here to address any queries you may have. Contact us now!
Related Articles
How does Instacart grocery delivery work?
Grocery Delivery App: Trends, Facts, Stats