A: Hey! I went to the doctor today. I waited in the queue for more than two hours before I could see the doctor.
B: Really? Did you wait for two hours? Do you know about the Online Appointment Booking App?
A: No. What is it?
B: You can book appointments anytime and anywhere with the Appointment Booking Apps! You don't have to wait in lines and choose the Appointment time per your schedule!
No customer wants to wait for their turn for numerous services like doctors, salons, taxis, and others. Moreover, they wish to attend these services per their schedule and get the best assistance possible.
Do you want to know the ultimate solution to helping everyday customers and buyers? Appointment Booking App Development!
You can engage in App Development and allow customers and users to make reservations per choice!
How to create an Appointment Booking App? Read this blog to understand multiple Appointment Booking App Types and the process for App creation!
How to develop an Appointment Booking App?
Here is a list of steps you can follow to engage in Appointment Booking App Development.
1. Planning and Budgeting
You shall plan your path, resources, and other things to proceed with the development process. You can sit with the team and ask yourself questions.
What language to use for Application development? How to hire developers? What is our target audience? Do we require outsourcing?
Further, you can budget your plan and divide the investments per domain. You may create a table and recheck your goals regularly.
2. Designing and Development
The next steps in the Software Development Life cycle are Designing and Development. You may hire a team of Designers to create a user interface and ensure the attractive nature of your Appointment Booking App!
Moreover, the programmers will turn the Designers' creations into reality using one of the app development languages effective by your company!
3. Quality Assurance Testing
Every company must go through the QA Testing step. QA testers ensure the quality of the application.
They use their creativity and problem-solving skills to debug the program and resolve issues if any. Appointment Booking App Development is complete after the Quality Assurance Testing step.
4. Marketing and Feedback
After the development process is over, your company can launch the application to Play Store and AppStore. Further, you shall let the users understand the benefits of using the tour App.
Digital marketing is a significant step and you may inform your users via the following methods.
Blog posts

Quora Answers

Banners

Google Advertisements
Further, customer feedback allows you to know what customers feel about your Appointment Booking App. You receive a scope of improvement and updation with customer reviews!
Appointment Booking App Types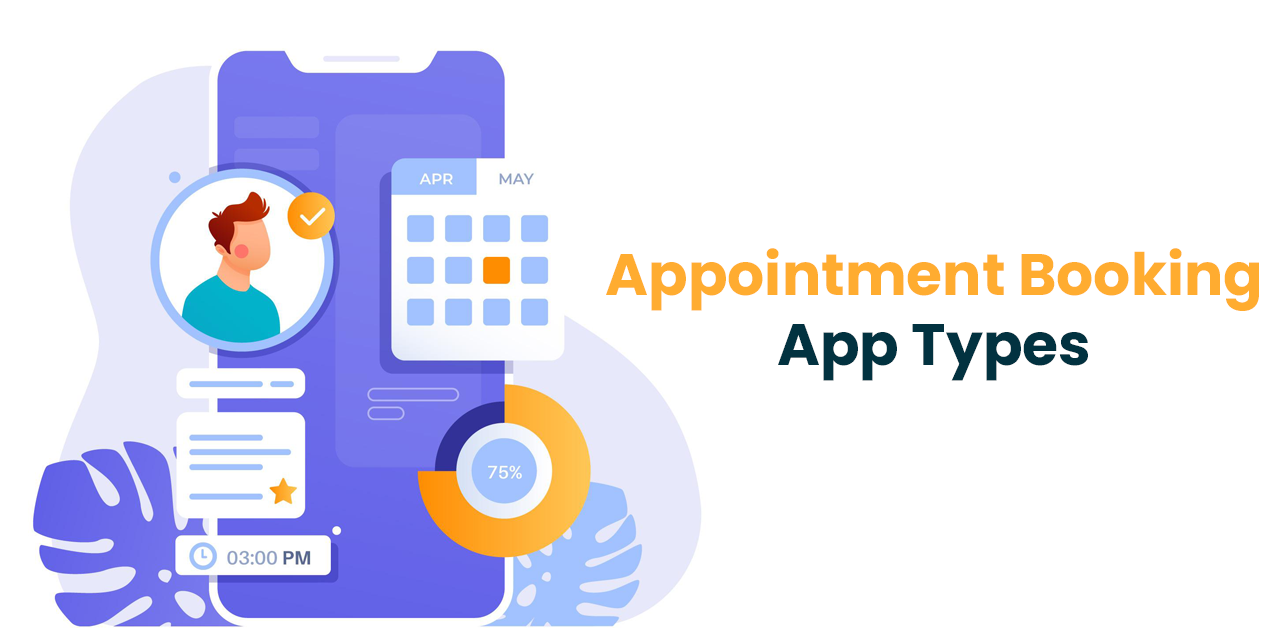 Let's understand the multiple Appointment Booking App Types you can create for your clients and customers. Note the different types include distinct features, characteristics, and abilities.
You shall understand each App Type and choose the Appointment Booking App Development you wish to engage in!
1. Most Popular Appointment Booking App Types: Doctor Appointment App
A Doctor's Appointment App helps patients book online and offline Appointments for visits. Moreover, these Apps assist the doctors and clinic handlers check scheduled Appointments and approving/canceling them per the necessity and available time.
After the Covid-19 pandemic, Doctor Appointment Booking Apps gained tremendous popularity among patients willing to book online Appointments for telehealth!
Here are a few Doctor Appointment Booking App features you should know!
Doctor's Sign-up Page

Patient Sign-up Page

Filter searching feature

Page to book an appointment and to cancel the same.

Video conferencing feature

SOS button for emergencies

Map integration to allow easy and quick travel to the hospital.

Secured payment gateway

Admin dashboard to manage everything happening on the App
2. Online Food and Beverage Delivery Apps
Who doesn't like to order food on a lazy Sunday or for parties? Online Food and Beverage Delivery Apps allow customers to purchase food and beverages anytime and schedule the delivery at their doorstep!
Here are some features you should include in your App.
Profile creation facility

Feature to easily place orders

GPS tracking facility

Numerous cashback programs

Push notifications to inform customers of significant developments

Option to review and rate dishes or eateries

Convenient payment gateways comprising cash on delivery

Social media integration to ease logging in to the App

Admin dashboard to control all the app-related activities
3. Beauty and Salon Service Booking Apps
Customers may want a haircut or other Beauty services from Salons across the city. You can engage in Appointment Booking App Development for Beauty and Salons and help customers schedule quick appointments!
You can become the middle person between the Salons and customers and provide them with information and Appointment scheduling options.
Here are a few features you may include.
Social login and sign-up page

View beauty services facility

Appointment Scheduling page

Managing Bookings and Cancellations page

Push notifications to inform users of the latest updates

Map API integration to let customers find locations effortlessly

Payment gateway integration

Dashboard for Appointment Booking App management
4. Logistics Booking App
Companies hire Logistics and warehouses to store products before they reach the customers after an order. You can engage in Appointment Booking App Development that allows Companies to hire Logistic services whenever they wish without hassle!
Here are some characteristics this App can have.
Client Registration

Scheduling booking page

Track delivery locations

Producing estimates accurately

Choosing the right vehicle guide

Real-time traffic alert feature

Multiple payment gateways

An advanced dashboard
What are the general yet crucial features of every Appointment Booking App?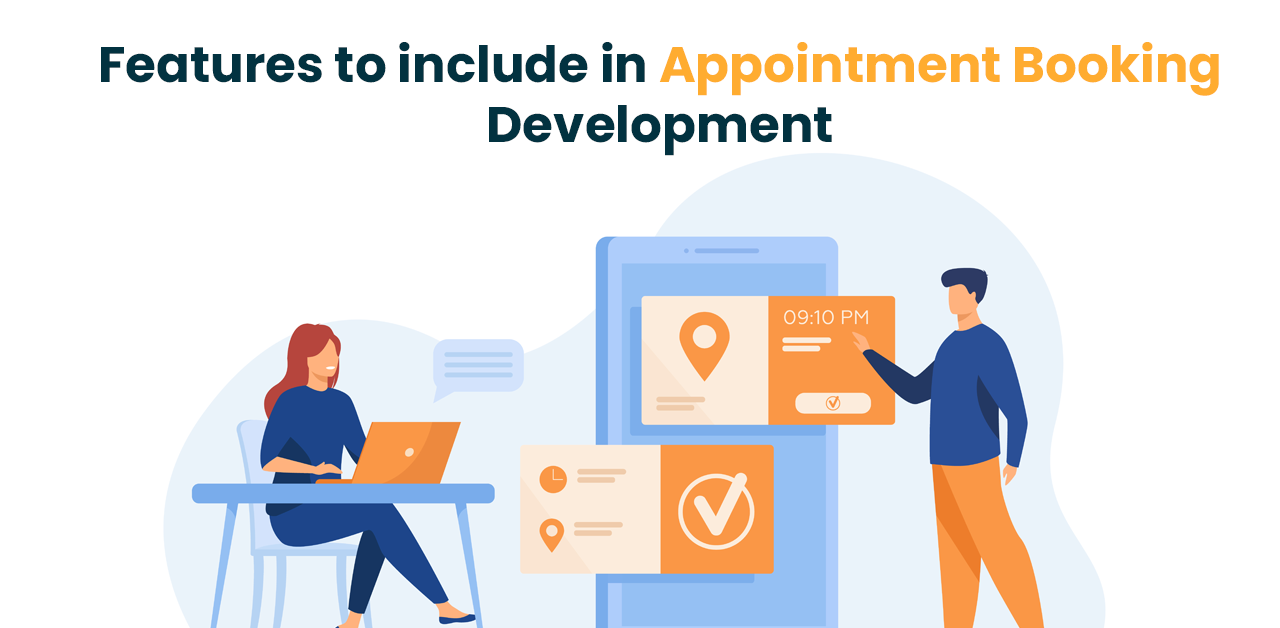 When you are a part of the Appointment Booking App Development program, you should understand some standard features your customers will love in the App.
You shall remember you are creating the application for the customers.
You shall successfully attract them to your Appointment Booking App and cater to their needs without fail.
1. Integrated Calendar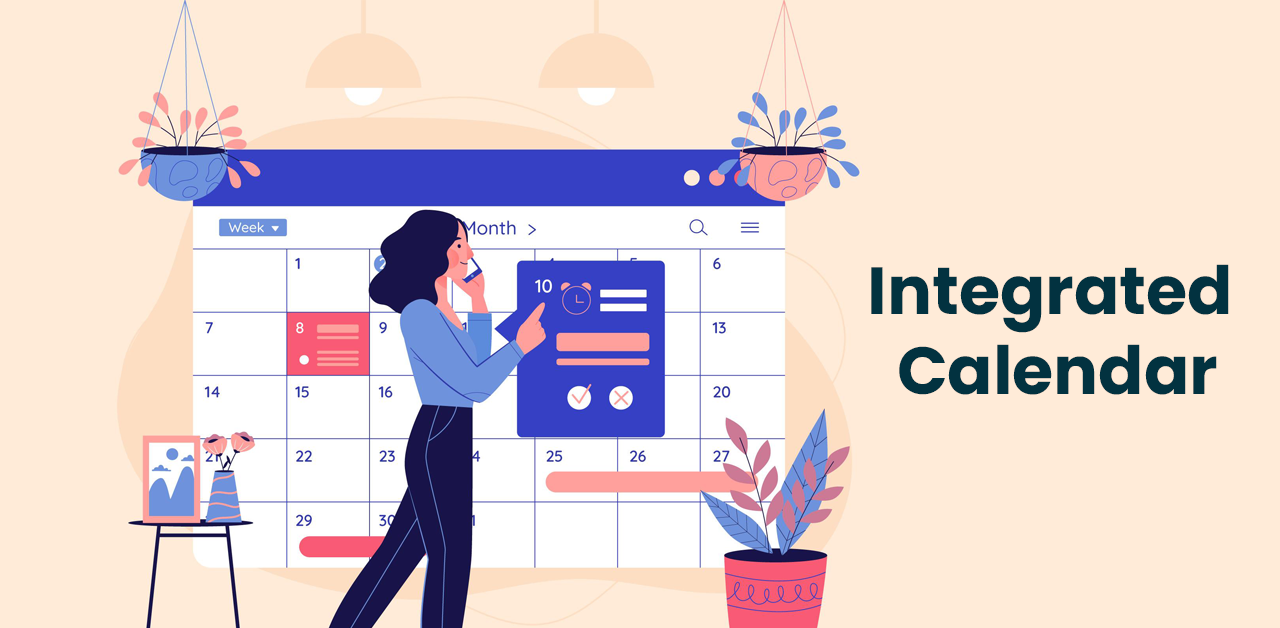 Imagine a customer books an Appointment for their upcoming house service and forgets about the same. They may go shopping or do any other work on the Appointment scheduling day and miss their booking!
Therefore, every Appointment Booking App shall have an Integrated Calendar. This calendar can integrate with the Google/Microsoft Calender and reminds the customers via the notification features.
Moreover, users can add extra information about the scheduled booking, time, etc.
2. Google Map Integration
Imagine a customer who wishes to book an offline appointment. They find the required healthcare facility and schedule the same for their upcoming Appointment. Further, they notice the distance between them and the doctor's place!
To avoid such inconveniences, you can add the Google Map Integration facility to your Appointment Booking App Development! You can allow the users to check the distinction between the source and destination so they can choose between availing of the service or not!
3. Multiple Payment Methods
Customers have more than one way to pay for Appointment Booking services. Therefore, you shall have multiple payment methods, including credit cards, debit cards, e-wallets, and cash on delivery for order-related purchases!
4. Multilingual
You are creating an Application for customers across the globe.
Therefore, you shall select your target audience and add languages they use for the Appointment Booking App Development.
All users shall be able to switch between languages per preference.
5. Customers Care and Support
Customers may face while booking Appointments through your application. They may get stuck at a step or unable to move forward with the booking, payment, or cancellation process!
What will they do?
You shall allow customers to reach the support team via phone calls, video calls, messages, e-mails, and chatbots! BotPenguin is the perfect chatbot integration platform for your Appointment Booking App!
6. Reviews and Customer Ratings
Before availing of any service, customers prefer to take an overview of the ratings or reviews from people who accessed that service earlier.
Ratings help in creating trust and support from the users.
Therefore, you should allow the customers to share their feedback about your Appointment Booking App. Moreover, your team shall work hard to uphold customers' trust and get good ratings!
Conclusion
You must be wondering about engaging in Appointment Booking App Development and the procedure you shall follow! First, you should select the Appointment Booking App Type matching your business, requirement, and choice. Further, you shall plan creating, budgeting, and other aspects of your application.
The next step involves hiring Designers, Developers, QA Testers, and other team members for App Development! Your team must have technical and non-technical skills for successful workflow and outputs!
Finally, marketing, maintenance, and updation per customer reviews are equally crucial for Appointment Booking App Development!
AppsRhino is the most appropriate choice for creating an Appointment Booking App!
We have the best team of Developers and Engineers. They are hardworking and highly dedicated to their work. You will face no issues while working with us!
Moreover, you can outsource a Development team from AppsRhino to engage in Appointment Booking App development per your requirement!