There are various ways to categorise the options available to you when it comes to enhancing the capabilities of your IT staff. It's referred to as employing a contractor in the US. Many people in Europe try outsourcing or subcontracting.
However, you need to hire more people when you have more IT development demands than your current workforce can handle, regardless of the phrase you use to define it. And it is at this point that understanding the difference between "outstaffing" and outsourced product development is beneficial.
Companies are increasingly using both domestic and foreign outside providers. Additionally, when you think about outsourcing or hiring outside help, you're thinking about enhancing the technical capabilities of your project, bringing in more outside knowledge, and ensuring that all deadlines will be reached.
Look at these most recent figures from Grand View Research, Inc. According to the company's market estimate, global spending on outsourcing and hiring outside workers will total $936.6 billion by 2027, growing at a 7.7% annual rate up to that point.
Why do businesses prefer Outsourcing and Outstaffing?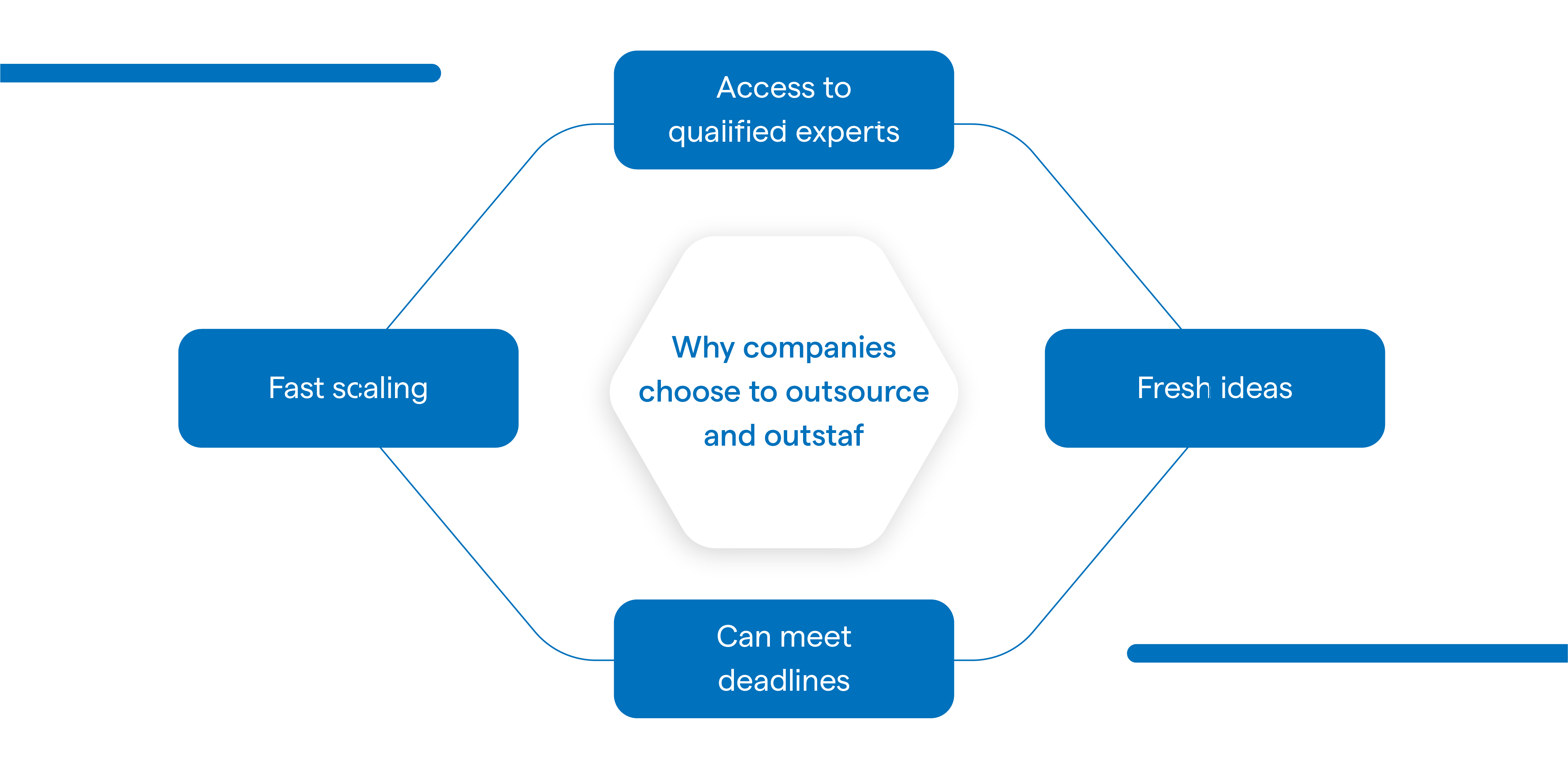 The trend of "outsource vs outstaff" growth has numerous causes, including the cost of recruiting permanent IT staff and a lack of skilled professionals.
Why do businesses search outside their organisations for IT talent? cost in particular. When you combine outsourcing with offshoring to nations with low living costs, you can save on base pay for IT personnel and benefits and overhead for staff.
Here are a few reasons why companies choose to outsource and outstaff:
Expertise- Knowledge of decentralised finance, which is becoming increasingly popular every day, is an example of a unique talent that your organisation might not already have on staff. When you outsource those jobs, you have access to qualified experts who can complete the work quickly and effectively, freeing up your time to concentrate on other areas of your company.

Fresh ideas- Businesses are increasingly seeking new ways to increase the quality and efficiency of their operations. They seek out novel approaches to carry out tasks more quickly and effectively than they did in the past.

Software development is typically outsourced or outsourced by businesses, while this practice is also common in many other industries. Recruiting, marketing, etc., are a few examples.

Deadlines- Businesses often opt to outsource and hire freelancers since they require someone who can meet deadlines and produce products on time. It would be wiser to hire someone who can do a project overnight if it needs to be finished by tomorrow morning rather than wasting time trying to do it yourself. In this manner, missed deadlines won't cost your business money.

Fast scaling- Businesses are constantly racing to scale up, increase market share, and increase client base. They aim to finish this as soon as they can without sacrificing quality. One of the reasons they outsource or outstaff their IT requirements is because of this.
What is Outsourcing?
Outsourcing your IT is a critical decision for your company but it may be challenging. Even if you are aware of what you want to do, deciding how to go about doing it can be difficult.
In general, outsourcing is used when a concept comes to mind but cannot be carried out independently. You don't want to bother setting up an entire IT department; instead, you want to present your idea to another company and have an application or website ready in exchange for a fee.
What is Outstaffing?
Have you ever pondered the definition of "outstaff"? The term "outstaffing," as used by IT professionals and businesspeople, refers to remote employment in which a corporation is in charge of all or almost all of an out-staffed employee's time. As a result, the term implies that a member of an outstaff team would be committed to a single customer rather than switching between projects.
This enables a client to "hire" a committed member of the IT outstaff team. The official employer who pays for benefits, bonuses, equipment, holiday pay, and employer taxes in this situation is the IT services provider.
Pros and Cons of Outsourcing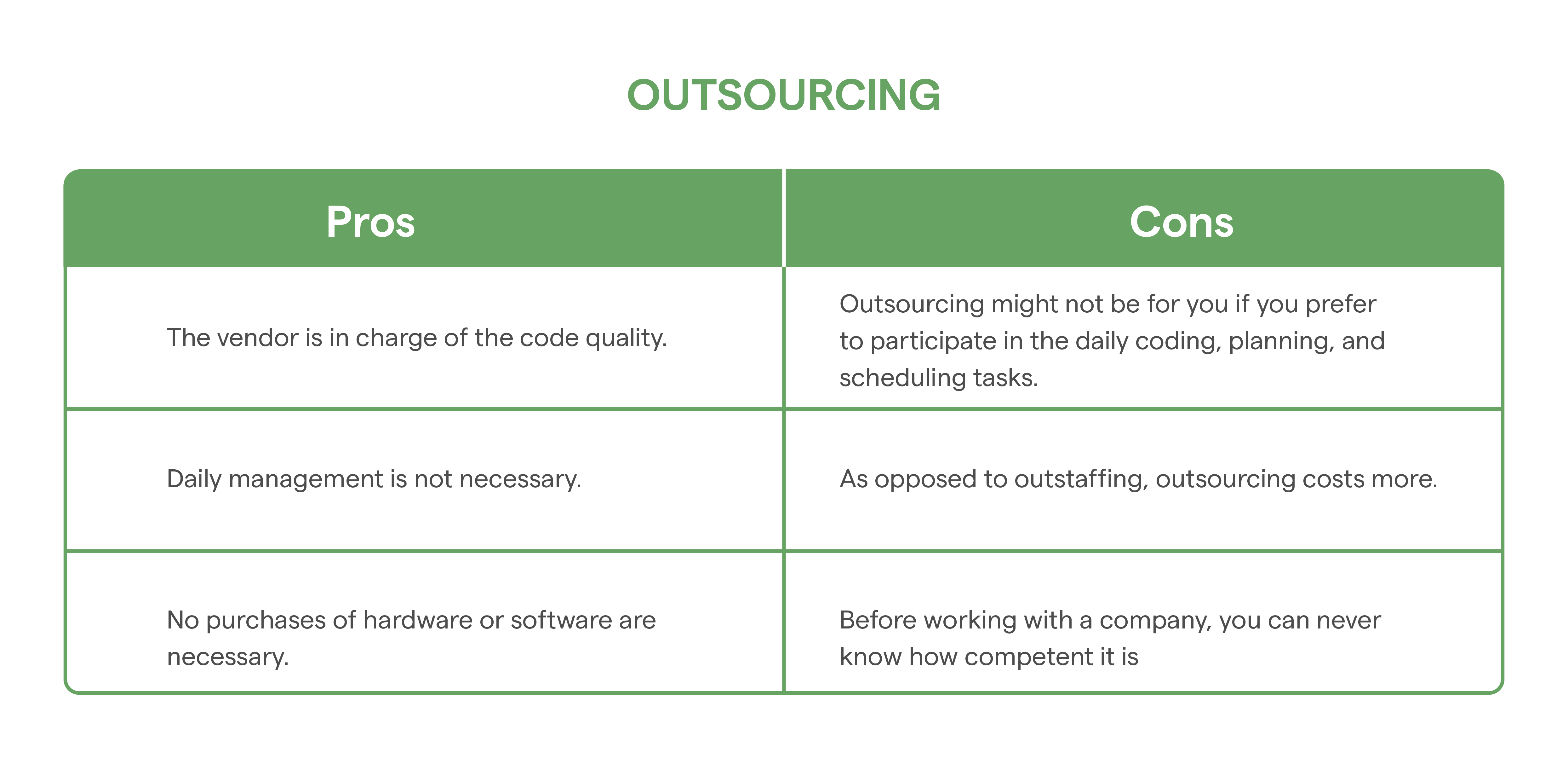 Pros:
The vendor is in charge of the code quality. Vendors should be in charge of quality control and ensure the coding adheres to your project's specifications. You are not required to provide daily management outputs at the client level. And that's a significant benefit.

Daily management is not necessary. Turnkey service is what vendors offer you. The IT personnel working on your project—from your internal staff to their outsourced team—is coordinated by them. They are in charge of scheduling, quality assurance, and deliverables.

Your supplier manages HR. More people required? (Or less) They take care of employee taxes, payroll, benefits, scheduling, etc. Only accept help when you truly need it.

No purchases of hardware or software are necessary. Hardware and software are necessities for your outsourced IT team to accomplish projects, but these costs won't appear directly on your expense ledger. All those costs will be your vendor's responsibility, and they will probably be included in the estimate they give you for their service.

Faster turnaround times. With more resources accessible at lower prices, outsourced developers can more easily fulfil deadlines that would be impossible for your in-house team to accomplish during rush times when a lot is going on in several projects without extra compensation or sacrificing quality assurance methods.
Cons:
The vendor is in charge. The opposite of our previously mentioned "positive" is this.

Outsourcing

might not be for you if you prefer to participate in the daily coding, planning, and scheduling tasks.

As opposed to outstaffing, outsourcing costs more. All of that management and turnkey service come at a price. You must pay by the hour under the terms of the outsourcing agreement for the assistance of the outsourced IT staff members and the project management team charged with overseeing your account. For a straightforward assignment, many suppliers may charge you more per hour, but when they anticipate working with you again on more significant tasks in the future, they may reduce their fee.

Reliability- Before working with a company, you can never know how competent it is. An outsourced developer may only earn your trust if they have an excellent track record and positive client testimonials. There is no way for you to evaluate the quality of your outsourced company if they have either no reviews or negative ones.
Pros and cons of Outstaffing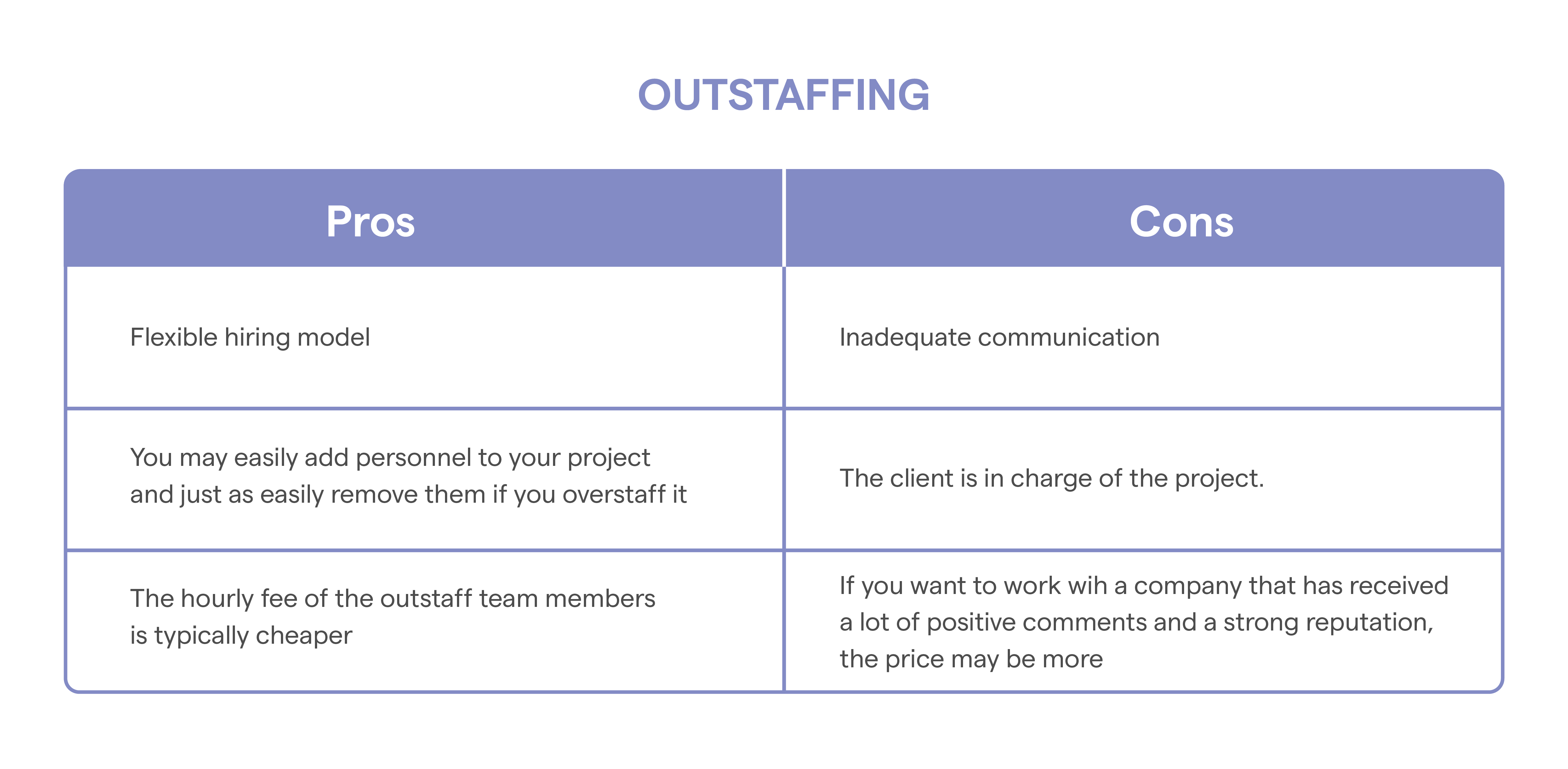 Pros:
Flexible hiring model- The next best thing to having your auxiliary crew is outstaffing. While the vendor takes payroll, staff resources are committed to you and your IT requirements.

You may easily add personnel to your project and just as easily remove them if you overstaff it. For instance, if you require a designer for a month, you are provided with one; likewise, if you require an additional developer till the project is completed, you are provided with one. When working with a single outstaffing business, everything is resolved swiftly and efficiently.

Daily management of the growth process is in your hands. It typically boils down to this when deciding whether to outsource or outstaff. Outstaff development is the most excellent option if your company needs extra staff but cannot afford to hire them. As if they were your team members, you will be able to interact with and train your vendor resources daily and integrate them into your development process alongside your staff.

Full Access- The answer to the question of what outstaffing is and why you would desire to work this way is to have more daily, hands-on management. You serve in the role of the project manager in this outstaffing approach. You manage the resources. You are in charge of the development process quality control.

Lower prices- The hourly fee of the outstaff team members is typically cheaper because the client is doing so much of the hard lifting on management. If you subtract the hours spent on project management, your vendor will typically add the estimate. The savings could be substantial if you're willing to put in the extra effort.

Work is completed faster- When you employ a professional to handle your programming, you don't have to wait for them to become familiar with your industry and catch up. You won't encounter any difficulties integrating the new app into your website or other programs because the developer knows how to make apps compatible with your operating system.
Cons:
Inadequate communication- Communication channels are crucial because vendor workers frequently work remotely or at least independently from the rest of your company. As the client, it is your responsibility to make sure your outstaff team is completely integrated into your project management software system and that the rest of your corporate team can see all of their reports. Setting clear goals and remaining active daily, like your corporate IT team, are essential.

The client is in charge of the project. This can be a pro or a con depending on how much time you have to handle your IT outsourcing services. It would be best to decide which is easier to invest: time or money.

If you want to work wih a company that has received a lot of positive comments and a strong reputation, the price may be more. This is so that they can afford to hire more qualified developers as they have more cltients than smaller businesses.
Which is best for you: Outsourcing or Outstaffing?
Resources; It's the sole factor that matters when deciding between outsourcing and outstaffing or when contrasting IT-managed services with staff augmentation. Do you have the internal resources to oversee a group of programmers working for a vendor daily? Do you have efficient internal procedures in place for assigning and monitoring projects?
Are external parties able to easily access your project management software systems? Can your personnel effectively collaborate with outside developers? If none of these questions gets a positive response, you should consider outsourcing rather than outstaffing. You'll require the simplicity of turnkey outsourcing.
However, there are distinct questions you should ask yourself if you are thinking of outsourcing. Do you have the additional funds needed for outsourcing? Do you have the freedom to hand over daily control of your IT development to a third party, even just for a project? If either of these questions has a negative response, you should consider the long-term control outstaffing will give you.
In the outsourcing vs outstaffing discussion, several options are taken into account. But in the end, this is what all the advantages and disadvantages come down to. For clients with extensive, long-term demands who want daily management of their vendor team, outstaffing is preferable. Outsourcing is preferable for clients with short-term requirements that demand turnkey service from their vendors.
Conclusion
Contact AppsRhino today to get yourself a development team that can fulfil all your needs.
You can contact AppsRhino if you wish to develop unique applications. Developers, project managers, designers, and marketers work together as a devoted team at AppsRhino, which creates mobile applications. To learn more, contact us right away!