The on-demand market has become a multi-billion market, especially the online food delivery sector. With internet penetration, advancement in technologies, mapping methods, etc., it has become easy to deliver food faster, cheaper and safer.
As the food aggregators increase, it has become challenging to sustain in the delivery market. However, amid the pandemic, the market has significantly boosted revenue generation, user penetration, and employability.
The market is expected to grow at a CAGR of 10.3% YoY, while the market volume will reach over $401.3 bn by 2025. At the same time, the platform-to-customer segment has the most significant revenue of $148.35 bn. The top contributors are Alibaba's, DoorDash, Uber Eats, JustEat, Delivery Hero, to name a few. Here, we detail everything about Uber Eats, one of the most preferred international food delivery service providers.
Uber Eats "Not just a growth story"
Kalanick and Camp ventured into the online food delivery market with UberFresh in 2014 in Santa Monica, California. But in 2015, UberEats separated from its mother company Uber, and a new ordering platform was launched into the American food market. However, large-scale delivery services like GrubHub and Eat24 had a strong foothold when UberEats was launched. But Eats had a competitive edge that helped it sustain itself in the food delivery market. While Eats was a late mover, it had already established a global network. Thus, using its well-established network, it came out on top in downloads and monthly active users, according to apps analytics company Apptopia in 2017.
Since then, Eats has grown its international presence. Eats now operates in 6 continents across 45 countries, making it one of the most prominent players globally. Besides, in 2020, Eats became central to sustain the business. Because its sister company's riding hailing operations were on halt due to COVID 19 and revenue fell by 50 percent year on year. Since Q2 2020, Uber Eats has generated more revenue from its riding hailing platform.
Jason Droege, vice president of Uber Everything, said that Uber Eats was growing faster than they expected during a discussion on the growth of Uber Eats on "Bloomberg Technology."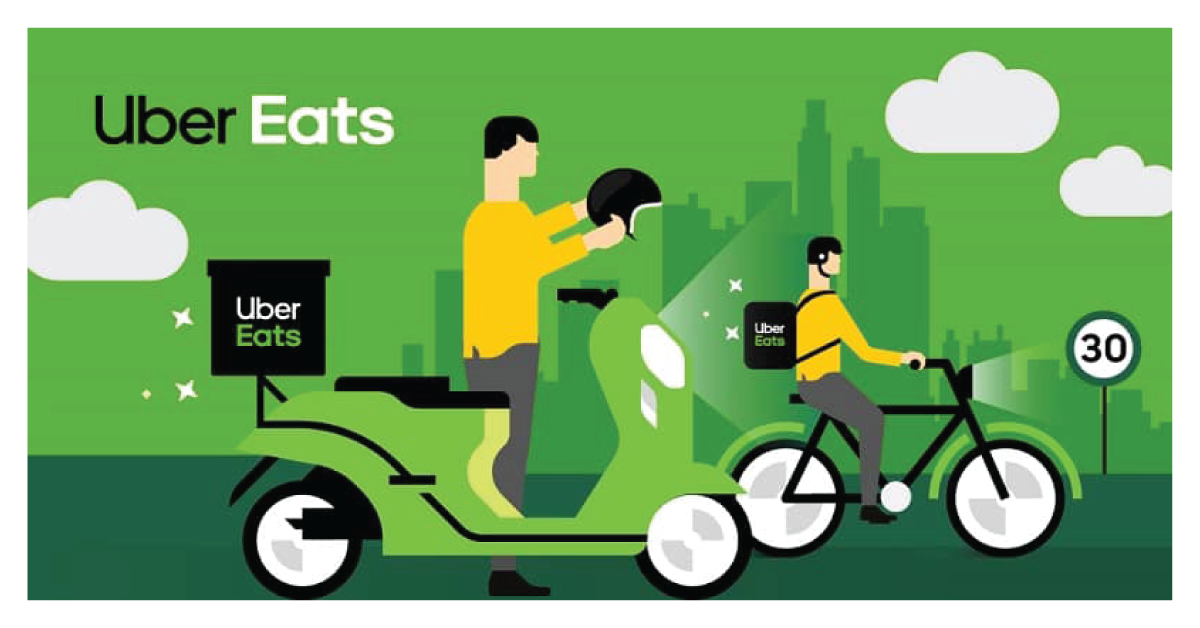 Though all across the globe, food delivery ventures haven't been successful. In 2019 it left the South Korean food delivery market attributing to local competition. 2020 India, Eats was acquired by a local incumbent, Zomato, for $350 mn, and Uber gained a 10% stake in Zomato. And In the same year in the United Kingdom, Eats no longer had delivery rights for McDonald's, as the fast-food company had partnered with JustEat, a UK-based food delivery platform. Eats had also lost delivery rights for McDonald's in the US earlier.
However, in its native market, Eats has been controlling around 30% of the market after acquiring Postmate for $2,656 mn in 2020. Eats's significant competitors in the US food delivery market are DoorDash and GrubHub, controlling 57% and 16%, respectively. Although Eats has consolidated its market position, it hasn't been able to earn profits. The investors are shy that the food delivery business, Eats, is not profitable. But in 2021, Eats has reported that it has lowered losses from the past year and can be beneficial.
In 2019, Starbucks teamed with UberEats to deliver coffees and beverages. Starbuck test deliveries began in 2018 with Mami and now will roll out to San Francisco, LA, Chicago, NYC, Boston, and Washington DC. And a delivery charge of $2.49 instead of Uber Eats's $4.99.
In Nov 2021, Eats listed a "Babies and Kids" service for emergency diaper and thermometer delivery. Eats had already been associated with deliveries of groceries, prescriptions, alcohol, and flowers apart from food delivery during the pandemic. But it is set to include the new vertical, competing with Amazon.com Inc, Instacart, and FreshDirect. According to Beryl Sanders, head of partnership for new verticals for the US and Canada for Eats, there were more than 20,000 baby supply searches, including baby food, diapers, and wipes, during June to August. The company has expanded its services and has listed several new verticals since its inception. A reason can be that only food delivery service may not suffice once things are back to normal. And Eats wants to emerge as a logistics or everything- delivery service.
Nevertheless, here we have listed the revenue and usage stats of Uber Eats.
Uber Eats: Key Stats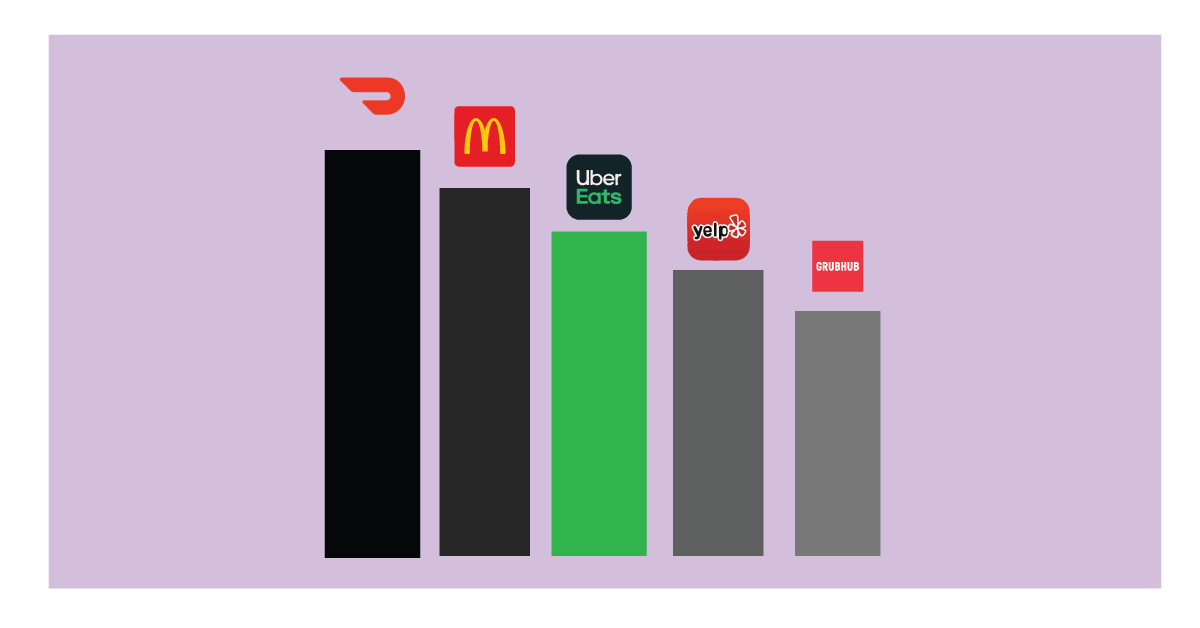 Statista reported in 2021 that, in 2020, food delivery company UberEats generated $4.8 billion worth of revenue. The company accounted for around 22 per cent of the food delivery market in the United States as of March 2021.

In 2020 UberEats revenue increased by 152% year on year.

Eats revenue rose from $1.90 bn in 2019 to $4.8 bn in 2020.

The US food delivery market share of UberEats stands at 29%, increasing 4% year on year.(FY20, 22%)

Eats is the most preferred global food delivery app, with gross bookings crossing $30.2 mn in 2020.

As per Wall Street Analysts, UberEats has been valued at $20 billion and its parent company Uber Technologies Inc., at $120 billion.

UberEats MAU is over 66 mn and ARPU is over $220.37.

Operates in 6 continents in more than 6000 cities across 45 nations.
Uber Eats: Revenue
Eats started with revenue generation of $0.6 bn in 2017 but within three years it surged by 300% to $4.8 bn. The year-wise revenue is mentioned below.
[wptb id=5509]
Uber Eats: Gross Booking worth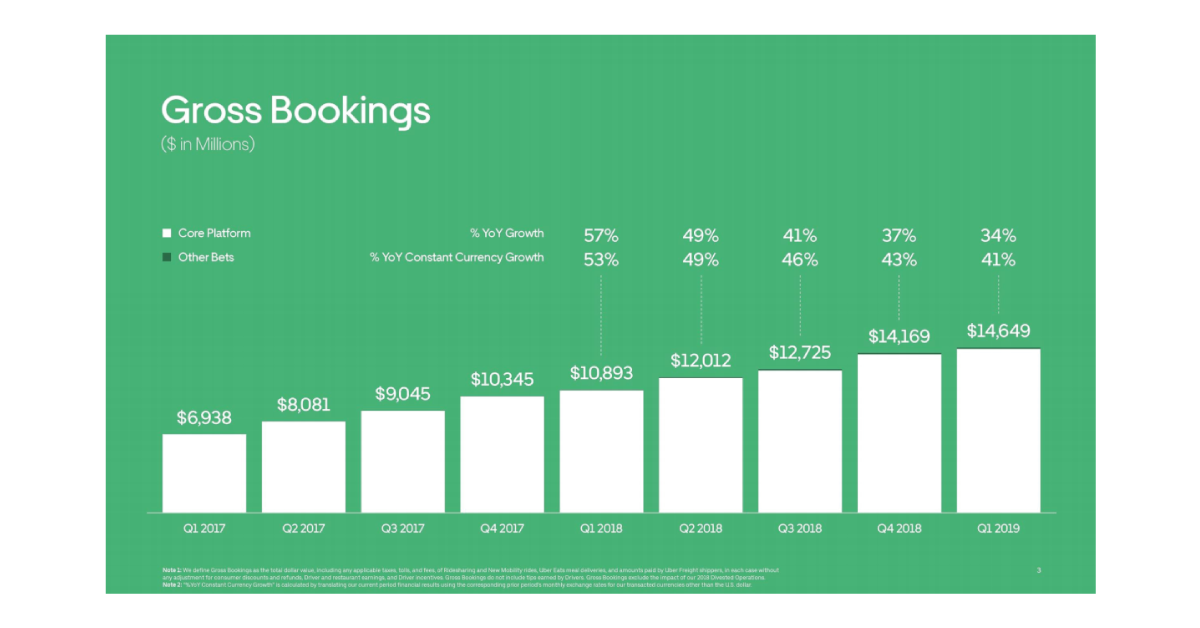 In 2017 the booking amounts were around $3.1 bn, increasing by 1000% in 2020. Because the in-dining facilities of restaurants were shut due to covid, the customers ordered food through the delivery apps. The gross bookings amount is estimated to be $30.2 bn in 2020.
However, in the preceding years, the gross booking amounts kept growing by almost 100% YoY. In 2018, the gross bookings were worth $7.9 bn, and in 2019 it was worth $14.5 bn.
UberEats: Users
During the pandemic, the usage of Eats peaked, as millions started to order food online. In 2020 Eats had 66 mn monthly active users, it has seen a user growth of 300% year on year. Eats had only 5 mn users in 2016, 9 mn in 2017, 15 mn in 2018 and 21 mn in 2019.
UberEats: Merchants and Availability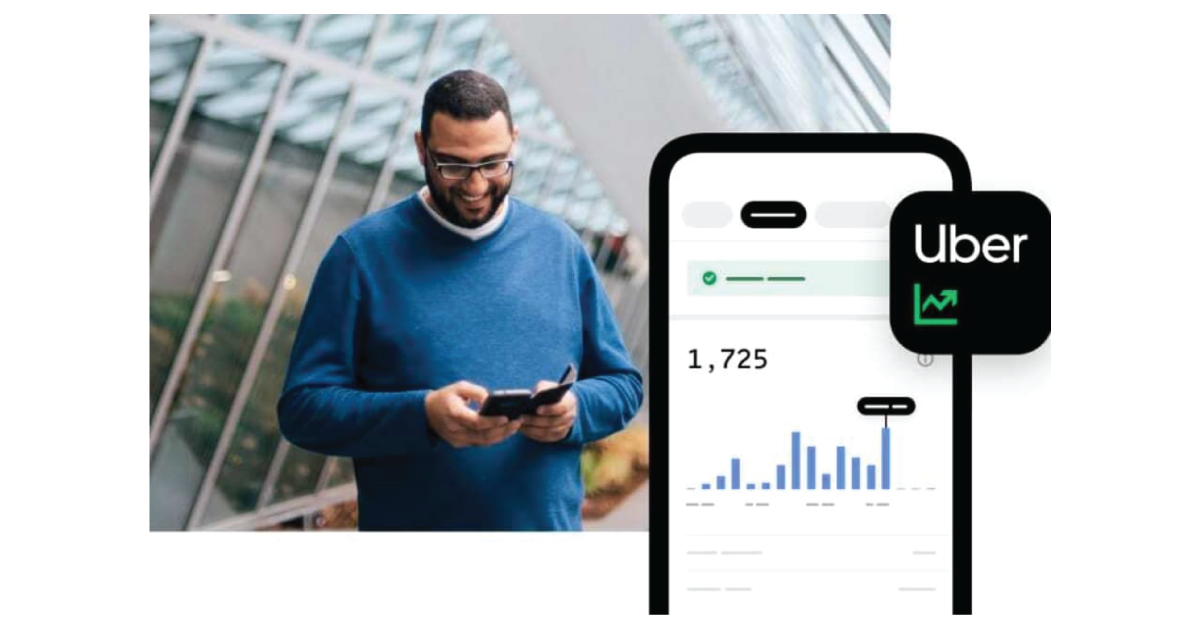 As of 2020 Eats has over 600,000 associated restaurants and is available across 6,000 cities.In 2014 it was available in Santa Monica, California, but it quickly expanded to West Hollywood and Beverly Hills. And within a year it was available in Chicago, New York and Barcelona, driving in more merchant associations.
UberEats: US food delivery market
Since its debut in 2015, Eats has gained significant control over its home market. In 2016 it had a market share of 3% but in 2020 it controls 30% of food delivery, after acquiring Postmates in 2019. Eats has benefited from its parent's global network.
UberEats US market share vs competitors
The US market is led by DoorDash and is a major Eats rival, though GrubHub dominated the whole food delivery operation in 2004, but has lost significant control over the market after the arrival of Eats.
Conclusion
UberEats has lost and found ground over foreign lands but has successfully consolidated its home market. Moreover, Eats has captivated audiences with its unique product differentiation and venturing into other services. Further, the addition of new services and verticals can generate profits for the company. Nevertheless, the food delivery market remains a difficult market to sustain and UberEats needs to keep innovating to stay ahead of the competition.
By the way, were you wondering how to build an app like Uber Eats? Then look no further and contact AppsRhino. We have delivered more than a 100 projects to clients across the globe and have super skilled teams to deliver your project within time and budget.
Related Articles:
What is the Development Cost of Food Delivery App Like UberEats?