The OfferUp clone is one of the prominent participants in the market for classified businesses. In a short period, the app has already eclipsed its competitors, including Letgo, Swapit, and Carrousel
An online C2C marketplace called an Offerup clone enables buyers and sellers to buy and sell anything, including electronics, furniture, and other commodities. An Offerup clone makes it simple for sellers to sell new, quickly used, or pre-owned goods to interested buyers.
User-friendly interfaces, specialized features, and functionality are added to apps like Offerup clones to improve the end-user experience.
The pre-built Offerup clone app adapts well to all online and mobile platforms (Android and iOS). The end-users are enriched to receive the ideal digital experience thanks to the dependable classified app like Offerup clone. With the aid of the Offerup clone script's straightforward methods, any merchants, entrepreneurs, and business people can market their necessities just like that. The Offerup clone is designed to provide cutting-edge technologies and end-to-end assistance.
Start building your classified c2c marketplace now with our Offerup clone script. AppsRhino has a group of experts who can assist you in Offerup clone development for your buy/sell classified platform. Adopting the best app, such as an Offerup clone, for your online classified business may expand your brand internationally and quickly increase sales and revenue.
Possibilities and Predictions
Many business owners are attempting to succeed in the classified app industry as an "apple for one's eye," considering its simplicity and more extensive user base.
According to Statista, in 2021, the classified ad sector grew to generate US $19,766 mn revenue.
By 2025, the market is anticipated to have grown by 3.3% annually, totaling US $22,550 million.
It is clear enough from Statista's predictions above that the market is indeed golden. In light of this, the OfferUp clone development guide will help you make an app similar to the OfferUp clone. The blog's purpose is to explain what an OfferUp clone is about. Should we start right away?
What is OfferUp clone App's Function?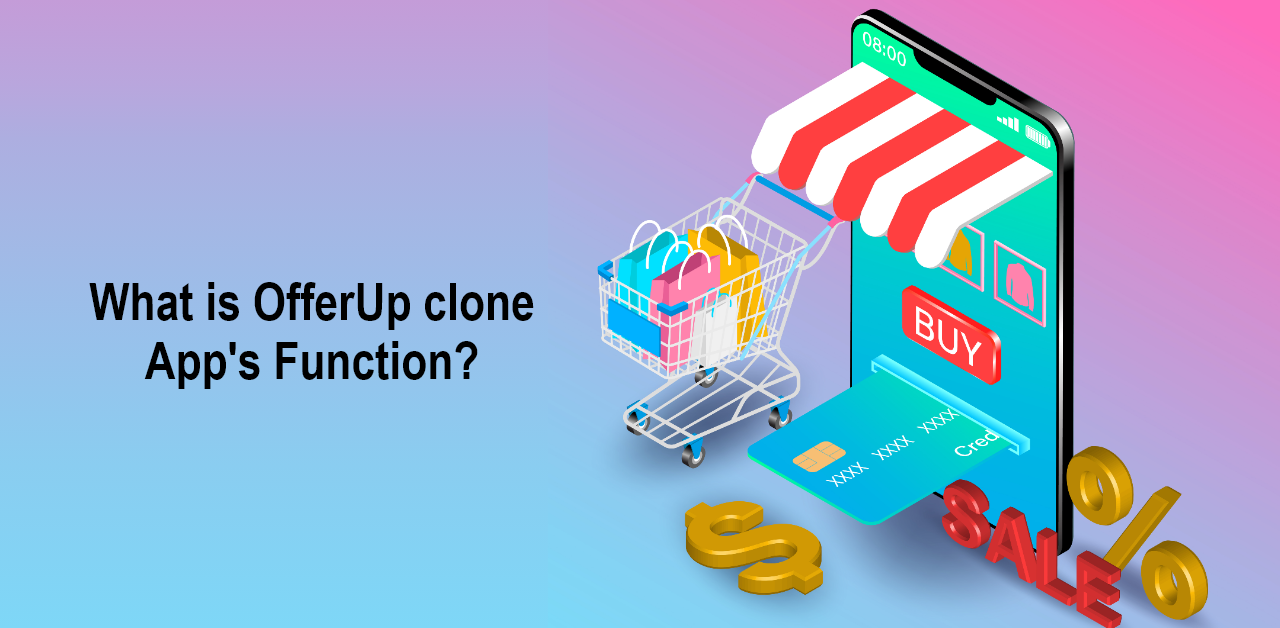 The application serves as a marketplace for buyers and vendors. Customers can look through a list of various products and save the ones they prefer.
On the other hand, sellers might include a brief description, a picture, and the asking price for the item they intend to sell. However, the action will only take 30 seconds.
The app's in-app chat feature lets the buyer contact the vendor directly if they discover a product at the most excellent price once they agree on a price via chat, the seller ships the item to the buyer's home or any other common location at the predetermined time.
Benefits Associated with OfferUp Clone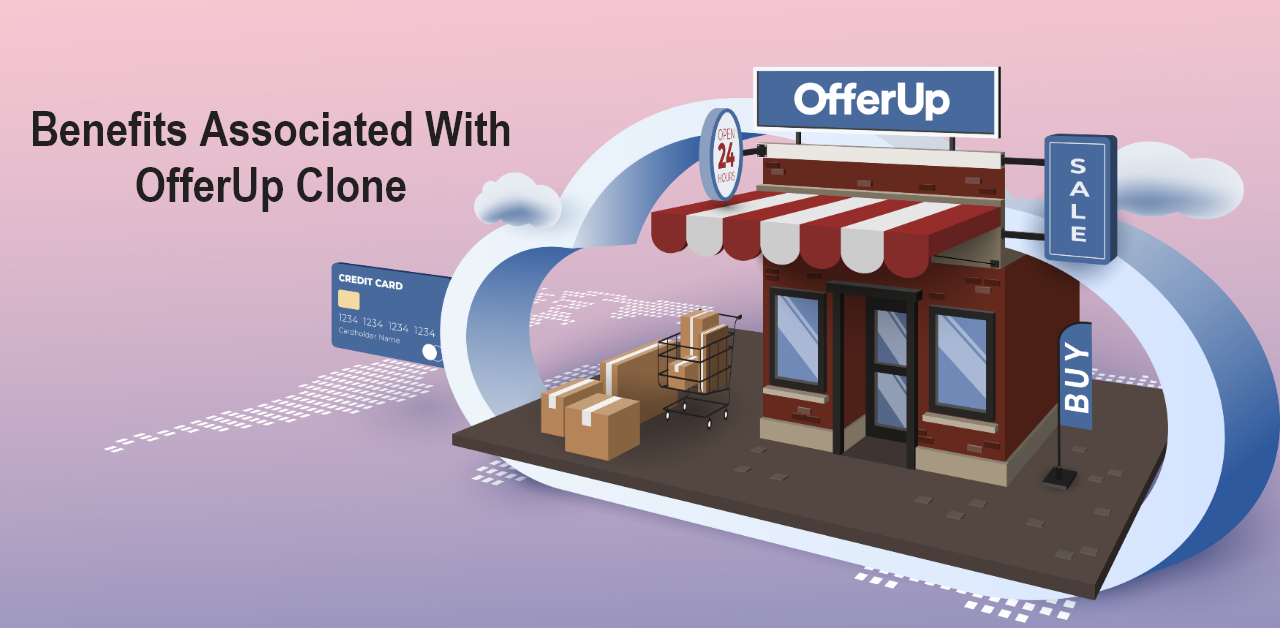 People can purchase or sell anything via the app, including automobiles, electronics, furniture, etc., for free.

Users can submit any queries with just a few touches.

Users can quickly share offerings with friends because the software is deeply embedded with social media.

The list of products with the most excellent prices is accessible to both the customer and the vendor.

Money is essential, but security is the most crucial factor. The app shows profiles with badges, ratings, and transaction history for this reason.

Users are free to publish advertising.
OfferUp clone revenue development guide
It's possible that observers were informed that the software doesn't generate a lot of revenue. But that is wholly false. With OfferUp clone's various income methods, you can earn a fortune.
Transaction fees: Just because an app is free doesn't mean it can't make money. Yes, the user is free to post the goods they want to sell. However, the cost of registering the item may be passed along to the sellers. For every product, you can add a small amount to the price.
Promotional costs: You can charge vendors a fee for positioning their goods so that many potential customers can view them.
Subscription plan: You can set up a subscription scheme for vendors who want to appear on the list consistently. They made the plan so they could terminate it whenever they wanted.
Service charge: After a sale is completed, you may deduct a service charge from the final product's sold price.
Advantageous features of OfferUp clone
Quick Navigation
The buyer and the seller can personalize their location using the app.
Post
Including a title, description, and pictures enable vendors to upload images of the goods they wish to offer.
SortBy
Customers can arrange the goods according to the items' date, price, and adjacent dealers. The buyer can sort the things into categories like vehicles, gadgets, babies, children, etc., to view them. When a buyer approaches to buy something, they will be informed about new articles, changes, etc., as well as the vendor.
Reviews and ratings
These are possible for both the buyer's and the seller's actions. It significantly impacts sellers because they can get a Trump Cart with a 5-star rating.
Video listing
Pictures can be deceiving and should not be believed. Because sellers will upload a product's video for explanation and build confidence, this option gives consumers a sense of security.
Listing of features
Sellers can utilize this feature to list their goods at the top for several days.
Key Characteristics of the Offerup Clone
Display advertisements

Discounts and promotions

Listing of products

Setup charge for listing

Follow the order

Choose options

Analysis reports

Geographical search

Reports and statistics

Using social media

Newsletter administration

CMS preferences
Admin Panel Features Of Offerup Clone
Dashboard

Control Seller

Manage the buyer

Category Management

Payment Statistics

Numerous Products

Inventory Control

Ratings And Reviews
Features Of The Seller App Offerup Clone
A speedy registration

Classify Your Products

Accept/Deny

Existence Status

Respond to Requests

Verify Earnings

Heritage Portal

Talk to buyers
Features Of The Buyer App Offerup Clone Script
Login to social media

Observe Products

Continue to checkout

In-App Purchase

Purchased Background

Control favorites

Call the vendor

Earn Benefits
How can i make money from buy/sell classified offerup clone app platforms? A complete offerup clone development guide!
Payment Through Sales
When any item is sold on the app, the Offerup clone script earns a percentage on the sale. More products sold result in more commissions.
Enhanced Ads
The sellers can advertise their products on various classified networks using our Offerup clone software to grow their business. It enables everyone participating in the firm to make significant profits.
Transfer Charges
For each completed transaction, an app similar to the Offerup clone costs the relevant sellers a certain amount as a transaction fee.
Type of Subscription
In our Offerup clone, consumers may join up for monthly or yearly subscriptions and receive special advantages like free delivery, offers, discounts, and other extra bonuses.
Putting everything together

We trust that we were able to give a complete picture of how to go about OfferUp clone development. OfferUp clone is an intermediate between sellers and buyers. Both can sell or purchase anything from electric goods, clothes, accessories, etc. As a budding entrepreneur, you can create an eye-grabbing online classified advertisement site using the Offerup clone script.
We also hope this is the start of our collaboration to create the best software. Grab our AppsRhino classified ad script immediately, develop an app like OfferUp, and look forward to a booming business!