Introduction
Love watching Netflix? How about conversing with people on LinkedIn or Twitter?
Do you use Canva or Ad<obe for designing? If so, there's a strong possibility that you could already be familiar with SaaS. SaaS (Software as a Service) apps have established themselves as the new normal in the modern corporate environment.
These apps have either been effectively deployed by organizations, whether they are small or large, or they are in the process of being successfully implemented. But what is so unique about SaaS applications? SaaS apps are more economical for a larger range of enterprises because they have lower initial expenses than traditional software download and installation.
This blog will cover several more aspects of what makes SaaS apps special and market-dominating. Whether you're new to SaaS or just looking to learn more, you'll find everything you need to know about SaaS apps.
Continue reading to learn more!
What are SaaS Apps?
Software as a Service (SaaS) is a cloud-based deployment paradigm wherein a cloud provider develops and maintains cloud application software, provides periodic upgrades, and makes it accessible to its consumers via the Internet as a subscription-based service.
The activities in finance, human resources, procurement, and supply chains, as well as those in commerce, marketing, sales, and service solutions, can all be covered and integrated by modern cloud apps.
The service provider manages the hardware and software and will ensure the app's usability, security, and privacy under the applicable service agreement.
A business may quickly and economically develop an app with SaaS because of the low initial investment required. Numerous IT experts, business users, and private users use SaaS apps.
SaaS apps include well-known services like Gmail, Hubspot, Netflix, Zoom, LinkedIn, Shopify, and others.
How do SaaS Apps Work?
SaaS utilizes the cloud delivery model to function. The program and its data will be hosted by a software provider using its servers, databases, networking, and computational capabilities.
Any device with a network connection can access the program. SaaS apps are often accessed via web browsers. Due to this, businesses that use SaaS apps are not required to set up and maintain the software—users can access their favorite programs by simply paying a membership charge.
SaaS is closely related to the on-demand computing and application service provider (ASP) software delivery models. The provider hosts the client's software and sends it to authorized end users via the Internet.
In the software-on-demand SaaS model, a single copy of an application that the provider developed and marketed for SaaS distribution is made available to consumers via the web.All clients share the same source code for the application. As new features or functionalities are made available, they are distributed to all users.
The customer's data for each model may be stored locally and in the cloud, depending on their service-level agreement (SLA).
Businesses can combine SaaS apps with other software (APIs) using application programming interfaces.
For instance, a company may create its software tools and interface them with the SaaS solution using the APIs of the SaaS provider.
Why do you need a SaaS App?
Enterprises frequently cite improved productivity and cost-effectiveness as the main justifications for utilizing cloud-based SaaS systems.
Here are the significant benefits of owning a SaaS app:
Lower Up-Front Costs
Instead of making capital assets that must be gradually depreciated on accounting records, one may pay for what they desire.
Easy Accessibility
As long as you have an internet connection, you can work from anywhere you are.
On-Demand Scalability
One may adjust their requirements as a business grows to consider the system's user base, data volume, and functional requirements.
Easy Personalization
Customize services to the needs of an organization.
Rapid Deployment of Data
Data can be transferred or shared between SaaS, on-premises, and private cloud apps.
Automatic and Frequent Updates
Providers usually offer upgrades because of their magnitude and the feedback they receive on the demands of their customers.
High Security
All users are protected, with their data and personal information locked, due to the shared nature of the service.
Why are SaaS Apps the Future of Mobile Apps?
Most software businesses run their programs on mobile devices—allowing users greater freedom to access the resources whenever required.
Cloud computing and SaaS have advanced significantly in a short period. SaaS products have multiplied as a result of rising acceptance and awareness. Businesses can achieve enterprise-wide efficiency by integrating cloud solutions.
The rise of mobile apps in the SaaS industry results from shifts in how users access and use information.
It is anticipated that integration between mobile and online apps will play a significant role in the SaaS market in the coming years.
According to a recent McKinsey & Company analysis, technology industry analysts anticipate continued growth in the software as a service industry, with the marketplace for SaaS services reaching close to $200 billion by 2024.
Artificial intelligence (AI) solutions are destined to become a crucial part of any enterprise cloud application when they are on the rise. The future of SaaS apps is bright—there is no denying that.
In a nutshell, SaaS providers must emphasize giving their customers the best user experience possible while continuing to offer them options that satisfy their requirements.
AppsRhino offers the best Tech-driven solutions for Home services, Laundry delivery, Alcohol delivery, Grocery Delivery, Food Delivery, and Taxi Services: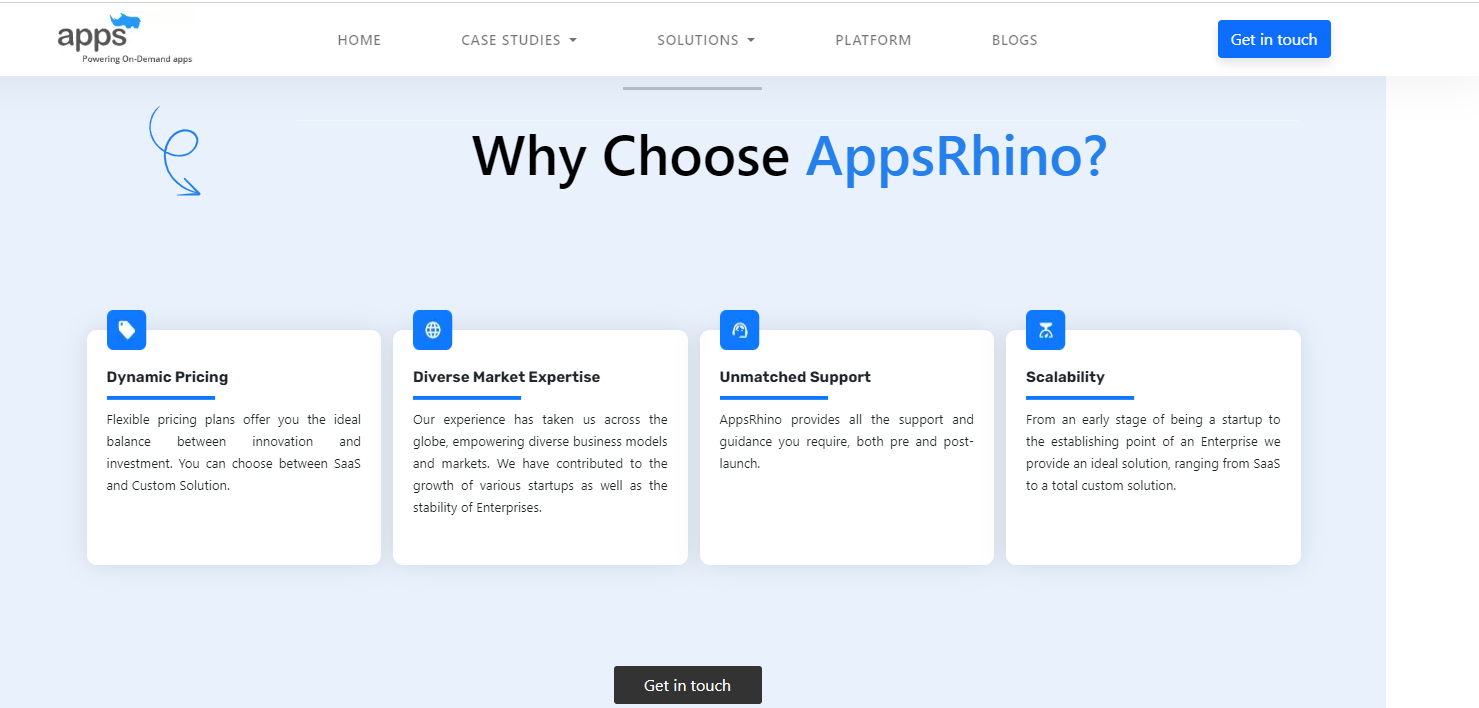 Security of SaaS Apps
Software as a service application (SaaS) includes Microsoft 365, Salesforce, ServiceNow, Workday, and others that facilitate sales, communication, source code management, collaboration, and organizations.
In turn, these applications and the data they store and transmit have become the new systems of record for everything from patient information to employee information.
SaaS apps have become an essential component of the IT infrastructure stack due to their importance, the sensitivity of the data they handle, and the requirement for data integrity.
Due to the sensitive nature of the data kept on these systems—and the awareness that SaaS application security is sometimes laxer—SaaS apps have grown to be an attractive target for malicious hackers. According to IBM, the average cost of a data breach worldwide is $4.24 million. However, this figure by itself doesn't convey the whole picture.
When determining the exact impact of a data breach, productivity losses, potential fines for non-compliance, reputational harm, recovery and litigation costs, and the loss of sales possibilities must all be considered. As a result, these organizations must safeguard the data and information in SaaS apps.
Conclusion
Cloud-based SaaS apps have the potential to revolutionize businesses. They can help companies pursue an IT infrastructure that is less expensive, simpler to run, and requires less upkeep.
SaaS apps automate the time-consuming tasks essential to software maintenance. Additionally, it helps with disaster recovery and data protection, as well as flexibility and agility in growing the program to keep up with growth.
SaaS may eventually be able to forecast client turnover or offer cross-selling strategies that are most effective for your company.
The high-volume data, software performance, and backup requirements of businesses are constantly changing, so it's no wonder they are turning to SaaS apps!
Are you interested in developing your on-demand application? Have trouble getting started?
Fret not! AppsRhino is here to help.
You can make your dream mobile or web app a reality with this market-leading app development company! Get in touch with us today.
Frequently Asked Questions
What are SaaS apps?
SaaS apps, or Software-as-a-Service apps, are cloud-based applications that users can access and utilize through the internet, without the need for local installation.
How do SaaS apps differ from traditional mobile apps?
Unlike traditional mobile apps that require installation and regular updates, SaaS apps are centrally hosted, managed, and updated by the provider, offering convenience and real-time updates to users.
Why are SaaS apps considered the future of mobile apps?
SaaS apps offer numerous benefits such as scalability, flexibility, cost-effectiveness, and easy access across multiple devices, making them a promising future for mobile app development.
How can SaaS apps enhance efficiency?
SaaS apps eliminate the need for local storage and processing, enabling users to perform tasks efficiently by leveraging the power of cloud computing and accessing resources on-demand.
Are SaaS apps scalable?
Yes, SaaS apps can easily scale according to user demand. Providers can adjust server capacity and resources to accommodate increased usage without impacting the app's performance.
Can SaaS apps save costs for businesses?
Absolutely! SaaS apps eliminate the need for upfront investments in infrastructure, hardware, and software licenses. Subscriptions are typically more affordable, allowing businesses to focus resources on core activities.
How do SaaS apps provide seamless user experiences?
SaaS apps can offer consistent user experiences across devices and platforms since they are accessed through web browsers. Users can switch between devices without losing progress or data.
Are SaaS apps secure?
SaaS providers prioritize security by implementing robust measures, including data encryption, regular backups, and access controls. However, it's essential to choose reputable providers and follow security best practices.
Can SaaS apps integrate with other software?
Yes, many SaaS apps provide integration capabilities, allowing seamless data exchange and interoperability with other software systems, such as CRMs, marketing tools, or project management platforms.
Why should I get a SaaS app now?
By adopting a SaaS app, you can benefit from the latest features, continuous updates, scalability, reduced IT burden, and improved productivity, staying ahead in the dynamic world of mobile apps.