Introduction
Beauty is in the eye of the beholder! Indeed, what you like might not be something your friends like and vice versa. We might attribute this difference to liking you seeing the good part of it and your friends seeing the lousy part.
In the same way, products have both qualities; the good and the bad ones. People who see the good part of the product go ahead and use it. And, the ones who see the terrible part shun the product and hop to its alternatives.
Here we have an app maker named Appypie, a lifesaver for the non-technical ones. Appypie is an online-based mobile application builder that permits people to develop mobile applications without evening coding. As we said, everything has good and bad attributes; Appypie is no exception. Here we have tried to tell you what Appypie is, its features and pros and cons.
What is Appypie?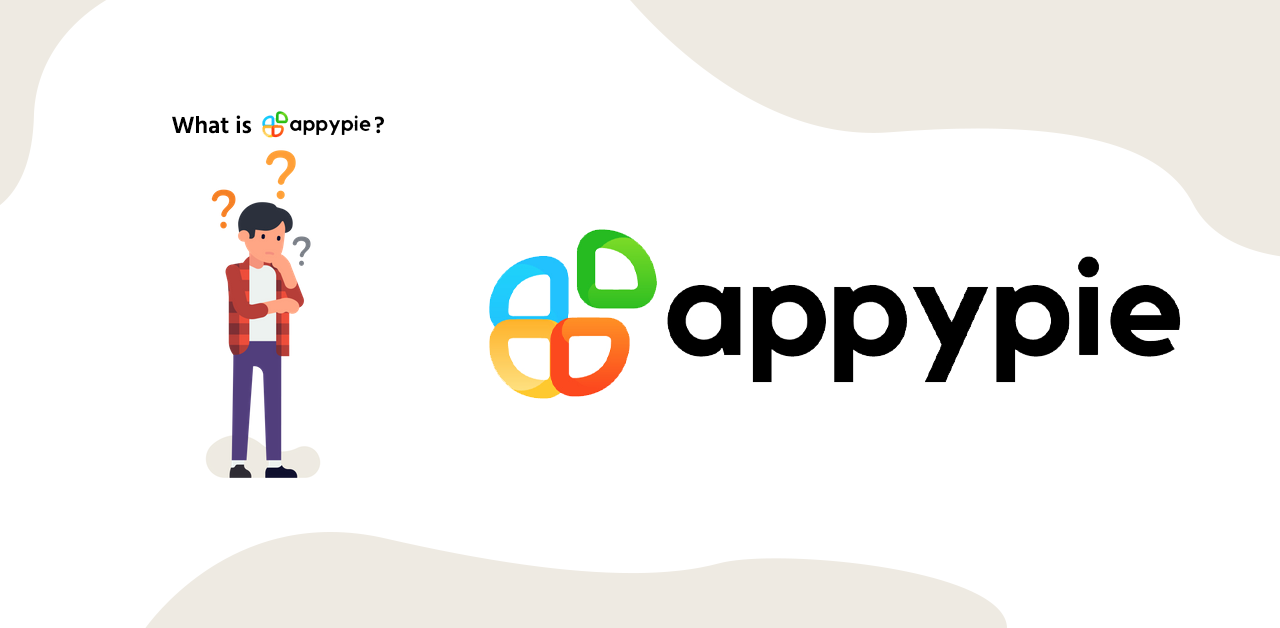 Appy Pie is an online-based mobile application builder that permits users to build various mobile applications with mere drag and drop steps. The user does not require any coding skills to create their application on this platform, Appypie. Moreover, it does not matter whether you are a novice to app building. Appypie provides its users with a comprehensive guide to start building apps.
All the applications built on Appy Pie are compatible with most devices, including iOS, Android, Windows, and BlackBerry. When users finish building their apps, they can publish them on all the popular app stores and even monetize them. The app builder is apt for individual businesses and small enterprises.
What Does Appypie offer?
Appypie offers the following things:
Ease of use
The editor screen that you get from Appypie is straightforward to use. Users user need to drag and drop features into the application. Also, you can even click on pages to enable features. Moreover, Appypie lets you preview the app, test its features and give you the freedom to include or remove something before launching the app.
Multiple integrations
Appypie provides numerous integrations to its users and gives them various solutions. It helps automate inventories, drop-in messages or emails, connect on zoom, etc.
Appypie also has smart integrations like 'actions and triggers' to increase your efficiency and productivity from simple tasks to major workflows.
Thus, you get an all-in-one app in Appypie, eliminating those tedious manual tasks of switching apps.
Ample features
You will be amazed to know that Appypie offers 200 plus features to its users. Push notifications, content management (CMS), cart, and in-app payments are some of the features. Appypie is a 'no-code' app maker, simplifying workflows, drives-in conversions, launching chatbots, and reducing business hours and expenses on such chores.
You can create a tinder or uber clon using Appypie.
Data security
Appypie is a certified app builder company that makes your ideas a reality without any fuss.
Data Synchronization
This cloud-based platform also provides data synchronization. Appypie is built on a well-written backend code, facilitating data synchronization between two or more devices and updating changes automatically between them to preserve consistency within systems.
Technical + Edu Supports
Appypie's CSM contacts its users to get you on board if you face any technical glitches. Its representative will have several interactive sessions with users to better understand Appypie.
They will also detail the procedures involved in developing and publishing your app on the app stores of your interest.
Appy Pie initiated free and paid interactive sessions and courses to familiarize people with tech knowledge as a supplement and provide participants with developer certifications.
Time-effectiveness
Usually, one creates a beta version of an app in around nine weeks. This duration is reduced to 62/63th using a no-code builder. Theoretically, one can construct an app in a day if one is conversant in using a no-code app development platform for app creation. The modular and drag-and-drop-based interface provided by Appypie results in flexibility in app creation.
Affordability
Appypie is affordable and not heavy on your wallet. Appypie's subscription prices start from just ₹999 a month. No-code applications and website builders are a fantastic alternative when the app development costs move at a supersonic speed.
Customizability
With Appypie's drag and drop controls, you can alter the template and tweak certain features easily. You need to go to the editor dashboard and change what you want to change.
Who should use AppyPie, and Who shouldn't?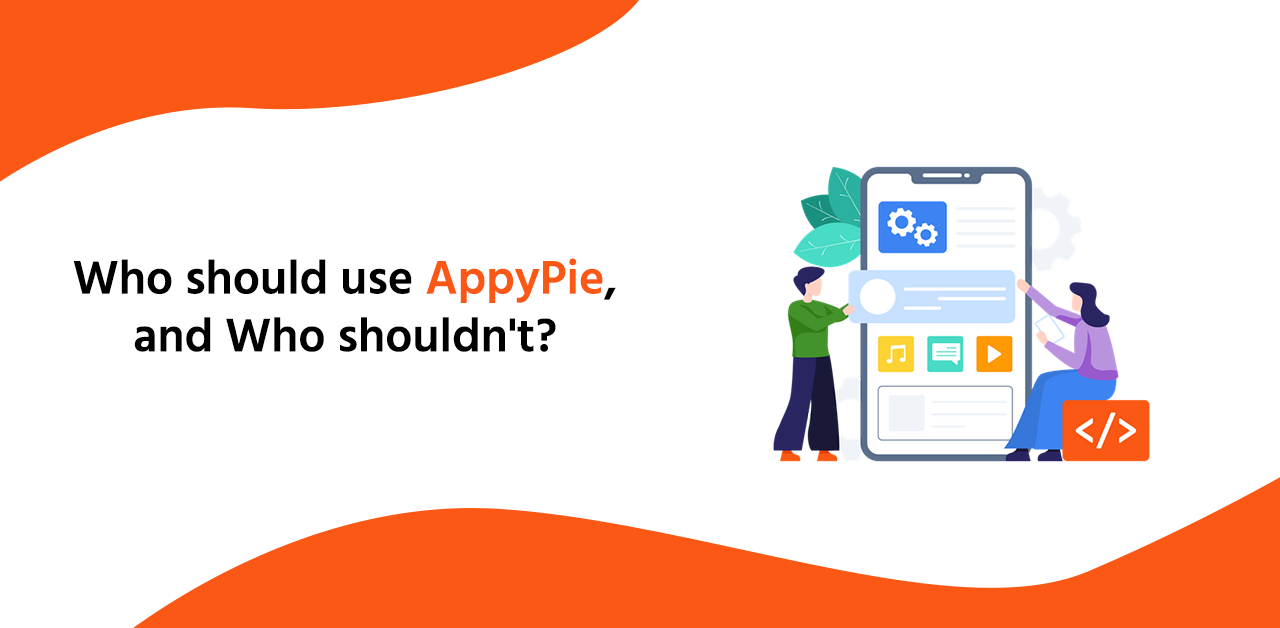 Today, app development companies are looking for no-code development to cut work, time, and money. It shows that no-code development is on the rise.
People who want to create educational, real estate, eCommerce, and food and hospitality apps usually go for Appypie. Such apps are straightforward to design and do not ask for much work, thus easing business.
Also, people use no-code app makers like Appypie for internal tasks, tasks automation, and back-office processes.
However, almost all the Appypie apps appear the same as there is an absence of custom code and users get limited templates to develop applications. And if a user revises the subscription plan, the iOS supported plan worth ₹1999 /app/month limits 2000 downloads/month. Also, every application created this way has Appypie branding. Thus if someone wants to scale one's business to great heights, Appypie is not their call.
AppyPie Features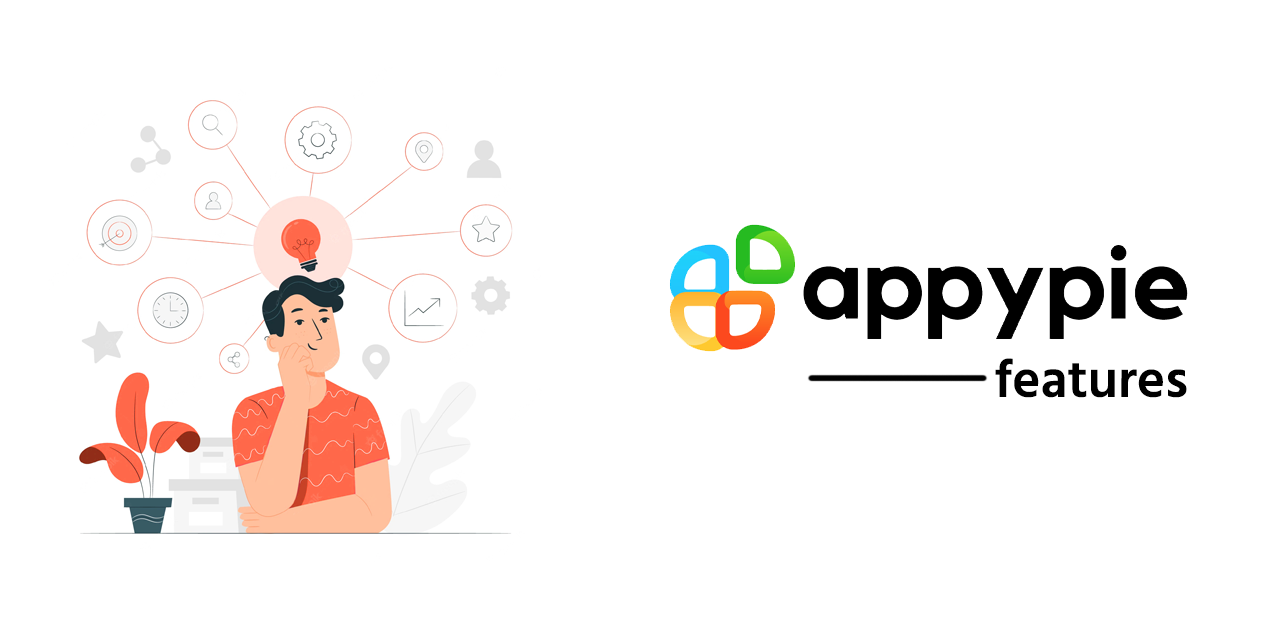 Here is a list of features Appypie has:
AI/Machine Learning
API
Access Controls/Permissions
Alerts/Notifications
App Management
Application Management
Augmented Analytics
Automated Responses
Canned Responses
Change Management
Chatbot
Code-free development
Collaboration Tools
Compatibility Testing
Compliance Management
Content Management
Contextual Guidance
Custom Development
Customer Support
Customizable Branding
Customizable Templates
Data Modeling
Debugging
Deployment Management
Design Management
Drag & Drop
For No-Code Development
For Sales / Marketing
GPS
Graphical User Interface
Integrated Development Environment
Intent Recognition
Mobile Development
Natural Language Processing
No-Code
Policy Management
Pre-Configured Bot
Process/Workflow Automation
Query Suggestions
Real-Time Analytics
Remote Access/Control
Reporting/Analytics
SMS Messaging
Sentiment Analysis
Social Media Integration
Software Development
Source Control
Virtual Assistant
Visual Analytics
Visual Modeling
Web App Development
Web/Mobile App Development
Appypie Pros
Their customer service is available whenever you need it.
Appypie explains things to its customers quickly.
They give instant replies to your queries.
Appypie is a no-code platform that helps people make applications without coding.
Appypie also offers a virtual chat feature.
The drag and drop features are uncomplicated and easy to learn. You can quickly familiarize yourself with AppyPie.
Appypie's user interface is equally user-friendly and gives optimum building speed.
Appypie Cons
Appypie can be a bit confusing at times.
Users might need to pay for images, which is frustrating to many.
Some consider Appypie highly scary as it can have so much data at risk.
Some users feel that troubleshooting bugs after app deployment is a dragged-out process with Appypie.
Conclusion
If you want to create an application, you must weigh Appypie's pros and cons before using Appypie for app creation. Appypie certainly offers new users peace with ample integrations, ease of access, and data security. However, it also has its limitations with error resolution and its interface.
The question is, is Appypie worth your time and money? You decide. We have laid out the facts for you.
If you decide against using Appypie for creating your app, you can contact AppsRhino! AppsRhino provides various solutions for on-demand apps. Moreover. It offers you the flexibility to choose between on-premises or cloud-based subscription solutions.