Introduction
The world has advanced. With advancements have come several changes in the way people live and conduct themselves. Convenience and comfort are something everyone craves now. People have no time to buy what they need from the market in the fast-paced life. Time is an issue, so they are currently moving towards on-demand delivery apps to save it.
On-demand delivery apps have gained popularity in the past few years. The past two years have predominantly been a booming phase for the on-demand market. What people needed was an app that would fulfill all their needs. Whether they want groceries, alcohol, clothing, gifts, or any other basic necessity, they want this all to be delivered to them.
One such app that fulfills all the needs of its users for a nominal fee is Postmates. The Postmates business model is on a similar line to that of Uber.
Summary
Postmates is an on-demand delivery network that allows users to order and receive anything and everything from their favorite businesses right at their doorstep. The Postmates approach is simple: customers browse and search for the items/categories they want to buy, then choose the store/restaurant from which they need the things.
Here is a glimpse into the postmates business model:
The postmates business model can be divided into 4 basic steps:
Creating a need
Payments
Matching
Tracking and Feedback
Postmates Revenue Model
Postmates earns through the following way:
Delivery Fee
Service Charge
Cart Fee
Commission
Partnership
Subscriptions
Key Stakeholders of Postmates
Customer
Merchants
Delivery Personnel
What is Postmates?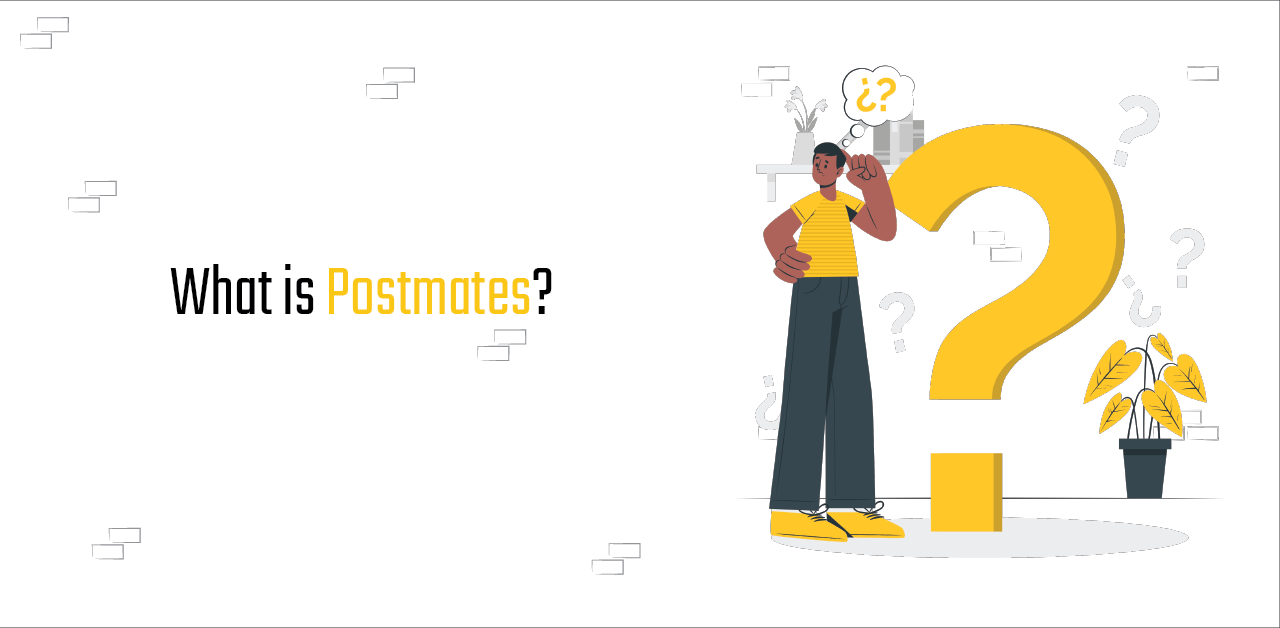 Postmates is an on-demand delivery network that allows users to order and receive anything and everything from their favorite businesses right at their doorstep for a modest price. Postmates is currently available in over 100 major regions across the United States. Their business strategy is sometimes compared to that of Uber's, as Postmates allows its merchants to deliver their products through Postmates' delivery service. Postmates delivers items and enables users to order anything from anywhere in the town using their network of human couriers. Postmates couriers, like Uber drivers, receive order alerts, and the company uses GPS to balance demand and supply as rapidly as possible.
How Does Postmates Work?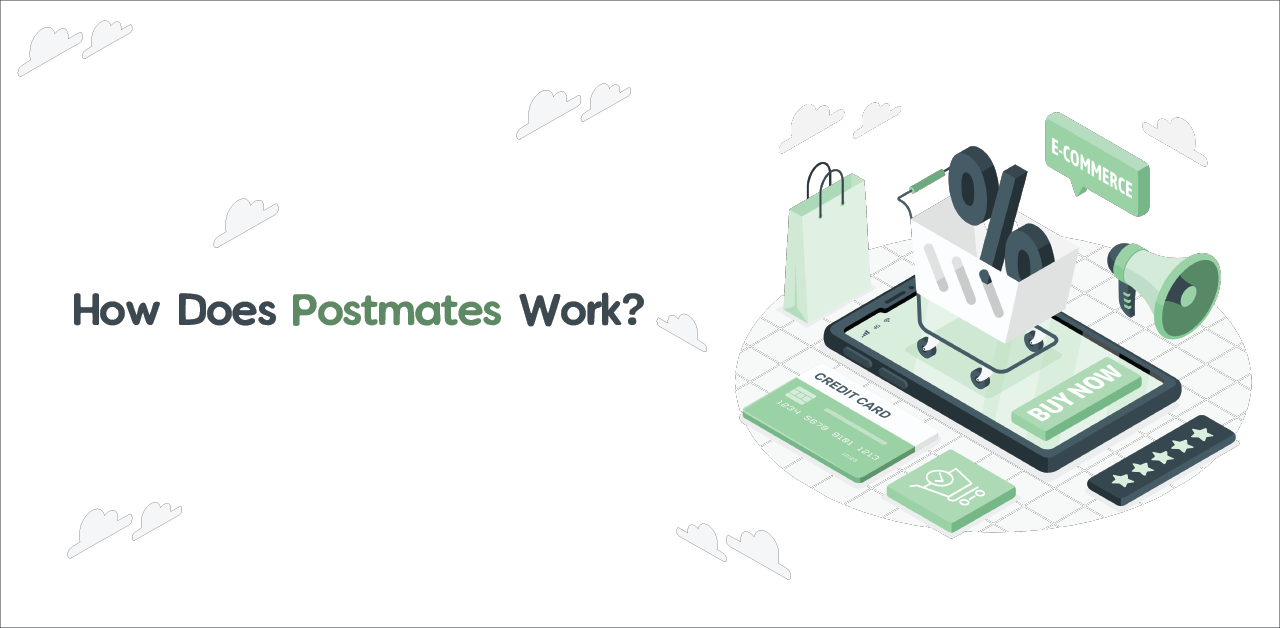 The Postmates approach is simple: customers browse and search for the items/categories they want to buy, then choose the store/restaurant from which they need the things. Users can make online payments; however, this is dependent on the pickup and drop-off location. The Postmates delivery person closest to you gets alerted when the order is verified. They go to the specified store/restaurant, choose the things, and deliver them to the user's door within an hour of placing the order. In the meantime, users can track their packages or contact the appointed delivery representative. They may also leave a tip for the delivery person if they desire.
Business Model of Postmates
The Postmates Business Model may be broken down into four basic steps. They are as follows:
Finding/Creating a Need: The first step towards earning money for Postmates. Big technology corporations have established frameworks for firms that follow consumer needs.
Making Payments: Payments must be made at the time of order. The delivery price is added to the entire amount based on the distance between the collecting and departure places, and the result reflects how much Postmates costs.
Matching: The third stage is to match. What is the Postmates fleet's responsibility? After a user places an order, the notice in the product information is forwarded to the messenger near the business. When the product is ordered, the recipient accurately balances the knowledge to meet the consumer's exact needs. The order must be purchased and dispatched to the user's door within an hour.
Tracking and Feedback: Postmates has an outstanding feature that allows users to monitor where the messengers are with their packages. Users can provide comments after their orders have been completed. Another option allows users to advise delivery men entirely reliant on the user.
Key Stakeholders of Postmates
When it comes to the segments of Postmates services, there are three primary ones: customers, merchants, and delivery people.
Customers: Postmates personnel collaborate with a variety of general merchants to create a platform for a massive audience. Postmates' merchants or dealers are usually more than happy to pay a tiny portion of the entire bill in order to contribute to Postmates' overall earnings. Postmates works with merchants in this manner. And it is because of this, that customers believe it is far more cost-effective to share a small percentage of their money with Postmates than to hire a delivery boy.
Merchants: Postmates works with merchandisers to link them with clients who request their products via their platform. Traders pay Postmates a portion of the order bill for their door-to-door delivery service. Companies can save money by sharing a portion of their purchased items with the distribution network rather than hiring their workers to deliver the products to their clients.
Delivery Workers: Delivery people are compensated for the deliveries they make based on the formula for your city.
The following are the earnings with each delivery:
A monetary value for each completed pickup.

A sum for each completed drop-off.

A charge is based on the number of minutes you wait at the pickup location.

A fee per mile for the distance between the pickup and drop-off points.
Value Propositions to Postmates' Key Stakeholders
Postmates' business strategy provides unique value propositions for customers, delivery personnel, and local merchants. Let's look at the value Postmates provides to different client segments.
Users:
Users can place orders from any of the local partner stores.

Postmates is open 24 hours a day, 365 days a year.

Things can be delivered in as little as an hour.
Merchants:
They have a large consumer base.

Postmates allows them to serve their consumers at their doorstep.

Postmates' platform gives the merchant an online presence.
Delivery Personnel:
They can work on their timetable.

According to Postmates business model, delivery drivers receive 80% of the delivery price.

The more deliveries they make, the more money they make.
Postmate Revenue Model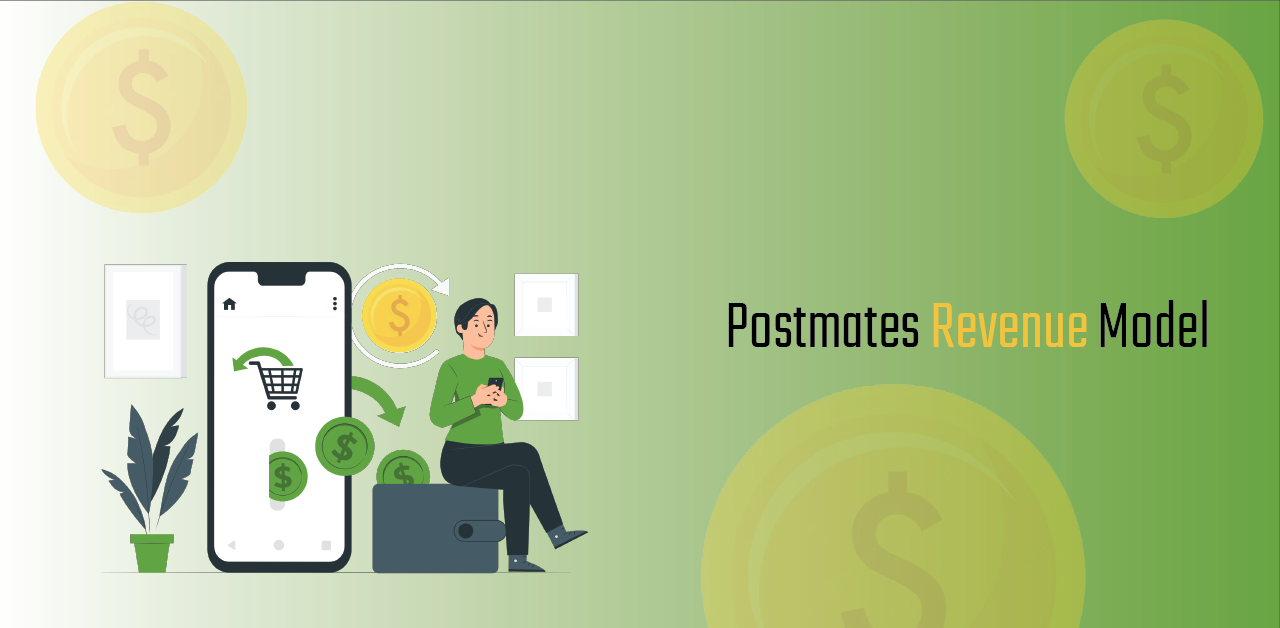 Postmates monthly income is estimated using the revenue model. For significant success, any firm needs to have a robust revenue model. Postmates' $800M valuation is its solid and strategic revenue model.
Let's have a look at how they constructed it:
Delivery Fee
Postmates differs from other on-demand services in that it lets you order from third-party vendors.
Postmates charges $3.99 for delivery if you buy from a partner dealer (one with a green checkmark next to the name) and $5.99–$9.99 for all other dealers. This distribution charge will be shared in a 4:1 ratio by the manufacturer and the client, with the corporation taking just 20% of what is received.
Service Charge
The service fee is a variable percentage fee applied to each order (usually between 9 and 19 percent ). It is not popular with everyone and is entirely focused on the efficient operation of the organization.
Cart Fee
If your purchase order is less than $12, you will be charged a $1.99 cart. According to the organization, this fee is levied to ensure that you always get what you purchased and are not disappointed.
Increased Prices
Postmates, like other on-demand startups, employs a complicated pricing algorithm to increase expenses by a factor of five when supply-demand surpasses online deliveries. This feature creates a strong financial incentive for Postmates to be available when it is most required.
Postmates Unlimited
The firm has introduced another subscription service structure into its own business model.
Postmates Unlimited subscriptions provide the following benefits:
There is no delivery charge for all orders of $20 or more.

There is no surcharge pricing.

If you have this membership, you will not be charged a service fee when purchasing from a partner retailer.

There is no set amount for the cart fee.

This approach benefits subscribers and the company, as it attracts a sizable number of customers who eventually place purchases from Postmates as a result of their subscription.
Postmates Unlimited is available for $9.99 per month or $95.88 per year.
Commissions
A partnership with Postmates brings up a slew of new opportunities for restaurants and other businesses in the digital on-demand space. Because delivery is outsourced to Postmates, they obtain more orders, eliminate credit card processing fees (Postmates complete every transaction), and can focus on their core operations. Postmates has several trading agreements with a variety of trading partners. However, one aspect in common is that the company charges a fee for any order placed through its website.
Postmates typically pays between 15% and 30% of the total items price before taxes. The charge is also determined by each partner's agreement with the client. Non-partner dealers will not be charged a commission (compensated by a high customer service fee).
Partnerships
Postmates has released an API that allows businesses to incorporate a powerful local delivery platform into their application. This API also allows the partner to use Postmates' fleet to deliver items in Postmates' geographical areas.
Several notable companies, including Starbucks, Target, and Instacart, have used this API to deliver their items utilizing the Postmates Fleet of couriers.
Such alliances provide additional money for the company and allow it to use its fleet fully.
What Sets Postmates Like App Apart?
So, is Postmates a profitable business? Yes, of course! Aside from the fact that Postmates for Business worked out well for the founders, certain unique elements contribute to the company's success. Postmates' business approach has always intended to make it stand out in the industry. The only reason the app received much attention was due to its originality and the eye-catching features it provided for the sectors it served. These are the things that set it apart from the competition:
Allows customers to order from anywhere in the city.

Customers can shop at particular stores.

Postmates' delivery charge is relatively low and is determined by the distance between the pickup and drop-off places.

They can have the product delivered within an hour.

Another factor that draws consumers to Postmates is its pay structure. The minimum Postmates delivery price is $5, but certain offers feature a lower fee.

Customers can use GPS to track the messenger's location to see how far the merchandise has traveled.

Postmates' most recent feature is the 'Pick up' option, which was created to expand.
Conclusion
Postmates has faced stiff competition from Uber, GrubHub, Amazon, and even small on-demand startups since its inception, an ongoing fight. However, the business model and strategy are well-defined, allowing them to become the most relevant on-demand corporate startup.
The nicest thing about Postmates is the customer's financial contentment and speedy ordering. Postmates has carved up a significant history from its humble beginnings. Postmates has learned the reward for winning hearts and will thrive in their scope by bringing everything to their customers' doorsteps. They still have a long way to go.
Related Articles:
How to increase the visibility of your restaurant on Postmates?
Things to keep in mind before opening a restaurant on Postmates