Introduction
Hunger is directly proportional to anger, they say!
When you are hungry or craving pasta, all you need is for the pasta to appear out of thin air. Right?
This is the exact reason why food delivery apps were made in the first place. The creators saw a problem and pledged to solve it for us.
Bless them!
With the best food delivery services, you can order whatever you want with the click of a button. Burgers, pizza, sushi, or a dish from your favorite local restaurant can all be delivered right to your door. There is no need to dine in or drive anywhere to get the meal.
Food delivery services have grown in popularity recently, but never more than during the pandemic when many people could not eat out.
With thousands of apps available, you look for the best. How to choose which one's the best for you?
Don't worry; we have got you covered! Read on.
Market Size of Online Food Delivery Industry
The global online

food delivery services industry

is expected to rise at a compound annual growth rate (CAGR) of 11.5%, from $115.11 billion in 2021 to $128.32 billion in 2022.

The Market for online food delivery services is expected to reach $159.46 billion by 2026, growing at a 5.6% CAGR.

The global F&B e-commerce user base reached 1.5 billion in 2019 and is expected to grow by 800 million by 2024, with an average annual growth rate of 25%.

In the U.S., the revenue in the online food delivery industry was valued at US$26,527 million in 2020. It is anticipated to grow at 5.1%, resulting in a market share of US$32,325 million by 2024.
What are the market-leading food delivery apps?
Regarding the best food delivery apps, the options are Grubhub, Doordash, UberEats, and Postmates. All of these services have a wide reach and allow you to order from various restaurants, including both local and national chains.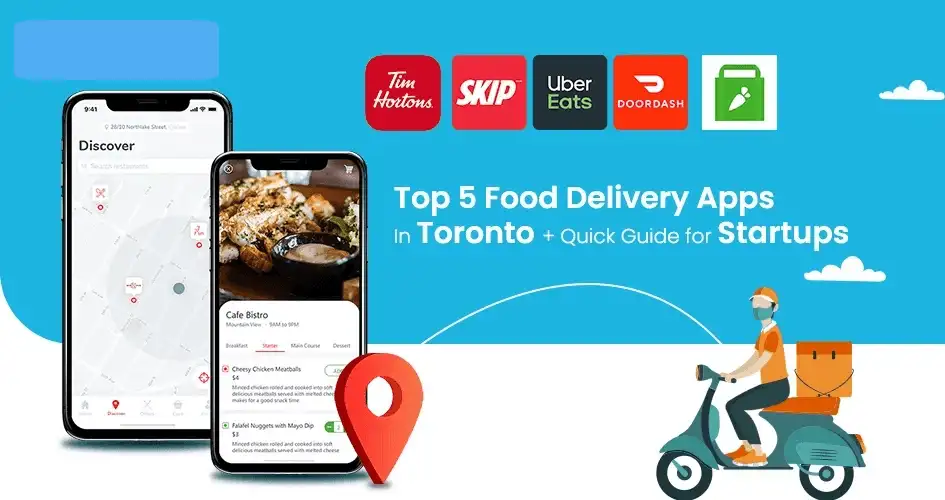 We believe Grubhub has a slight advantage due to its support for multiple payment methods, though DoorDash has a lot going for it. Grubhub Plus, a premium offering with free delivery and exclusive discounts, is now a perk of Amazon Prime membership.
If you're already familiar with Uber, the Uber Eats app will have a friendly interface for ordering meals to go. Even though Uber now owns it, Postmates remains ready to satisfy your food cravings 24 hours a day, seven days a week, with the option to have almost anything delivered from local stores to your door.
So, it comes down to 4 apps, a competition.
GrubHub vs Doordash vs UberEats vs Postmates
Let's know about all these in detail.
GrubHub
Grubhub has an app for both iOS and Android. Simply enter your location, and Grubhub will display all the restaurants in your vicinity.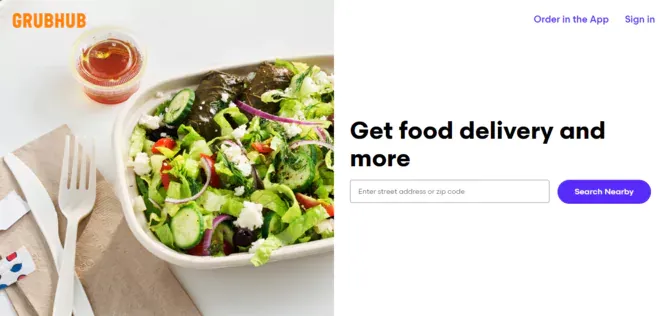 You can find your next meal by searching by cuisine type (fast food) or a specific menu item (cheeseburger). You can save delivery locations such as work or home to expedite the process.
Availability: Grubhub is available in over 3,200 cities across the United States and London.
Fees: Although the app is free to use, some restaurants charge a delivery fee and have a minimum order amount.

GrubHub+ is a service in which participating restaurants

offer unlimited deliveries for a monthly fee of $10.
DoorDash
DoorDash, like GrubHub, allows you to order from local restaurants and have your meal delivered by a delivery driver. DoorDash is less popular than GrubHub, but it's a great option with an easy-to-use app.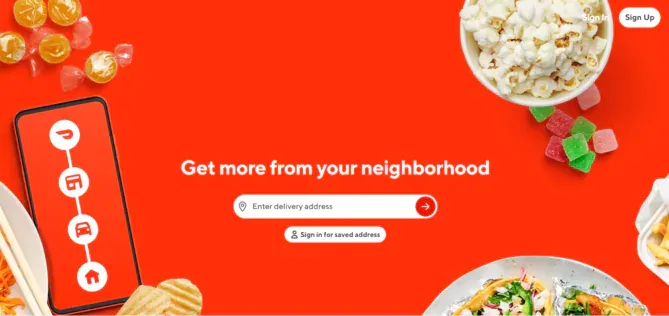 Availability:

DoorDash is available in over 800 cities

across the United States and Canada, including Atlanta, Seattle, Boston, New York, and Chicago.

Fee: The fee varies depending on the restaurant. The cost of your meal is usually included as tax, delivery fees, and an optional tip. Some restaurants charge extra for service. Apple Pay is supported. DashPass is a $10 monthly subscription that offers a "$0 delivery fee and reduced service charge for subscribers when placing an order of $12 or more from any DashPass-eligible restaurant."
UberEats
If you trust Uber to drive you around town safely, perhaps you'll trust them to deliver your pasta. UberEats is a stand-alone delivery app available in many cities, including Chicago and Los Angeles.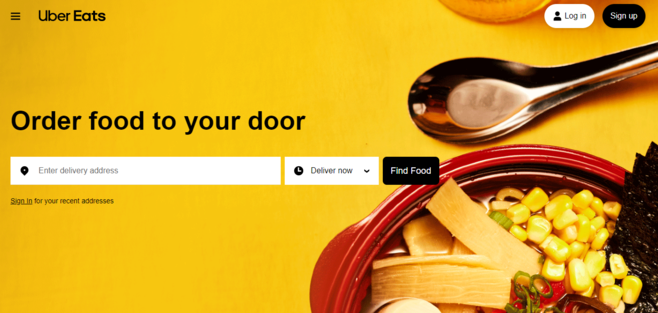 While UberEats and Uber are distinct apps, they share many similarities, including estimated delivery times and cashless transactions.
Even in smaller cities, UberEats is an excellent option for availability. The app is also praised for its usability and browsing friendliness.
Availability: It covers 500+ cities in 24 countries, including Amsterdam, Austin, Baltimore, Tokyo, Portland, and a slew of other locations worldwide.
Fee: UberEats charges an additional fee of 15% of the subtotal of an order, as well as a small order fee for orders less than a certain amount (usually $10). Prices may differ depending on the restaurant and location. UberEats offers a $10-per-month Eats Pass subscription that includes free delivery and a 5% discount on orders over $15. Gift certificates are also available.
Postmates
Postmates is not like the other food delivery services on our list. To begin with, you can get a lot more than just food. Postmates is a delivery app that will pick up almost anything from almost anywhere and deliver it right to your door, including alcohol.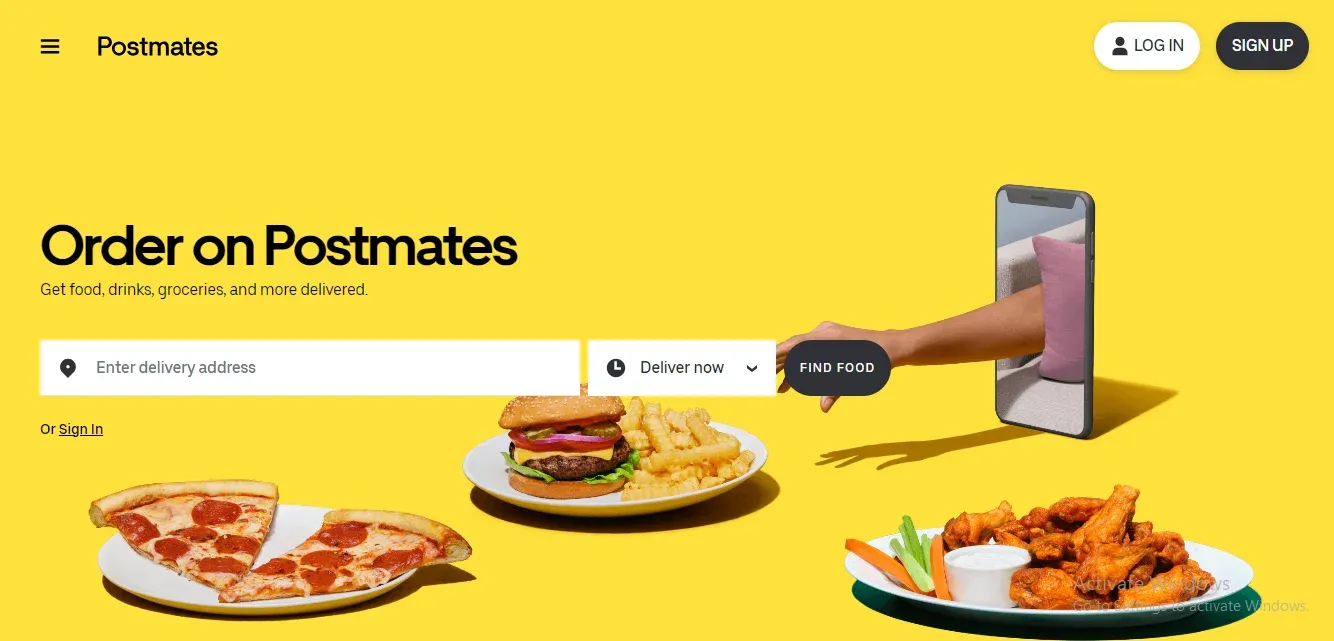 Availability: Postmates is currently available in over 4,200 cities across the United States, including all 50 states and Washington, D.C.
Fee: A fee is added to each order, and during peak delivery times, additional Blitz Pricing fees may be added as well. Postmates also has an "Unlimited" service for $10 per month, including free delivery from select stores and restaurants on orders over $12.
GrubHub vs UberEats vs Doordash
What to choose now? Regarding what's available in your area, the three biggest players are DoorDash, Grubhub, and UberEats.
Uber has a lot of credibility because its drivers are the same people you trust to drive you around town. The service is available in over 500 cities across 24 countries. They have a high level of brand name, trust, and familiarity.
When comparing Grubhub with Doordash, DoorDash isn't as readily available as Grubhub DoorDash is available in over 800 cities in the USA and Canada).
Still, it's a great option, and the app is easy to use. If you live in the United States, Grubhub has you covered, as the service is available in over 3,200 cities.
Conclusion
When deciding which food delivery service to use, consider how far a particular service reaches, where you live, and whether it can deliver food from restaurants that you frequent. Consider which services charge additional fees, which can be challenging to find because many delivery fees are at the discretion of the restaurants you order from.
Consider a monthly membership program if you intend to use a service frequently. The membership fee will often cover any delivery charges or other fees. If you have membership status, you can even expect faster delivery in some cases.
AppsRhino offers the best Tech-driven solutions for Home services, Laundry delivery, Alcohol delivery, Grocery Delivery, Food Delivery, and Taxi Services:
What you intend to order can influence which service you use. Grubhub, DoorDash, and UberEats focus on restaurant meals, while Postmates handles other types of food delivery.
So, we cannot say which service is better than the other; it all depends on your location and what you want to order.
Happy ordering!
Frequently Asked Questions (FAQs)
How do Doordash, Grubhub, UberEats, and Postmates differ from each other?
Doordash, Grubhub, UberEats, and Postmates are all food delivery platforms, but they have different features and operating models.
Doordash and UberEats are primarily focused on food delivery, while Grubhub and Postmates also offer delivery services for groceries and other items.
Each platform may have its own selection of restaurants and delivery areas, so it's important to check which platform operates in your specific location.
Which food delivery platform, Doordash, Grubhub, UberEats, or Postmates, has the largest restaurant selection?
The size of the restaurant selection can vary among Doordash, Grubhub, UberEats, and Postmates. It is recommended to check each platform's app or website to see the range of restaurants available in your area.
The availability of specific restaurants may differ depending on your location and the partnerships the platform has established.
Do these food delivery platforms charge delivery fees?
All four food delivery platforms, Doordash, Grubhub, UberEats, and Postmates, typically charge delivery fees.
The amount can vary based on factors such as distance, order size, and demand.
Additionally, some platforms may offer subscription services, such as DashPass from Doordash or Grubhub+, that provide reduced or waived delivery fees for a monthly fee.
Are there any additional fees to consider apart from delivery fees on these platforms?
In addition to delivery fees, there may be other fees to consider when using these food delivery platforms.
For example, some platforms charge service fees or small order fees for orders below a certain amount. It's important to review the terms and conditions or check with the specific platform for information on any additional fees.
Do Doordash, Grubhub, UberEats, and Postmates offer customer support?
All four food delivery platforms typically offer customer support services.
They may have in-app or online chat support, email support, or phone support to assist customers with order-related inquiries, refunds, or other issues. The availability and response time of customer support can vary among platforms.
Can I track my order in real-time on Doordash, Grubhub, UberEats, or Postmates?
Yes, all four food delivery platforms generally offer real-time order tracking features.
These features allow customers to track the progress of their delivery, see the estimated time of arrival, and sometimes even track the delivery driver's location on a map.
This helps customers stay updated on their order status.
Do these platforms offer contactless delivery options?
In response to the COVID-19 pandemic, all four food delivery platforms have implemented contactless delivery options.
Customers can choose to have their orders left at the door or in a designated area to minimize physical contact with the delivery driver. Look for the contactless delivery option during the checkout process on each platform.
Do Doordash, Grubhub, UberEats, and Postmates accept different forms of payment?
Doordash, Grubhub, UberEats, and Postmates generally accept common forms of payment, such as credit/debit cards and mobile payment apps like Apple Pay and Google Pay.