Introduction
The latest surge in the revenue of on-demand food delivery apps has never been seen. Revenues have been at record levels since the inception of these apps. The current market revenue volume is $270.3 billion and is expected to almost double to $470 billion by 2025, with a CAGR of 10.39%. With a user penetration rate of 23.1%, millions began food ordering for the first time during the pandemic.
DoorDash's sales of $1.46 billion in Q1 2022 were up 35% yearly, exceeding analyst consensus projections by about $80 million. It also increased its sales from the previous quarter, roughly $1.3 billion, despite restaurants and other establishments reopening as Americans' pandemic fears faded.
The data above proves that the on-demand apps market is prospering even when things are back to normal. Needless to say that starting your own food delivery app can create wealth like anything.
Although UberEats leads in the international markets, homegrown apps like iFood in Brazil, Jumia Food in Africa, and Zomato in India were popular among the natives.
This business idea of an on-demand food delivery app captives young entrepreneurs nowadays. This blog is where the picture gets refined and provides insights about the same. Here, we start with the recent market developments and proceed to costs to develop and other insights of your interest.
Summary
The surge in the food delivery app market has been like never before. The global Online Food Delivery app market is expected to be valued at USD 45380 million by the end of 2022. However, the Chinese food delivery app market has taken a maximum stake in it till now.
Food Delivery App Business Model
With a user penetration rate of around 23.1%, this becomes the perfect time to start your on-demand food delivery app. You can opt for two business models-
1. Aggregator: Your app acts as a restaurant browser in the aggregator model, chooses the menu, and makes payments.
2. Platform with logistic support: Here you have to perform delivery services through its logistic networks.
Revenue Generation
A food delivery app generates revenue through
Delivery Fee
Revenue Share
Promotions
Advertisements
It involves four stakeholders- customers, restaurants, delivery riders, and administrators.
Must Include Features
Customer Screen
Restaurant Screen
Delivery Rider screen
Admin Panel
Cost of Development
It is estimated that the development cost of a mobile app like Ubereats or Zomato varies from $30,000 to $40,000. And restaurant web apps can extend the price to $60,000. This includes app testing across Android and iOS, design, and launch.
Food Delivery App Market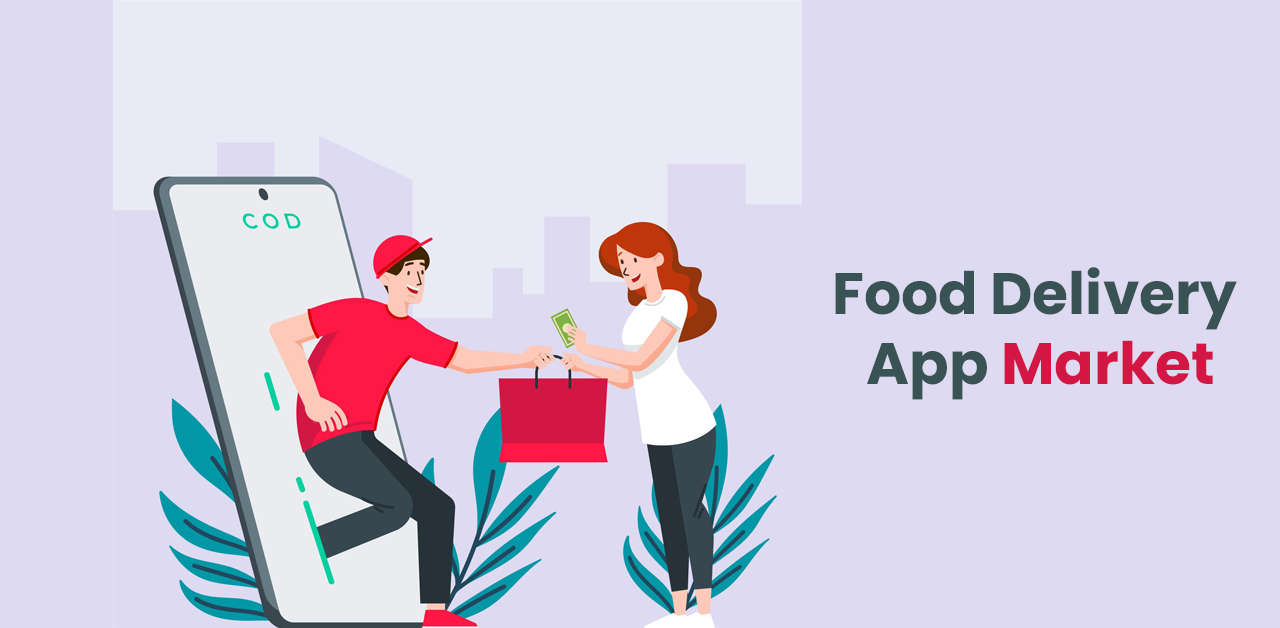 As in-dining with friends and family was shut to an uncertain time last year, the growth of the online food delivery app market zoomed a few years into the future. Instacart, a US-based grocery delivery service, said it achieved its 2022 targets within three weeks of the lockdown.
Statista said revenue surged to $270.3 billion in the food delivery app market. At the same time, the platform-to-customer segment took the majority of the stake, with a market volume of US$148,358m in 2021. However, the Chinese Food delivery market dominated the part with over $158.9 billion in revenue generation. Although DoorDash, Grubhub, Uber Eats, or Eat Takeaway did very well during the period. Nevertheless, the major players in the food delivery app sector are:
Meituan Dianping and Alibaba's Eleme, Chinese apps each generate revenue of $7 billion and control over 90% of the food deliveries in the country.
DoorDash revenue generation increased by 241%, thus growing from $850 million to $2.9 billion. It controls 57% of the food delivery market in the US.
Deliveroo's sales climbed by 56% to £1.8 billion in 2021. It has boosted revenue by 50% or more for the past three years. It controls 27% of the UK food delivery market share and 23% of the EU market share. It had a value of $10.2 billion, which declined at its debut stock launch.
Grubhub recorded $551 million in revenue for the first quarter of 2021, a 52 percent rise from $363 million in the same period last year. Gross Food Sales increased by 60% yearly to $2.6 billion, compared to $1.6 billion in the first quarter of 2020. It controls 16% of the US food delivery market.
Just Eat Takeaway generated $2.82 billion in revenue in 2020, combined with Grubhub; this amounts to $4.65 billion largest in the west food delivery market.
Uber Eats, the most preferred international food delivery app, generated revenue of $4.8 billion the previous year. And has a value of $20 billion as per WSJ.
Homegrown app Zomato doubled its revenue in the same period.
Food Delivery App Business Model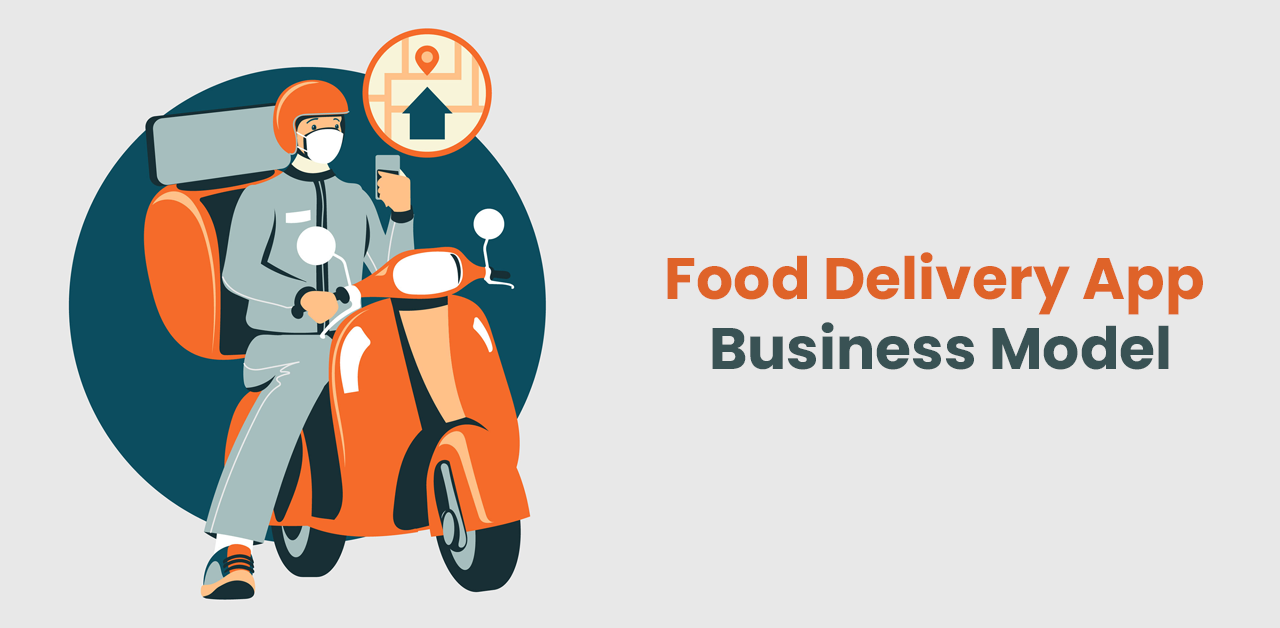 On-Demand Food Delivery Apps Like UberEats, Grubhub, or Zomato, may perform two services simultaneously. They act as a window to browse restaurants, order, make payments, and provide logistic support to the restaurants. Previously through these apps, one could only order food online. Still, the companies have now started providing delivery services through their logistics network. While developing your food delivery app, you can choose from the following -
Aggregator model
Your food delivery app allows you to choose restaurants and menus and make payments in this business model. And leave the delivery to the restaurants. This model is prominent in the European food delivery app market. However, many companies started to provide logistical support as well.
Platform with logistics service
A widely adopted model here is your app; in addition to choosing restaurants, menus, and payments, users can track the order. The company provides delivery service with real-time tracking by restaurants and customers. UberEats, DoorDash, or Zomato fall in this business model. Some restaurants started delivering food through their riders networks like Dominos or McDonalds.
You need more than app development in an app with a logistics service business model. You have to hire riders and take responsibility for the contamination or freshness of delivered food or even in case of ill-conduct by your delivery personnel. These, however, raise the app's revenue and employment, and part-time delivery riders are readily available.
How do Food Delivery Apps generate revenue?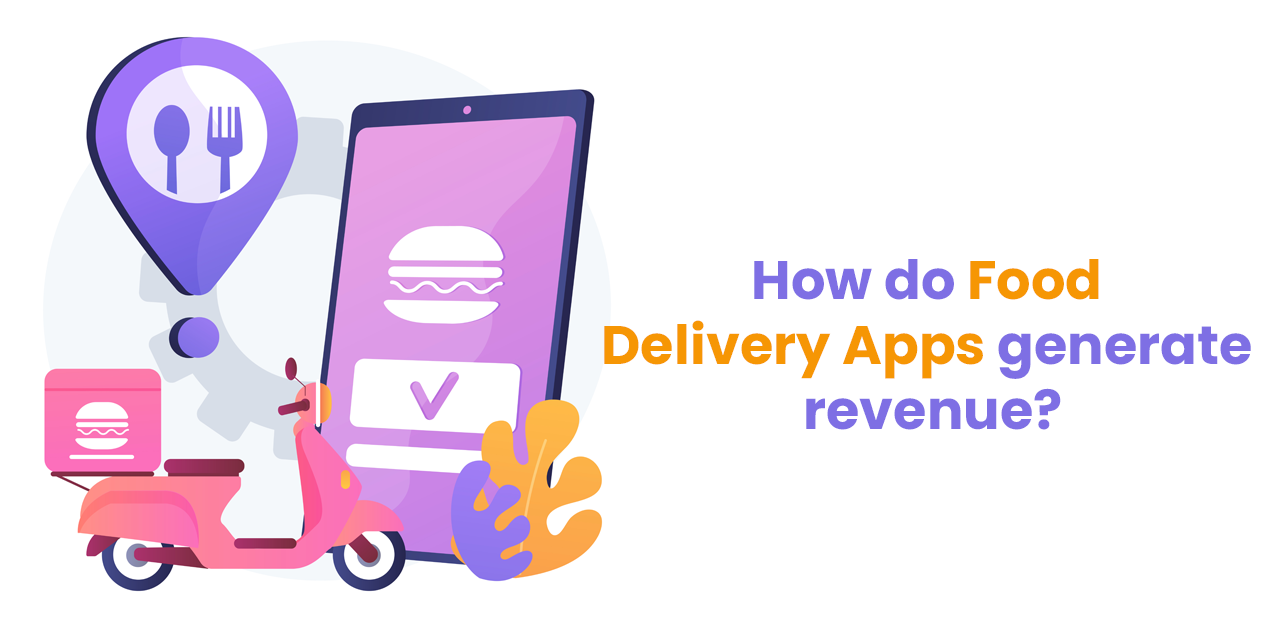 Your on-demand food delivery app is a potential unicorn and can operate on single or multiple fronts. But this might not be very easy due to the competing nature of the business; leading companies generally keep a razor-thin profit margin to engage customers and restaurants. Though your food delivery app can earn on these fonts-
1. Surcharge
Most logistics service providers use this. Your app can charge its customers a delivery fee and the food price.
2. Revenue Share
A Food delivery app earns recurring revenue by sharing it from completed orders with restaurants.
3. Promotion and Advertisements
A Food delivery app acts like restaurant browsers and earns money by tying up with them. These platforms promote some specific cuisine by some restaurants or restaurants in exchange for revenue.
A restaurant that chooses your food delivery app service depends on the margins you keep. The logistics service companies usually have a narrow profit margin for the competing business nature.
Moreover, acquisitions, investments, or mergers can be highly profitable, as in the case of Just Eat, Takeaway, and Grubhub, which generated more than $4.6 billion combined. UberEats discontinued its services in India to cut its global losses and was acquired by Zomato for $206 million.
What features to include in your Food Delivery app?
Generally, an on-demand service app involves multiple stakeholders concurrently. For example, if you opt for an aggregator business model, your app will have three stakeholders - customers, restaurants, and administrators. If you include logistic support in your on-demand food delivery app, it will involve delivery riders in addition to customers, restaurants, and administrators. Thus four screens with varying features in a single application.
The must-include features of the four screens for different stakeholders are listed below-
Customer Screen
Registration and Login (via social media accounts or phone number)
Address book
Notifications
Search bar (restaurants and food items/dishes)
Cart and order details
Payment(integrated payment gateway, accept cards, and COD)
Order status and real-time tracking
Promo code, referrals, offers, and coupons
Rate and review (restaurants/dishes)
Restaurant Screen
Registration and authentication
Profile and log in
Menu management and list pricing
Pop-up notification or push notification(when a customer places an order)
Rating and review check
Delivery Rider Screen
Registration
Order management(including pick-up time from the restaurant)
Update order status
Route optimization
Admin Screen
Log in(via credentials generated by the company)
Restaurant management
Live dashboard (monitor delivery and order status)
Payment settings
Generate promo codes, referrals, coupons, etc.
Analytics and report
Ratings and review monitoring
Whether your app includes a delivery rider screen or not, the features mentioned above provide the functionality to your mobile food delivery service. We proceed to the next section: how much does it cost to develop one.
How much does it cost to develop a Food Delivery App?
Propositions of development cost vary based on various factors that depend on your requirements and choices. Apps like UberEats, Zomato, or DoorDash are mobile and web apps that increase the development charges. Additionally, a delivery rider screen further increases the cost. So it is estimated that the development cost of a mobile app like Ubereats, Grubhub, or Zomato varies from $30,000 to $40,000. These include app testing across Android and iOS, app design, and launch.
**An additional web app for restaurants can stretch the cost to $60,000.**The mentioned costs include license fees of around $300 (including developer license fees for Apple App Store $99/year and Google play store $25 one-time fees), app hosting-$70 to $350/month, developer fees around $150 to $200/hour and other miscellaneous costs.
Conclusion
After listing all the know-how to develop an on-demand food delivery app and its market share, we arrive at our concluding thoughts. The user base of the food delivery apps is expected to reach 2,638 million by 2025. Though apps like Uber Eats, Grubhub, DoorDash, or Zomato enjoy control over most market share. However, there is still a lot of space for newer businesses to operate and lure new users. With markets growing faster than ever, you can even take your homegrown app to the international arena. . We at Appsrhino can help you do so; we have expertise in developing on-demand service apps. Our dedicated team of experts will help you create a fully customized, high-quality app and launch it in no time.
Related Articles:
Whose delivery service is faster, DoorDash or UberEats?