Well, were you wondering if you could own a food delivery app? As the food delivery app market revenue will be of potential $470 billion by 2025, you can potentially be a millionaire.
The food delivery app is where delicious foods come to your doorstep. Thus during lockdowns, when people wanted to change taste on their taste buds they had run away to food delivery apps.
The market has sworn revenue like never before since its inception. Although most revenue share is owned by Meuitan Damping and Eleme, Chinese players followed by the US stars. Anyhow, it is a perfect time to start a food delivery business. Why?
As per stats, the Online food delivery market's revenue is expected to show a CAGR for 2021-2025 of 10.39%; thus, the market volume becomes $401,338 million.
The largest segment is the platform-to-customer, with a market revenue of $148,350 million in 2021.
Hence launching a food delivery app now at a peak market can make it prominent instantly!
But before developing an app and entering the market, you must know how things function in the food delivery industry. If your app would be competing with UberEats, GrubHub or Dashdoor, then you must know how to survive the competition. This blog thus makes attempts to make things easier and provide guidance to food delivery app development.
What are the Steps involved in Food Delivery?
Food delivery app chains customers to the restaurant to a delivery rider to customers all through a single application. You ensure a smooth transition in each step with its customers at maximum priority. Thus the steps involved in the working of a food delivery apps are as follows-
Step1
A user either browses restaurants and food joints or performs a filtered search on a food item. Look for offers and discounts or in-day coupons. Select an item from a restaurant and cart it.
Step2
The user then proceeds the cart to payment if he has nothing more to order. In payment, he selects payment modes cards, inter-app pay, or COD and checks out with an order invoice.
Step3
Once the purchase is made the restaurant gets a push notification regarding it. The kitchen then prepares the meals and personalizes them as per the customer's preferences. Then packs the order and forwards it to the delivery rider.
Step4
The delivery rider picks up the order and delivers it to the customer at the mentioned address.
How do Food Delivery Apps generate revenue?
Food delivery apps operate on multiple fronts to generate revenue. But due to many big players businesses don't keep large profit margins. Anyways, a food delivery app can earn on these fonts-
Surcharge
The food delivery app charges a delivery fee in addition to the price of the food items from customers. It can be either a base fee or vary with the distance.
Commissioned based
Food delivery apps earn stable revenue by getting a cut from the restaurants completed orders.
Promotion and Advertisements
Food delivery apps are primarily restaurant browsers and earn money by tying up with them. These platforms promote some specific cuisine by some restaurants or restaurants themselves in exchange for revenue.
For a restaurant that chooses your app service depends on the margins that you keep. The logistics service companies usually have a very narrow profit margin as for the competing business nature.
Acquisitions, or mergers can be a great way to grow and be profitable. Like in the case of Just Eat or Grubhub, which generated more than $4.6 billion combined. In India, UberEats discontinued its services to cut its global losses and was acquired by Zomato for $206 million.
What are the Food Delivery App Business Models?
The top players in the sector like UberEats, Grubhub, Delivery.com or Zomato certainly work in two different business models one is an order only app and the other in order and delivery app. However, most big businesses have expanded their business to involve in-house delivery services.
For your startup, you can choose either of the two models. And how each will work, revenue generation and limitations are summed up in the following.
How to outshine others in the market?
The food delivery market already has enough players but that does not mean that there is no scope for new innovative players.
With some easy marketing tactics, you can easily achieve the threshold. Moreover, an innovative idea is not enough if you can't capitalize on it.
Prior to your app inception, you need to carry out a very detailed market analysis and would give you valuable insights on market trends and more.
You are required to set your target audience, figure out competitors, outreach, demand gap and generate revenue options.
Focus on customer relationships: Customer loyalty is what helps a business to grow but with UberEats or GrubHub out in the market, you have to focus on building customer relations. Start out with discounts and effective customer support.
Advertise your application: Outreaching to the target audience makes them aware of your existence, use social media channels or other advertising measures.
Grow your merchant associations: If your app has a strong database of restaurants then customers will have greater options to choose from and give you an edge over your competitors.
Be flexible to collaborations: Be prepared for every situation that may arise, and collaborative efforts can help curb those circumstances.
Features to include in your Food Delivery App
Generally, an on-demand service app involves multiple stakeholders concurrently. For example, if you opt for only an order business model, your app will have three stakeholders - customers, restaurants, and administrators. Whereas if you include logistic support in your on-demand food delivery app, then it will involve delivery riders in addition to customers, restaurants, and administrators. Thus four screens with varying features in a single application.
The must include features of the four screens for different stakeholders are listed below-
Customer Screen
Registration and Login (via social media accounts or phone number)
Address book
Notifications
Search bar (restaurants and food items/dishes)
Cart and order details
Payment(integrated payment gateway, accept cards and COD)
Order status and real-time tracking
Promo code, referrals, offers, and coupons
Rate and review (restaurants/dishes)
Restaurant Screen
Registration and authentication
Profile and log in
Menu management and list pricing
Pop up notification or push notification(when an order is placed by a customer)
Rating and review check
Delivery Rider Screen
Registration
Order management( include pick up time from the restaurant)
Update order status
Route optimization
Admin Screen
Log in(via credentials generated by the company)
Restaurant management
Live dashboard (monitor delivery and order status)
Payment settings
Generate promo codes, referrals, coupons, etc.
Analytics and report
Ratings and review monitoring
Whether your app includes a delivery rider screen or not, the features mentioned above provide your mobile food delivery service functionality. We proceed to the next section: how much does it cost to develop one.
How much does it cost to develop a Food Delivery App?
Apps like Uber Eats, Zomato, or DoorDash are mobile apps and web apps that increase the development charges. Additionally, a delivery rider screen further increases the cost. So it is estimated that the developing cost of a mobile app like Ubereats, Grubhub, or Zomato varies from $30,000 to $40,000. These include app testing across Android and iOS, app design, and launch.
The total amount of app development cost would be like(approx)
Whereas an additional web app for restaurants can stretch the cost to $60,000.The mentioned costs include license fees of around $300 (including developer license fees for Apple App Store $99/year and Google play store $25 one time fees), app hosting-$70 to $350/month, developer fee around $150 to $200/hour and other miscellaneous costs.
Where to find the best on-demand Food Delivery App Developers?
After understanding the business structure of a food delivery app and all the know-how to develop one, do you want to shoot an app of your own into the market?
We at AppsRhino understand how to build a pocket-friendly, highly customized, on-demand food delivery app to help your business to achieve its real potential.
We are not just a mobile app development company, we care for all our products and provide all the support and guidance you require, both pre and post-launch.
Our hardcore developers and designers use the best resources to give an unmatched product.
Our across-globe experience has made us understand the dynamics of various markets and empowered diverse business models. And thus we have contributed to the growth of various startups as well as the stability of enterprises. You shoot an idea.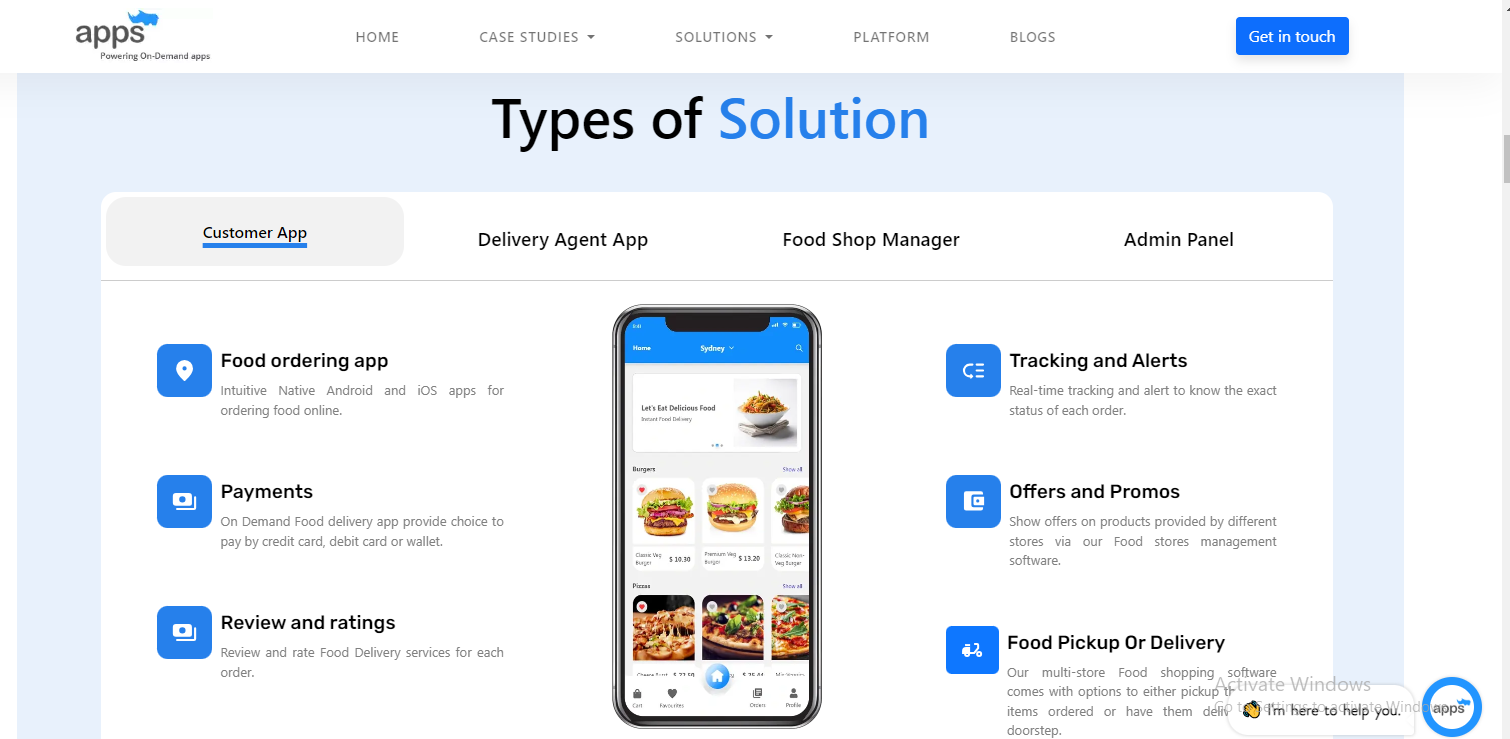 AppsRhino offers the best Tech-driven solutions for Home services, Laundry delivery, Alcohol delivery, Grocery Delivery, Food Delivery, and Taxi Services:
We make it a mission, so let's not wait. Get started now!
Frequently Asked Questions
What are the key features to consider when developing a food delivery app for startups?
Key features to consider include user registration and profiles, menu browsing and ordering, real-time order tracking, payment integration, customer reviews, and push notifications.
Which programming languages are commonly used for food delivery app development?
Commonly used programming languages for food delivery app development include JavaScript (React Native, Node.js), Swift (iOS), and Kotlin (Android), as well as backend technologies like Ruby on Rails and Django.
What are the popular food delivery APIs that startups can integrate into their apps?
Popular food delivery APIs that startups can integrate include platforms like Uber Eats API, Grubhub API, DoorDash API, and Postmates API, which provide access to features like restaurant listings, menu information, and order placement.
How can startups promote their food delivery apps to attract more users?
Startups can promote their food delivery apps through various channels such as social media marketing, influencer collaborations, offering discounts or referral programs, partnering with local restaurants, and optimizing their app store presence through ASO techniques.