People's lives around the world have been transformed by online food delivery. There was a time when we would all go outside and wait for our food. Food delivery services powered by engaging apps have enabled billions of people worldwide to order food from the comfort of their own homes.
The development of food delivery apps is becoming increasingly popular. Since 2014, digital orders and deliveries have increased 300 percent faster than traditional dine-in sales. According to Statista, the 'platform-to-consumer' distribution market will be worth US$96.8 billion by 2024. Given the repercussions of COVID-19, this growth is expected to continue for the foreseeable future. As a result, several food businesses have invested in creating food delivery apps to retain customers and improve engagement.
Summary
The online food delivery apps industry has experienced rapid expansion in recent years. It is now time for businesses to develop customer-centric food ordering apps for app users. The cost of a food delivery app averages between $12k and $20k. However, the price may rise depending on the model you choose for food delivery app development and the app's complexity. It also depends on the food delivery app features you may want to include.
However, there are some must-have features that these apps should include:
App for customers
App for riders
App for restaurants
All the industries evolve with time, and so has the food delivery app industry. Some of the food delivery app trends for 2022 are:
Social Media Orders
Smartwatches
Virtual Assistant
Cloud
AI
Big Data
Food Delivery App Features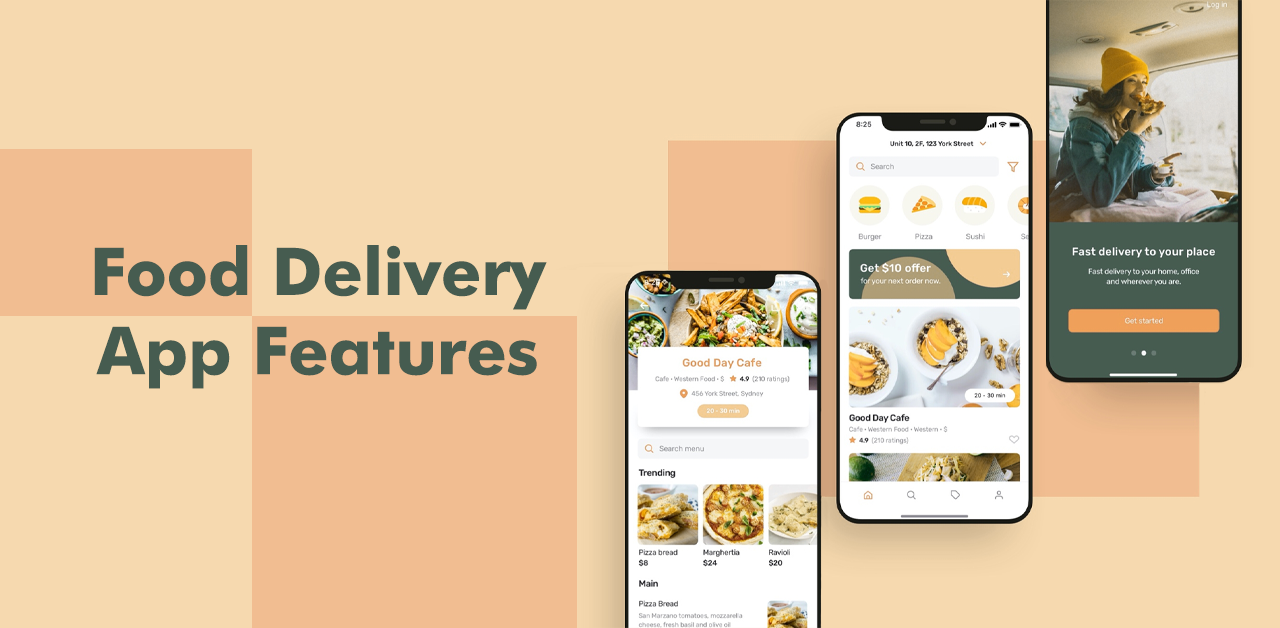 The following are must-have aspects for developing a robust food delivery application that will be successful in the long run:
Restaurant Panel
Restaurant owners will also have to go through the app's registration and login process and submit additional information to ensure the business's validity. The developers will share the operation details with the restaurant owners in the form of food delivery app documentation.
Dashboard:

When a restaurant owner creates an account, they are redirected to their dashboard, which is their home page. They may keep track of pending orders, completed orders, and orders on their way to delivery here for a better understanding and summary.

Accepting or declining orders

is the most significant component of developing an on-demand food delivery app because delivering the food on time is important. Users may cancel an order if it takes longer than expected, and such a delay will be counted as a loss and may leave an unfavorable impression.

Payment:

In the payment section, users will be able to send money to banks or any other platform, such as PayPal or the Wallet app. Along with the history, showing daily revenue reports can be an extra function.

Manage Restaurant Account:

Each restaurant owner can create an account by entering their restaurant's photographs, name, logo, food images, hours of operation, minimum order quantity, and all menus available, as well as the pricing and projected delivery time. They can also provide discounts from their end for any specific item.
Delivery Partner Panel
Login:

The rider will be given login credentials by the administrator to use the program.

Order Request:

When a consumer puts an order, it is automatically assigned based on the location. Each order will be identified by its order ID, client name, and delivery address. The rider can approve or reject the delivery request on the home delivery application. Also, if permitted, he can allow the customer to examine his information.

Order Delivery:

Once the order has been accepted, they will deliver the order to the customer's location and complete the order. Order statuses will be maintained, such as placed, packed, on the way, produced, etc.

Order History/Logs:

This screen allows the delivery partner to view previously completed orders. When it comes to designing an app like Zomato, each app component must be carefully considered. Filters such as date range, status, and ID might help to speed up the verification process.

Call/Chat:

A food delivery app should include an in-app calling and messaging feature. This makes communication between customers and delivery personnel more accessible.

GPS Tracking:

Tracking the whereabouts of the delivery boy is essential for both the customer and the business. In addition, with GPS tracking, the consumer can direct the delivery partner to their precise location.
Customer Panel
Customers must log in and register to the app after successfully downloading and installing it from the Google Play Store or the Apple App Store.
Login:

The login process can be accomplished with simple social media integration such as Facebook or Gmail or a single OTP confirmation on the user's mobile number.

Pickup Location:

The pick location is a crucial element to consider when developing a food delivery service. The list of available restaurants is displayed based on the user's location, and the scheduled delivery time is also determined.

Homepage:

Allow your app to display nearby restaurants, most-ordered dishes, and other helpful information that your customers will find.

Specify Your Pickup Position on the Map:

You may either let GPS pick up your address so that the app understands your exact location or manually set your pickup location on the map.

Offers and Discounts:

Keep your users up to date on the specials and discounts their favorite restaurant provides. Push notifications are a vital feature that your delivery app developer should incorporate into your application.

Contact Information:

It is possible that the customer will need to contact the restaurant or the rider or that the rider will need to contact the customer or the restaurant; make sure that the information for each is up to date and provided for clear communication.
Food Delivery App Features (Advanced):
Push Notifications
Push notifications are an essential component of a successful meal delivery app. Sending push alerts increases app retention rates by 3 to 10 times. Furthermore, push alerts might provide an ROI of up to 3500 percent. Add a push notifications function to your app to stay in touch with customers, gain online visibility, and stay ahead of the competition.
Simple and quick search
Including an excellent search bar at the top of your food delivery mobile application can help your users select the meal they want to eat quickly and easily. You can also allow your clients to locate eateries using their GPS, allowing them to order a meal from the closest restaurant swiftly.
Order status
The check order status tool, as the name implies, will present your customers with real-time information about their order progress, such as order accepted, food made, and the courier on its way. It will enhance their purchasing experience and encourage them to use your food delivery app again.
Various payment methods
Including numerous payment methods in your food delivery app benefits your company and your customers. Your users are more likely to pay faster and sooner because of payment convenience. Different payment methods in your mobile app will simplify the checkout process and lower the risk of shopping cart abandonment.
Ordering options abound
During the application development process, request that your developer provide many types of ordering possibilities. Include delivery options such as home delivery, self-pickup/takeaway, and in-car eat. You can also offer contact-free dining to your customers by utilizing the scan-order-pay feature.
Discounts and Promo Codes
Promo codes are successful in converting one-time consumers into repeat customers. Reward your consumers with cashback and discount vouchers to keep them coming back. Set up special promotional coupons to pique the interest of prospective clients.
Customer Opinions, Ratings, and Reviews
Another critical aspect to consider when designing an online meal delivery software. According to a Moz.com survey, online ratings and reviews affect 67 percent of buyers. Your clients should be able to rate and evaluate the restaurant and each dish on the menu of your food delivery service.
Also, give customers the option of searching for food based on user reviews or top picks.
Trends in food delivery apps for 2022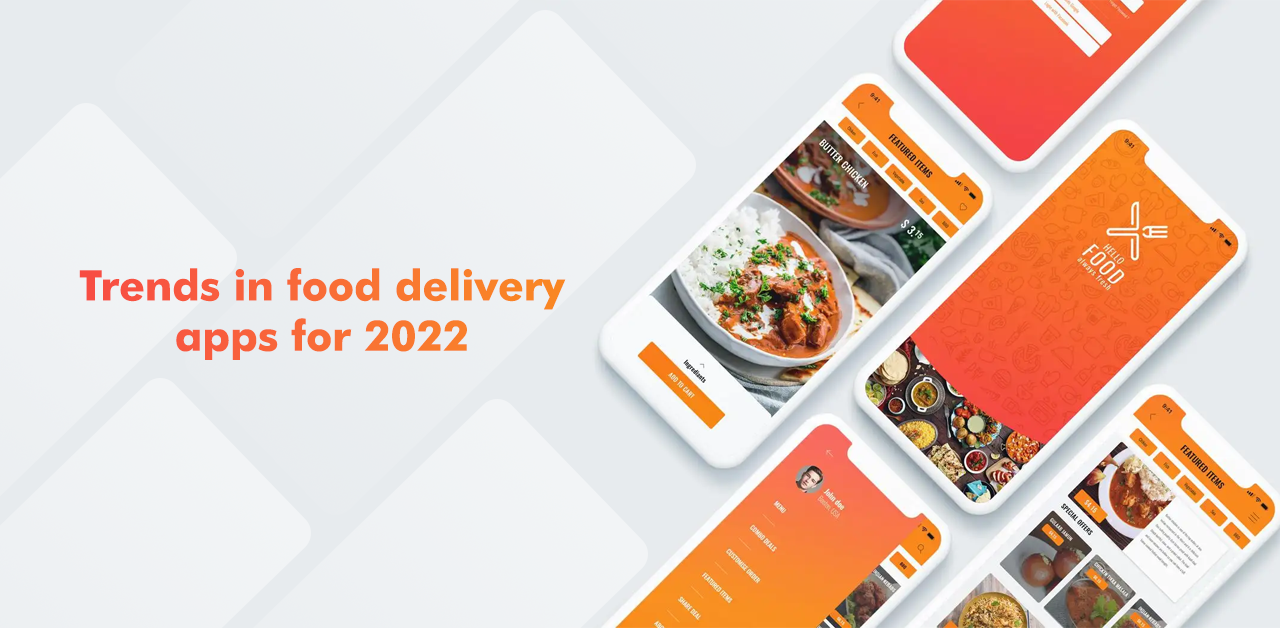 A simple app is insufficient to compete in the food delivery app sector. It's good to incorporate cutting-edge and fashionable features into your program. Here are a few instances of inventive solutions used by food delivery apps for inspiration:
Social media Orders
People spend hours on social media, and delivery companies have identified a lucrative market in meals ordered through social media. ChowNow connected its ordering system with social media networks and developed a new Instagram ordering option. Over 13,000 partner restaurants may now accept orders via the "Order Food" button on their Instagram page or stickers in their posts. This function will help eateries increase income and order volume, according to the firm.
Smartwatch
Smartwatches are our second-favorite gadgets after smartphones, so it's no surprise that the smartwatch business is exploding right now. Some companies recognized this trend and created apps for smartwatches.
Domino's launched an Android smartwatch app, a simplified version of its web and mobile apps, to streamline the ordering process and reach a wider audience. The "Easy Order" function allows users to order pizza from their wrists with a few clicks, and then the user's smartwatch displays information about the order's status - no phones required.
Virtual Assistants
Virtual assistant technologies like Alexa and Siri have quickly become our digital friends, supporting us with various mundane activities, so why not incorporate them into the online meal ordering process? Caviar recently launched a Siri shortcut that allows customers to check order statuses or reorder frequently used items by using voice queries such as "Hey Siri, get my regular pizza" or "Hey Siri, Caviar order status."
Another example is GrubHub, which has launched an Alexa ability that allows customers to reorder any of their previous three orders by saying, "Alexa, open GrubHub." Alexa then reads out past rulings for the customer to select from, and after processing the order, Alexa reveals the expected delivery time.
Cloud approach
Hybrid cloud computing safely stores massive amounts of client data.
Use of artificial intelligence
To provide a personalized experience and create predictions about food delivery, such as preferred time slots.
Big data
Using big data to improve food delivery services by giving data such as road traffic, consumer behavior, reviews, and comments.
5G services
Food delivery app development is expected to take advantage of 5G services to improve real-time updates.
Cost of Food Delivery App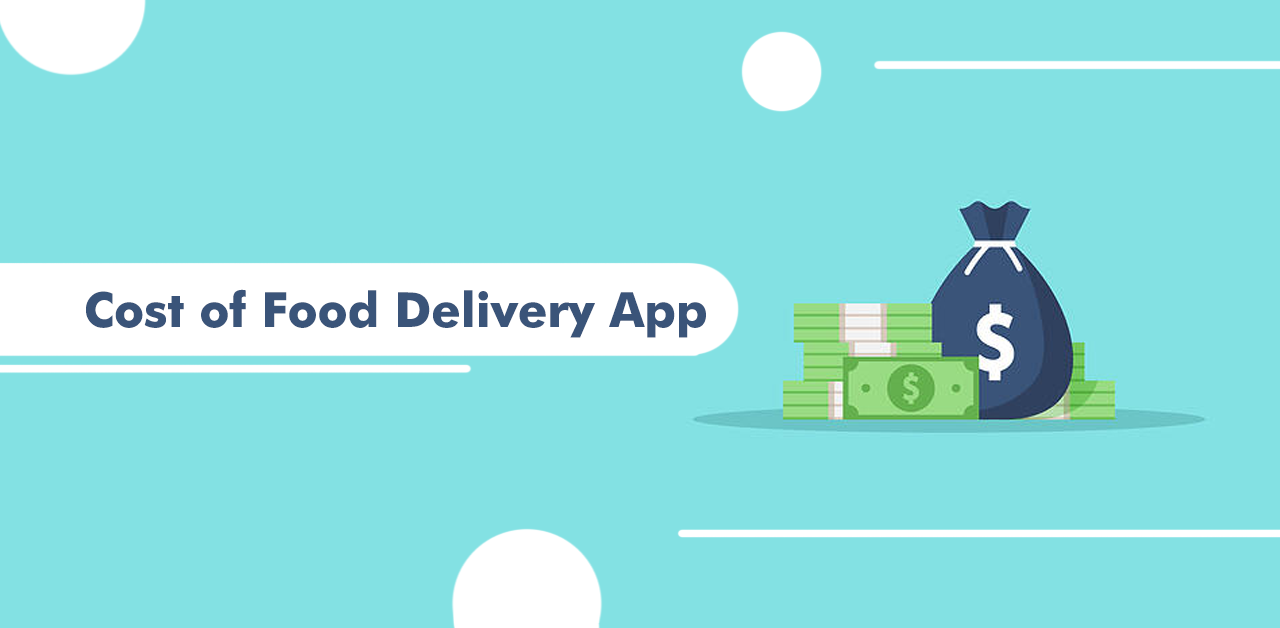 Several factors include determining the cost of such an application.
1. The platform on which you intend to launch the app
2. The amount of time required for development
3. The technology stack necessary for app development
4. The app's UI/UX design
5. The type of on-demand meal delivery app
6. The app's complexity and features
7. The number of people in the app development team
8. The team's geographical location
9. The cost of marketing and promotion
It could cost anywhere between US $8,000 and the US $25,000; the price may vary depending on your specific needs.
Conclusion
Mobile food delivery was a fast-growing trend in the preceding decade, and with the COVID-19 crisis, it quickly became a critical service. Investment opportunities abound in the industry, as does competition. However, with a sound business strategy and a quick approach to product development, the odds of success are excellent.
A well-performing, aesthetically designed app is critical when launching a food delivery business. Hiring an experienced software development company, such as AppsRhino, is the most efficient approach to developing such applications. You can anticipate a high-quality final product and a dependable partner willing to share knowledge and advice if you work with us.
Related Articles:
How to Build a Food Delivery App for a Restaurant
What is the Development Cost of Food Delivery App Like UberEats?