The best way to show love and affection to someone is through flowers. They speak the language of love and can make any place and moment lively and colorful with their presence. Like sending postcards and letters, sending flowers is also an old-school method. However, it is not too old that one cannot practice it. Flowers can still bring a smile to our faces and make dull days much more fresh and positive.
On-demand flower delivery services provide flexibility and easy accessibility to customers and incline them to order flowers and related accessories online. Not only to gift them to their near and dear ones but to decorate their homes, and for other purposes as well. As per the expert's research, the market size of the on-demand flower delivery industry will reach US$ 57.4 billion in 2024.
This article will lift the veil and uncover how flower delivery apps are designed to reshape the flower business industry through their innovative thinking and creative ideas. Creating an on-demand flower delivery app does not require a huge amount of investment, nor does it require hefty technical knowledge. Multiple flower selling vendors are aware of the market behavior and patterns. They have shifted to online delivery businesses to run their business smoothly.
Types of flower delivery apps
Dedicated to a brand
These applications are developed and designed to promote and cater to a specific brand or flower company. They reach out to more customers by focusing on a single/group of brands and reaching out to more customers to expand their business operations. The customers can enjoy better services by directly availing or asking for flowers from a concerned brand.
Aggregator apps
These are apps where florists come together to sell their flowers. Different florists offer different categories, types, and brands of flowers. There are options of hampers, bouquets, and customization of flowers matching the needs and requirements of customers. Such apps do not have their flower inventory; instead, they charge a commission from their florists.
Top players in on-demand flower delivery business
Bloompop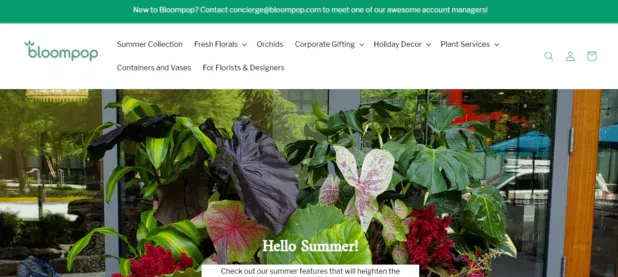 It is a US-based on-demand flower delivery app. It was founded by Matt Scandalis and Savanna Miller in 2013. The app specializes in floral and plant subscriptions, custom indoor/outdoor sourcing of planters and pots. It also provides indoor/outdoor plant services. A unique feature of Bloompop is that it helps in setting up large-scale holiday decors and designs corporate gifting hampers.
Urbanstems
It is an on-demand flower delivery app headquartered in Washington, US. It was founded by Ajay Kori, Chetan Shenoy, Jeff Sheely, Jereme Holiman, and Scott Simpson in 2014.
BloomNation
It is a US-based on-demand flower delivery app founded by David Danesgar, Farbod Shoraka, and Gregg Weisstein in 2011. It currently provides services in Los Angeles, Chicago, Boston, San Francisco, and New York.
Features of on-demand flower delivery apps
On-demand flower delivery apps have successfully captured the attention of a large number of commercial audiences by assisting them in ordering their favorite range of flowers and bouquets. The features of these apps are listed below, which make them super easy to access and navigate the customers at all steps of their ordering process.
Login and registration
Push notifications
Search filter
Multiple addresses
Order tracking
Delivery and pickup scheduling
Tutorial screen
Order status
Price estimation
Rating and review
Verification of order
Payment methods
In-app helpline
Favorites
The factors that encourage investment in flower delivery apps
Extensive business opportunities
Easy access from anywhere and everywhere
Huge income potential
Affordable pricing
Fast and secure payment options
Instant services
Easy scalability
How does an on-demand flower delivery app work?
The application follows are workflow where:
The customer places an order through the mobile app.
The flower store receives the order via its web panel.
Customers receive confirmation notifications for their orders.
Florists prepare the ordered flowers.
Stores assign the order to delivery providers.
The delivery provider delivers the order to the customer's doorstep.
Customers
They sign up for the app by giving all the necessary details, information, and contact details.
They can browse through the list of flowers and add the flowers to their cart.
Customers can add their mode of payment and select the shop from where they want to place their order.
Once the order is placed, the customers are assigned a delivery partner.
Customers can track the time and location of the order until and unless it is delivered to their doorstep.
After the order is delivered successfully, the customers can review and rate the flower delivery app based on their experience with the app and the quality of the order delivered.
Flower shop
Different flower vendors sign in to the app by filling in the mandatory details.
They receive the orders from the customers and have the liberty to either accept or decline the order.
Once they accept the order, they start the packing and delivery process.
As the order gets ready, they can change and update its status to keep their customers informed.
Once the order is prepared, they assign the delivery partner to deliver their order.
Delivery partner
Delivery partners log in to the platform by filling in the required credentials.
Once they receive the order, they choose to accept or reject the order.
Once they decline an order, it is transferred to the next closest delivery partner.
If they accept the order, they are given the exact location and time of the florist to pick up the order that has to be delivered.
They deliver the order and get ratings from the customers based on their experience.
AppsRhino offers the best Tech-driven solutions for Home services, Laundry delivery, Alcohol delivery, Grocery Delivery, Food Delivery, and Taxi Services:
Conclusion
On-demand flower delivery apps are growing rapidly, and it is the new budding field of online business. It has opened a wide range of opportunities for startups to grab this low-hanging ripe fruit and create flower delivery apps by introducing their services in the industry.
The first thing that pops up while creating an app is the cost incurred. Creating an app from scratch can cost you higher than creating one using a ready-made solution. AppsRhino provides these ready-made solutions to help you create your flower delivery app at an affordable price, without compromising on the quality of the app and in a quick interval of time.
Frequently Asked Questions
What are on-demand flower delivery apps?
On-demand flower delivery apps are mobile applications that allow users to order and send flowers conveniently from their smartphones or tablets.
How do on-demand flower delivery apps work?
These apps connect users with local florists or flower shops and facilitate the ordering, payment, and delivery process through a user-friendly interface.
What advantages do on-demand flower delivery apps offer?
On-demand flower delivery apps provide advantages such as quick and easy ordering, a wide selection of flowers and arrangements, reliable delivery services, and the ability to send flowers on specific dates or occasions.
How are on-demand flower delivery apps reshaping the flower market?
These apps are disrupting traditional flower purchasing patterns by offering a convenient and efficient way to order flowers, eliminating the need to visit physical stores.
What impact do on-demand flower delivery apps have on customer experience?
On-demand flower delivery apps enhance the customer experience by providing a seamless and hassle-free ordering process, real-time delivery tracking, and personalized options for gifting.
Do on-demand flower delivery apps offer same-day delivery?
Yes, many on-demand flower delivery apps offer same-day delivery services, allowing customers to send flowers for spontaneous or last-minute occasions.
Can I choose specific flower arrangements or customize my order through these apps?
Yes, on-demand flower delivery apps often offer a wide range of flower arrangements and allow customers to customize their orders based on their preferences or the recipient's preferences.