Almost every business, including healthcare, has been affected by technology. Advances in healthcare technology have enabled clinicians to diagnose better and treat their patients. Healthcare technology was initially advancing slowly, but the Coronavirus outbreak and subsequent lockdown have hastened the speed of technology adoptions and adjustments.
Telemedicine attempts to address the needs of today's healthcare consumers and can improve healthcare delivery. Telemedicine contributes to dramatically enhancing healthcare quality by boosting accessibility and efficiency by lowering the need for travel, providing clinical support, eliminating geographic obstacles, providing various types of communication equipment, and improving patient outcomes. As a result, given the present emphasis on attempts to reduce costs, improve care delivery to all parts of the population, and meet consumer demand, Telemedicine is an appealing instrument for success in these areas.
Emerging technology in the healthcare sector increases patient convenience while also making the provider's life easier. This is the driving force behind increased new product development activities and product enhancements. The goal is the same for any other product development project: to solve user problems.
How Does Telemedicine Help to Solve Healthcare Issues?
Every day, the healthcare sector encounters several issues. Here are some of the critical healthcare issues that Telemedicine can help to solve to make the world a better and healthier place:
Problem 1: No remote access
For decades, in-person consultations have been connected with healthcare. This has been a problem that has compelled sufferers to rush to the nearest healthcare facility for treatment.
The COVID outbreak and lockdowns exacerbated the situation. The virus's contagious impact kept people confined within the four walls of their dwellings. So, what should people do if they need to see a doctor in an emergency?
The need for remote access or virtual consultations is an urgent requirement that must be met to keep one step ahead of the technology adoption rate.
Solution 1: Invest in mobile and web applications like Telemedicine for healthcare
Mobile app developers are expanding the flexibility and performance capabilities of these remote-oriented platforms. This gives a dependable experience for medical experts to provide quality care and advice to patients who are located thousands of kilometers away.
Telemedicine attempts to increase healthcare via mobile healthcare solutions that use wearables and smartphones to track health. The application of technology in healthcare has expedited the creation of products that experiment with technology such as holography, artificial intelligence, machine learning, and augmented and virtual reality.
Problem 2: Existing Healthcare Siloes
The world's healthcare experts are disjointed and appear to be functioning in silos. A platform is missing that can bring the healthcare business together on a single page where they can discuss their learning, share expertise, and take notes.
Things could improve if there were a single platform dedicated solely to the healthcare industry. Everyone can learn from everyone, which leads to better understanding, diagnosis, and treatment.
Solution 2: A Healthcare Professional Social Networking App
Developing social networking software specifically for healthcare professionals can solve the problem. It can be something similar to what Net Solutions accomplished with "The OCR" (The On-Call Room) – a mobile social platform for healthcare workers.
The app includes
The most recent advancement in the healthcare business
The ability to exchange photographs, PDFs, Powerpoint presentations, Excel spreadsheets, and videos.
Possibility of posting new statuses, as well as the opportunity to like, remark, and ask questions
Healthcare providers' ability to share patient data
The solution is viable, and it contributes to a healthier and better society by facilitating collaboration and communication in the industry. Sharing knowledge can aid in the resolution of health issues while also encouraging inclusivity. The telemedicine apps for doctors can connect with others or refer some specialists to their patients.
Problem 3: Medicare and Medicaid Reimbursement Issues
Medicare and Medicaid are government healthcare programs (for US only) that provide patients with healthcare coverage. Their repayment schemes differ significantly, and they must maintain a well-coordinated management approach. The procedures for filing and receiving Medicare and Medicaid are pretty different and add another task to healthcare professionals' to-do lists. The requirements also require them to keep and record patient records in a specific format for the services provided.
Whenever a Medicare patient receives treatment, clinicians must fill out the mandated electronic forms as verification that the patient did get the healthcare service. The rules and regulations have made it mandatory for healthcare professionals to follow the process to get paid, considerably exacerbating the problems.
Solution 3: Invest in the Medicare and Medicaid EHR System as a third option.
Healthcare reform is currently one of the most contentious political subjects. Electronic Health Record (EHR) systems are one of the healthcare technology trends that the industry is eager to embrace to ease health record-keeping and Medicare and Medicaid filing.
EHRs provide an apolitical instrument for controlling healthcare spending, which is predicted to climb at a 5.8 percent annual rate in 2022.
EHR systems make it possible for the government to provide suitable electronic paperwork for Medicaid and Medicare reimbursement. It is simple for healthcare practitioners to preserve patients' health records and fill out reimbursement papers after the service has been rendered. Once a patient consults a doctor over these telemedicine apps, the doctor gets all information about the patient.
These telemedicine platforms also aid in exchanging information from doctors to the government and vice versa. Apart from speeding up the submission of patient files and asking for reimbursements for services, they help standardize the type of information required by the government to distribute claims.
In addition, keeping a patient's medical history online alleviates the burden of maintaining paper data. Doctors can thus focus more on their core competencies and effectively coordinate care with other doctors to design cohesive, tailored treatment regimens. It is a must-have feature for any telemedicine app.
Problem 4: Lack of a Supply Management System
As patients, we never consider the logistics of providing healthcare services. However, they are the industry's backbone. Efficient logistical procedures ensure that healthcare services are available at all times. Managing these logistics is a difficult task. While it may appear to be a supply chain mismanagement issue, it causes problems such as mismanaged medical inventory and equipment or drug shortages on the backend. On the front end, i.e., the doctor's end, it leads to inefficiencies; on the patient's back, it leads to frustration and, of course, health risks.
Traditional supply chain management is frequently inefficient and wasteful. It results in money being squandered on lost and damaged inventory, incorrect delivery of equipment or medication, and patient harm, all of which add up to enormous financial losses for healthcare services.
Supply shortages lost inventory, and less-than-stellar shrinkage prevention measures all contribute to the fact that hospitals are hotspots for inefficient operations without a comprehensive supply management system.
Solution 4: Invest in a Data Management System as a fourth option
It is critical to turn to digital healthcare technology suppliers for a powerful and effective solution, to avoid significant losses and unnecessary spending. Telemedicine for healthcare is the name of one such solution.
To be on the cutting edge of supply chain management, invest in an inventory management system or a warehouse management system, if you will.
A sound data management system powered by data analytics is continually updated and functions inside a simple graphic user interface (GUI) and gives insightful and valuable data.
Administrative and medical personnel alike will benefit from having rapid access to correct inventory levels and current budget allocations.
Problem 5: Managing Massive Amounts of Patient Data
One of the most perplexing parts of healthcare is patient-related data. With each new patient added to the database, the existing pool of data grows even more extensive.
As a result, managing this data becomes much more difficult. As much as we believe that the existing traditional infrastructure can handle and safeguard data, this is an unreasonable expectation.
When required, the storage and retrieval of this patient data is an issue that hospitals must handle. Data overload and mismanagement frequently result in incorrect diagnoses, compromised data security, ineffective treatment, lapsed appointments, and failure to keep up with changes in progress or regression of the patient's health, among other things.
Solution 5: Capabilities in cloud computing and data analytics
Cloud-based data systems and mobile portals are the healthcare technology solutions to this problem. As mentioned before, telemedicine apps do have this feature of managing and storing the data. These telemedicine apps give healthcare practitioners real-time access to patient-related data such as registrations, medical histories, diagnosis, treatments, and appointments, among other things.
Furthermore, because the cloud-based storage and retrieval records are updated in real-time and well secured, cloud-based technologies that can assist you in maintaining a patient database are other functional possibilities, as are data analytics capabilities.
Telemedicine for healthcare is developed to tackle these issues. The integration of these systems with iOS, Android, and other mobile platforms allows even more freedom for doctors and other practitioners who work on the go throughout the day.
Problem 6: Data Sharing Inefficiencies and Errors
In an age when medical research has made significant advances, inefficiencies and healthcare blunders persist due to the healthcare business's low-key technologies for management.
This isn't merely a stumbling block for medical study; the trash it generates causes regression. Patients not only pay the price in terms of discomfort and health, but we also witness an increase in administrative costs and lawsuits as a result of these inefficiencies and errors.
One particular source of worry is the sharing of patient data when patients are transferred from one department or hospital to another. When done the traditional way, patient record exchange is not only time-consuming and inefficient, but it also exposes patient information to the danger of a breach.
In the case of patients requiring urgent or sophisticated treatment, inadequate or inefficient sharing of this data can be harmful.
AppsRhino offers the best Tech-driven solutions for Home services, Laundry delivery, Alcohol delivery, Grocery Delivery, Food Delivery, and Taxi Services: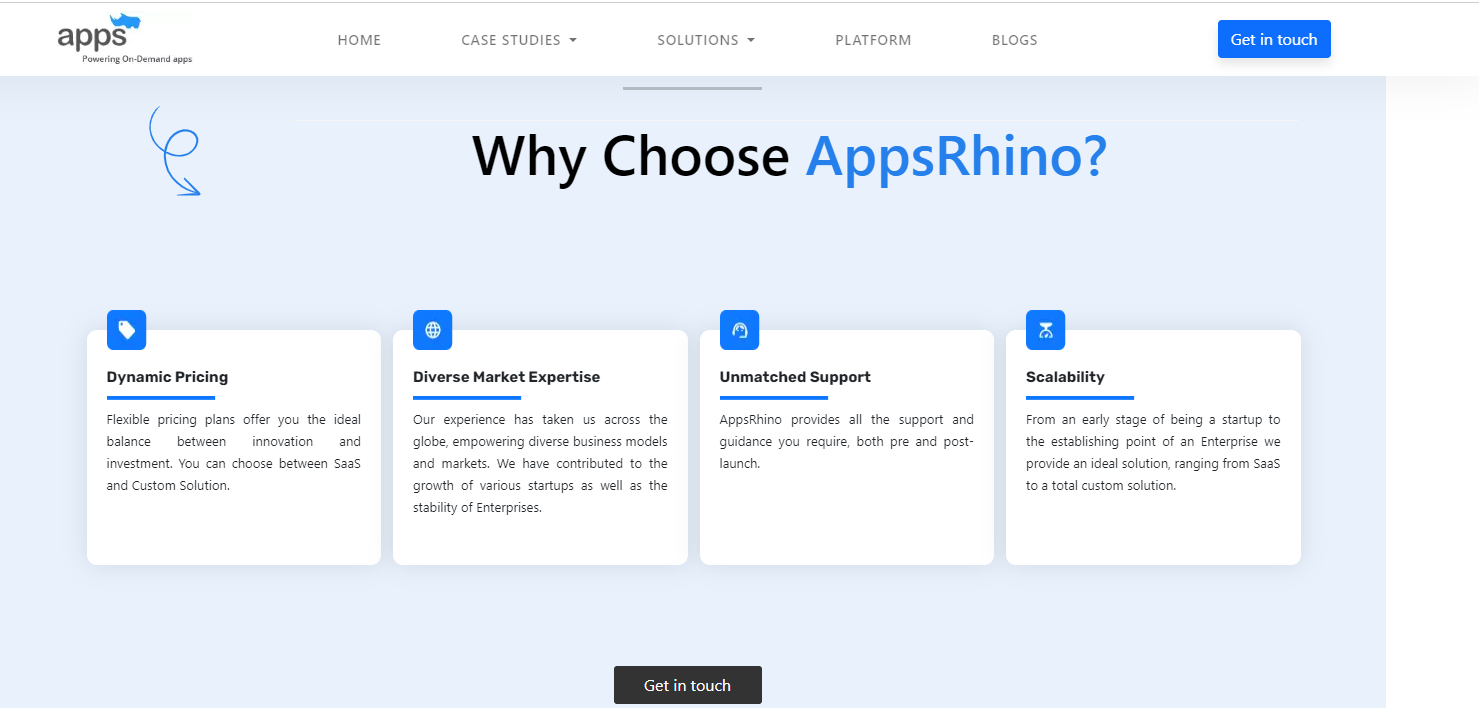 Solution 6: Blockchain-Based Database
To ensure a comprehensive and satisfying patient experience, all parties involved in healthcare — doctors, healthcare plan providers, insurance providers, doctors, and patients – must be able to exchange information with one another securely.
Using cloud-based data management tools can be a reliable solution to the inefficiencies produced by traditional pen-and-paper data management methods.
Implementing a blockchain-based database to store and distribute patient records is the most promising answer to this healthcare management dilemma. By adding this feature into the telemedicine apps, we can not only allow for the speedy and comprehensive flow of data, but it can also reduce insecurity, preserving patient privacy and integrity.
Problem 7: A scarcity of online pharmaceutical stores
People's purchasing habits have evolved as eCommerce retailers on the internet have increased. They want everything to be available online. However, the lack of online medical stores causes the industry to lag behind other sectors.
Because medicines offered online must be prescription-based, there is a scarcity of e-stores that can disrupt the market and provide consumers with convenience.
Solution 7: Establishing Prescription-Only Online Medical Stores
The establishment of an online pharmaceutical store should be on your to-do list. The online market has enormous potential. However, you may not be able to disrupt the industry because Amazon (a disruptor) has recently started Amazon Pharmacy, which provides home delivery for prescription-based pharmaceuticals. Through telemedicine apps, timely delivery of medicines can be made possible too.
What is the Future of Telemedicine for Healthcare? It is Exciting!
There is no doubt that the healthcare business has gone a long way as technology plays an integral part in this area. Healthcare technology continues to grow in the correct direction, from coping with data overload across multiple institutions to linking doctors and patients from opposite ends of the globe via mobile apps.
Telemedicine, among other things, enhances follow-up treatment, ensures patient access to services, and allows doctors to treat patients from home and in remote places. Diagnostic examination, decision making, record preservation, transmission, and healthcare professional education are all examples of telemedicine uses. Several factors must be considered when establishing and using a telemedicine link: implementers should create a plan that addresses areas such as standard compliance, technical requirements, reimbursement, human factor considerations, and strategies for dealing with telecommunication breakdowns and equipment malfunctions.
AppsRhino has done various healthcare app projects. Get in touch with AppsRhino to build a successful app in healthcare.
Frequently Asked Questions
What is telemedicine?
Telemedicine refers to the remote delivery of healthcare services using telecommunications technology. It allows patients to consult with healthcare professionals via video calls, phone calls, or online messaging.
How does telemedicine solve healthcare problems?
Telemedicine offers solutions to healthcare problems by improving access to medical services, reducing costs, enhancing patient convenience, and facilitating remote monitoring and management of chronic conditions.
How does telemedicine improve access to healthcare?
Telemedicine eliminates geographical barriers, allowing patients to access medical consultations regardless of their location. It is especially beneficial for individuals residing in remote areas or facing mobility challenges.
What healthcare challenges can telemedicine help overcome?
Telemedicine can help overcome challenges such as limited access to healthcare in rural areas, long wait times for appointments, lack of specialized care in certain regions, and difficulties faced by individuals with transportation constraints.
Can telemedicine reduce healthcare costs?
Yes, telemedicine can significantly reduce healthcare costs by eliminating the need for in-person visits, reducing hospital readmissions, minimizing travel expenses for patients, and optimizing healthcare resource allocation.
How does telemedicine enhance patient convenience?
Telemedicine allows patients to schedule consultations at their convenience, avoiding the need to travel and spend time in waiting rooms. It provides flexibility and eliminates the need to take time off work or arrange transportation.
Can telemedicine be used for chronic disease management?
Absolutely! Telemedicine enables remote monitoring and management of chronic conditions, allowing healthcare providers to track patients' vital signs, provide guidance, and adjust treatment plans without the need for frequent in-person visits.
Is telemedicine secure and private?
Yes, telemedicine platforms prioritize patient privacy and employ robust security measures to ensure the confidentiality of medical information. Compliance with privacy regulations is a critical aspect of telemedicine implementation.
What technology is needed for telemedicine consultations?
Telemedicine consultations require a device with internet connectivity, such as a smartphone, tablet, or computer. Additionally, a secure telemedicine platform or application is used to facilitate the virtual consultations.
How can I access telemedicine services?
Telemedicine services can be accessed by connecting with healthcare providers who offer telemedicine options. This can be done through their website, mobile apps, or by contacting their office directly to inquire about telemedicine availability.