The pandemic is still raging worldwide, and now people have shifted to online modes of ordering stuff. The lockdowns, isolation, and quarantine measures have forced people to stay at their homes and order things from the safety of their personal spaces. Through on-demand flower delivery apps, people have started expressing their love and warmth to their near and dear ones.
Flowers are the universal language of expressing love and emotions. They are used as gifts to celebrate birthdays, anniversaries, and they can make all other occasions special and colorful. With the online market blooming after the pandemic, the flower delivery business is also seeing a steep rise. People are ordering flowers for their loved ones.
Technology has been integrated into all aspects of our lives. Now expressing our feelings has also inched closer towards digital and contactless means. As partners are away from each other and families cannot gather together, offering flowers and gifts through apps is one way of expressing our love to them and assuring them with our presence.
[wptb id=5890]
How does a flower delivery app work?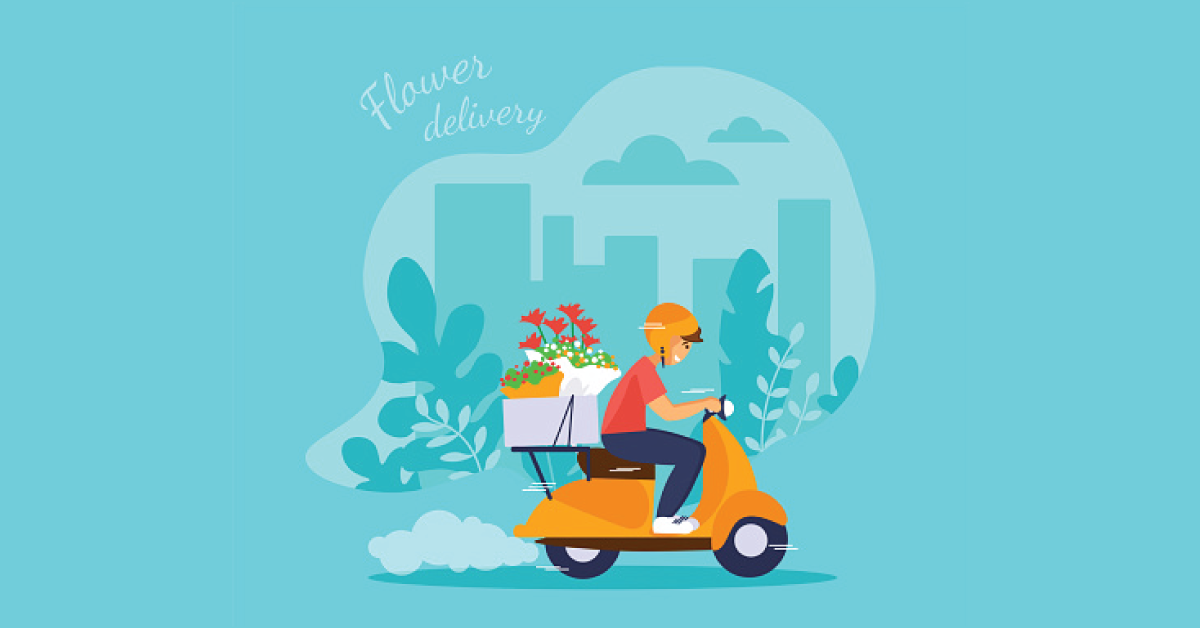 The first thing that users have to do is download the app and

login

to enter into it using the social media account, email address, or phone number. The steps are quick and easy and enable users to have their personalized accounts.

Once the users have logged into the app successfully, they can then

browse through

the sea of floral vendors available on the app. The apps provide a wide range of vendors who provide unique services and products to the customers.

Users also can

browse only through selected florists

of their choice. For this, the apps provide an 'advanced search option' wherein users can select their choice of florists and do not have to browse through all the florists available on the website unnecessarily.

After browsing through the options, the users can

place their order

for flowers through Uber for the online flower delivery app.

Once the order is placed, the work on the user's end is complete. As the florist receives the request for an order, he can reject or accept it depending on the availability of the flowers.

As the florist accepts the order, it is then further proceeded. The items are carefully packaged, and the delivery person is directed to the customer's location through optimized routes using the in-app direction navigation system.

Once the order is successfully delivered, the users can share their ratings and reviews. This is a very important feedback step for the apps as they can reflect upon the comments given by the users and work towards making their apps much better and user-friendly.
How to design and develop a flower delivery app?
![How-to-design-and-develop-a-flower-delivery-app.png] (https://admin.appsrhino.com/uploads/How_to_design_and_develop_a_flower_delivery_app_29f5135aa9.png)
Market Research
The first and foremost thing required to create an app is proper planning and in-depth research about the market prospects of the app, how to create an interactive user interface, and taking into cognizance other minute but important details. A detailed analysis is important to know what you are about to jump into. It gives a detailed view of the different facets of the market.
Competitor Analysis
The owner also has to do a competitor analysis and know its rivals in the market. Suppose you jump blindly into the market without properly analyzing the trends, rival companies, and customers' needs. In that case, you're bound to make more mistakes. Learn from the failure of your rivals and gather adequate information before creating your app.
Market trends and Customer behaviour
The owner must also keep an eye on the market trends and customer behavior to create a more dynamic and vibrant app. Customers are usually attracted to trending and fashionable things. Therefore, creating an app drawing inspiration from the younger generations is necessary.
User-experience at the fore
The app must be attractive and appealing. It must be user-friendly with an illustrative design and user information. The app must also decide on the focus group and cater to their demands. The app cannot reach out to all the users, so it is important to reach out to people who are more technology-friendly and prefer buying things online.
Additional features or offerings
The app must have the bare essential features. To compete well with its competitors, it must have additional features to lure the customers and make the app more attractive and worth visiting.
Technology
It is also important to plan the technology and software that is to be used. It must be easy to access and handle both customers and the management team. User feedback is an important feature and must be incorporated while creating the app.
Choose the Right technology partner
After all the planning and research, the final step is developing the app and executing it in real life. The app must be free from bugs and ensure that customers enjoy a seamless experience. The implementation must be smooth and error-free.
To develop the app, you must choose the correct technology partner who has expertise in the domain, can deliver on-time and in-line with the expectations.
Key features of flower delivery apps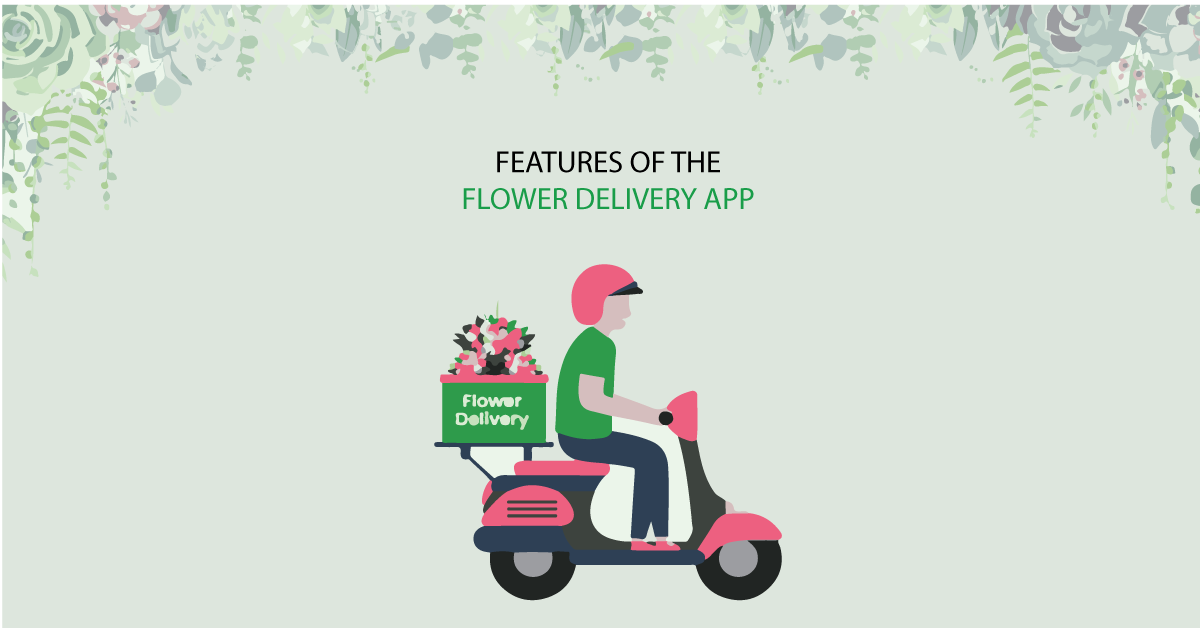 Flower delivery apps must provide a 'customized note' feature. This will help customers write personalized notes while placing their orders, and they can also express their intimate feelings.

An exclusive feature of on-demand flower delivery apps is the scheduled delivery, which can give them an edge over their rivals.

Another valuable feature of flower delivery apps is real-time tracking, which assures customers about the status of their orders. This geolocation-enabled feature is a relief for customers as they can view the movement of their order.

Multi payment methods and offers, coupons, and deals are a delight for customers and ensure that they come back to the app. This helps the app gain new customers and also retain the old ones.
What is Uber for flower delivery system?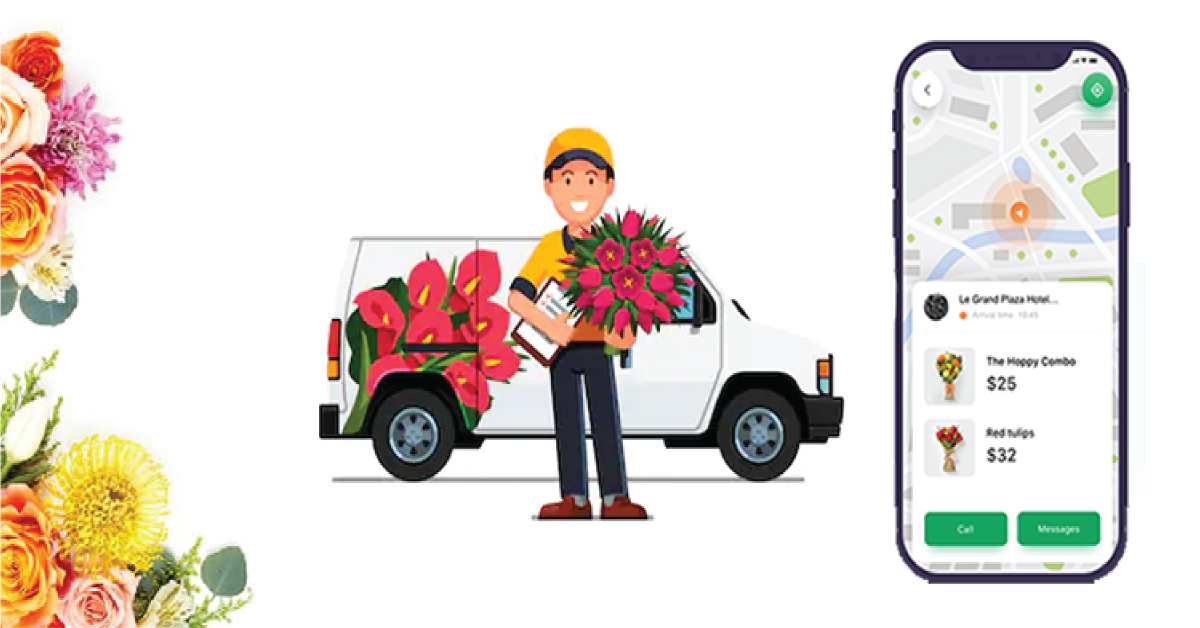 Uber for flower delivery are applications that work like Uber for flowers with tremendous commercial outreach. They enable users to order flowers on request, sitting at a distant location but just a click away. The app also encourages the users to add guest addresses of the locations they want the flowers to be delivered.
Uber for flowers is one of the finest startup ideas. An app like Uber which has given customers an extraordinary experience at affordable prices and with easy accessibility. Ordering flowers has become so much easier with Uber for flowers. Customers can book flowers of their choice, pay online, and get those flowers delivered to their doorstep in no time.
It is an innovative initiative that has attracted thousands of customers towards it. Uber for flowers is a great option to start your business. To start your own business and build your app, recruit a mobile app developer today and let the app developers help you build an app on demand.
Conclusion
The on-demand industry is gaining a lot of popularity among users. Among these, the flower delivery apps have also expanded their business further. The day is not far when online flower delivery will be the new common. To grab this opportunity and expand your business, develop an Uber for flower delivery now and get going. Design an app to generate sufficient revenue using the right revenue model and kick start your floral business with Uber today!
With AppsRhino you can develop a fully customized, user-friendly and budget-friendly flower delivery app just like Uber for taxis.