Introduction
In recent years the demand for the grocery delivery market has reached unimaginable heights. This has been possible majorly due to the widespread global pandemic that has compelled users to look for convenient ways in which they can access groceries which can not only be delivered right at their doorstep but also favors contactless transactions.
The world grocery delivery market is ruled by three main domains which are Getir, Instacart, . Going for the Getir clone would be a smart move as they already have acquired the knowledge and brilliance required to stay on top. There are no doubt other platforms as well but if you are looking for a guide and a companion to take you ahead on your journey considering a Getir clone seems to be a brilliant move.
Since the entire world is opting for convenient ways of getting their things done and so must you. Apps like Getir offer an ocean of possibilities that can be obtained only by partnering with it. Not to mention the numerous other opportunities that are too exclusive to miss out. So, what are we waiting for? Let's explore all of this in detail ahead.
What Is a Getir App Clone?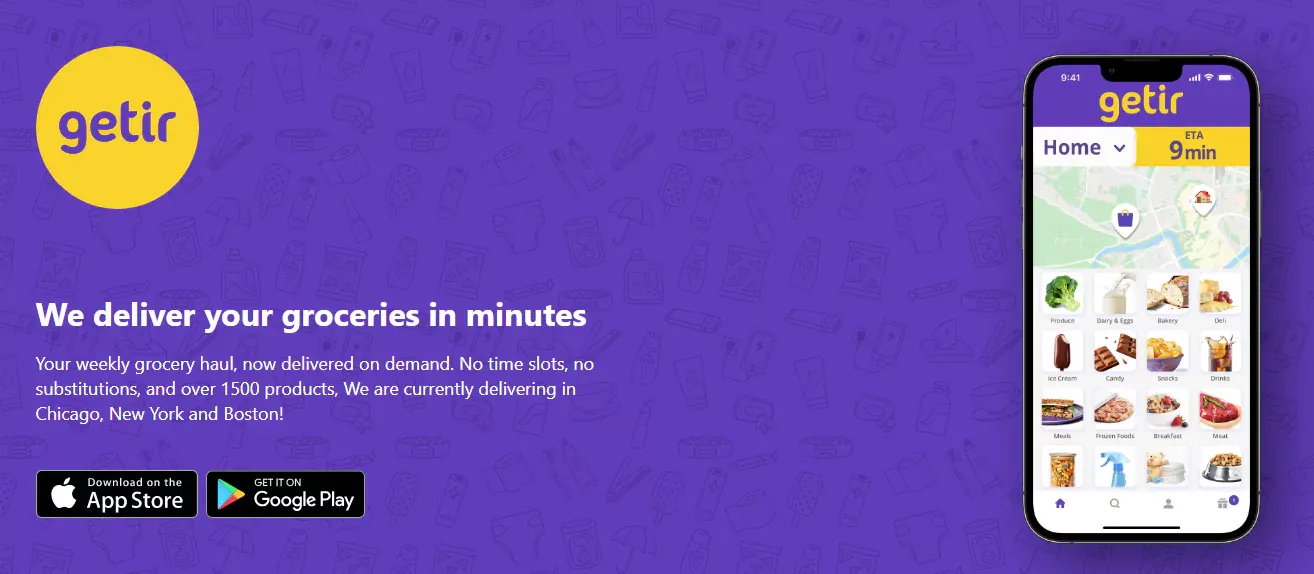 Imagine how easy it would be to reciprocate an already established app and build your own with its guidance. That's where clone apps jump in; they're mirror apps powered with similar features and functionalities as Getir — only faster and cheaper to launch. Quite a steal, right?
Why Choose AppsRhino for Your Getir Clone App?
Building an app is an Olympian task. But fret not! AppsRhino, a seasoned player in the clone app development scenario, provides top-of-the-line solutions tailored to needs.
Handcrafting Success with AppsRhino
With its in-depth knowledge and hands-on experience, AppsRhino is a genius at creating app clones that ride high in the market. Its commitment to quality ensures you get just the best - no compromises!
Advanced Features and Technology Integration
To stay competitive, a Getir clone app needs to incorporate the latest features and technologies. AppsRhino ensures that your app is equipped with advanced functionalities, such as real-time tracking, secure payment options, and seamless communication.
Customization and Scalability
AppsRhino offers a high level of customization to tailor the Getir clone app according to your unique business needs. Additionally, their solutions are designed to be scalable, allowing your app to grow alongside your business.
An Association Worth Cherishing
With AppsRhino, you not just get an app - but an assurance of prompt services, time efficiency, and cost-effectiveness that lightens your wallet without burning a hole in it. But don't take our word for it, our rave reviews and success stories speak volumes.
Technology Stack and Development Process in AppsRhino's Way
Creating a robust clone app isn't just another day at the office—it requires the perfect blend of cutting edge technology and a thoroughly vetted process.
Perfecting the Tech Recipe
Driven by a commitment to quality, AppsRhino employs state-of-the-art technologies such as Node.js, Python, Angular.js, and MongoDB for back-end development and data management.
A Development Journey Worth Noting
Developing a clone app with AppsRhino is akin to an exciting trek. Beginning from the base camp of ideation to the peak of launch, our tech experts guide you every step of the way. The essence, you ask? A robust tech foundation that holds the fort!
Customization and Scalability
There are certain factors that are very useful in terms of targeting an audience. Most apps fail to keep the varied choices and preferences of the customers in mind therefore they fail to deliver the ultimate user experience. AppsRhino is known for its exclusive feature of prioritizing customers and offering them a customizable and scalable platform.
Customization: The Key to Uniqueness
At AppsRhino, our Getir clone stands out with extensive customization—reflecting your brand identity, catering to your target demographic, and accommodating your business model.
Scalability: Building for the Future
Our clone apps are focused on the future—they can be scaled up as your business grows, accommodating increasing user traffic, adding new features, or expanding geographical reach.
Security and Data Privacy
When working on an app it is essential to make the customer realize that their safety is always taken into consideration. Therefore, AppsRhino undertakes the following measures listed below.
The Fort Knox of Apps
At AppsRhino, the importance of security and data privacy isn't lost on us—we incorporate cutting-edge security measures, ensuring your app is as secure as a fortress.
Your Privacy, Our Priority
When it comes to data privacy, we stick by the book, strictly adhering to all essential regulations. We value trust—ensuring the safety of user data isn't just a promise; it's a commitment!
Monetization Strategies
The monetization strategies for the Getir app Clone by AppsRhino involves a blend of revenue streams. AppsRhino aims to capitalize on the growing demand for convenient on-demand delivery services.
Exploring the Revenue Roads
With AppsRhino's Getir clone, there are numerous routes to monetization. From subscriptions to commissions, partnerships to in-app advertisements, the road to revenue generation is ripe with opportunities.
A Strategy for Every Market
Understanding that every market has its quirks, we offer insights on which strategy would work best for specific landscapes. After all, a well-devised revenue model is the cornerstone of a profitable business!
With AppsRhino, get ready to power through the on-demand delivery market with an efficient, compelling, and secure Getir Clone. Why fit in, when you can stand out?
Marketing and User Acquisition
Success is just a perfect marketing strategy away! Let's give your Getir clone app the launchpad it deserves.
Sound the Trumpets with Effective Marketing
Everyone loves a buzzworthy app. With a blend of innovative marketing techniques - from content marketing to influencer partnerships, we've got your promotion covered.
User Acquisition: The Real Game-Changer
The winning trio - SEO, ASO, and Social Media Marketing - works behind the scenes, ensuring your app stands out in the crowd. As they say, the more, the merrier!
AppsRhino: Your Marketing Strategist
At AppsRhino, we go the extra mile to ensure you truly can have it all, providing expert guidance and support throughout your app's marketing journey.
Client Support and Maintenance
Your app's journey doesn't end with its launch—it's just the beginning of ours together.
Post-Launch Management
At AppsRhino, we ensure your app is always at the top. In order to ensure that we provide crucial post-launch support and regular updates to keep it at the top of its game.
Tailored Support Packages
We understand that every app, like every business, is unique, offering customized support packages that align perfectly with your specific needs and goals.
Conclusion
In the hyper-competitive on-demand delivery market, our Getir clone offers the perfect blend of design brilliance, technological advancements, robust security, marketing savoriness, and unparalleled support.So what are you waiting for? Unleash success with the AppsRhino Getir Clone App. For inquiries and consultations, feel free to drop us a line!
With AppsRhino, brace yourself for an extraordinary journey, and we are pretty sure you won't regret it. This collaboration offers several key advantages. Firstly, AppsRhino's expertise in app development ensures a high- quality, feature-rich clone that mirrors the success of the original Getir app. Their commitment to customization ensures that your clone can be personalized to fit your unique business needs and demands.
AppsRhino is an ideal partner for those looking to enter or expand in the on-demand delivery market with the Getir App Clone. This partnership open doors to a promising future in the world of convenient,efficient, and a customer centric delivery business.
Frequently Asked Questions (FAQs)
What is AppsRhino's Getir App Clone?

AppsRhino's Getir App Clone is a white-label solution that allows businesses to create their own grocery delivery app similar to Getir. It offers a seamless user experience and can be customized to meet specific business requirements.
How does AppsRhino's Getir App Clone work?

AppsRhino's Getir App Clone works by integrating various features like real-time tracking, multiple payment options, and order management. Customers can place orders through the app, which are then fulfilled by the partner stores or delivery personnel.
Can AppsRhino's Getir App Clone be customized?

Yes, AppsRhino's Getir App Clone can be customized to match the branding and requirements of the business. It offers the flexibility to add or modify features, design elements, and functionality to create a unique and personalized app.
Does AppsRhino provide ongoing support for the Getir App Clone?

Yes, AppsRhino provides ongoing technical support for the Getir App Clone. They offer regular updates, bug fixes, and assistance to ensure smooth functioning of the app. This helps businesses focus on their operations without worrying about technical issues.
Is the Getir App Clone developed for both iOS and Android platforms?

Yes, AppsRhino's Getir App Clone is developed for both iOS and Android platforms. This ensures that businesses can target a wider user base and provide a seamless shopping experience to customers across different devices.
Is it possible to integrate additional features into AppsRhino's Getir App Clone?

Yes, AppsRhino's Getir App Clone can be customized to integrate additional features. Businesses can choose to add features like loyalty programs, promotional offers, or advanced analytics to enhance the user experience and meet specific business objectives.