The saying "when the going gets difficult, the tough get coding" may be familiar to you.
What if we told you that a platform that gets little attention would save you from having to spend all day and night coding and debugging?
Do you know what it is?
It's—Joget!
With Joget, you can use no-code/low-code applications to quickly and easily alter your business.
Both coders and non-coders can easily construct and manage apps thanks to its Graphical User Interface(GUI) and web-based interface!
Let's read further to find out the benefits of using Joget!
What is Joget?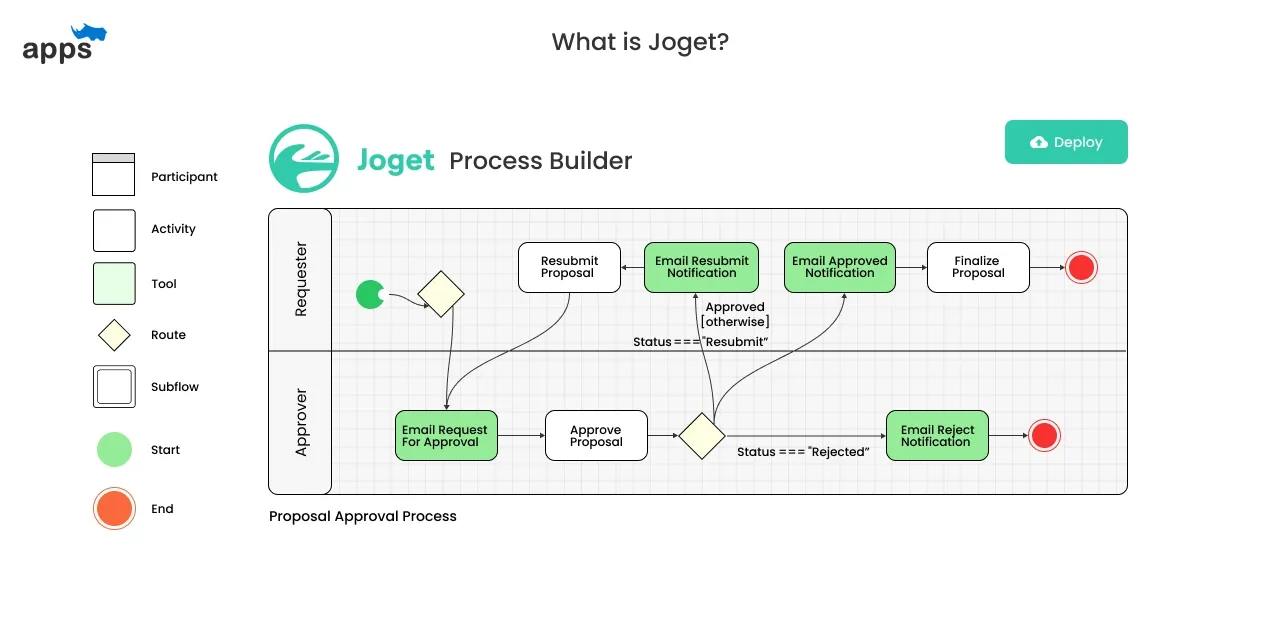 With Joget, an open-source rapid application development platform, both programmers and non-programmers can quickly and attractively create business apps. Drag-and-drop allows users to create meaningful applications, setup their devices, and automate tasks. Users may design, configure, produce impactful applications, and automate operations using drag-and-drop.
Due to the environment's agility, business users and IT developers can work together to design and create pre-built enterprise apps that satisfy business needs.
Professional developers can expand the platform's features and functionalities and provide new plugins for system integration thanks to the platform's dynamic plugin design. Downloadable ready-made apps and plugins are available on the Joget Marketplace.
Joget has several editions to accommodate various features and cost needs. Fortune 500 corporations, the government, mid-market businesses, small businesses, departments, or teams have solutions that can be used on-premises or in the cloud.
Why Joget?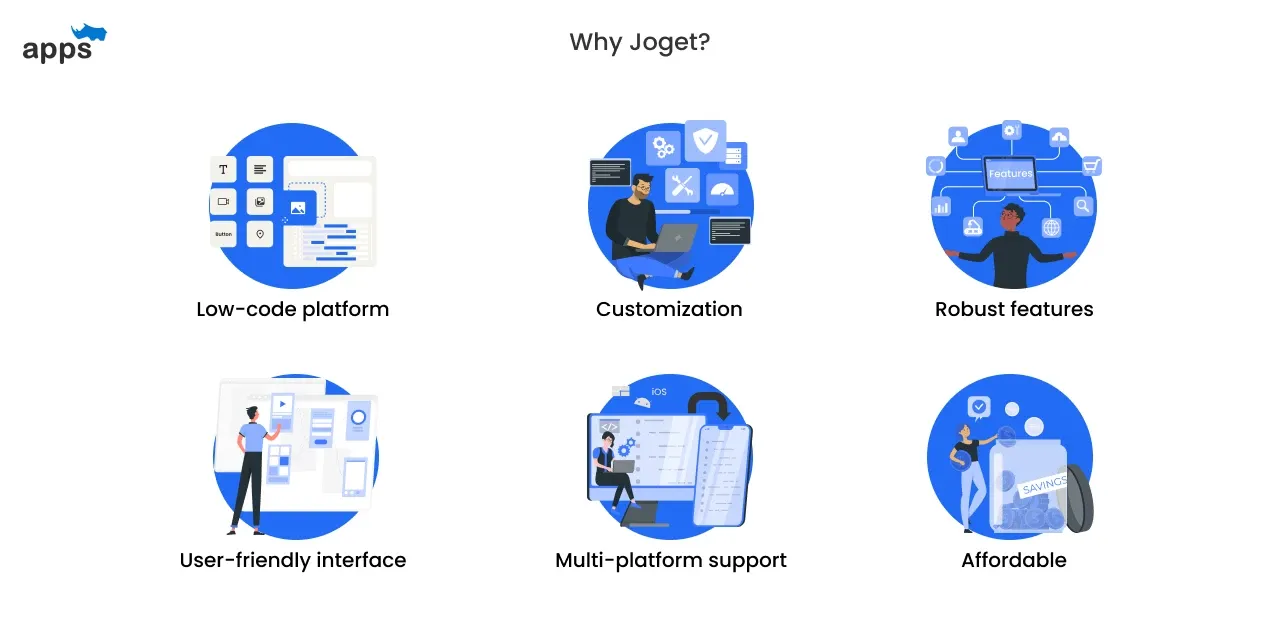 Joget is a well-known platform for low-code applications that is extremely flexible and provides organizations with several advantages. Here are some arguments in favor of firms employing Joget:
Low-code platform
Developers may create applications quickly and easily using Joget, a low-code platform, without writing a lot of code. It frees developers from worrying about coding infrastructure so they can concentrate on business logic and functionality. Developers may create applications on the platform using a visual drag-and-drop interface in a fraction of the time it would take than using conventional coding techniques.
Customization
Due to Joget's high degree of adaptability, companies can customize the platform. It will help them meet their unique requirements. It implies that companies can develop applications specific to their sector or requirements. The platform also provides numerous customization options, including the capacity to design unique processes, templates, and themes.
User-friendly interface
Joget offers an intuitive UI that is simple to use and comprehend. Even non-technical individuals can utilize the platform to create and customize applications. Users may easily add and delete workflows and components using the platform's drag-and-drop interface, making it simple to develop complicated applications.
Multi-platform support
Joget supports various operating systems, including Windows, Linux, and Mac OS, letting companies select the one that best suits their needs. Businesses will find it simpler to incorporate the platform into their current IT infrastructure as a result.
Robust features
Joget has a sophisticated feature set that includes a form builder, user administration, workflow management, and reporting. Its capabilities make it a potent foundation for creating intricate apps that may automate company procedures and boost productivity.
Affordable
Joget is a reasonably priced platform that offers companies a practical means of developing and deploying applications. As a result, it's a fantastic option for companies of all sizes, especially those who need more funds to purchase pricey software development tools.
Community support
Joget has a sizable and vibrant user and developer community that actively contributes to the growth and enhancement of the platform. It means that a variety of tools, such as user forums, tutorials, and plugins, might be helpful to businesses.
The benefit of Joget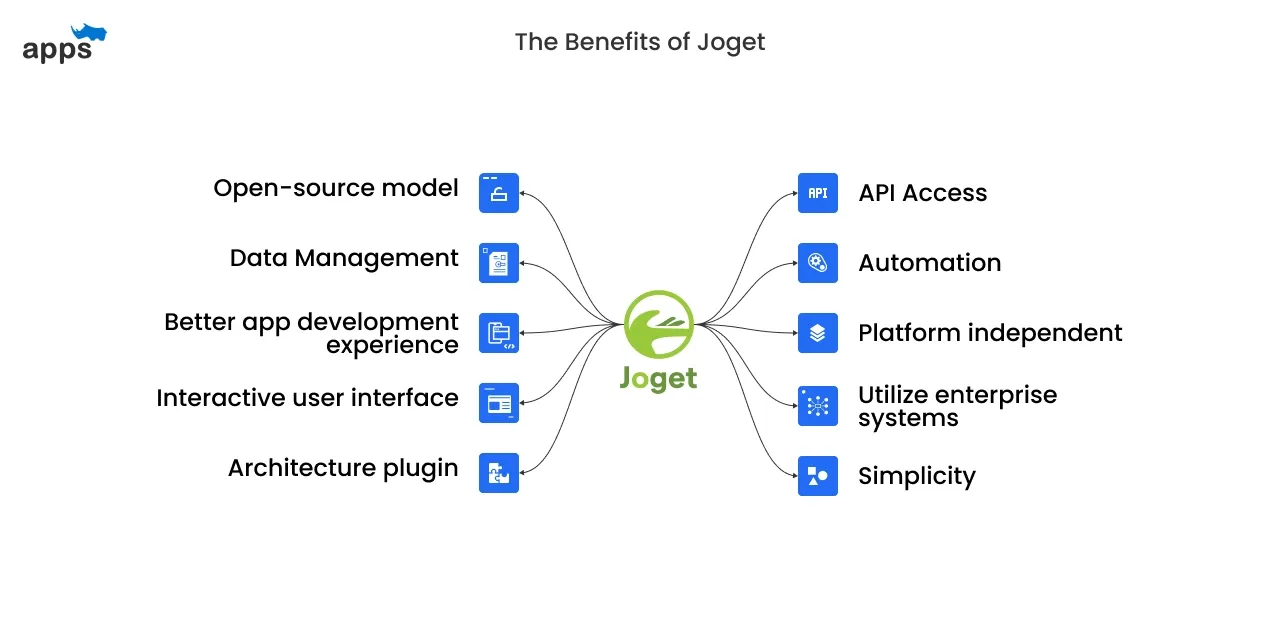 Open-source model
Joget Workflow is an open-source methodology. Thus there are other deliverables as well. One of the deliverables is the source code.
Because of this, the source codes in Joget can be read and reviewed by anyone, even software engineering specialists, in contrast to closed-source solutions. It motivates the software developers who support Joget Workflow to produce higher-quality source code.
As a result, the open-source design of the Joget platform permits freedom in the following crucial implementation aspects:
Bug-fixing: Only the original creators of proprietary software can access the source code and make corrections. One-of-a-kind is open-source software. When numerous users can access and modify the code, bugs are more noticeable and may be fixed quickly. Given enough eyes, all bugs are shallow, goes one of the catchphrases of the open source movement.
Customization: Closed-source programs may only be modified or adjusted up to the extent set forth by the original vendor. Anybody can change open-source software with the required abilities. Open-source software can therefore be modified to satisfy particular user requirements.
Simplicity
The Joget platform development team's main objective is simplicity.
Joget does not rely on any developer studio or IDE (like.NET Studio, Visual Studio, or Eclipse IDE) to carry out its functions, unlike other BPM applications. In other words, individuals (such as business analysts or process consultants) who are inexperienced with developer tools or lack developer knowledge can utilize the Joget platform to design a fully functional workflow application.
Architecture plugin
To accomplish product expansion and adaptation, Joget offers plugin architecture. Therefore, any integration that Joget Workflow does not now support can be implemented by creating plugins without compromising the software's basic functionality.
Additionally, anyone with Java programming skills can freely create and distribute any plugin needed due to the beauty of the open-source concept.
API Access
JSON and JavaScript APIs are available from Joget Workflow for integration with any Web platform. It is optional for adopters to choose a Web platform that works with Joget Workflow. Instead, the Joget platform may be readily integrated with any preferred Web platform.
Utilize enterprise systems
To facilitate easy interaction with business systems, Joget Workflow provides the following elements in addition to the plugin architecture and open APIs stated above:
External User Directory: To connect Joget to external user directories like Active Directory and LDAP servers, one can install a special Directory Manager plugin. It is an alternative to using the standard Joget user base and organizational chart.
Web portal: With a JavaScript snippet, a user can quickly include any process, task inbox, or process list into an external Web site or portal, such as a Web Part in SharePoint, a portlet in Liferay, or a widget in WordPress.
Platform independent
Linux, Solaris, and Windows, as well as any other operating system that supports Java SE 6, are all compatible with Joget.
The Joget Workflow database may also be installed on MySQL, Oracle 10g, and SQL Server 2005.
Therefore, give the Joget platform a try if the abovementioned advantages sound appealing for your implementation.
Automation
The Automation Feature is one of the main factors contributing to the Joget Platform's positive reviews. Your company won't need to follow unnecessary steps and can complete the assignment swiftly and effectively.
Additionally, automation promotes uniformity, standardization, transparency, and documentation, which enhances performance.
Data Management
You want your data organized as a business team and coder.
The database should also be accessible for various tasks like sorting, searching, connecting, filtering, removing, etc.
Reviews of Joget, therefore, support the platform's adaptability and agility for data management.
Better app development experience
Programmers can explore various topics in their Applications thanks to the extensive capabilities and tools available on the Joget platform.
Reviews of Joget indicate that lone developers and development teams adore using Joget as their platform for building apps. They further noted that Joget streamlines the process and eliminates the challenging procedures.
Interactive user interface
The user interface of this open-source software is covered in one of the well-known Joget reviews. The Joget platform is simple, and users can complete many jobs quickly!
Conclusion
Business owners would undoubtedly need clarity, given the thousands of platforms available and the hundreds being established daily.
Workflow management is solvable using the Joget platform. Its advantages demonstrate how practical it is.
When it comes to the fee structure, it offers free general membership. The enterprise membership is the next level, and both are paid memberships.
If you are looking to hire Joget developers, then you are at the right place. AppsRhino has a team of seasoned Joget developers who will assist you throughout your development journey and make your project a success. You can hire our developers on an hourly or project basis.
Contact us today to get started.