Do you waste a lot of time scheduling and canceling meetings? Do you want to reduce the time working on the calendar?
Often the must-do tasks end up wasting valuable time. But with appointment booking apps, you can take a back seat and let the technology do the complex chores.
Not only does it ease overworking, but your clients also will love it. It brings ease and convenience to your business operations. You can utilize the time to meet new people, get new business, and focus on essential tasks.
Suppose you struggle to manage client bookings, schedule meetings, last-minute cancellations, and no-shows. In that case, an appointment booking app is the perfect solution for you.
This article mentions the top 6 appointment booking apps to check in in 2023.
What does an Appointment Booking App do?
In a nutshell, an Appointment Booking App makes your life and clients' lives easier. Each tool does this in a different way.
Still, they offer an online portal where your clients, prospects, contacts, and students may book a meeting with you or another team member.
Using paper books to manage schedules is outdated, takes a lot of time, and is cumbersome. This is where appointment booking apps step in. These technologies are far more convenient for your business.
Clients get a user-friendly procedure using an appointment booking app, usually with your branding.
These tools enable you to regularly define and alter your parameters for available appointment hours, employees, and services.
Appointment booking apps are used by successful and efficient businesses of all sizes and shapes to save time and money.
Small firms and entrepreneurs use them to plan critical meetings. Recruiters use them to schedule and track interviews with potential employees.
Educators and instructors use them to run student conferences or online classrooms with a single button press.
Client calls are scheduled by sales and marketing professionals to ensure that they do not lose a hot lead.
Account managers keep track of client check-ins using user-friendly apps they can access from anywhere.
Top 6 Appointment Booking Apps in 2023
Calendly: Best for Teams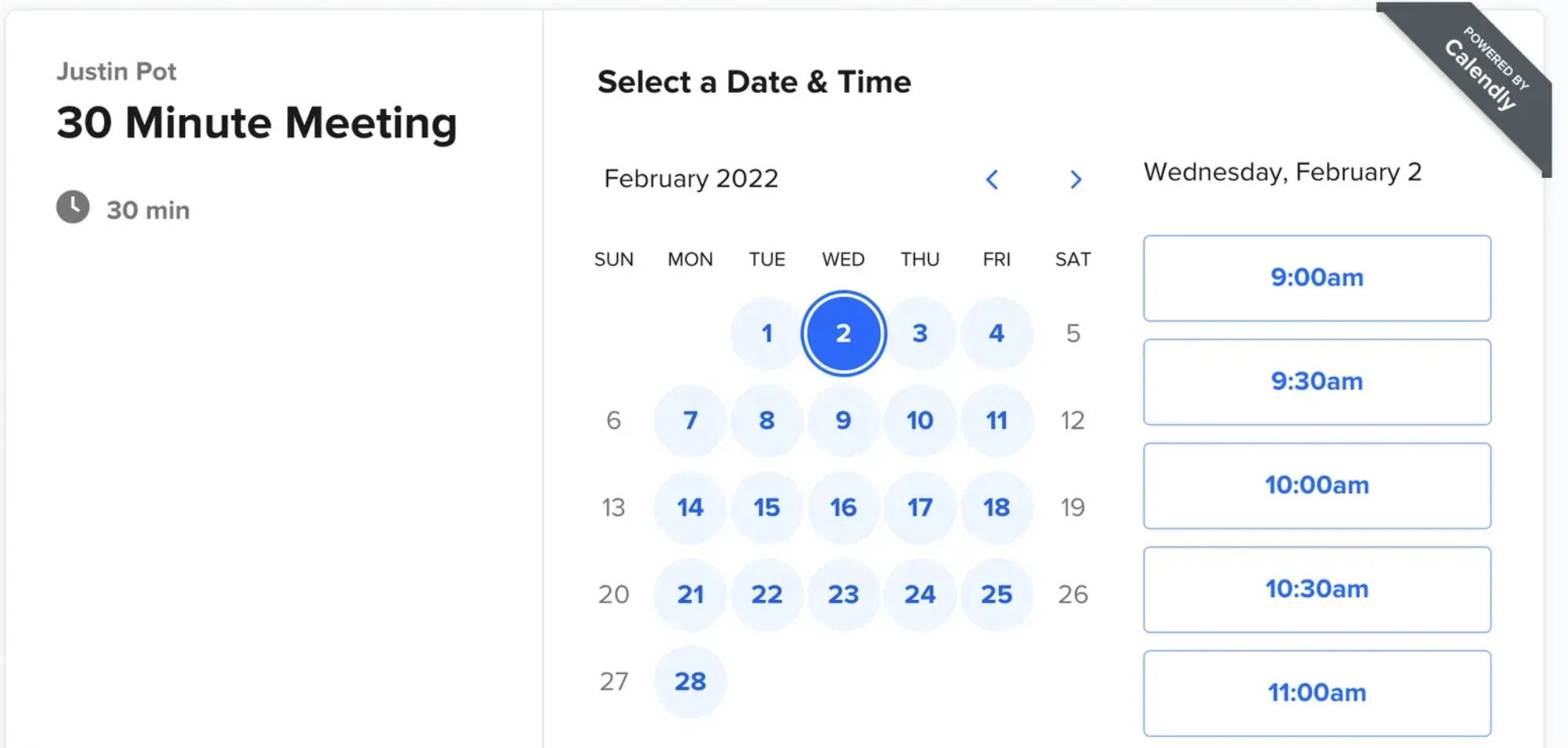 Calendly manages the scheduling of over 100 million meetings each year and provides a feature-rich free plan and 14-day free trials for commercial plans.
Every Calendly package includes unlimited planned meetings as well as unlimited one-time meetings. Calendly's paid plans include group, communal, and round-robin events.
Features
Calendly is an excellent tool for scheduling appointments. It is simple to extend its use to a complete team, department, or small business.
Calendly is useful for scheduling one-on-one and group meetings and determining round-robin or collective availability. It also accounts for its users' varied time zones, ensuring that all meeting attendees arrive on time.
Calendly works with Google Calendar, Outlook, Office 365, and iCal. Calendly has 700+ Zapier integrations, including GoToMeeting and Salesforce.
Pros
14-day free trial

Unlimited one-time meetings are included.

Unlimited

one-on-one meeting

s are included.
Cons
There are no SMS notifications with the free or Premium plans.

Only the Enterprise package includes phone assistance.
Pricing
Basic: Free
Essentials: $8/user/month with up to 2 calendars/user
Professional: $12/user/month for up to 6 calendars/user
Teams: $18/user/month for up to 6 calendars/user

10to8: Best For Small Enterprise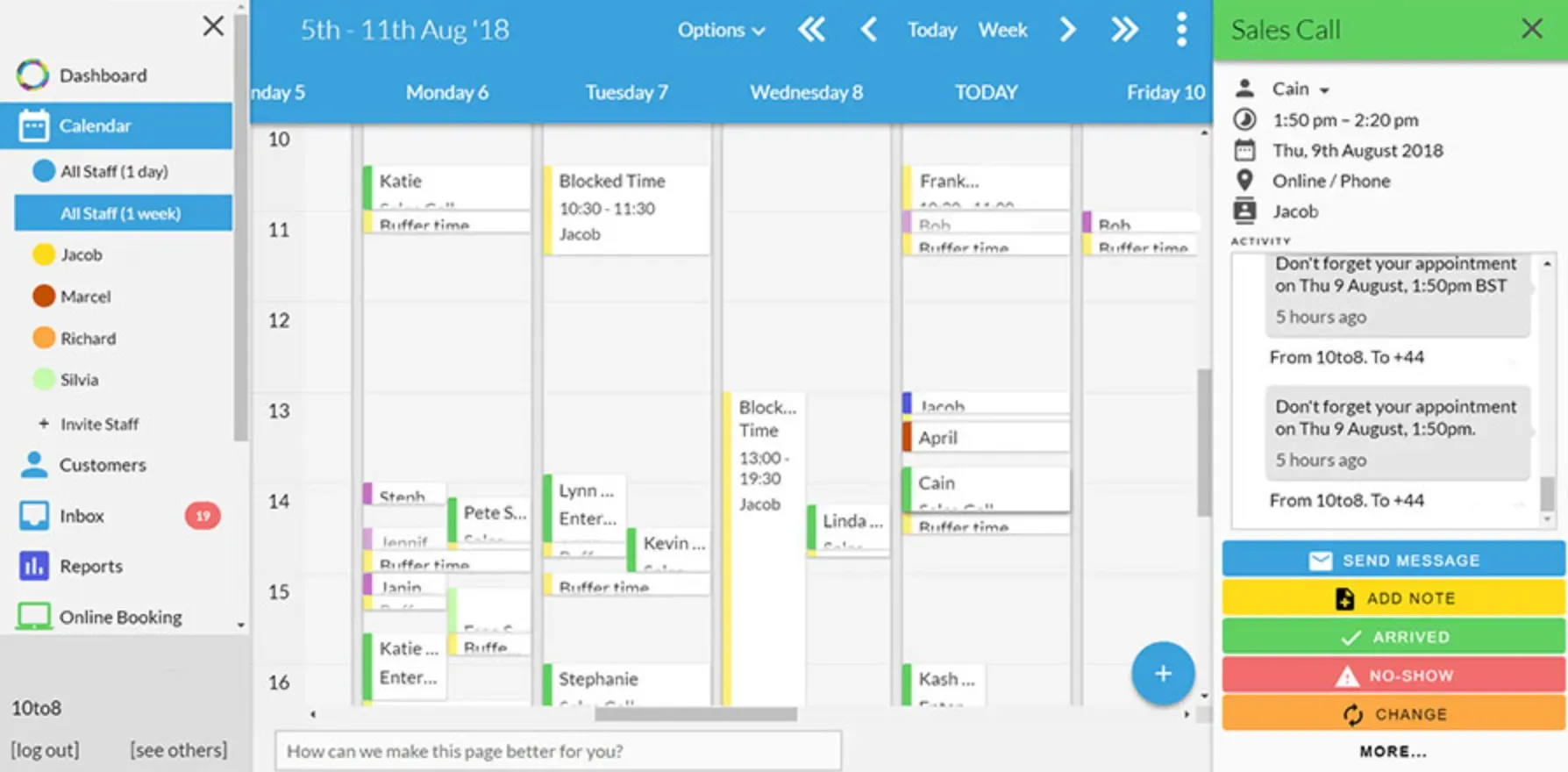 10to8, launched to the public in 2014, is an award-winning, cloud-based appointment-booking app utilized by over 50,000 enterprises globally.
Small organizations, in particular, can profit from this cost-effective and adaptable appointment-booking app.
Features
10to8 is suitable for both one-on-one and group engagements. Allow online reservations for services, meetings, interviews, product demos, sales calls, classes, or any other time-sensitive event you need to keep a schedule.
Zoom Video Conferencing, Microsoft Teams, Salesforce, Slack, WordPress, Weebly, Twitter, LinkedIn, and QuickBooks Online are just a few tools that 10to8 interfaces with.
Reduce no-show rates by sending appointment reminders via SMS, email, or voice call. 10to8 calendars may be synced with Google, iCloud, Exchange, Office 365, and Outlook.
Pros
30-day free trial

Unlimited service

Over 1,500 app integrations

SMS included in the free version
Cons
Offers customer support only via email.
Pricing
FREE FOREVER, 100 appointments/month, 2 staff logins.
Basic: $9.6/month, 100 appointments/month, 2 staff logins.
Grow: $20/month, 300 appointments/month, 3 staff logins.
Bigger business: $40/month,600 appts/month, 6 staff logins.
SimplyBook: Best for International Business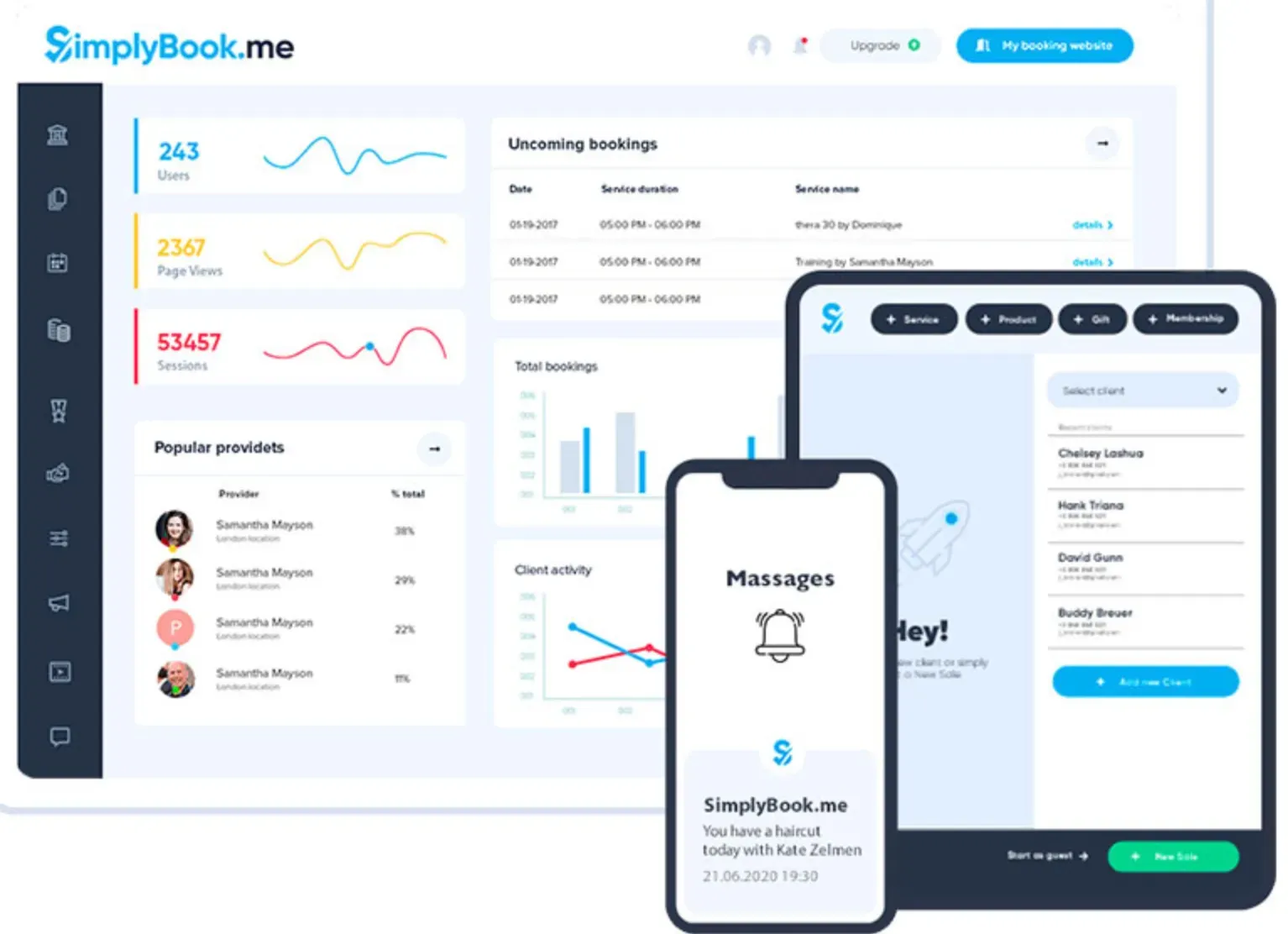 SimplyBook can arrange appointments in 9 languages, allowing everyone you do business with to schedule time with you effortlessly.
The interface of SimplyBook shows all of your services, providers, and available times.
Clients may quickly discover what they need, whether to schedule an appointment, register for a class, or join a club.
Features
Online bookings aren't confined to your website with SimplyBook. Customers can arrange appointments just as quickly by clicking on a link on your Facebook and Instagram accounts or your Google My Business profile.
Clients can also add additional services to their appointments, pay fees, and purchase relevant products all in one place.
You can integrate SimplyBook with the following calendars: Google, iCal, Yahoo, and Outlook.
Clients can pay via multiple global payment options, including Stripe, PayPal, Alipay, Skrill, and Mollie — yet another reason it's perfect for businesses working with international clients.
Pros
14-day free trial

Custom booking and SMS packages
Cons
No phone support offered

Minimal customization is offered with the free plan

Custom features increase the price
Pricing
Free: Up to 50 bookings
Basic: $9.90/month for up to 100 bookings
Standard: $29.90/month for up to 500 bookings
Premium: $59.90/month for up to 2,000 bookings
Setmore: Best for Self-Employed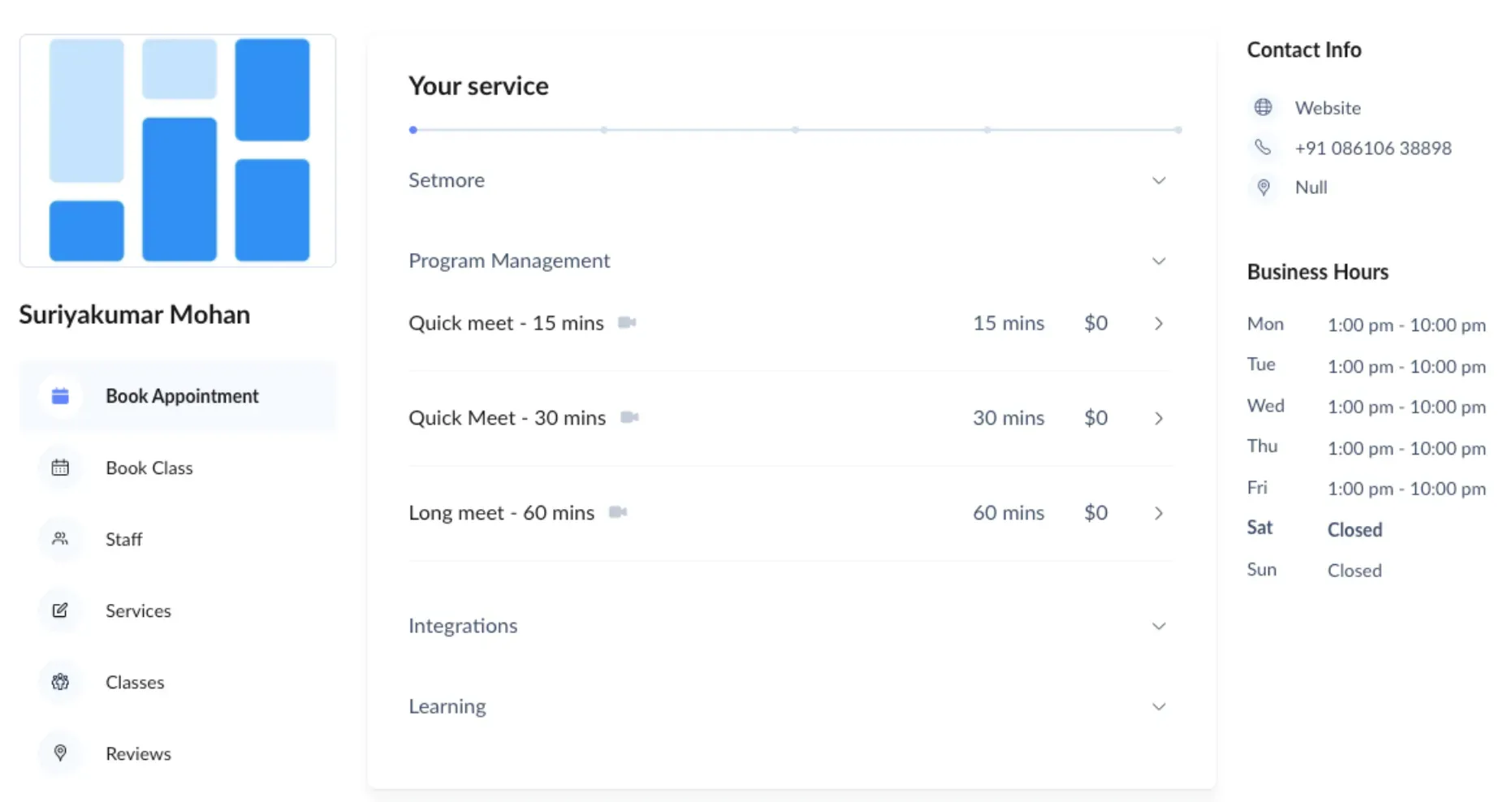 Setmore was launched in 2011 by Full Creative.
Setmore is ideal if you're a self-employed professional searching for an affordable and simple-to-use booking app for your business.
Features
Setmore can suffice all types of service providers. It is available for one-on-one and group engagements. You can add the Setmore booking page on your website or accept bookings through your Facebook and Instagram.
Setmore supports Windows, macOS, iOS, and Android to set up and manage calendars from anywhere. You can accept Square payments on all Setmore plans, while through premium and pro plans, you can accept Stripe payments.
Customer service is available via chat and email. However, it does not provide any phone support. Setmore pricing scales as the number of users rises, unlike other appointment scheduling services.
Pros
30-day money-back guarantee

Accept customer Square payments

Offers Unlimited appointments
Cons
No phone support

No PayPal integration

No recurring appointments on the free plan
Pricing
FREE PLAN:

Unlimited appointments

for up to 4 users

Premium Plan: $9/user/month for up to 2 users with unlimited email and SMS reminders
Pro Plan: $5/user/month up to 3+ users with unlimited email and SMS reminders
Appointlet: Best for free unlimited bookings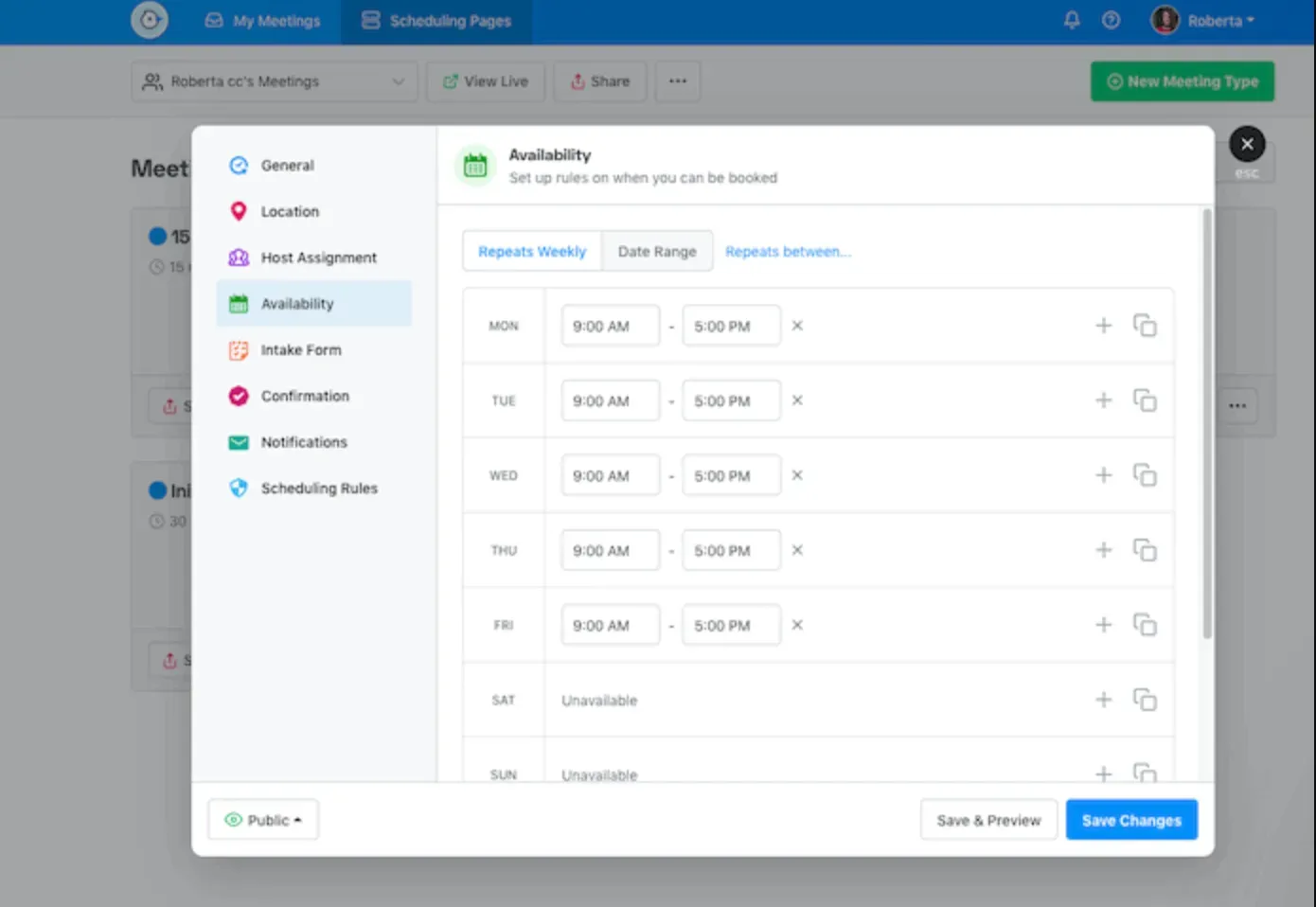 Appointlet is another booking app that allows users to book appointments in multiple languages. English, Spanish, German, Dutch, Italian, and other languages are included.
Businesses can book an infinite number of different sorts of meetings for free.
Appointlet also allows you to collect prospect information and accept payments at the time of booking.
Features
You can include a booking page, emails, and different landing pages on your website. Appointlet automatically updates your and your client's calendars when they set appointments with you.
Appointlet operates on any device so that customers can book appointments from anywhere; besides, different time zones are recognized and accounted for by the app.
Appointlet integrates with Google and Office 365 calendars. Appointlet uses Zapier integration to seamlessly connect with Salesforce or Zoho CRM, GoToMeeting, and Mailchimp.
Pros
Offers phone and online support

Multiple integrations

Personalized booking pages
Cons
Payments are not accepted with the free plan

Limited integrations with the free plan
Pricing
Essential: FREE plan includes unlimited bookings, meeting types, and form fields.
Premium Plan: $8/month/member
Bookafy: Best for calendar Synchronization Options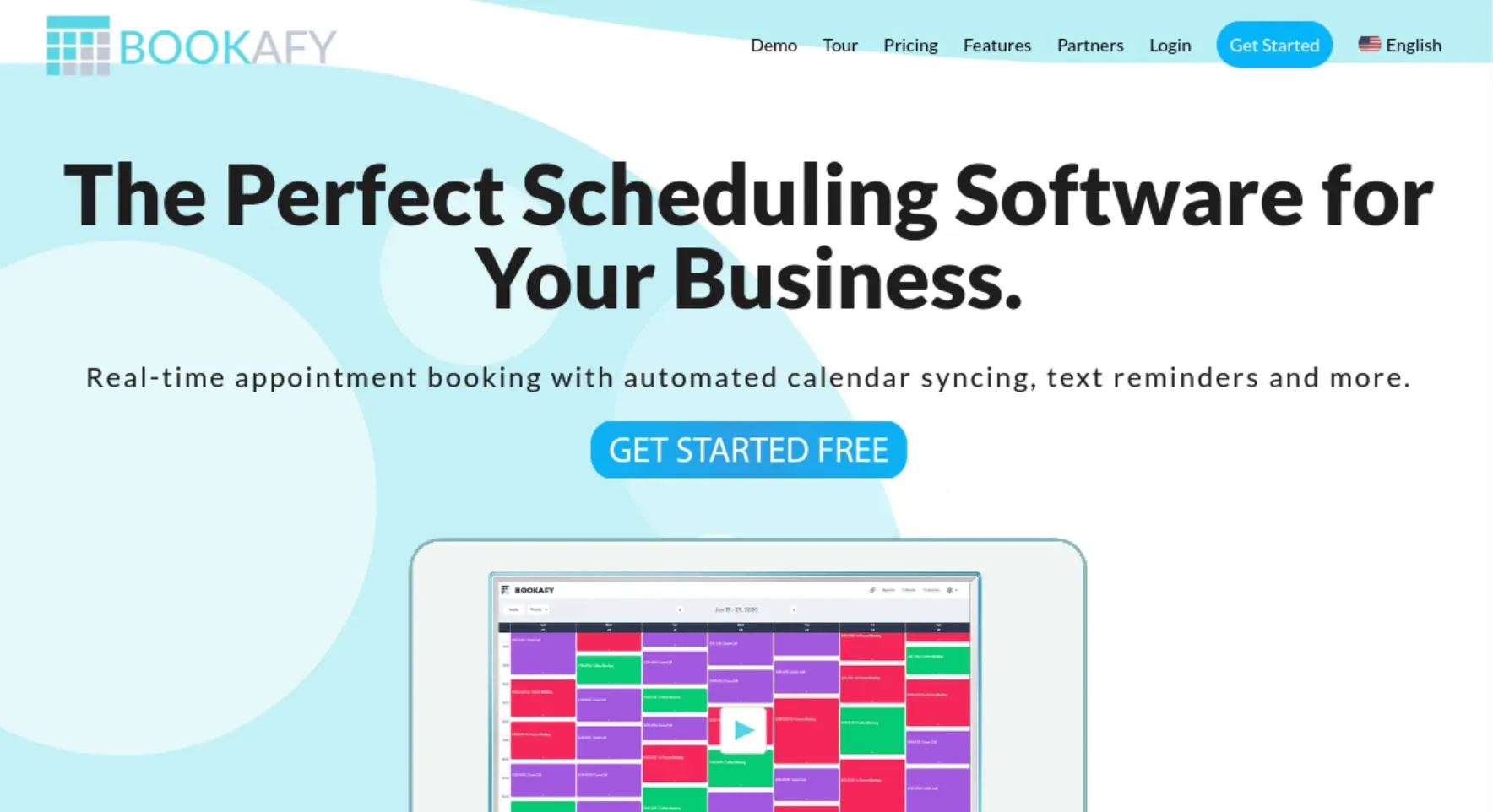 The way Bookafy handles calendars between people is one of the features that sets it distinct from other booking apps.
When you want each party to be able to see the schedule of the other, you can enable two-way calendar syncing.
Use one-way syncing when someone needs to see your calendar, but you don't need to see theirs.
Features
Bookafy offers one-on-one, multiple staff-with-one customer meetings, group events, and even one-off and recurring appointments.
You decide how to handle meeting requests from customers. If their circumstance necessitates a staff member with specialized abilities or knowledge, you allocate accordingly. You can set up a round-robin distribution if you want the first available representative to contact the person.
Bookafy integrates with Outlook, iCal, and Office 365 calendars.
Bookafy creates a unique Zoom or GoToMeeting conference connection for each planned meeting. In addition, Bookafy integrates with both the Authorize.Net and Stripe payment platforms to process payments.
Pros
Unlimited service

Over 1,500 app integrations

SMS and reminders included
Cons
No payment is accepted with the free plan

No PayPal integration
Pricing
FREE plan: Unlimited appointments
Pro: $7/month includes text reminders and payments
Pro+: $11/month includes Zapier and CRM integrations
Wrapping Up
It is 2023, and customers and clients expect high operational efficiency from a business. The paper schedule books can't meet such expectations, and firms spend chuck on these chores.
An appointment booking app is indeed a solution. Its technology stacks are so powerful that you can rely on these apps to advance your business.
If you have any doubts, give it a free try. Most apps come with a limited-day free trial; you can cancel whenever you want. But it is worth trying out once.
If you want to get your own appointment booking app developed, get in touch with AppsRhino.
Apart from the Appointment booking app, AppsRhino offers the best Tech-driven solutions for Home services, Laundry delivery, Alcohol delivery, Grocery Delivery, Food Delivery, and Taxi Services:
Frequently Asked Questions (FAQs)
What is the meaning of appointment scheduling?
Appointment scheduling refers to the process of setting up and organizing meetings or appointments between individuals or businesses.
It involves determining a mutually convenient time, location, and duration for the appointment.
What is the best booking app to use?
There are several popular booking apps available, such as Calendly, Acuity Scheduling, and Setmore.
The best booking app to use will depend on your specific needs and preferences, so it is recommended to explore their features and choose one that suits you best.
Is there an app to schedule appointments?
Yes, there are numerous apps available specifically designed for appointment scheduling.
Some examples include Google Calendar, Microsoft Outlook Calendar, and scheduling apps mentioned above, like Calendly and Acuity Scheduling.
Is it better to book directly or through appointment booking apps?
It depends on the situation and personal preference. Booking directly may be more suitable for simple and straightforward appointments, while appointment booking apps are often preferred for their convenience, automated reminders, and ability to sync with multiple calendars.
How to schedule an appointment?
To schedule an appointment, you can reach out to the person or business you want to meet with and discuss potential dates and times that work for both parties.
Alternatively, you can use an appointment scheduling app to streamline the process by sharing your availability and having others book a suitable time slot.
How is appointment scheduling crucial in healthcare?
Appointment scheduling is crucial in healthcare as it ensures proper organization and coordination of patient visits, consultations, and treatments.
Efficient scheduling helps healthcare providers manage their time effectively, minimize wait times for patients, and ensure optimal care and access to medical services.