Introduction
Is Shopify your favorite shopping platform? Do you enjoy binge-watching tv shows on Netflix? How about connecting with folks around the globe via Twitter and LinkedIn?
If so, you should know that these popular web platforms are SaaS (software as a service) applications. The prevalence of on-demand software proves that software programs now dominate all aspects of life.
Modern technology has rapidly advanced, resulting in more firms and entrepreneurs offering their services online for free, making it difficult for the general public to keep up.
As a result, the demand for sophisticated software and hardware management in delivering applications via the Internet has increased. Eager to know more about SaaS apps?
In this blog, you will learn about SaaS, its importance, and the best SaaS apps of 2022. Continue reading to learn more!
What Are SaaS Apps?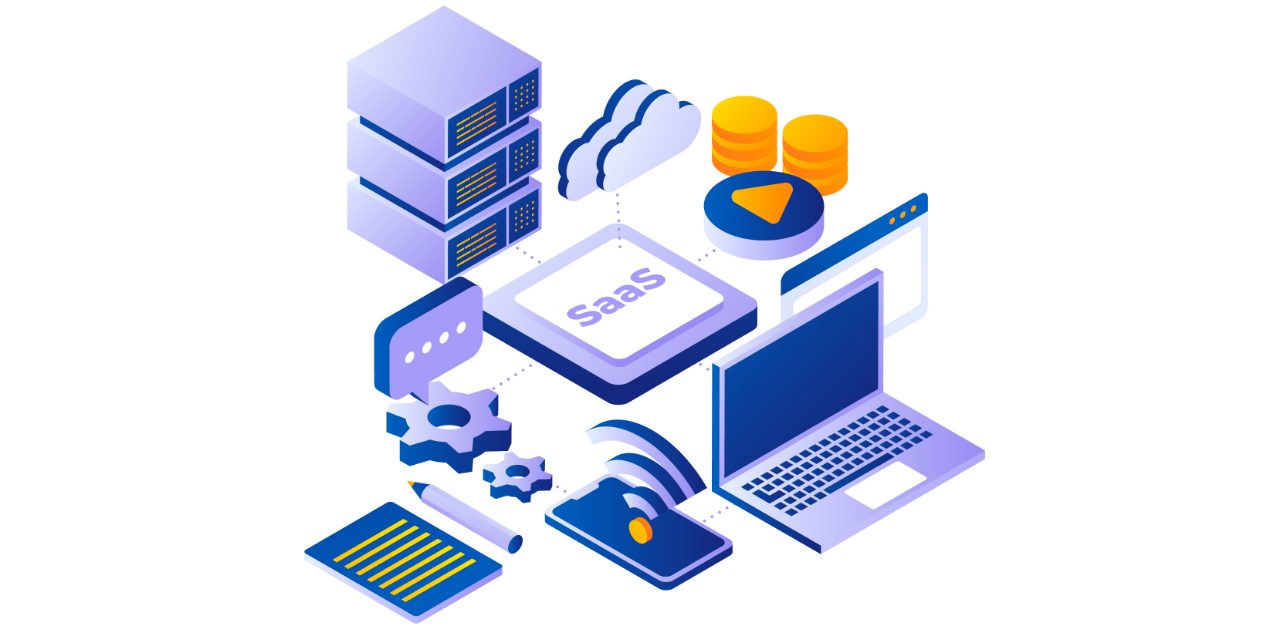 The method of deploying applications over the Internet is known as software as a service (SaaS).
One can avoid complex software and hardware maintenance by accessing software over the Internet rather than installing and maintaining it. SaaS apps are also referred to as hosted software, web-based software, and on-demand software.
Regardless of their name, SaaS apps are hosted on the servers of a SaaS provider. Security, accessibility, and performance of application access are all managed by this provider.
The SaaS industry is anticipated to increase to $716.52 billion by 2028 as more brand-new SaaS solutions enter the market.
Top 8 Saas Apps of 2022
Choosing the best SaaS apps or tools can be overwhelming due to the flood of activity among SaaS companies and the innumerable startups emerging to be a part of the buzz.
Here are the best SaaS apps of 2022:
1. Webflow
Webflow is an online drag-and-drop tool for creating, designing, and hosting. Webflow's no-code development platform automatically generates HTML, CSS, and Javascript through pre-designed parts and customizable components.
2. Github
Software developers can save, maintain, and distribute code with a version control system using Github, an open-source community, and source code management system.
3. Adobe Creative Cloud
Users get access to various programs used for graphic design, video and photo editing, and web development through Adobe Creative Cloud, a collection of applications and services from Adobe.
4. Atlassian
The enterprise software company Atlassian makes tools for task management, document collaboration, software administration, and development. Jira and Trello are two of Atlassian's well-known technologies.
5. Zoom
We all know what Zoom is—after all, who doesn't? It is a cloud-based webinar, chat, and video/audio conferencing platform. Individuals and several enterprises use zoom.
6. MailChimp
A platform for email marketing called Mailchimp allows marketing groups to segment consumers, create newsletters, automate email distribution, and contact their target market. Furthermore, MailChimp will enable marketers to design and host landing pages.
7. Hubspot
HubSpot is a platform for marketing, sales, and customer care teams that manage customer relationships. Hubspot has many capabilities, including social media management, list segmentation, paid ad tracking, email marketing, and more.
8. Microsoft
Microsoft Word, Excel, PowerPoint, and other productivity tools are all included in the Office 365 suite. In 2022, Microsoft continues to host one of the most established and widely used application tools.
Types Of SaaS Solutions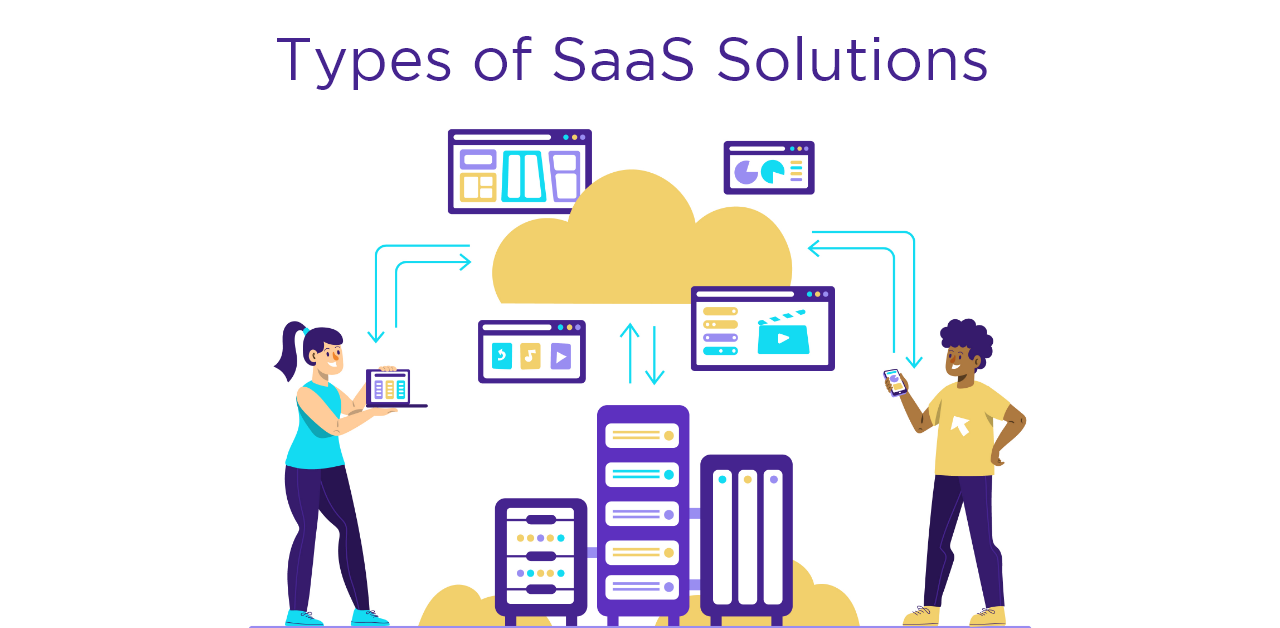 SaaS apps have increased significantly since the pandemic as remote work has become the norm, and numerous businesses have chosen a digital marketing approach. Since SaaS apps can handle the current difficulties brought on by the outbreak, many businesses are embracing saas.
SaaS apps come in two different varieties: horizontal SaaS apps and vertical SaaS apps.
Big businesses can operate effectively and efficiently while serving a wide range of clients from many industries using a horizontal SaaS business model. It is simpler for them to grow or market their offerings with this methodology. Numerous cloud services, like Salesforce, Microsoft, Slack, Hubspot, etc., leverage horizontal SaaS solutions.
On the other hand, vertical SaaS solutions concentrate on a single sector. This concept develops solutions for the problems and requirements of specialized sectors by focusing on verticals. Guidewire, a company that exclusively develops software for insurance companies, is an example of a vertical SaaS solution.
Benefits Of Using SaaS Apps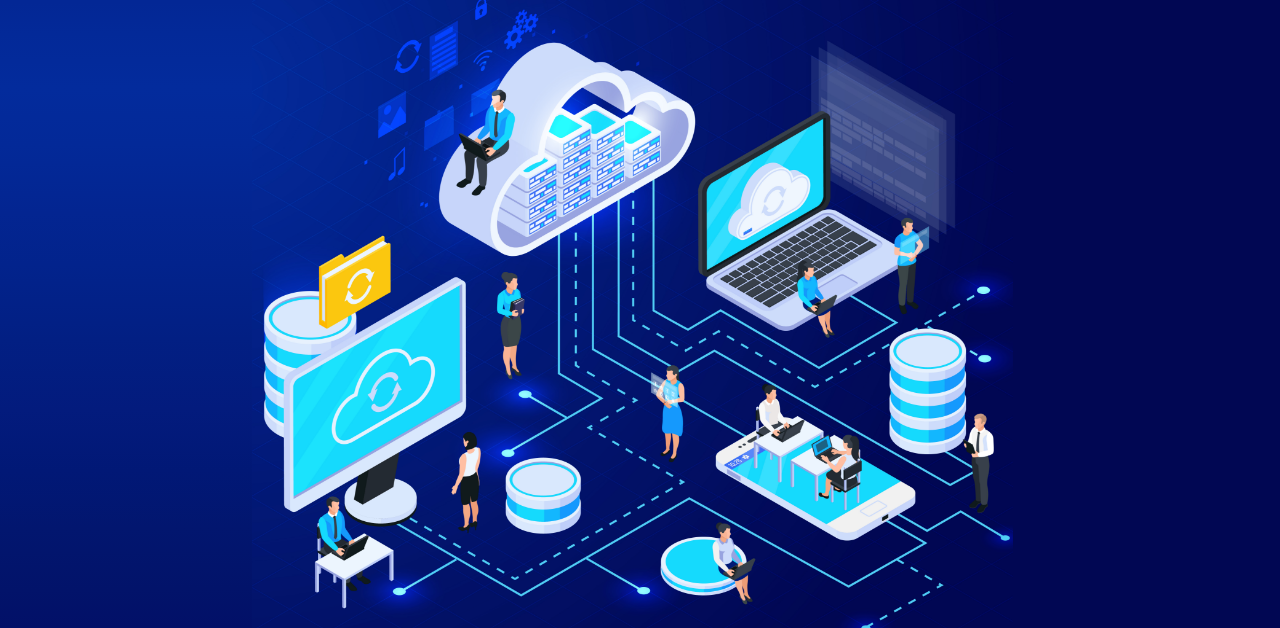 Numerous firms cite improved productivity and cost-effectiveness as the main benefits of utilizing cloud-based SaaS apps.
Nevertheless, here are a few key benefits of SaaS:
1. Minimal Setup Costs
One should only pay for what they need, not for capital expenditures that will subsequently need to be documented on their balance sheet. This reduces the initial cost for setup.
2. Accessibility
Work from anywhere using a desktop, laptop, tablet, mobile, or networked device by simply connecting to the web.
3. Scalability
As a firm expands, one can adjust the requirements of the app as per the number of users, the volume of data, and the functionality needed. This results in high scalability which can be profitable.
4. Service Level Agreements
A service level agreement is a legal document that outlines what a SaaS vendor's product will provide and what the customer can expect from the SaaS provider.
5. Frequent updates
Providers frequently offer upgrades thanks to their vast scale and feedback regarding their consumer's needs.
6. High Security
All users profit from the security level established for those apps with high demands since all the users share the same service. Hence one can be assured that their application is secure.
Where To Buy SaaS Apps?
Users can discover and purchase dozens of SaaS apps on the AWS Marketplace.
Users can procure SaaS apps directly through the seller's website or API on the AWS Marketplace. Users may easily manage their subscriptions through AWS Marketplace with no additional fees.
There are two ways to buy SaaS applications through AWS Marketplace. First, SaaS subscriptions—allow users to only pay for the services they utilize each month.
Second, with- SaaS contracts, upfront payments for anticipated usage with monthly or yearly durations are required.
One can pay extra for any services they utilize monthly for supported products not already included in their initial commitment. Together, these choices make it more likely that consumers will only pay for the services they use and receive billing from AWS.
Future of SaaS
SaaS and cloud computing has developed significantly in recent years. SaaS integration platforms have become more popular due to increased awareness and adoption of SaaS goods.
The cloud strategy can help firms develop comprehensive, integrated solutions, allowing them to focus on their core capabilities while outsourcing a range of hardware and software IT difficulties to service providers.
SaaS apps may one day assist with essential business difficulties like identifying which customers will depart or what cross-selling strategies are most effective for a company.
Given the daily increase in the need for high-volume data, software performance, and backup, it's understandable why so many firms prefer to outsource to cloud-based services.
According to Gartner, the market of SaaS apps is flourishing at a compound annual growth rate of 18%, and in 2022, sales will increase by a sharp 80% in just five years to $143.7 B!
Conclusion
It is incredible to see how quickly SaaS apps are developing every day.
It's understandable why so many firms are choosing SaaS apps in a world where requirements for backups, software performance, and significant volume of data are constantly changing.
SaaS apps automate the primary laborious processes involved in software maintenance. They also help with disaster recovery and data protection, as well as flexibility and agility in growing the application to keep up with growth.
Want to create a unique on-demand application of your own?
Look no further! AppsRhino, the market-leading platform for developing applications, is at your service.
Contact us immediately and start building the app of your dreams!