You suddenly desire chocolate or ice cream in the middle of the night, but where can you go to satisfy it? Even so, is it possible? It is, indeed! You may fulfill all of your cravings whenever, whenever, and in a shorter amount of time.
The popular and user-friendly on-demand grocery delivery app makes it possible to purchase it online simply. So to what does it allude? Let's look at the quick overview before moving on to the comprehensive guide for developing grocery apps. How do you obtain one?
You might be astonished to learn that, in the US, roughly 54.3% of consumers ordered their groceries online last year.
The market for all food delivery services might be worth $320 billion by 2029. BigBasket is one of the most well-known grocery delivery services available today. Yet, if you note a few things, your BigBasket clone app can overthrow it.
If you run a grocery store and wish there were ways to increase your daily revenues, you may be discouraged to see BigBasket and other online grocery stores snatching up a sizable portion of the market. Read ahead to learn why you should create your BigBasket clone app!
Benefits of creating a BigBasket clone app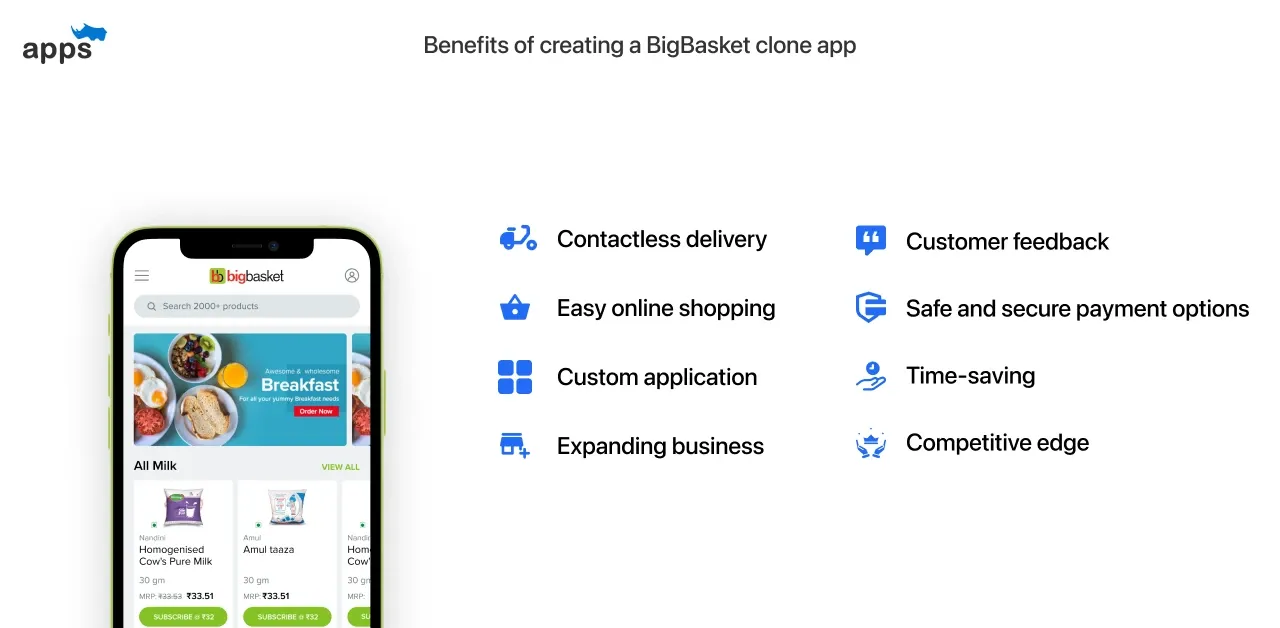 1. Contactless delivery
The pandemic saw the biggest use of this strategy. The populace began to keep their distance from strangers and the crowd. Also, at this time, entered companies that developed grocery delivery apps. To minimize touch with the delivery person, businesses began offering the option to select drop at the door or no contact choices at the delivery time.
2. Easy online shopping
Easy online purchasing is one of the main advantages of developing the BigBasket clone app. Customers can effortlessly buy any food-related items online by utilizing this app. Also, it offers the convenience of delivering anything anytime to your door.
3. Custom application
By conducting the necessary market research, you may also have your BigBasket clone app developed specifically to meet the market's needs. Consumers will start receiving the features they are missing in the rival app and choosing you instead, which might increase user engagement. Your application's reach will be strengthened as a result.
4. Expanding business
Every business owner aspires to expand and advance their enterprise in the modern world. One of the greatest approaches to get the required results is to develop the offline store into a multi-person online grocery business like BigBasket. The sector can even be exploited through its internet presence to reach a global audience. Also, it might increase the worth of the company to clients.
5. Competitive edge
The fact that your rivals are already developing this idea and making money is one of the biggest justifications for investing in a BigBasket clone software. It will increase the competition in the market.
6. Customer feedback
The applications can advance the service by soliciting the necessary comments from the customers each time they place an order. It contributes to customer happiness and areas for store service development. Also, it fosters trust so that the next time, it is applied without hesitation.
7. Safe and secure payment options
Users are frequently frightened and worried about security when accessing an application. The organization offers the best features to ensure everything is safe and secure. And because of this, users benefit because they may place orders with the many options provided at the store and don't have to worry about making payments.
8. Time-saving
Going grocery shopping and waiting in line for billing can be annoying. It takes a lot of time to pick up items, travel, and return from processes; this time could be better spent doing other things. But those who want to skip food shopping and save time will find things simple with your BigBasket clone app.
Features to include in your BigBasket clone app (Buyer App)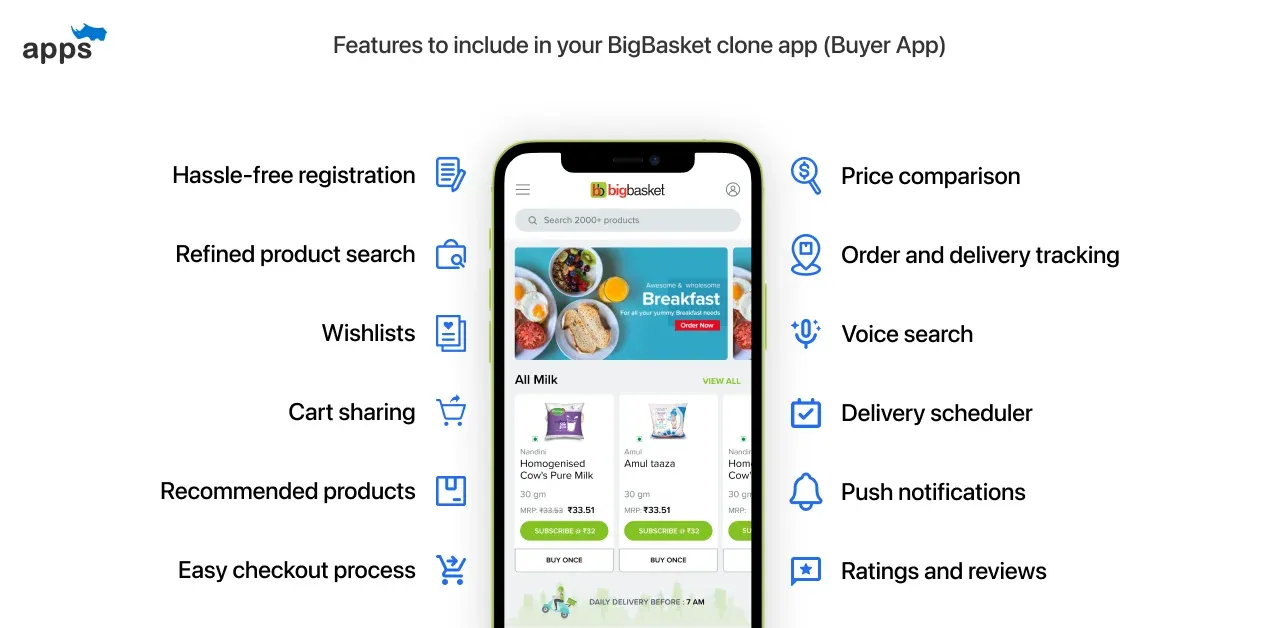 1. Hassle-free registration
The registration procedure for your BigBasket clone app must be easy to use and straightforward. Several social media profiles that provide easy access to customers could be a terrific approach to keep them and attract more visits.
2. Refined product search
The intelligent search must be included in your BigBasket clone app because it will enable consumers to quickly identify desired items using specific keywords without browsing the whole app.
3. Wishlists
Using this option, a client can save an item for further purchases. Grocery products can be added to a customer's wishlist for a later purchase.
4. Cart sharing
This function is excellent for boosting cart value and decreasing cart abandonment rates. Customers may share their shopping carts with friends and family via the cart-sharing option.
5. Recommended products
This function will show the recommended product list based on the user's past search preferences. Also, making specific product recommendations is essential in raising the average order value of your online store.
6. Price comparison
Another essential feature of a BigBasket clone app is the ability to show consumers the prices of competing brands for comparable goods. Customers can compare similar products using this feature without leaving the app.
7. Order and delivery tracking
Users can track their orders from the point of dispatch to the anticipated delivery date.
8. Voice search
Your BigBasket clone app will significantly benefit from adding voice search functionality. Users can search for products or place orders using voice commands.
9. Delivery scheduler
Users can now plan their deliveries as it suits them. During the checkout process, consumers can choose a delivery date for their product.
10. Push notifications
It is a fantastic feature for boosting user interaction and encouraging app usage. You may inform your customers about flash sales, ongoing specials, and more via push notifications.
11. Multiple payment options
Your consumers will appreciate how simple it is to complete payments quickly if your BigBasket clone app accepts various payment methods, such as cash on delivery, credit, and debit cards, digital wallets, net banking, etc.
12. Easy checkout process
This function is essential to add to your BigBasket clone app to give customers a memorable purchasing experience. Conversion rates will rise, and users can order in just a few simple steps with a streamlined checkout procedure.
13. Ratings and reviews
Customers can share their shopping and browsing experiences using reviews and rating systems. This functionality will be essential in fostering client confidence.
Steps to create your BigBasket clone app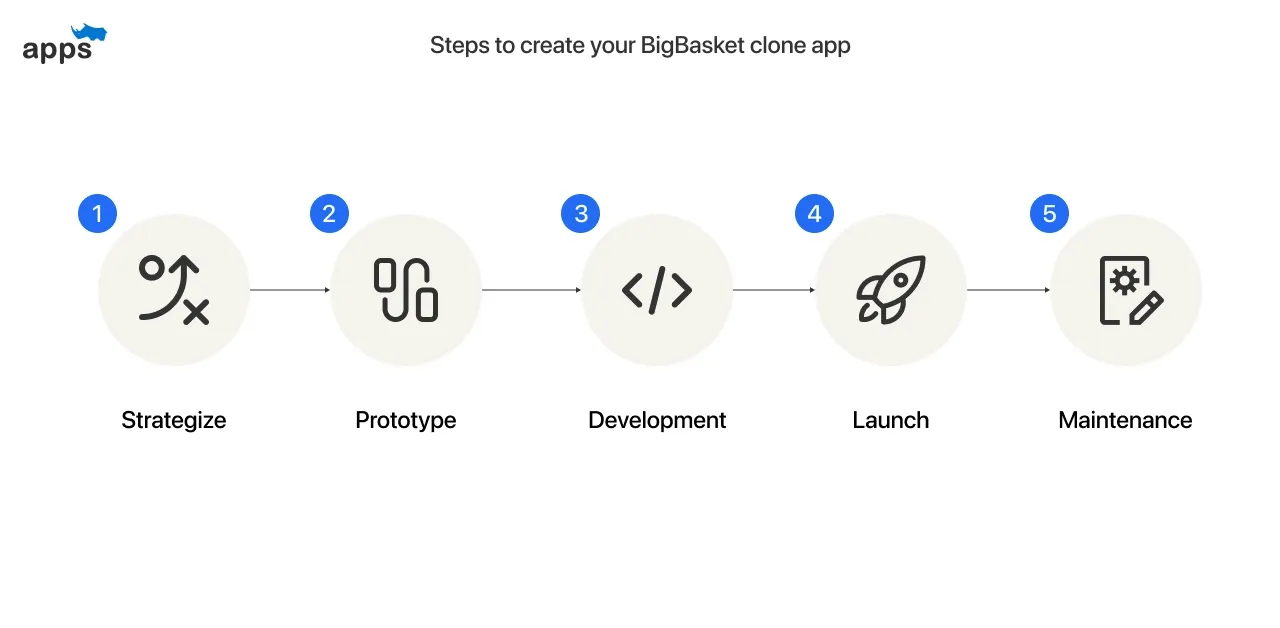 1. Strategize
You can determine the key elements of your BigBasket clone app based on the business model you select. Consider a scenario in which you collaborate with a delivery service. In that situation, you can stop using certain courier apps or switch to text notifications with order information.
The same may be true for customers, who can begin using mobile websites without a specific app and receive order information via text messages.
2. Prototype
The following step is to create an interactive prototype and test your BigBasket clone app with the intended audience. As you can see, the parts of every software development project that require the most resources are the development and testing phases.
An interactive prototype, however, takes less work to make. Furthermore, since no code is required, you can iterate quickly toward your desired results.
The process is complex because UX/UI engineers must still consider user journeys and translate them into wireframes and mockups.
3. Development
Everything you have planned, especially the components relating to the User Interface and User Experience, will materialize (the iterative development process). Your team will create every feature and element of this BigBasket clone app, and your QA team will test it for bugs.
In a word, this stage requires you to verify that your BigBasket clone app has every feature that was agreed upon and to fix the problems your target audience is experiencing.
4. Launch
This stage takes little time and is relatively simple. Developers can take the online component into a production environment and publish their BigBasket clone app to the App Store and Google Play.
Some businesses need to build up the DevOps environment while doing development. Make sure to implement the CI/CD pipeline at the very least before publishing your BigBasket clone app.
It is necessary to speed up the future deployment of updates. Said, the CI/CD system ensures that new updates may be sent to clients in minutes instead of hours or even days.
5. Maintenance
The maintenance step constitutes more product development. You will undoubtedly develop new features and enhancements as you launch a BigBasket clone app and start tracking its performance, problems, and user engagement.
The fact that artifacts from the maintenance phase, such as app usage data and issue reports, relate to the development (and for new features, to prototyping/design) stage is particularly convenient.
Conclusion

The internet grocery business has a bright future. The change in customer behavior has ushered in the prime time for grocery delivery services.
It takes more than building a responsive application to create a BigBasket clone app successfully. You should invest work into developing a perfect business plan enabling your startup to expand.
Hence, investing in a BigBasket clone app will be the best action. Thus, if you're an entrepreneur looking to create a BigBasket clone app, contact AppsRhino immediately. Our team of experienced developers will support you throughout your BigBasket clone app creation journey.
Contact us today to start your journey.