Introduction
Are you sure you are not playing it by ear regarding developing your professional healthcare apps? Do you have a plan to adhere to while going about your healthcare apps' launch and development? Are those plans and your sources of information reliable and authentic? Do you have everything required in your arsenal to ensure a seamless app development journey?
You might ask why all of these questions matter. They matter because you can find more than 350000 mHealth apps on all the major app stores today. It signifies that people can dump your healthcare apps if you do not provide novelty, uniqueness, and a seamless user experience.
People have started embracing healthcare apps because, according to the Boston Technology Corporation, 73% of patients now use wearables and mHealth tools to cope with and manage their conditions. It shows that if your healthcare apps prove their mettle to your target audience, they will accept these apps and vouch for them.
Consequently, it has become mandatory that you chalk out your plans, designs, and everything before you hop on to the first phase of app development. But where will you get the required information for developing healthcare apps?
You do not need to scratch your head! Here, we will tell you about the five must-read healthcare blog posts to read before launching your healthcare apps.
What are healthcare apps?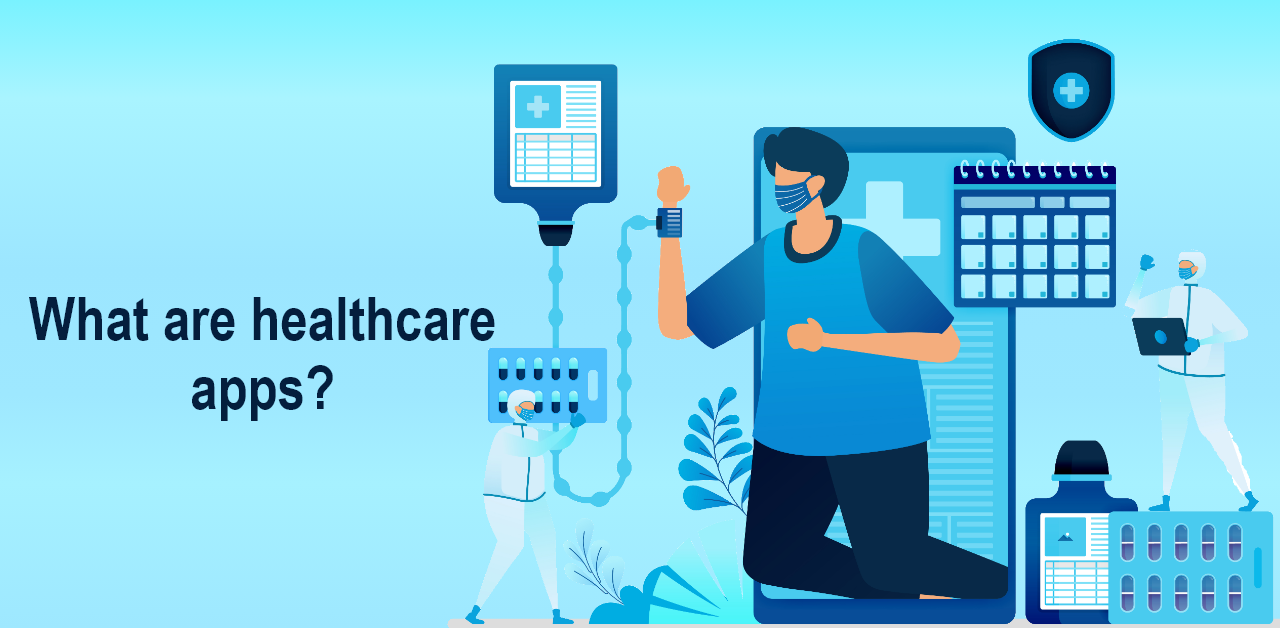 Healthcare apps are specifically designed to provide health-related services to people via tablet PCs and smartphones. People can use these apps while on the move or from the comfort of their homes.
People can purchase several types of healthcare apps on app stores. These help them make healthier choices in their daily lives with the help of fitness and nutrition-related information from these apps.
Another type of healthcare app exists that helps doctors and patients to interact without sharing the same room and get their treatment done.
Today around two-thirds of the largest hospitals in the United States of America offer mobile health apps.
Now that you know what a healthcare app is let us read about some of the best healthcare apps.
What are the best-selling healthcare apps?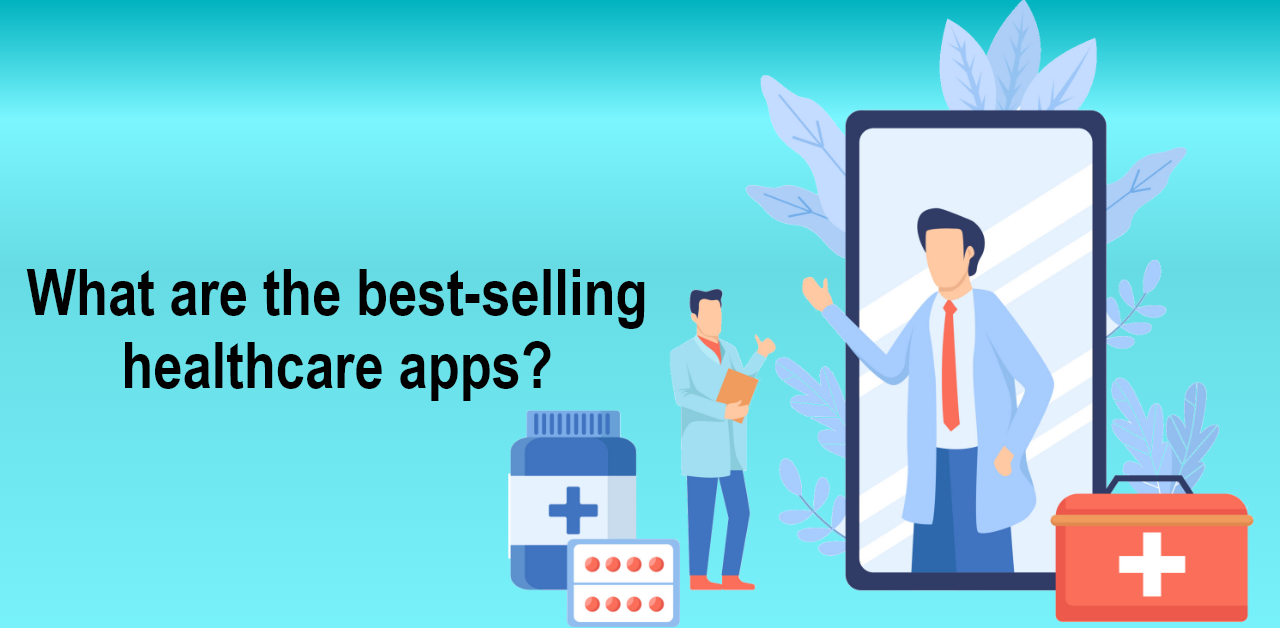 Here we will tell you about the popular types of professional healthcare apps on the market.
Several types of healthcare apps are available today, and a few of them are as follows:
Reminder apps

Doctor consultation apps

Medical records apps

Women healthcare apps

Medical training apps

Apps for managing chronic diseases

Mental health apps

Pharmacy delivery apps

Apps that improve safety and compliance

Apps that capture and analyze data
A few examples of popular healthcare apps are:
HelloMD

Doctors on Demand

Epocrates

Microsoft Health Vault

EyeCare Live

Better Health
We know people use healthcare apps to learn how to lead healthy lives. And there is another type of healthcare app helps hospitals manage their work and relieve their staff of monotonous tasks. Let us now read why the second category of healthcare apps is significant to medical organizations and patients.
How do mobile health apps reduce the cost of healthcare?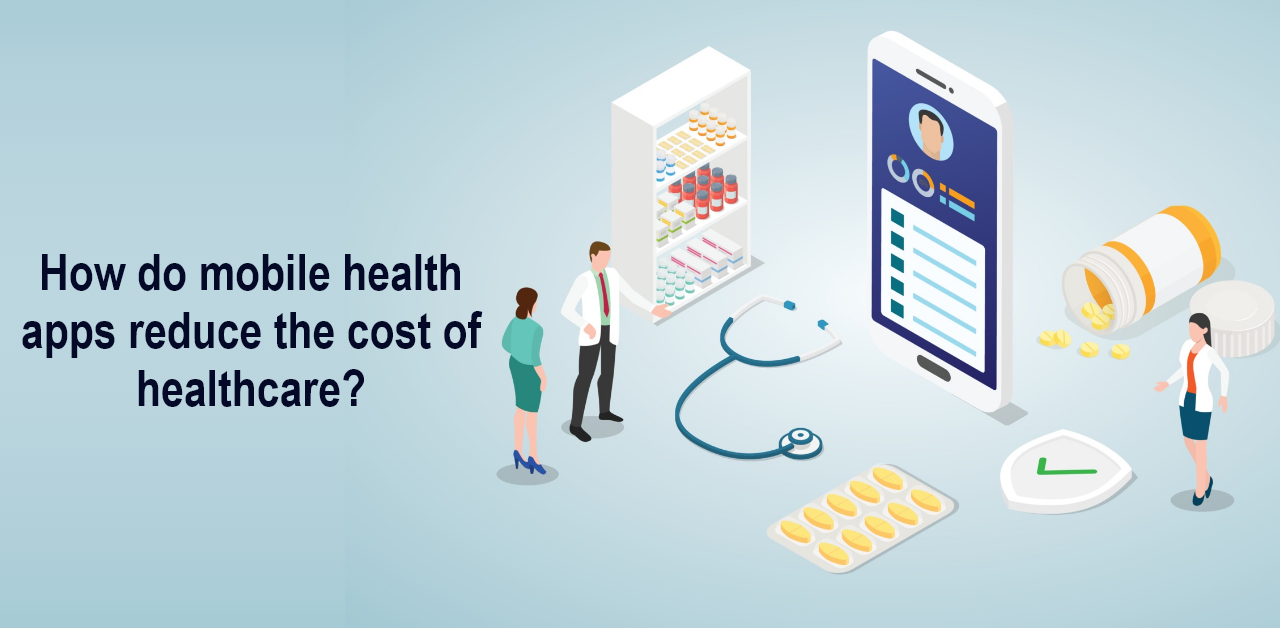 They reduce costs for healthcare in the following ways:
Healthcare apps let doctors check patients' progress without going through many files. Also, there are times when patients misplace their reports, complicating the check-up process. However, doctors can tackle such situations easily with the help of professional healthcare apps.

When reports are digitally generated, there are fewer chances of human-induced errors; people can get more accurate information. Moreover, organizations will not need to pay employees more for basic tasks such as appointment booking, maintaining various records, etc., as these no longer require human intervention.

Healthcare apps also let patients know more about their condition and progress. As a result, patients need not visit hospitals for minor issues, thus reducing their spending on treatments. Besides patients, even doctors enjoy this benefit as they can now focus on more critical cases.

Healthcare apps can also help people find the way to the desired hospital by employing maps. It also benefits hospitals, as people prefer to go to a hospital they can find easily.

There are instances where doctors need to refer to their patients' old reports and other medical histories. Healthcare apps can store data for a long time, giving patients and doctors access to old and new accounts without worrying about skipping any reports.

This advantage of healthcare apps is solely for doctors and hospitals. These apps can keep track of medical equipment and remind the hospital staff of regular maintenance. Thus, they help make the maintenance process more accessible.
So far, we have learned what healthcare apps are, their different types and how they benefit hospitals and patients. These points motivate you to develop your healthcare apps with great zeal.
The crucial part comes: from gathering the correct information necessary to develop excellent healthcare apps. The next part of the blog informs you of the five must-read healthcare blog posts to read before you launch your healthcare app.
5 Must-Read HealthCare Blog Posts to Read Before Launching A Healthcare App
The five must-read healthcare blog posts are:
Blogs about healthcare technology
You will need to read blogs about healthcare technology. A few such blogs are as follows:
HIT Consultant
HIT Consultant provides content on patient engagement and startups, health IT, digital health, electronic health records, and telehealth.
Healthcare Dive
Healthcare Dive has blogs covering an array of topics. The Health IT section of Healthcare Dive covers everything from artificial intelligence in the medical industry to how the industry has been adapting to EHRs.
Healthcare IT News
These blogs give readers timely, actionable news and analysis of things happening in healthcare technology.
Blogs about healthcare news
The next type of blog you must read is healthcare news.
KevinMD
Several authors contribute to this blog and share their experiences and personal stories as professionals engaged in medical facilities. You will get blogs from surgeons, doctors, nurses, policy experts, medical students, etc.
Modern Healthcare's Vital Signs blog
Here, you will find e-newsletters, blog articles, mobile products, etc., on healthcare business, policy news, and other information/ research regarding the medical field.
Public Health Matters blog, from the CDC
These blogs will help readers discover how public health has evolved so far and new steps are being taken to improve the state of the healthcare system.
Blogs about healthcare policy
The third type of blog you must read is those regarding healthcare policy.
Healthcare Dive
Healthcare Dive also provides content on different policies and regulations in this field. You will find topics like how policy shifts affect Medicaid enrollment nationwide or bipartisan efforts to diminish opioid addiction.
HealthBlawg
HealthBlawg focuses on digital health policy and law. David Harlow, a healthcare lawyer and consultant, discusses digital health regulation, data security, and federal responses to the Opioid crisis.
HIT Consultant
You can also find content regarding healthcare policy in the HIT Consultant's blogs. A few things you can find here are:
How do various policy changes impact the Medicaid population?

Ties between healthcare and net neutrality.
NASHP's State Health Policy Blog
The State Health Policy Blog gives readers insights into topics such as:
State-based marketplaces.

Medicaid expressions.

The culprits behind the increase in healthcare costs.

Mental illness research.
Blogs about healthcare administration
The fourth type of blog you can read is healthcare administration.
Healthcare Dive
The Healthcare Dive's blogs also give information on hospital administration. Here you can anticipate topics such as the long-term impact of healthcare megadeals, physician burnout, and the top hospital systems according to patient satisfaction ratings.
Fierce Healthcare
Fierce Healthcare rolls out articles on the latest developments in the industry, such as news and analysis. They also write on healthcare management tactics and workflow improvements.
Kaiser Health News
Kaiser Health News is a non-profit service that gives in-depth insights into how the healthcare system works (including consumers, governments, hospitals, insurers, doctors, and nurses) and different healthcare policies.
Blogs about healthcare marketing
The fifth type of blog post to read is the ones on healthcare marketing.
Physicians Practice
Those immersed in the healthcare industry can benefit a lot from the blogs of Physicians Practice. Here you will find articles on tactics to tempt patients to return to your hospital, the pros and cons of outsourcing marketing, etc.
These articles will help healthcare professionals.
Health Care Communication News
Health Care Communication News offers PR, mobile health, social media, and marketing sections. Reading these blogs will help one strengthen and improve their healthcare marketing by reading the pieces of advice that eminent healthcare professionals provide.
Conclusion
Today healthcare apps have a deficient number of downloads (less than 10000). This number is nothing compared to the number of apps on the market. However, there are ample opportunities in healthcare and fitness apps, as one can expect the healthcare app development market to touch $102.43 billion by the end of 2022.
You can make it big in this field by figuring out the pain points and ensuring that you come up with means of tackling them for your healthcare app users.
You must realize that to nudge your audience to download your healthcare apps; you need to provide what your contemporaries do not. This way, you guarantee that you have users for your newly launched healthcare apps.
Another thing you must do is act on the feedback you get from your app users. Whatever we have shared with you is necessary. Still, the most crucial things are your healthcare apps' working, designs, functionalities, features, etc.
You can obtain the best team to execute these tasks for your venture, and you need not look for them anywhere! Yes, you read that right. All you need to do comes to AppsRhino, and we will deliver the best healthcare app ever!