Introduction
Are you in awe of how Etsy has managed to be a platform with thousands of sellers and buyers? Do you want to replicate the success of the said platform and become one of the best marketplaces for sellers and buyers?
The good news is that you can achieve the feats and success of Etsy with an Etsy clone.
Today, this platform has 4.36 and 81.9 million active sellers and buyers, making it the fourth fastest growing eCommerce company. You will be astonished that these sellers are from 234 different countries.
Apart from it, numerous other online marketplaces exist, such as Amazon, Facebook, and eBay. Then why is Etsy still popular despite several rivals?
The platform in discussion differs from Amazon regarding their respective natures. Amazon has a horizontal approach, whereas sites like Etsy have a vertical approach, and this approach tempts several people globally.
If you are toying with launching an online marketplace with the vertical approach, here we will tell you the seven reasons why developing an Etsy clone app is beneficial!
What is Etsy?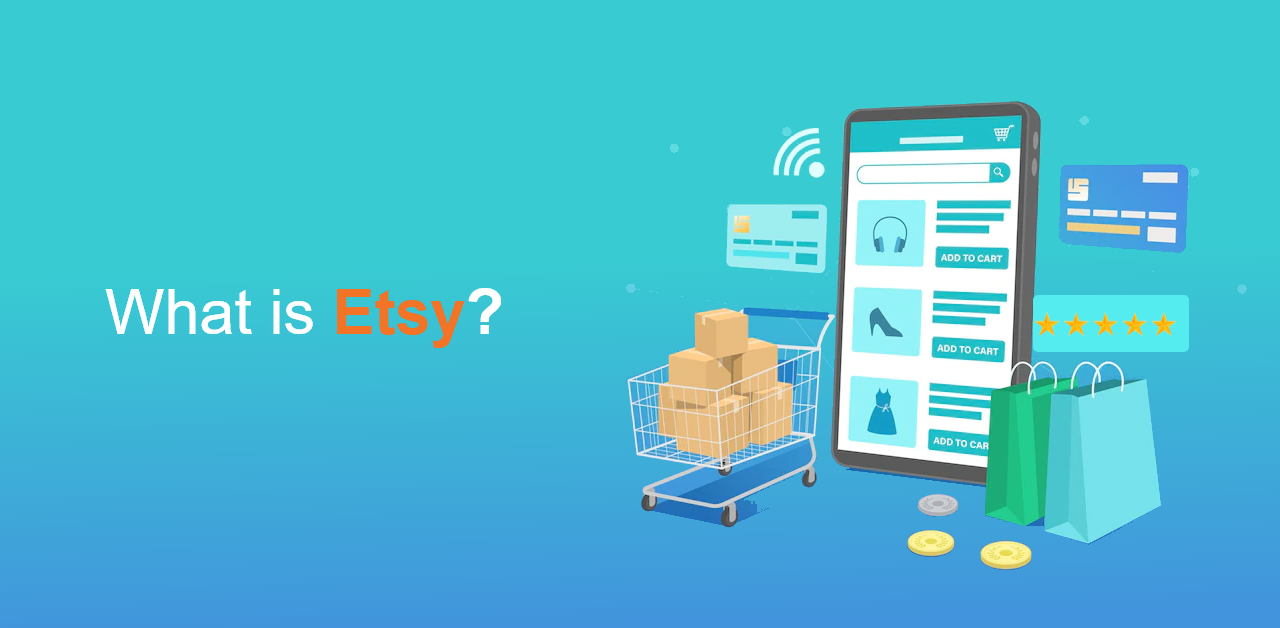 It is an online marketplace that provides independent crafters and artists a platform to sell their goods to a large audience. It directly employs 1209 workers. If you utter the word "Etsy" anywhere, the people around you will conjure up the following things:
vintage furniture

handmade toys

collectibles

holiday items

clothing

jewelry

art (portraits, glass art, fibre arts, painting, calligraphy, sculpture, etc.)

home goods

crafts

and craft supplies.
Thus, people with a penchant for handmade and vintage goods can discover appropriate sellers who deal in such products and items.
Have you ever wondered why such platforms are popular amongst the masses despite the existence of the Amazon online marketplace and the likes? You will find the answer below:
Why are online marketplaces like Etsy popular amongst the masses?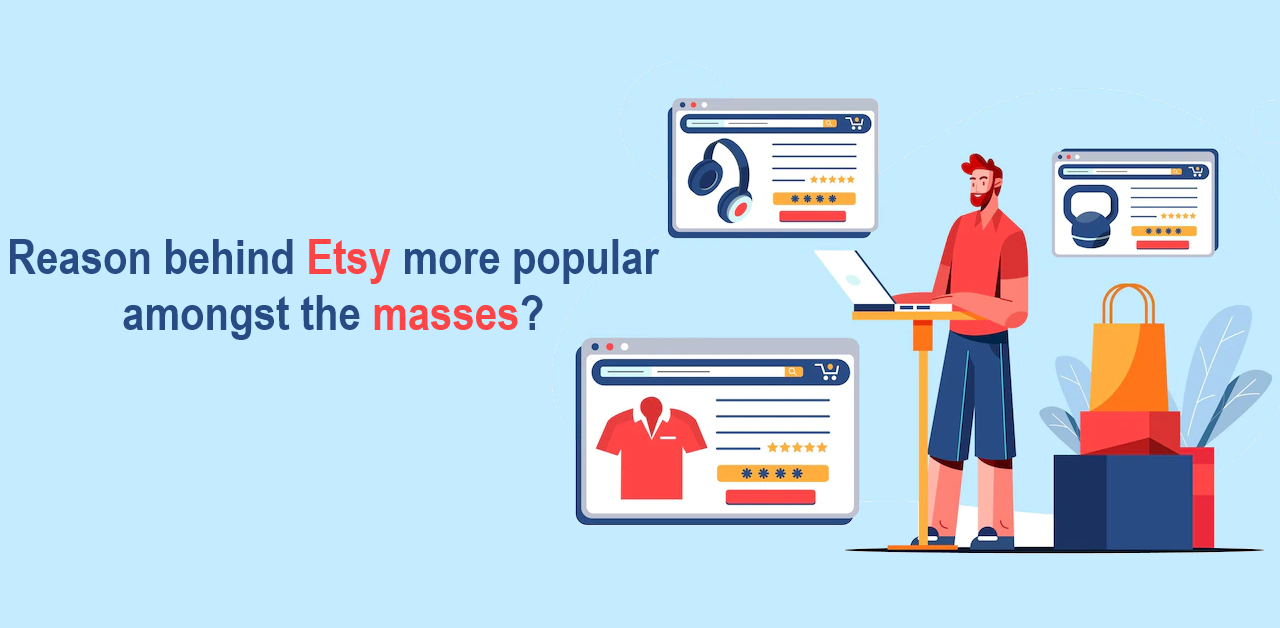 The reason why the said platform and its peers are popular are as follows:
Exclusive goods
All the goods you find on this platform are either handmade or vintage, meaning you can even purchase an item made a decade ago.
P2P commerce
Unlike other platforms where customers talk to companies through a support manager or SMM, buyers talk to sellers directly on Etsy.
Community
Like-minded people can share their experiences, interact with, and motivate one another on this platform, which is missing on other online marketplaces! Such an arrangement lets artists form a community that can help them grow.
What are the seven reasons to develop an Etsy clone app?
These are the seven reasons for the Etsy clone app that will help you make a sound decision.
Easy Payment Options
The online payment feature is the first reason to develop an app like Etsy. People prefer to pay digitally due to the pandemic and will at least try out a platform that offers this facility.
Listing Charges
You can ask your sellers for a fee, and in exchange, you can let them list their products on your platform.
Sales Commission
You can charge sellers a transaction/ commission fee for every sale they have via your Etsy clone.
Advertisements
You can let third parties advertise their products and items on your platform, for which you can ask them a small amount of fee.
Subscriptions
You can provide some extra tools and features to sellers willing to pay more or buy a subscription to increase their sales. Thus, those who want to access advanced features and tools will pay you a fee.
The availability of web analytics
Another reason to develop an Etsy-like online marketplace is web analytics. When you provide sellers with web analytics, they can see what works for them and what does not in terms of SEO and other marketing strategies.
Thus, the availability of web analytics guarantees that you have users for your app.
Easy setup
Etsy and its clone offer sellers an easy means of opening a shop online. It means people sans coding and technical knowledge can also set up a shop without hassles.
Thus, the ease of opening a shop also adds more users to your audience base.
A few more reasons are as follows:
Convenient to Use
The convenience of use is the second reason developing such an online marketplace will benefit you.
People can use your platform to order products even from the comfort of their homes by just tapping on their mobile screens. Such a hassle-free way of buying goods lures more people to try your Etsy clone.
Thus, a convenient and easy-to-use marketplace attains and retains customers and profits you eventually.
Power to Choose the Seller
The third reason is the power to select the sellers. People are more likely to go for an online marketplace that allows them to choose their vendors.
For instance, every shop has one vendor, and buyers will need to visit another if they are not pleased. But in the case of an Etsy clone, they will find numerous vendors for a particular product in one place.
Bridges the Gap
Small businesses will march towards your platform as it focuses on building a bridge between sellers and buyers, making it the ideal place to connect for these two groups.
Also, small businesses reach a wider range of audiences when they open a shop on Etsy and the like.
Online Shopping is Here to Stay
Undoubtedly, people changed how they shopped when the pandemic occurred. Now, you seldom see people go out to purchase things.
Thus, if you give people a way to order things from their houses' confines, they will shop via your platform.
What is the business model of Etsy?
The business model of this online marketplace is as follows:
Key partners:
Payment Gateways

Artists

Local Organizations

Small businesses
Key Activities:
Customer Support

Online Marketing

User Management (Buyers)

User Management (Sellers)

Managing and innovating infrastructure

Managing Payments
Key resources
Etsy platform

Buyers interested in unique products

Artists community
Cost Infrastructure
Local events for sellers

Website maintenance

Marketing and customer acquisition

Salaries to permanent employees
Value proposition
Buyers:
They can pay online using their cards

Ability to buy unique items

Worldwide shipping available on most items
Sellers:
They can sell their goods online

They can set up a shop on Etsy

Sellers have the freedom to choose their products' selling price.

Sellers can sell vintage items and add tags to all of their products.

Easy and secure payouts.
Customer Relationship
Local events

Social media

Review, rating, and feedback system.

Customer support
Channels
Android and iOS apps

Websites
Customer Segments
Buyers:
Those interested in purchasing unique items.

People who love handicrafts.

Those with a penchant for vintage items
Sellers:
People who make handicraft products.

Small businesses in the handicraft sector.
Revenue Streams
Advertisement revenue from the featured shops.

Listing fee of $0.20 for four months.

Commission 3.5 percent of the sale revenue.

Listing renewal fee of $0.20 after four months.
Let us read about the Etsy clone scope below.
What is the working process of an Etsy clone?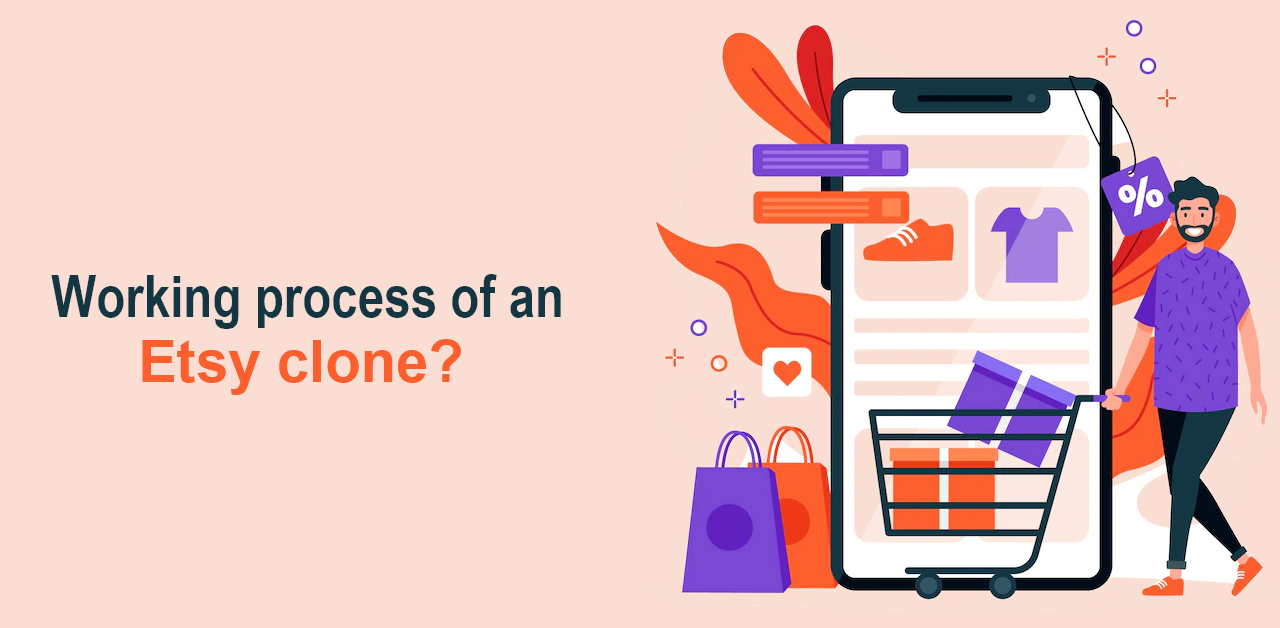 The Etsy clone scope is as follows:
Sellers and buyers need to register before they can start using the platform. They will be required to share their email id, social media credentials, and phone numbers.

The Etsy clone will require sellers to log in from the next time on. If sellers wish to add products, they must provide authentic details too. The platform will take time to approve and feature goods. Once approved and posted, buyers can see these goods while surfing the site.

The Etsy clone lets buyers search for different items and products via text or the voice search feature.

Once buyers like a product, they can click on it to know its details. After reading the details, they can add it to their Wishlist or add it to their cart to buy immediately.

When a buyer proceeds to checkout from the cart, they will redirect to the payment process. As a buyer finalizes the payment, the seller receives a notification regarding the order. At this point, the seller can accept or reject it as it pleases them. In either scenario, the buyer will receive notifications.

Your seller will dispatch the items on the due date of delivery. A delivery agent from the Etsy clone will get the package and deliver it to the buyer's doorstep. Buyers can pay at the time of delivery or online before. As soon as the payment is made, the app, the seller, and the delivery executive will obtain their commissions.

After the delivery of the product, buyers will need to rate and review various aspects of their experience with the Etsy clone platform. Doing so gives them the freedom to rate, review and even place a complaint. The app then acts on the feedback received and even replies if needed.
Let us now read the Etsy clone future to let you decide whether you should develop one.
Conclusion
Developing an app is always challenging, and it gets way more difficult when you decide to launch something that already has several competitors. The reason is that the audience gets segmented and uses different apps for the same purpose.
In the case of an Etsy clone, things are bound to become more difficult since the original platform already has several users (sellers and buyers).
Thus, if you want to dethrone the original and eye the coveted title of being the best online marketplace, you need to let your creative juices flow.
Besides thinking of out-of-the-box ways of making your platform unique and appealing to the masses, you need one more thing. A competent team of developers, designers, testers, etc., is what you need to make your idea a reality.
If you think finding such a proficient team is an uphill task, you need not worry, as the best one is right in front of you. Come to AppsRhino to get a fantastic app for your venture!