Introduction
Are you looking for NodeJS developers for your project? Maybe you are planning on developing real-time chat apps or an online payment processor. Perhaps you want to launch a new social media platform for people to use and pass their time. Or maybe you wish to build a Content Management System to make huge profits.
Whatever your project is, you can easily find Node JS developers only if you follow this blog!
Are you curious how reading this blog will help you find the best Node JS developers? No need to wonder anymore.
The best place to look for these developers is India. Are you wondering why? Well, you can find the answer below. However, until then, we can tell you the first perk of opting for developers from India.
Hiring Indian developers means you will not need to pay exorbitant fees as the cost of living in India is low.
Do you want to know the other benefits of choosing India to hire your developers? Let us dive in, then!
What does a Node JS developer do?
Before you go ahead and try to hire proficient Node JS developers, it is crucial to gain a basic understanding of what a Node JS developer is.
NodeJS developers are IT (Information Technology) professionals who deploy and maintain network apps. Besides, the onus of managing the data exchange between users and servers is on them.
Moreover, you can expect them to shoulder the responsibility of providing support for front-end developers by integrating web-based apps.
Why should you hire dedicated Node JS developers from India?
We have good news for you if you are on the hunt for adept Node JS developers for your project. You will be pleased to know that you can get your hands on the best developers at highly affordable prices.
Do you want to know how you can get the best developers without spending huge sums of money?
You can opt for hiring Node JS developers from India!
Yes, you read that right!
A few reasons for hiring Node JS developers from India are as follows:
Cost-of-living India is low, which translates into affordable Node JS developers' rates. Thus, you do not have to pay hefty amounts to get the best talent out there.

Indian developers possess expertise in building Mobile applications, SaaS, Data Analytics, Artificial Intelligence, and many more.

GILD states that Indian coders are better at Logic and Math than American programmers. The former fare well in coding tests and rigorous examinations.
There are other compelling reasons why you should hire Node JS developers for your project. These are as follows:
1. World-Class Node JS Development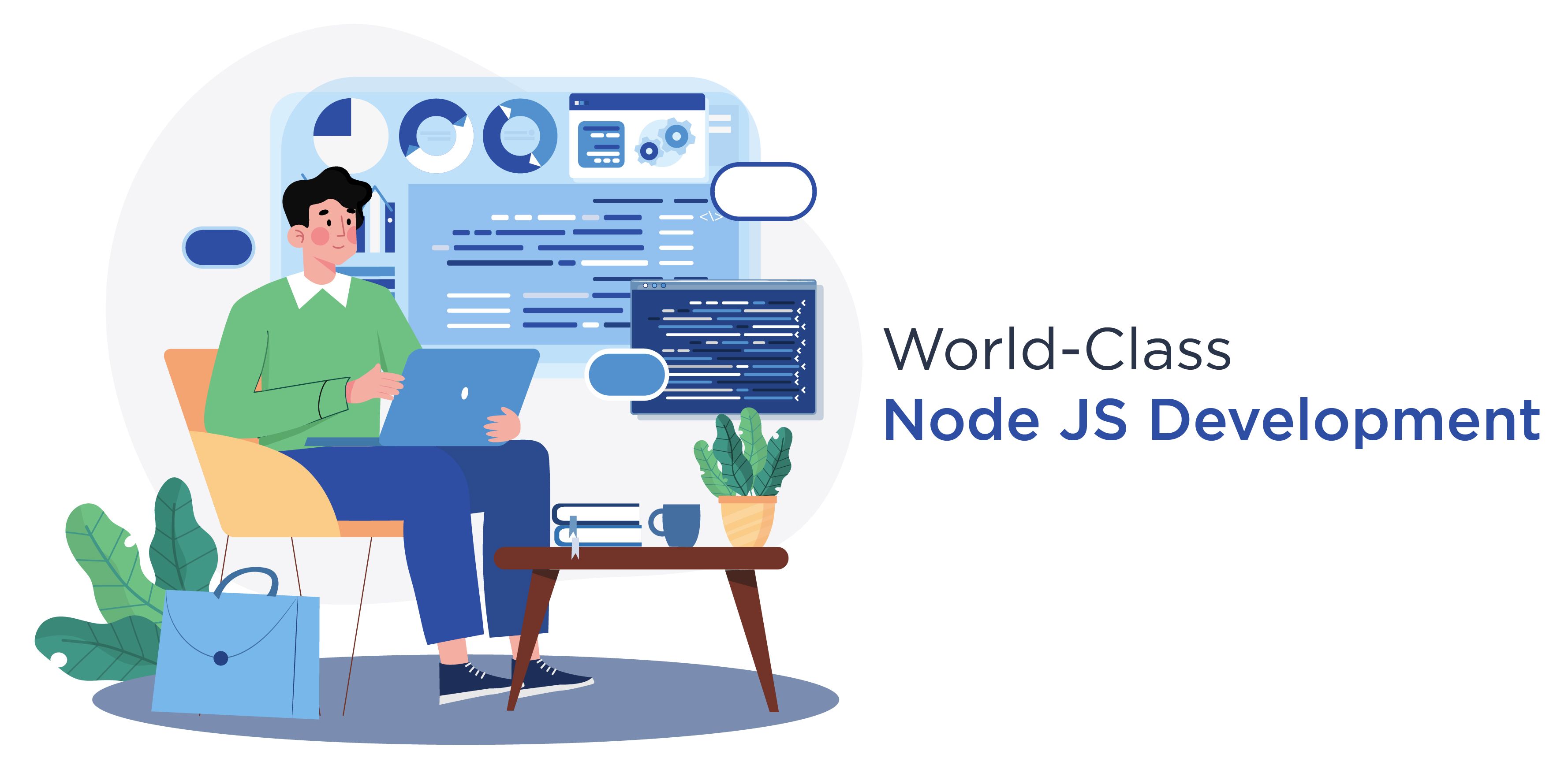 Several companies in India offer impeccable Node JS solutions and can act as the best business solution providers for you. For instance, AppsRhino is one of the development companies you can find in India that can provide you with personalized solutions in time.
2. High Scalability
Do you have apps that use Java for development? Are you planning on adding new features to it or scaling it vertically or horizontally?
In that case, you should definitely hire Node JS developers from India, as these developers can add extra nodes to an existing system without rewriting the entire code.
3. Dedicated Node JS Developers
App development companies give you developers who will work on your project with sheer dedication and devotion. As a result, your developed app will be faster and better than what a freelancer would have provided you.
4. Flexible Hiring
When looking for developers in India, you will come across several app development companies, such as AppsRhino, that offer flexible hiring packages. For instance, AppsRhino provides full-time, part-time, and hourly hiring packages.
Thus, you can choose the model based on your business needs.
5. Adherence to Global standards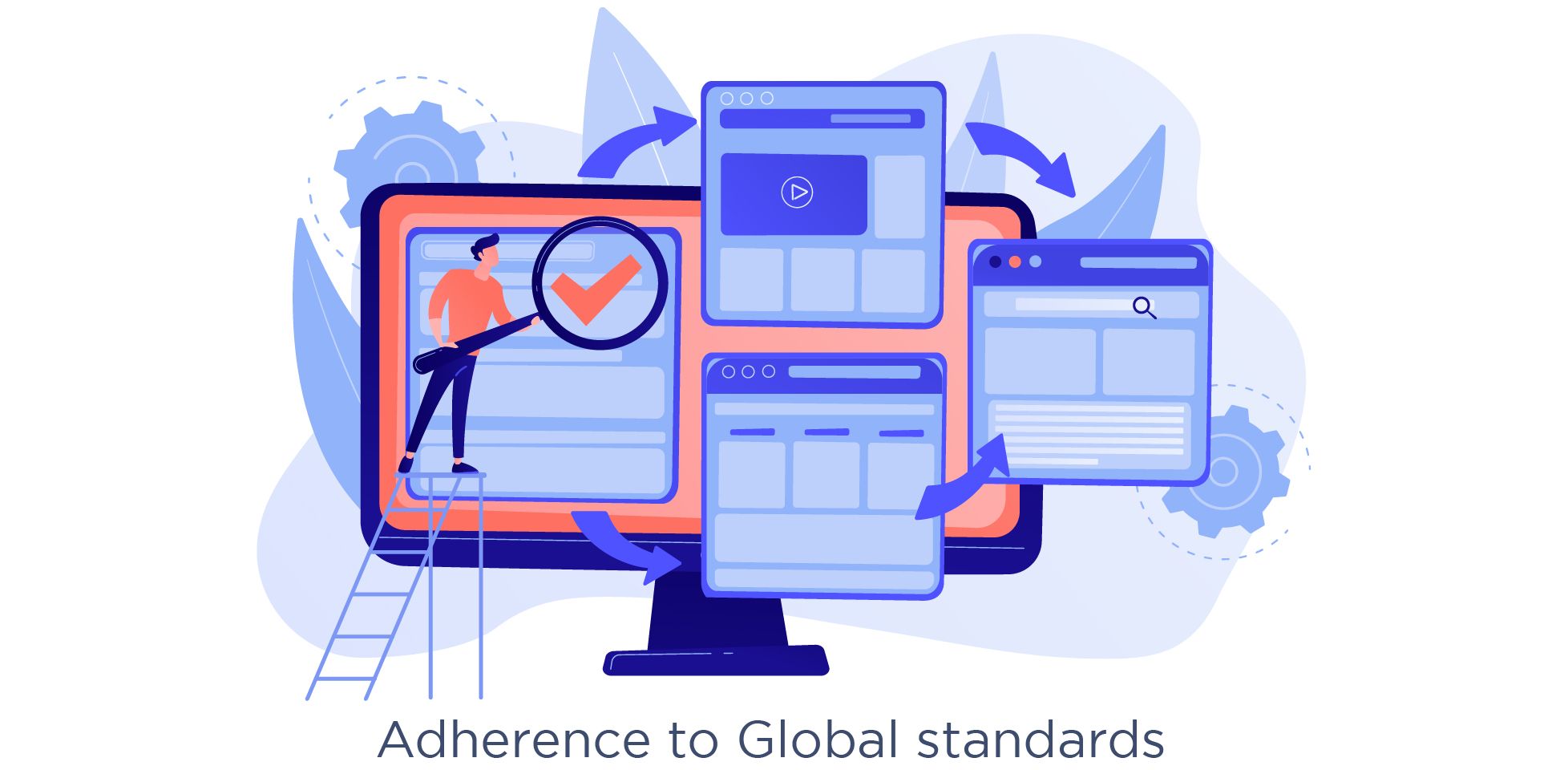 It is an unhidden fact that India's Node JS developers have worked with several clients globally. As a result, these developers have nurtured the best practices and productivity tools to execute their job.
Thus, working with Node JS developers based in India will let you leverage the best talent in the world.
6. Faster Turnaround Time
Developers in India always strive to bring innovation to software development and web design. They are also known to stick to the given time frame while creating an app free from bugs and errors.
Thus, hiring Node JS developers from India ensures you have a faster turnaround time while handling challenges like a pro!
7. Tremendous Communication skills
English has become a lingua franca in many parts of the world, and India has become the second-largest English-speaking country globally. Unlike countries like Ukraine and China, English is introduced into the education system from the get-go and is taught to students as the first language.
Thus, you do not have to worry about miscommunication or language barriers while working and interacting with NodeJS developers from India.
8. The Advantage of Time Zone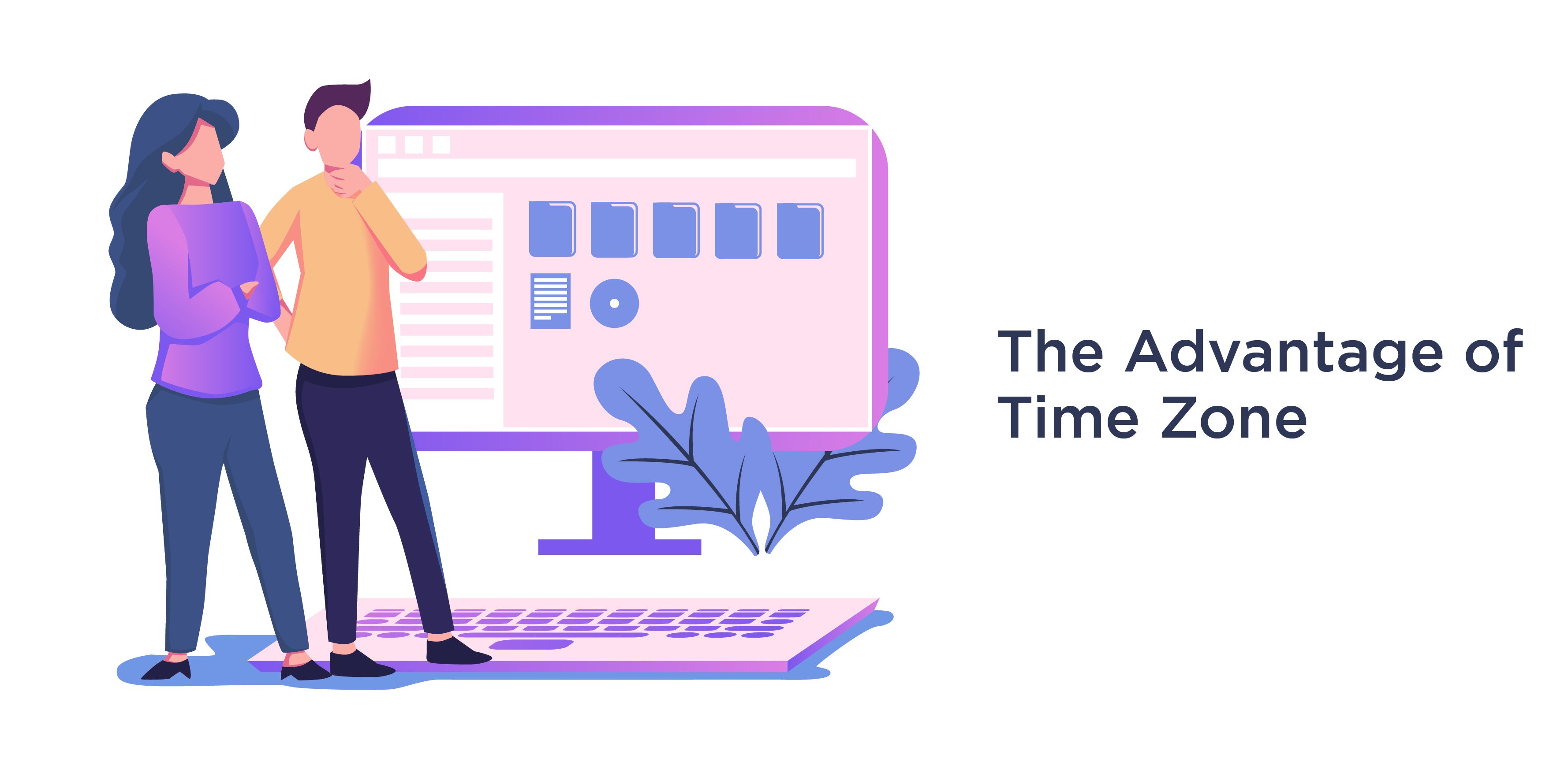 Let us be honest. Every business wants to receive its project in time, and why would it not? The sooner they launch their project, the quicker they establish their dominion.
And when you opt for developers from India, you will enjoy a time zone conducive to easy communication, meetings, and timely development.
India is 9 hours and 30 minutes ahead of the United States of America.

Australia is ahead of India by 4 hours and 30 minutes.

The time difference between India and the United Kingdom is 4 hours and 40 minutes apart, with India being ahead.
What are the responsibilities of Node JS developers?
Let us have a look at the responsibilities of a Node JS developer to help you monitor how your employees perform.
A developer in this field is required to keep abreast of the latest advancements in the said technology.

Your developers should build and maintain all server-side network components.

They should be knowledgeable enough to recommend and implement enhancements to technologies and processes.

A NodeJS developer should be willing to collaborate with front-end developers to integrate various elements.

They also have to ensure that the central database performs well. Furthermore, they also have to see optimal responsiveness to front-end requests.

Generating reports & documenting Node JS processes and database schemas are their responsibilities.

The onus of implementing effective security protocols, storage solutions, and data protection measures is on these developers.

They must also create high-performance apps by delivering testable, reusable, and efficient code.

You can expect these developers to design customer-facing User Interfaces and backend services for any business process.
What are the requirements of Node JS developers?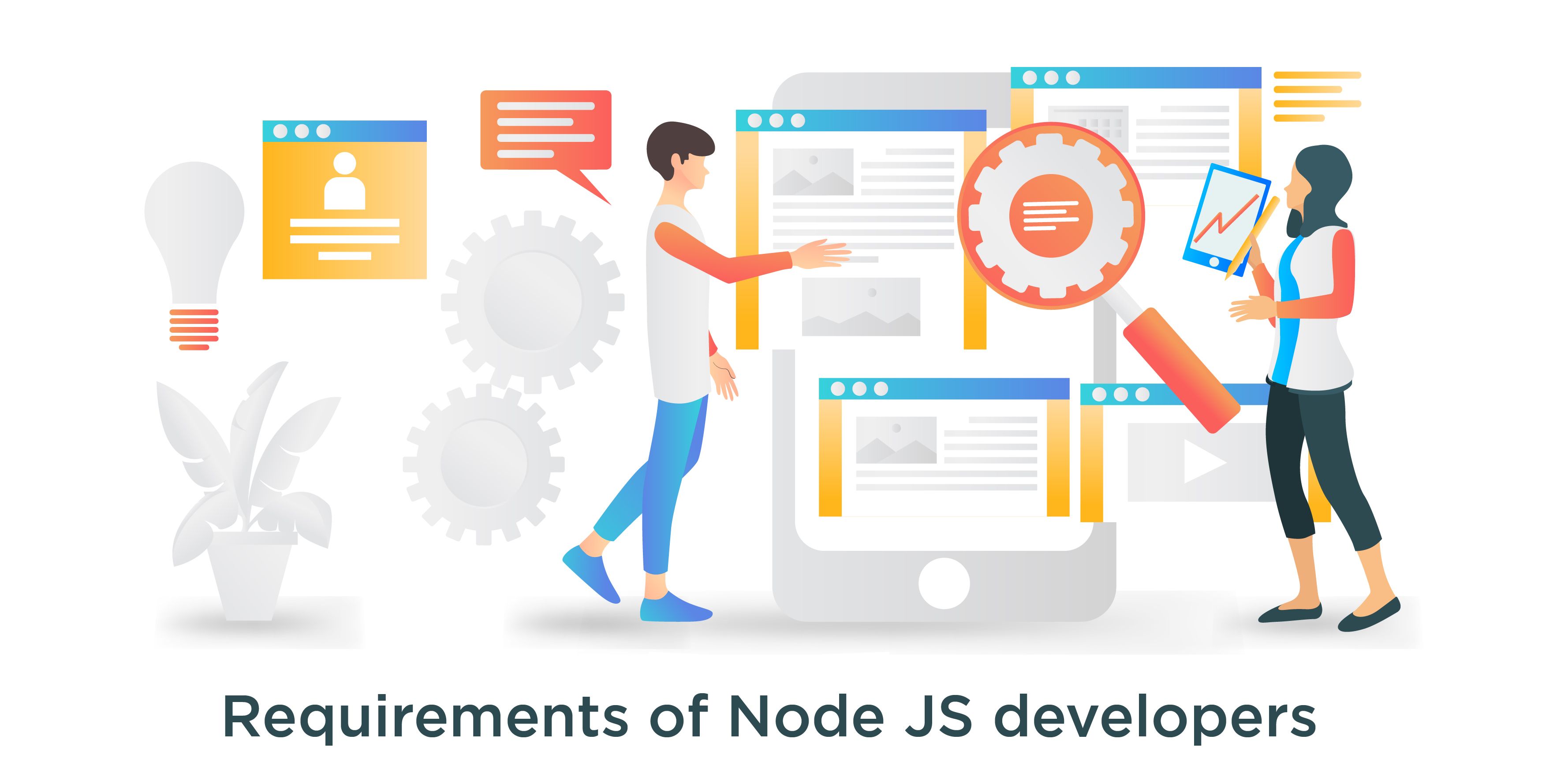 So far, you have read what these developers are, their roles, and their
responsibilities. Let us now have a look at the ideal qualification of a NodeJS developer.
Knowing the required qualifications will help you make a better decision while screening your candidates.
These requirements are as follows:
A person should hold a bachelor's degree in information or computer science.

Your candidate must have at least two years of experience as a developer in this field.

They must have a sound grasp of Web stacks, frameworks, JavaScript, and libraries.

Having excellent interpersonal, collaboration, and collaboration skills is necessary.

They should also have extensive knowledge of front-end technologies such as CSS3 and HTML5.

A Node JS developer must possess excellent time management and organization skills.

A developer in this field must be ready to resolve urgent web app issues even after business hours.

Last but not least, your developer must have an analytical and problem-solving aptitude.
How to hire Node JS developers?
Now that you know the perks of hiring NodeJS developers, their qualifications, and their responsibilities, let us see how you can easily hire these developers.
Do you want to know how you can hire them?
AppsRhino is a reputed app development company and an outsourcing firm with lots of experience in the app development world. We have developed several apps for our clients and received only accolades.
We list the steps for hiring our NodeJS developers below:
You need to send your requirements to us as your goals, the number of developers you want to hire, and the desired qualifications.

You will receive a few resumes we have shortlisted based on your requirements. Now you can select the ones you find impressive.

To finalize things, you can interview the developers you selected in the previous step.

Once you conduct interviews, you can get them to work on your project immediately.

We have got your back if you find yourself fancying a replacement. You can always ask for a replacement if you want!
Conclusion
How do you feel about hiring developers from India? We are sure that now you want to hire developers for your project from India only.
And the best place in India to get NodeJS developers is AppsRhino!
AppsRhino has a pool of talented developers who have imbibed in them the required soft and hard skills to do justice to their projects.
You can also select the developers you want to work with and receive code daily, weekly or monthly.
What are you waiting for? Contact AppsRhino today to get started!