Food Panda clone apps have gained immense popularity in recent years, offering a convenient and efficient way for users to order their favorite meals from local restaurants with just a few taps on their smartphones. These apps replicate the success of the renowned Food Panda app, providing a similar user experience and features.
In this blog, we'll discuss the key features of a Food Panda clone app, its benefits for users and restaurants, and the potential for entrepreneurs to capitalize on this thriving market. Whether you're a food enthusiast, a restaurant owner, or an aspiring entrepreneur, join us as we explore the exciting world of Food Panda clone apps and the opportunities they bring to the food delivery ecosystem.
What is the Food Panda clone app?
A Food Panda clone app is a replica, or a similar version of the popular Food Panda app. Food Panda is an online food delivery platform that connects users with local restaurants and facilitates the ordering and delivery of food. A Food Panda clone app mimics the core functionalities and features of the original app, allowing entrepreneurs to create their food delivery platform.
A Food Panda clone app typically includes features such as a user-friendly interface for customers to browse restaurants, view menus, place orders, make payments, and track deliveries. It also provides a dashboard for restaurant owners to manage their menus, track orders, and communicate with customers. Additionally, it may include features like real-time order tracking, reviews and ratings, discounts and promotions, and customer support.
By leveraging the success and proven business model of Food Panda, a Food Panda clone app offers entrepreneurs an opportunity to enter the food delivery market with a ready-to-use solution. It allows them to launch their food delivery platform and cater to the increasing demand for convenient and on-demand food delivery services.
Food Panda clone app benefits
A Food Panda clone app offers several benefits to users, restaurant owners, and entrepreneurs looking to enter the food delivery market. Here are some key advantages:
Convenience
Food Panda clone apps provide users with the convenience of ordering food from restaurants directly from their smartphones. It eliminates the need for traditional phone calls or visiting restaurants in person, saving time and effort.
Extensive Restaurant Options
Users can access a diverse selection of restaurants and cuisines through the Food Panda clone app. They can explore menus, read reviews, and make informed decisions based on their preferences, dietary restrictions, and location.
Seamless Ordering and Delivery
Food Panda clone apps offer a user-friendly interface that simplifies the ordering process. Users can easily browse menus, customize orders, make secure payments, and track their deliveries in real time, ensuring a smooth and hassle-free experience.
Increased Revenue for Restaurants
Restaurant owners can expand their customer reach and generate additional revenue by partnering with Food Panda clone apps. They gain access to a larger customer base, including those who prefer online food delivery, without the need to invest in their own delivery infrastructure.
Efficient Management for Restaurants
Food Panda clone apps typically provide a restaurant management dashboard that streamlines order management, menu updates, and customer communication. It helps restaurants efficiently handle incoming orders, track sales, and maintain a seamless workflow.
Business Opportunity for Entrepreneurs
Launching a Food Panda clone app presents entrepreneurs with a business opportunity in the thriving food delivery industry. By creating their own food delivery platform, they can capitalize on the increasing demand for convenient and on-demand food services, potentially generating revenue through commissions, advertisements, or subscription models.
Customer Loyalty and Retention
Food Panda clone apps often incorporate loyalty programs, discounts, and personalized recommendations to enhance customer loyalty and retention. These features encourage repeat orders, drive customer satisfaction, and foster long-term relationships between users and the app.
Food Panda clone app features
A Food Panda clone app typically includes a range of features that replicate the functionalities of the original Food Panda app. Here are some features of Food Panda clone app:
User Registration and Profiles
Users can create accounts, log in, and manage their profiles with personal information, delivery addresses, and order history.
Restaurant Search and Listings
Customers can search for restaurants based on location, cuisine, or specific dishes. The app provides a comprehensive list of partner restaurants with their menus, ratings, reviews, and delivery options.
Menu Browsing and Customization
Users can browse restaurant menus, view item details, and customize their orders with options for special instructions, add-ons, or substitutions.
Ordering and Checkout
Users can easily add items to their cart, specify quantities, and proceed to the checkout process. They can choose payment options and apply discounts or promo codes, if available.
Real-Time Tracking of the order
Customers can track the status of orders in real-time, allowing them to monitor the preparation, dispatch, and estimated delivery time of their food.
Ratings and Reviews on the restaurants
Users can rate and review restaurants and dishes based on their experiences, helping other users make informed decisions.
Secure Payments with the app
Integration with secure payment gateways enables users to make payments using various methods. These include credit/debit cards, digital wallets, or cash on delivery.
Notifications and Alerts
Users receive push notifications and alerts for order confirmations, updates, and promotional offers.
Customer Support
Customers can access customer support through the app, either via live chat, phone, or email, to resolve any issues or inquiries they may have.
Restaurant Partner Dashboard
A separate dashboard for restaurant owners to manage their menus, update item availability, track orders, and communicate with customers.
Admin Panel
An admin panel to monitor and manage the overall operations of the app, including user management, restaurant partnerships, promotions, and analytics.
Cost of creating a Food Panda clone app
The cost of creating a Food Panda clone app can vary significantly based on various factors such as the app's features, complexity, customization requirements, development platform, and the development team's rates. It's easier to provide an exact cost with specific project details, but I can provide a rough estimate.
On average, developing a Food Panda clone app can range from $20,000 to $100,000. This estimate includes the costs associated with design, development, testing, project management, backend infrastructure, and deployment. However, this estimate is a general range and can vary based on your specific requirements and the market rates in your region.
It's important to note that ongoing maintenance, updates, and additional features may incur additional costs beyond the initial development. Additionally, factors like app hosting, third-party integrations, and marketing expenses should be considered as part of the overall budget.
The revenue model of a Food Panda clone app
A Food Panda clone app can generate revenue through various monetization strategies. Here are some common revenue models adopted by food delivery apps:
Commission Fees
One of the primary revenue streams is charging a commission fee from restaurants for each order placed through the app. The app retains a percentage of the order value as a commission.
Delivery Charges
Food delivery apps may impose delivery charges on customers for each order. These charges can vary based on factors such as distance, order value, or peak hours.
Advertising
Generating revenue through advertisements is another popular approach. Food Panda clone apps can display targeted ads from restaurants, food brands, or other relevant businesses within the app.
Subscription Models
Introducing subscription plans can be an effective way to generate recurring revenue. Users can pay a monthly or yearly fee to access benefits like discounted delivery fees, exclusive offers, or faster delivery times.
Featured Listings
Restaurants can pay to have their listings featured prominently within the app. It enhances their visibility and increases the chances of attracting more customers.
Upselling and Cross-selling
Food Panda clone apps can offer promotional opportunities for restaurants to upsell or cross-sell additional items or services during the ordering process. It encourages customers to add more items to their orders, increasing the overall revenue.
Partnerships and Collaborations
Food delivery apps can form partnerships with various brands, such as grocery stores, liquor stores, or dessert shops, to offer integrated services and earn referral fees or commissions.
Data Analytics and Insights
Aggregating and analyzing user and restaurant data can provide valuable insights. Food Panda clone apps can offer data analytics and marketing solutions to restaurants for a fee, helping them make informed business decisions.
AppsRhino offers the best Tech-driven solutions for Home services, Laundry delivery, Alcohol delivery, Grocery Delivery, On-demand Cannabis, and Taxi Services: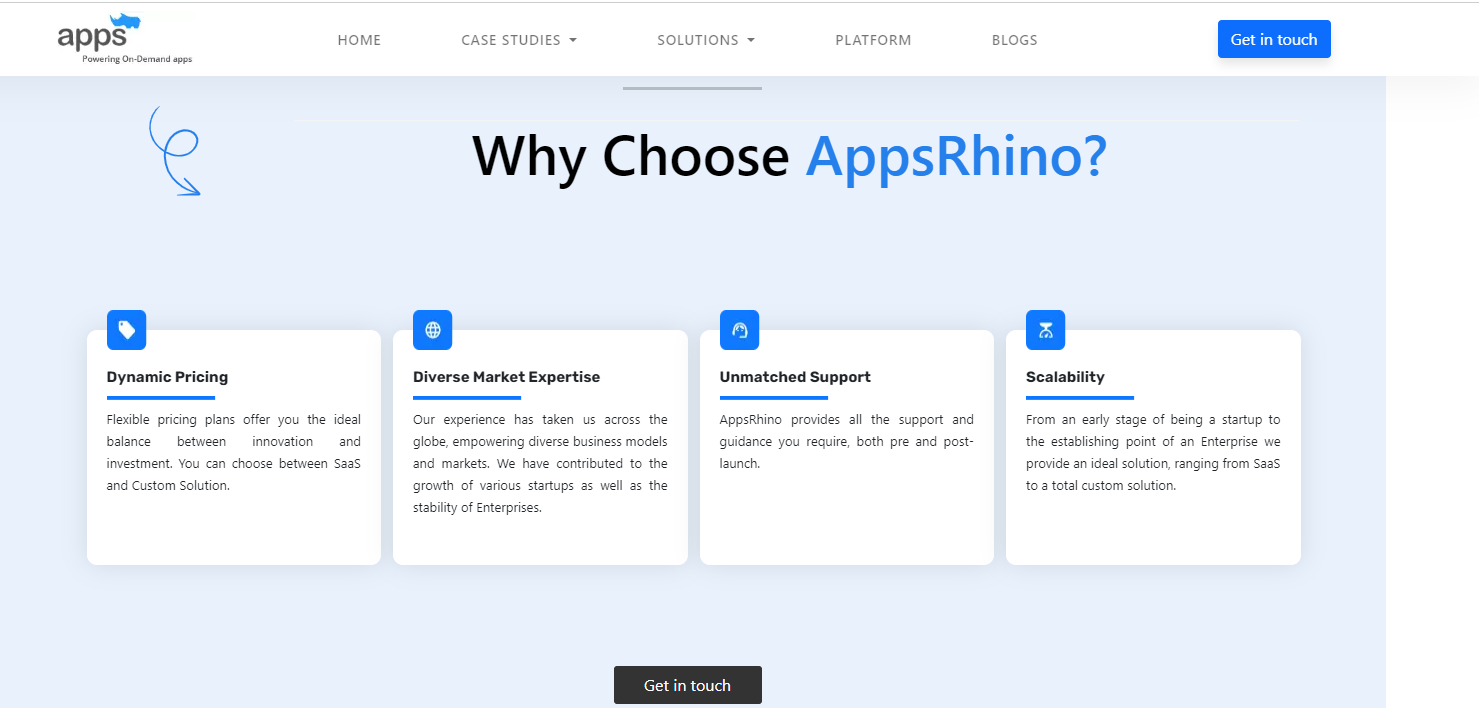 How to create a Food Panda clone app with AppsRhino?
To create a Food Panda clone app with AppsRhino, you can follow these general steps:
Step 1
Conceptualization and Planning
Begin by defining your app's goals, target audience, and features. Determine the scope of your project and create a detailed plan for development.
Step 2
Research and Customization
Conduct market research to understand user expectations and competition. Work with AppsRhino to customize the app's design, features, and functionality to align with your specific requirements.
Step 3
Backend Development
AppsRhino will handle the backend development, including setting up servers, databases, and APIs. It ensures a secure and scalable infrastructure to support your app.
Step 4
Frontend Development
The front-end development involves creating an intuitive and user-friendly interface for your Food Panda clone app. AppsRhino will design and develop the app's screens, navigation, and user interactions.
Step 5
Integration of Features
AppsRhino will integrate essential features like user registration, restaurant listings, menu browsing, ordering, payment gateways, order tracking, reviews, and notifications into your app.
Step 6
Testing and Quality Assurance
Thoroughly test the app to ensure it functions smoothly, is free of bugs, and provides a seamless user experience. AppsRhino will conduct extensive testing and quality assurance processes to deliver a robust and error-free app.
Step 7
Deployment and Launch
AppsRhino will assist you in deploying the app to the desired platforms, such as the App Store and Google Play Store. They will guide you through the submission process and ensure compliance with respective guidelines.
Step 8
Ongoing Support and Maintenance
AppsRhino can provide post-launch support, addressing any issues, bugs, or feature enhancements that may arise. Regular maintenance and updates will ensure the app remains up-to-date and optimized.
Conclusion
Food Panda clone apps have revolutionized the food delivery industry, providing convenience and a seamless ordering experience for users. These apps offer a lucrative opportunity for entrepreneurs to enter the market and cater to the increasing demand for online food delivery services.
When embarking on the development journey of a Food Panda clone app, partnering with a reliable and experienced app development company is crucial. AppsRhino, a leading app development company, offers a range of services tailored to your specific needs. With our expertise, customization options, and dedication to delivering high-quality apps, AppsRhino can help you bring your Food Panda clone app idea to life.
Take the chance to tap into the thriving food delivery market. Contact AppsRhino today and take the first step towards creating a successful and profitable Food Panda clone app.
Frequently Asked Questions
What is a Food Panda clone app?
A Food Panda clone app is a custom-built application that replicates the features and functionalities of the popular food delivery platform Food Panda. It allows entrepreneurs and businesses to create their own food delivery service, similar to Food Panda, with their branding and modifications.
How does a Food Panda clone app work?
A Food Panda clone app typically consists of three main components: a customer app, a restaurant app, and an admin panel. Customers can browse restaurants, place orders, and make payments through the customer app. Restaurants receive and manage orders through the restaurant app, and the admin panel enables administrators to manage the entire system, including user management, restaurant management, and order tracking.
What are the advantages of using a Food Panda clone app?
Using a Food Panda clone app provides several advantages, such as quicker market entry, cost-effectiveness compared to building an app from scratch, pre-built features and functionalities, customization options, seamless ordering and delivery management, and the ability to leverage the popularity and success of established food delivery platforms.
Can a Food Panda clone app be customized to suit specific business requirements?
Yes, a Food Panda clone app can be customized to align with specific business requirements. Customization options may include branding, design modifications, integration of additional features or payment gateways, language localization, and more. This flexibility allows businesses to create a unique food delivery platform tailored to their needs.
Is it necessary to have technical expertise to operate a Food Panda clone app?
Operating a Food Panda clone app does not require extensive technical expertise. The app comes with an intuitive user interface and comprehensive documentation. However, basic knowledge of app management and understanding of the food delivery business model can be beneficial.