If you look around, you will see that new apps appear daily. We have apps for ordering groceries, scheduling cabs, scheduling doctor's appointments, etc.
Have you ever questioned why these companies even bother creating an app?
The reply is that individuals begin to recognize you once you have an app. You develop a brand for yourself. It's the same with grocery shopping. If your company offers an app, you'll experience a surge in customers and sales!
According to research, 6% of consumers claim to order groceries online more frequently than once per month. Instacart, a well-known grocery delivery service, had 9.6 million active users in 2020.
By the end of 2022, about 70% of American consumers are now buying groceries online, which is another intriguing statistic.
Is it not wonderful to read such impressive numbers? Creating a top-notch app for your company can also achieve such numbers for your endeavor.
You might now be wondering how you can do so. Coming to AppsRhino is the simplest way to obtain a top-notch grocery delivery app. Read the blog below for more information!
What factors make a top grocery delivery app?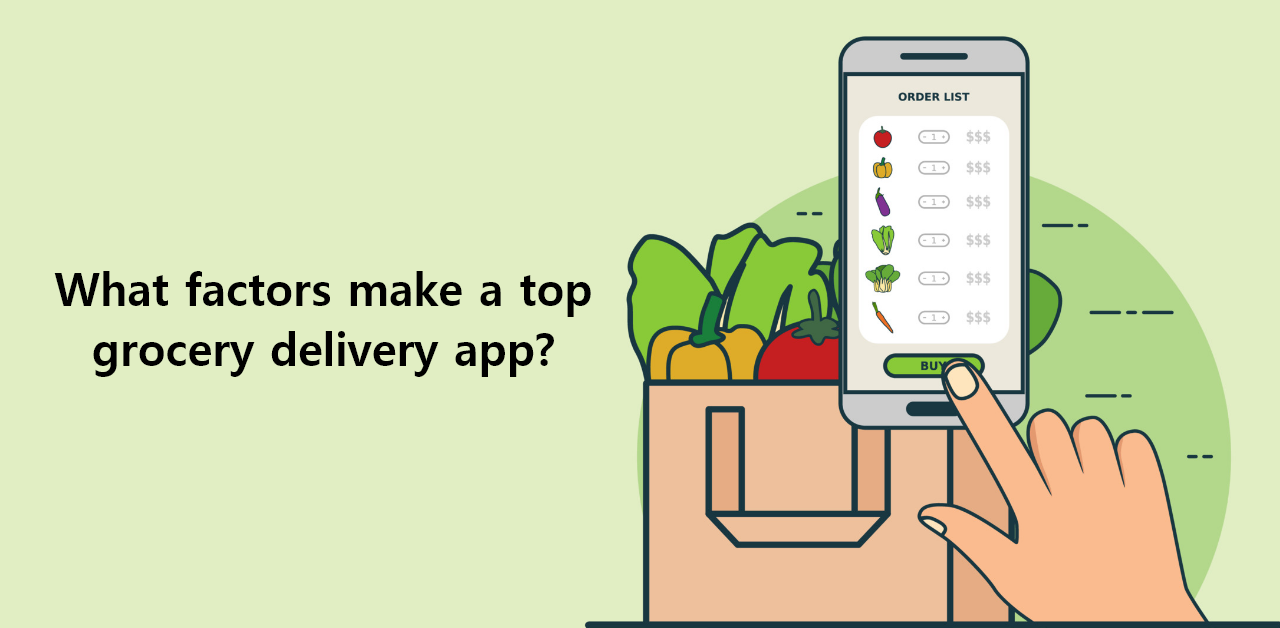 A good grocery app supports your company's expansion, attends to the requirements of your employees and clients, and broadens your clientele. Knowing this, our grocery delivery app developers ensure the app we create offers your customers the following.
Convenience
Convenience is the first benefit that grocery delivery apps offer to your customers. Thanks to convenience, people won't have to wait in long lines at the grocery store. However, they can only take advantage of this convenience if they find it simple to use your grocery delivery app.
Therefore, our developers ensure that your app's user interface is elegant and convenient.
Time saver
We are aware that individuals use apps for grocery delivery to save time. No one enjoys going to the grocery store, waiting in line, and then scouring every aisle after a long day at work.
Users enjoy using grocery delivery apps as a result. Additionally, we ensure the page loads quickly to increase the demand for your app.
Money saver
Grocery delivery apps maintain their relevance by implementing a variety of promotions, loyalty points, and programs. But only beautiful app designs that go with them affect users. As a result, our designers think about creating appealing designs for your app.
Shop for others easily.
A good app allows users to place orders for friends and family. As a result, our grocery delivery app developers ensure that adding new data and keeping the actual user's data is simple.
How does AppsRhino build your food and grocery delivery app?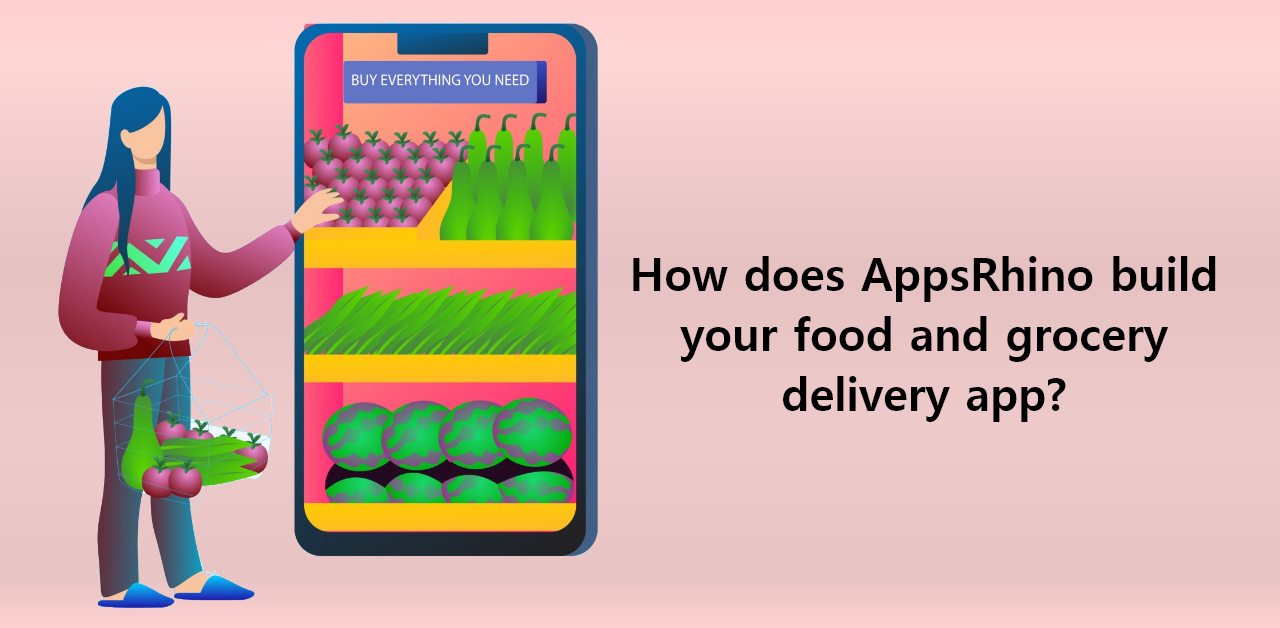 The steps below can be used to create an app that delivers groceries.
Concept and objective
Making a concept and examining the goals of your grocery delivery app are the first two steps. Consider your target market, the type of app you plan to create, the app's services, etc.
You'll realize the technology stack you need as you discover the answers to these queries and begin developing grocery delivery apps. You will also learn how long it will take to finish the app development process simultaneously.
You will also be aware of the number of human resources you need. As a result, you must analyze your competitors' apps in this stage to determine how they function and why they are successful or unsuccessful.
Wireframes and prototypes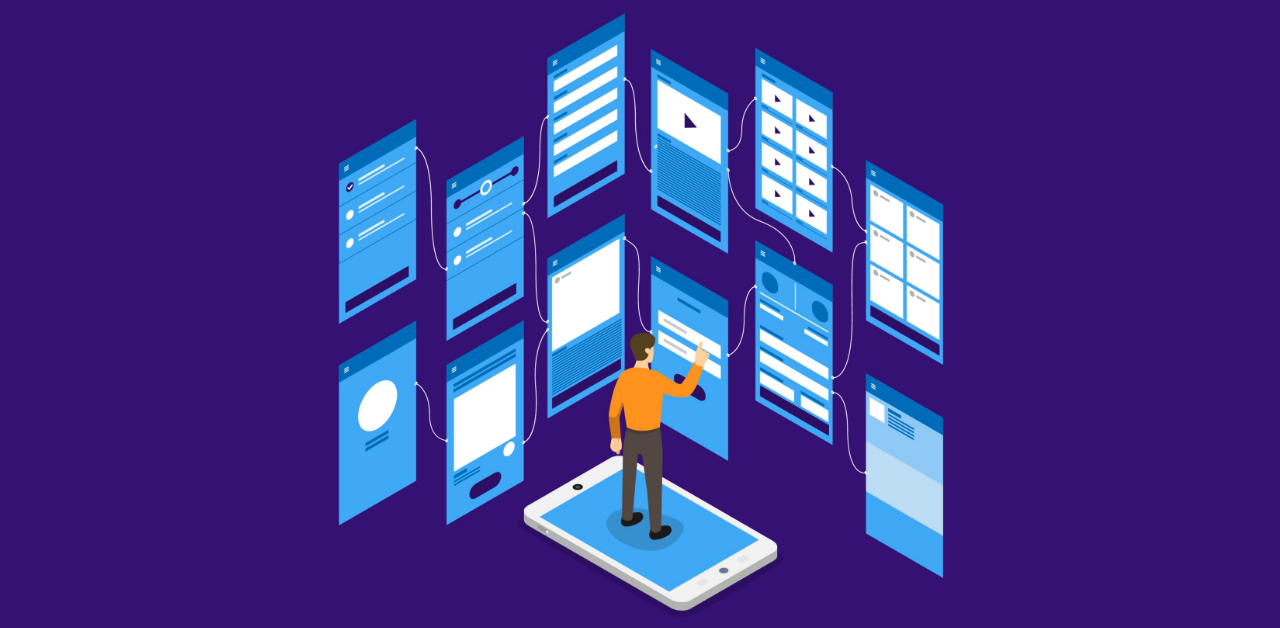 You should concentrate on your UX/UI design. Since you've already created a roadmap for your grocery delivery app, it will be simpler to do this.
Additionally, creating user stories and flows will be more straightforward since you have already studied your target audience's needs, requirements, pain points, etc.
The visual aspect of your apps is developed simultaneously with the wireframes and prototypes. Check later to see if you want to make any changes before starting the development process.
It is recommended to keep refining your designs until you are happy with them.
Development
At this point, our coders will use the iterative development process to turn the designs created by our UI/UX team into reality. They will make all of the functionality for your app. Our quality assurance team will test the outcome later.
Testing
In the last stage of development, quality assurance testers test the grocery delivery app once it is finished. Our QA testers run the following tests:
Acceptance testing

Unit testing

System testing

Integration testing
Launching
Maintenance and launch are the final phases of developing your grocery delivery app. You can publish your grocery delivery app on the marketplace of your choice after thoroughly testing it and ensuring it functions properly.
After launching it, you must get feedback from users to determine where you can improve. Additionally, you ought to update your grocery delivery app regularly!
Conclusion
You may have benefited from reading this guide because it describes the different types of grocery delivery apps you can create. Choose your app type before starting any development process.
You might also be unaware of the importance of choosing the right technology partner. It is one of the typical explanations for why several grocery delivery apps fail. Let's say you are utilizing a malfunctioning app. It works for a minute before ceasing to function, and you must reopen it. In that case, you should choose its substitute.
Your audience is in a similar situation. They will download an alternative if your app does not appeal to your target market. Therefore, choosing the appropriate technology partner is crucial.
You can visit AppsRhino to make your dream of having a grocery delivery app a reality if you are an entrepreneur looking to increase your sales.