Around 13 countries witnessed an increase in online food delivery systems during the pandemic. Moreover, the market size of the global online food delivery sector is estimated to rise to 154.34 billion by 2023.
Restaurants have shifted online to draw a big customer base because people nowadays like to order things with a few taps on the screen.
Third-party platforms like ChowNow, Uber Eats, Doordash have become popular because they let people order anytime and anywhere; apps also make them see new restaurants.
One such third-party app is ChowNow. ChowNow is an online food ordering app that operates in over 12,000 locations.
But, just going online does not solve the problem; you need to make sure that your ChowNow restaurant visibility is good to grab the eyeballs and drive sales.
This blog will tell you how to increase your ChowNow restaurant visibility.
What is ChowNow?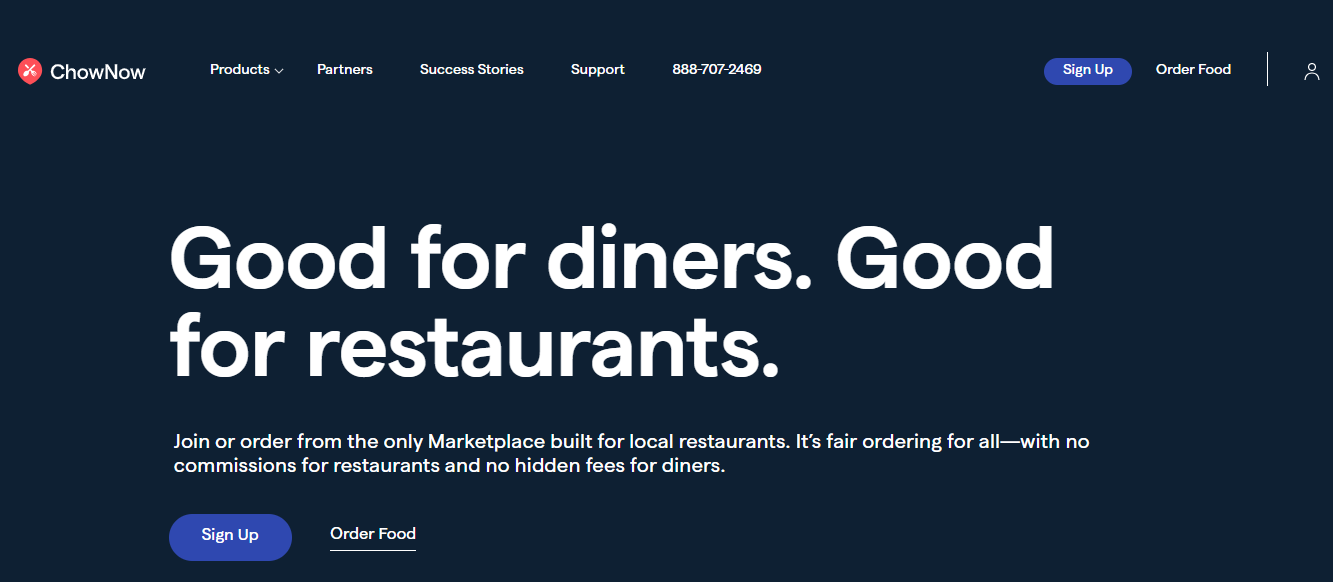 ChowNow is an online food ordering app and subscription service for restaurants. It does not take commissions on orders placed through it, a compelling reason to open a restaurant on ChowNow. Since they do not ask for commissions, they ask you for a monthly subscription, which is relatively cheap.
ChowNow, working on a SaaS model, is not a centralized platform and seeks to receive orders via Facebook; it means a restaurant takes orders via the FaceBook page of ChowNow.
In addition to the benefits of delivery apps, restaurants opened on ChowNow enjoy a marketing team to set up an app and website for them.
There are many other reasons to open a restaurant on ChowNow. One of them is that it trains restaurant owners comprehensively and offers a marketing strategy, 24/7 support, and an iPad for order consolidation.
Overview of ChowNow
Type: Private
Industry: Online platform for restaurant pick-up and delivery
Established: 2011
Founder: Christopher Webb and Eric Jaffe
Headquarters: Los Angeles, California, United States
CEO: Christopher Webb
COO: Eric Jaffe
How to Increase your ChowNow Restaurant Visibility?
Let us now see how to increase your ChowNow Restaurant Visibility.
Enhance Customer Experience
On ChowNow, your restaurant competes with other restaurants that offer similar food. A customer will order from you only if you deliver better than your competitors; not only the food you offer but each aspect of the delivery experience requires your attention.
Pay attention to Customer Reviews
ChowNow users do not look for a specific restaurant; they surf and read reviews before making up their minds to order food from a restaurant. Users generally go through all the available restaurants on ChowNow and select one based on reviews.
Your customer reviews matter more than your food pictures, so ensure to encourage your customers to review your services. The reviews are in good taste.
You need to pay attention to the package to add-ons and the delivery time to ensure positive customer reviews on ChowNow. You can ask customers to leave their reviews on the takeaway boxes or bags when using a third-party app like ChowNow.
In-App Marketing Strategy
It would help if you had a go-to-market strategy in place when you launch delivery through third-party apps like ChowNow and Seamless. You should include offers or discounts in the delivery, and to-go packaging/ or stick branded promotional stickers on takeout containers.
Social networking sites are a great way of promoting your arrival on the ChowNow platform. Advertising helps you increase your ChowNow restaurant visibility and reach on the app and ensure that your restaurant appears on the top when people search for restaurants on the ChowNow app.
Social Media
Most people spend their time on social networking apps, which you can use to increase your ChowNow restaurant visibility. Promoting your restaurant on social media is free, and you get to attract more people by creating posts and reels.
You aim to make people think about your restaurant the first thing when they think about ordering food online; you get to do it via social media. Giving people insights into your recipes and cooking procedures is a good way to keep them thinking about you, though make sure it is interesting.
Invest in Seo
Sometimes, people go to the internet to know more about the restaurant that they come across online. If you do not rank on local search results, you might find it hard to get customers.
SEO is the best way to build your restaurant's online presence and increase your ChowNow restaurant visibility. One way is to get listed on Google My Business; it ensures your restaurant appears at the top whenever someone in your area searches for your restaurant.
Online Ordering Through ChowNow App
When you use the ChowNow app, you do not need to calculate all the orders at the end of every day. You can increase your ChowNow Restaurant visibility by cloud telephony. In cloud telephony, the call from one number of the restaurant owner gets transferred to another phone number till the time the request gets attended. Thus, it maintains call logs.
Staff
Your staff should be patient enough to take orders down when the time comes. Customers should feel comfortable and happy to tell their orders to your ChowNow restaurant team, and there should be no discrepancy.
Online Menu
To increase your ChowNow Restaurant visibility, you need to have an impressive and adequately listed online menu. Your menu should include things that your ChowNow restaurant offers. Over and above, you need to include a provision for customers to track their orders.
GPS and Drivers
Your customers should see the delivery guy on the GPS route, which the restaurant clout decided. It assures that the buyer knows the course your motorist is taking and can calculate the time left to reach by approximating it against the landmark where the delivery guy has reached.
State of Food at the Delivery Time
It is a vital step to increase your ChowNow Restaurant visibility. When you ensure your buyers get hot food at the delivery time and the meal is in the right state and condition, you gain their trust. It ends up increasing your ChowNow Restaurant visibility; they place orders with you and even suggest your ChowNow Restaurant to their knowns.
Advertising
Advertising is a good way of increasing your ChowNow Restaurant visibility. Social media advertising, email marketing, and promotions on apps and sites.
You have 'pay to advertise'; the first type is pay per click. If a consumer sees your restaurant ad, clicks on it, and ends up on your ChowNow restaurant page and orders, you need to pay for that ad.
You get another type of advertising, the PR, which means an advertisement in the newspaper or a billboard. It is how the food delivery network ChowNow works, and your restaurant could be more visible on ChowNow if you learn how it operates.
Other things that are vital in increasing your ChowNowRestaurant visibility are:
Marketing
More staff
Purchase of new equipment
Setting up the restaurant
Management of the daily expenses
A steady flow of funds
Impressive Photos
You need to take amazing pictures of your dishes and post them to draw people. You can be imaginative and take photos of your meals in a way that people would think the food can satisfy their taste buds.
Time-Limited Promotions
Running limited-time promotions is also a method of increasing your ChowNow Restaurant visibility. Time-limited promotions draw people because of their brief span.
You can offer limited-time promotions that are scattered throughout the year. For example, you can offer free drinks or 10% on your anniversary month. Besides, it would be best if you also concentrated on months when buyers tend to spend more, which revolves around special occasions like Thanksgiving and Christmas.
Engaging Content
First, determine your target audience, then create content as per their interests. You should post high-quality content regularly, fix a day or time, and a platform.
The content can vary from a new item announcement to showcasing how your team works on a new recipe. The essential part is to give your buyers reasons to know more about your ChowNow restaurant.
Ideally, the content needs to be suitable for your audience, and it should add value to their lives.
Bestsellers
Every restaurant flaunts bestsellers, and so does your ChowNow restaurant, which you can utilize to impact buyers in decision-making; bestsellers are typically a restaurant's frequently ordered items, cost-friendly dishes, and unique dishes. Select your bestsellers and organize them when listing your menu on the ChowNow app.
Customers do not like to scroll through the complete menu. So when you show your bestsellers, they are likely to click on it.
AppsRhino offers the best Tech-driven solutions for Home services, Laundry delivery, Alcohol delivery, Grocery Delivery, Food Delivery, and Taxi Services:
Ensure your ChowNow Restaurant Dishes get Discovered
It would help if you wrote your food descriptions and food item names correctly. Add item descriptions with catchy dish names to your ChowNow Restaurant menu. But, when you list menus on the ChowNow app, keep in mind to have search-friendly words or what buyers would type to search for a food item.
You can also utilize the following category names:
Vegetarian
Burger
Cake
Spicy
Sweet etc
Conclusion
When using ChowNow or any third-party platform, you should maintain high restaurant visibility online. Above mentioned tactics and strategies are easy to execute and offer you multiple benefits; more customer reach, high visibility, and more deals. To stay ahead of the competition, one needs to stay in the limelight!
So buck up and increase your ChowNow Restaurant visibility to earn gains. You can take help from AppsRhino, a leading app development platform.
Frequently Asked Questions
What is ChowNow, and how can it benefit my restaurant?
ChowNow is an online food ordering platform that connects restaurants with customers. It can benefit your restaurant by increasing visibility, attracting new customers, and streamlining the ordering process.
How can I optimize my restaurant's profile on ChowNow?
You can optimize your profile by adding high-quality food images, updating menu items and descriptions, providing accurate business information, and highlighting any unique selling points or promotions.
What role do customer reviews play in increasing visibility on ChowNow?
Customer reviews are crucial for building credibility and attracting new customers. Encourage satisfied customers to leave positive reviews and promptly address any negative feedback to maintain a positive online reputation.
Are there any promotional features on ChowNow to increase restaurant visibility?
ChowNow offers promotional features like featured listings, discounts, and special offers. Utilize these options to highlight your restaurant, attract attention, and incentivize customers to order from your establishment.
How can I leverage social media to increase visibility on ChowNow?
Promote your ChowNow profile and online ordering capabilities on social media platforms. Engage with customers, share enticing food photos, and run targeted advertisements to drive traffic to your ChowNow page.