How long did it take you to send emails today? More than you'd like to, most likely. Only 20% of emails sent are opened. Therefore unnecessary email coordination takes up a lot of time with little benefit. Appointment booking tools and applications can automate the process of setting up meetings with current and future clients without relying on email answers to confirm a time.
The appointment booking tools are professional and dynamic tools for arranging appointments for your business. Whether you're a dance studio booking classes or a solo entrepreneur scheduling remote calls, the administrative tasks connected with a booking can quickly consume much of your time.
Numerous appointment scheduling apps are available to avoid this unnecessary time loss. When it comes to last-minute handling cancellations and rescheduling requests, processing payments, and integrating with your existing technology, the perfect appointment booking software will be able to do all of these things. To find out more about the features of appointment-booking apps, keep reading.
What is the use of an Appointment Booking App?
Clients can schedule, reschedule, and cancel appointments using appointment schedulers and web-based appointment booking apps. Customers who want to plan a grant can visit your company's website and Facebook page and choose a date and time that works for them.
You can also decide when customers can schedule certain services on the backend based on your business hours and the times and days. You can specify when your staff or other resources are available. You can also use the program to eliminate double-booking and over-booking and mark out times when certain services may be unavailable.
Assume you operate a pet grooming business, and your poodle-cutting expert takes a two-week vacation. You can add her vacation days in advance to the appointment scheduling software to schedule no poodle grooming appointments.
Benefits of a suitable Appointment Booking App
Clients get more than just a schedule of available meetings, treatment, or service hours with the best booking apps. They can quickly reschedule and cancel appointments without needing to contact you. Appointment booking apps also make it easy for business owners and managers to carry out their responsibilities by allowing streamlined communication, consolidated payments, and managing your workforce. Here's everything you must know.
Recognition of businesses
The best appointment booking software recognizes the many businesses and their needs, allowing clients to customize how their appointments are handled. A small gym that offers one-on-one training sessions should have a different booking experience than a community workshop that lends gardening equipment.
Calendar synchronization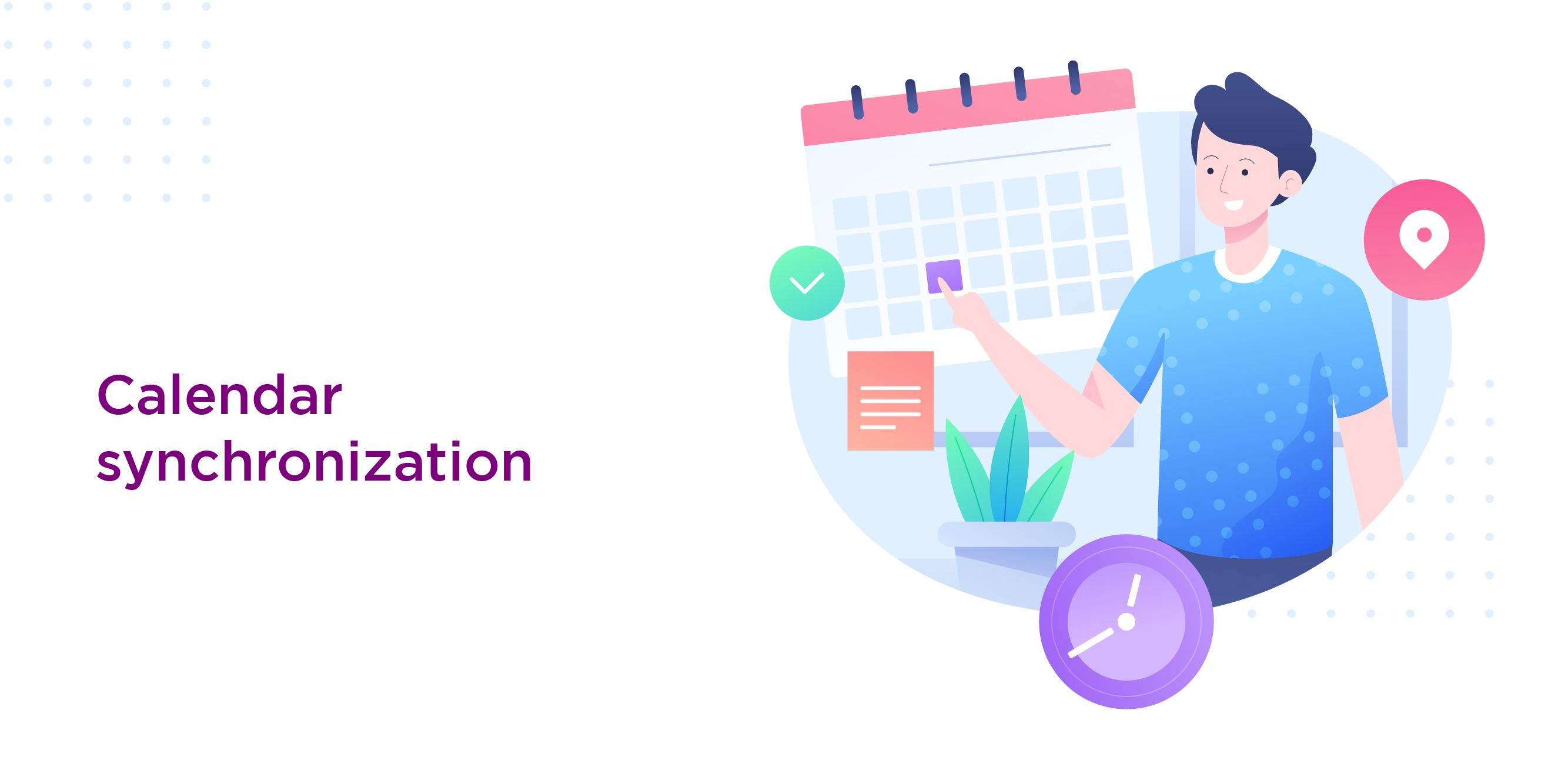 Clients can sync their schedules with the Calendar in almost all appointment booking applications. Clients can check the company's planned meetings and other essential details, such as when it'll be closed for holidays or renovations. The app may also compare the availability to events on the primary Calendar.
Processing of payments
Using the best appointment scheduling software, you may collect payment at booking. You can use this method to collect a deposit for an appointment or to have customers pay for their services upfront. If a client fails to show up, your business isn't doomed.
Third-party application integration
The remainder of your IT stack must be able to communicate with your appointment booking software. If an app can't integrate with Slack, Mailchimp, or Zoom (or at the very least allow you to create your own Zapier connections), it shouldn't be on this list.
AppsRhino offers the best Tech-driven solutions for Home services, Laundry delivery, Alcohol delivery, Grocery Delivery, Food Delivery, and Taxi Services: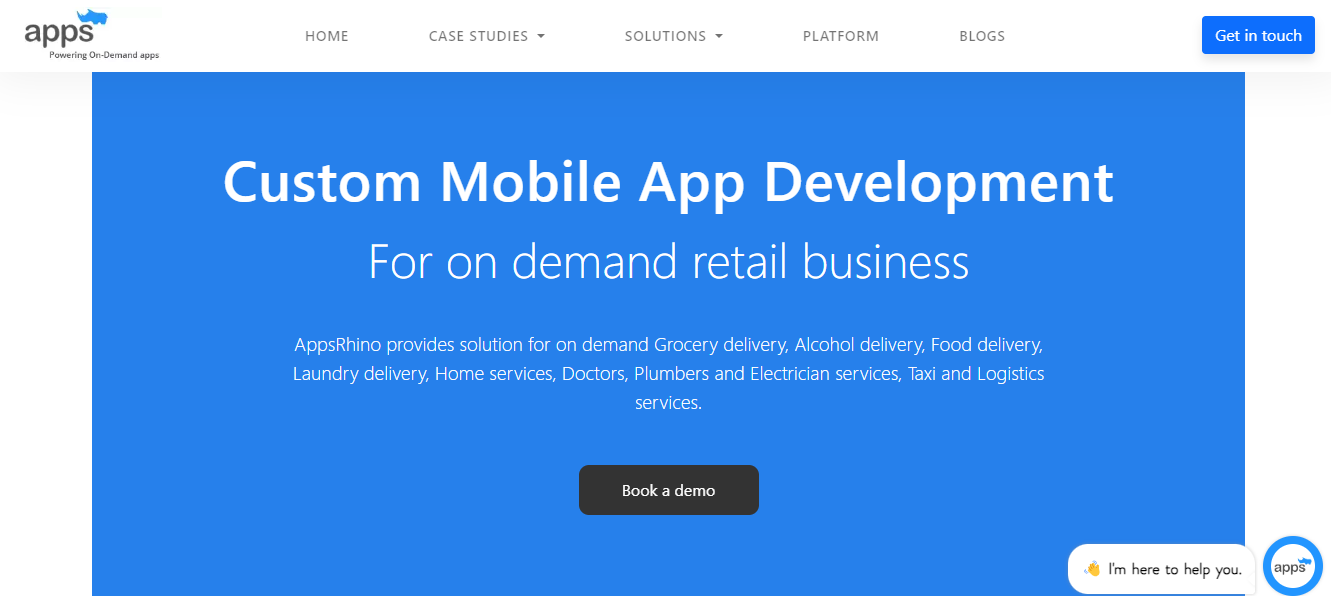 Making a professional presentation
The organization's image should reflect in your appointment booking app. Whether customers are setting appointments or an industry peer is scheduling a Zoom call with you, the scheduling experience should be quick, error-free, and aesthetically pleasing. It should also be customizable, with many access points, such as a website widget, a Facebook Business Page, or a bespoke URL.
Types of Appointment Booking Apps
Best appointment booking app- Acuity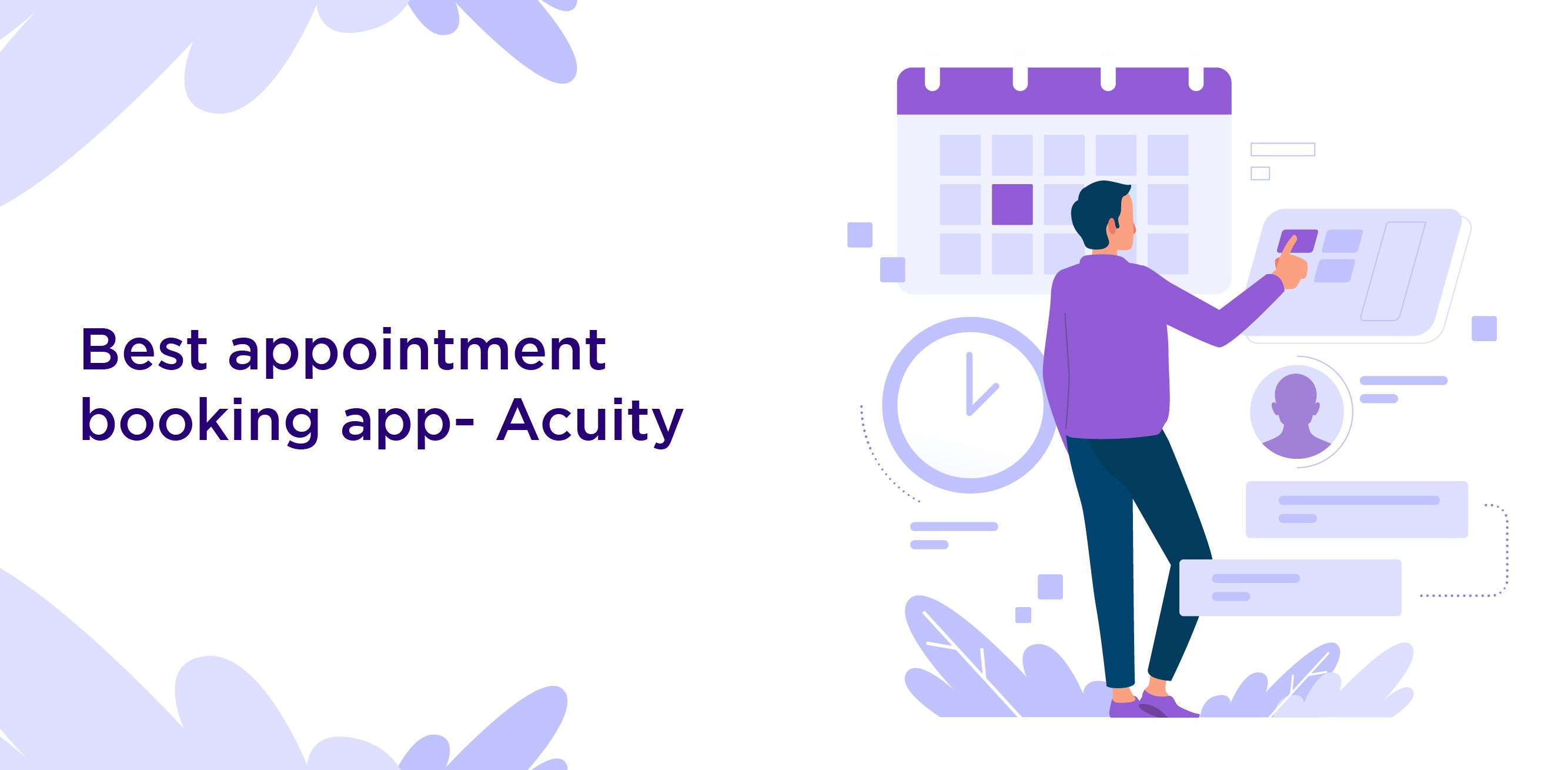 Acuity Scheduling, now owned by Squarespace, is the tool if you need to be tech-savvy but still need to fine-tune your booking process. You may allow your clients to schedule recurring appointments, fill out an intake form, and pay for services in advance when you construct your booking page. Clients can also add services to their sessions, such as a 15-minute foot massage to a pedicure.
Acuity's blend of flexibility and usability is impressive. During setup, you'll be able to pick between monthly and daily views for clients. Moreover, you can choose design firms, upload logos, set a time zone, and determine how often you want to communicate with them.
Share a direct link to your booking page, embed it on your website, or create a booking button, booking bar, or QR code when ready. Mobile apps are available for Acuity, allowing you to access your account while on the road.
Acuity offers complex connectivity options with QuickBooks, ClassPass, Salesforce, and Zoom, to name a few. You can also use Zapier to connect Acuity Scheduling and other apps.
Payment systems: PayPal, Square, and Stripe are just a few options; it also accepts cash payments in person.
Calendars: 2-way and 1-way synchronization options are available for Google Calendar, iCloud, Microsoft Exchange, Office 365, and Outlook. com.
Pricing: The acuity booking app offers premium subscriptions for one staff member and one location and payment processing solutions, starting at $15 per month.
Best free scheduling app- Picktime
If you're looking for a booking app that will get you client-ready quickly and for free, Picktime is the way to go. The app's free plan is the most liberal, including unlimited appointments, three team members, two locations, and a slew of proper native connectors.
Go to the sidebar menu and choose Calendar to see your schedule of scheduled appointments, classes, and resources. Go to Online Booking to customize your booking page, scheduling rules, and booking questions.
The booking page on Picktime could be more customizable. Still, what it lacks in personalization options, it more than makes up for setup speed. The default booking page is clean and professional, allowing you to set up a profile in minutes.
The Overview dashboard, which has a simple interface, is also a hit. Critical information can be seen, such as total appointments, confirmed, projected, real income, and what's coming up.
Picktime's free tier allows you to utilize PayPal as a payment processor. Jitsi Meet is the only video conferencing app offered. If you want to sync with Zoom or collect payments through Stripe or Square, you'll need to upgrade to the premium plan, which you might want to seek elsewhere.
Payment systems: PayPal, Stripe, and Square are just a few supported payment systems.
Calendars: These are supported, including Google Calendar, Microsoft Outlook, iCloud, Microsoft Exchange, and Office 365.
Pricing: Basic plans start at $9.99 per month and include more team members and locations, payment processing options, integrations, etc. Premium plans start at $9.99 monthly and have more team members, sites, payment processing options, and integrations.
Best appointment scheduling app for foreign businesses- SimplyBook.me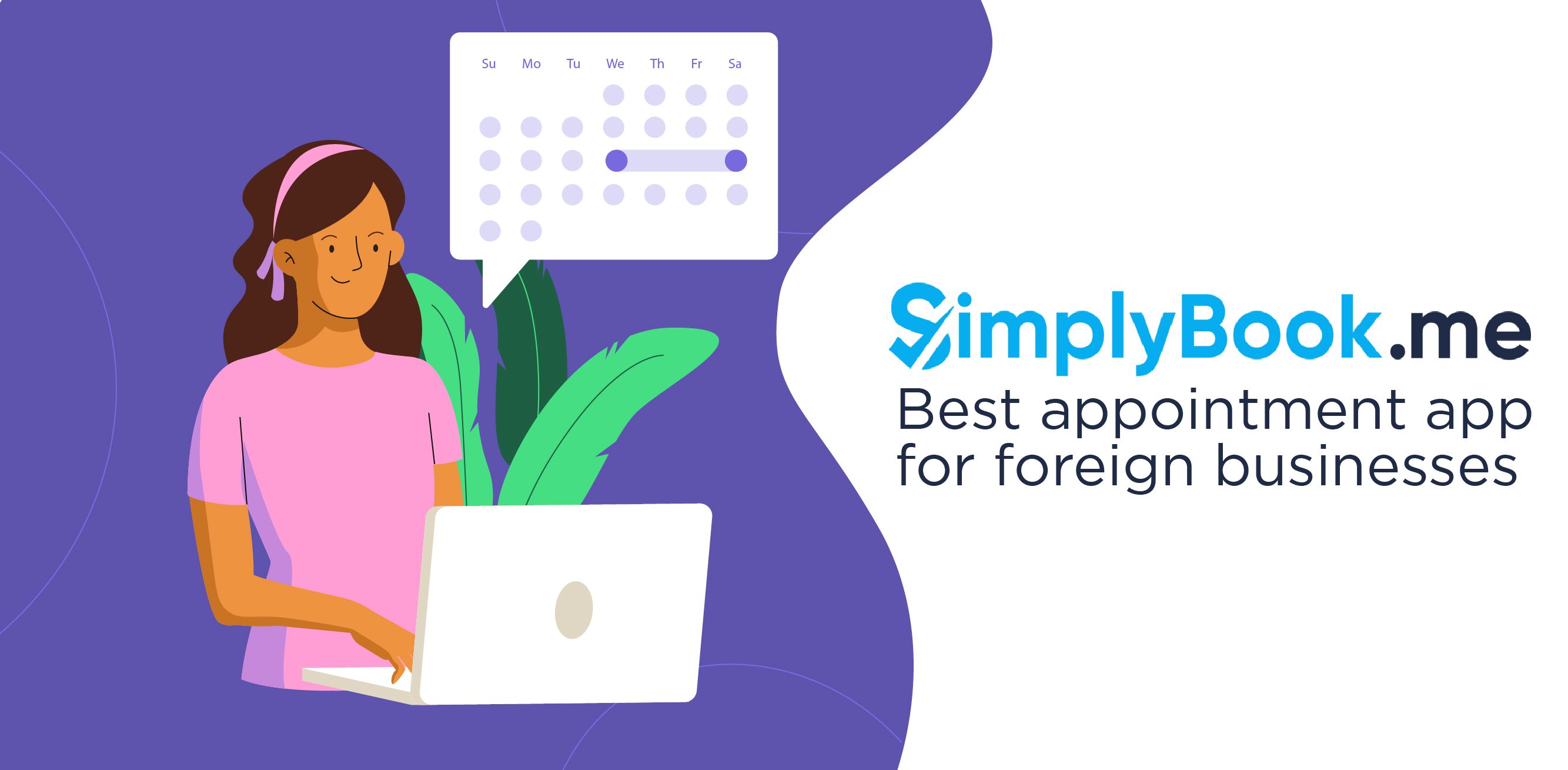 SimplyBook.me is the best scheduling tool for global companies because it supports many languages and payment methods worldwide. SimplyBook. me offers booking pages in 32 languages, from Arabic to Greek to Icelandic to Ukrainian. It also interfaces with more than a dozen payment processing companies, allowing you to offer a service that your customers love.
The setup method (and booking page) is entertaining and straightforward, with clear instructions that guide you through your options for picking appointment types and add-on services. Choose a background for your online booking page and the number of service providers and services your business offers. SimplyBook.me also recognizes the most relevant features to you based on the company category information.
SimplyBook.me also provides a dashboard and statistics that you can use to maintain track of your business by analyzing the number of bookings that can be made or canceled, work performed by each employee, number of online reviews received by the company, and the text message reminders given by your account.
You can connect your booking software to all other apps you use for your business using SimplyBook. me's Zapier connectors. You can automate and alter booking confirmations and schedule appointments across your calendars.
Payment systems: 2Checkout, Adyen, Alipay, Asiapay, Authorize.net, Bitcoin, Borgun, Braintree, CCAvenue, Dwolla, ECPay, GoCoin, Korta.is Line Pay, Liqpay, Mollie, NewebPay, and Pagar.Me, Payfast, Payfort, PayGate, Paymentwall, PayPal, Paysafecard, PayTabs, PayU Latin America, Pin Payments, Skrill, and Square
Calendars: Google Calendar and Outlook are two calendars supported by SimplyBook.me.
Pricing: Basic plans start at $9.90/month and include more monthly bookings, providers, and a client app. Premium plans start at $9.90/month and have more monthly bookings, providers, and a client app.
Conclusion
Whether you run a client-based business on your own or with the help of a large staff, you can discover the right technology to help you manage your client appointments. A full-featured appointment booking tool will help you reduce no-shows and late cancellations. It will also enable you to quickly recover cancellation charges by putting a credit card hold on the appointment at the time of booking. When you automate your booking software, you'll be able to focus your energy on the most critical work.
You can also allow your business to flourish in the market by using AppsRhino's app development services. AppsRhino has a dynamic market expertise and aims to provide highly customized mobile app solutions. With AppsRhino, you can create an appointment booking app with better customer interaction and revenue generation.
Frequently Asked Questions
What is an appointment booking app?
An appointment booking app is a digital tool that enables users to schedule appointments or bookings with businesses or service providers through their smartphones or other devices.
How do appointment booking apps work?
Appointment booking apps provide users with an interface where they can view available time slots or services, select a preferred date and time, provide necessary details, and confirm their appointment or booking.
What types of businesses can benefit from using appointment booking apps?
Various businesses across industries such as healthcare, beauty and wellness, fitness, salons, spas, restaurants, repair services, and professional services can benefit from using appointment booking apps.
What are the advantages of using appointment booking apps?
Appointment booking apps offer convenience to both businesses and customers, allowing for easy scheduling, reducing manual administrative work, minimizing appointment conflicts, and enabling 24/7 accessibility.
Can appointment booking apps send reminders for upcoming appointments?
Yes, many appointment booking apps have features that send automated reminders to users, helping them remember their scheduled appointments and reducing the likelihood of missed appointments.
Can appointment booking apps handle multiple staff members or resources?
Yes, appointment booking apps often have functionality to manage multiple staff members or resources, allowing businesses to efficiently schedule appointments based on staff availability and allocate resources accordingly.
Can appointment booking apps integrate with existing calendars or systems?
Yes, many appointment booking apps offer integrations with popular calendar platforms or existing systems used by businesses, ensuring seamless synchronization and avoiding scheduling conflicts.
Are appointment booking apps secure for handling customer data?
Reputable appointment booking apps prioritize the security and privacy of customer data. They implement measures like encryption, secure servers, and compliance with data protection regulations to safeguard sensitive information.
Can customers make changes or cancellations to their appointments through the app?
Yes, most appointment booking apps allow users to make changes or cancellations to their appointments through the app, providing flexibility and convenience in managing their bookings.
Are appointment booking apps available for both iOS and Android devices?
Yes, many appointment booking apps are available for both iOS and Android devices, ensuring compatibility with a wide range of smartphones and enabling a broader user base to access the app's features.