If you are the one who looks after your family's grocery needs? Then you might have come across Instacart in one form or the other. For example, you might have heard your neighbour describing her comforting shopping experience on Instacart and how they almost forgot to list various items but later on, enlisted them through chat with the shopper. This article will broaden your understanding regarding the question: what is Instacart? Which helps you use it more efficiently.
What is Instacart?
Instacart is an online grocery delivery service that allows users to order groceries and other goods through their website and mobile app. And get them delivered right to your doorstep. In addition, Instacart provides a direct purchase and delivery of goods from your nearby partnering store.
Instacart is one of the largest and most widely available online retail platforms in the USA. That consists of about 40,000 partnering stores located in more than 5,000 cities across the US and Canada. There are a total of about 500 million products enlisted on Instacart.
How does Instacart work?
Instacart connects the users on the platform with its wide network of partnering stores scattered across the US and Canada. Thus allowing the users to choose groceries and goods from various nearby stores. In addition, Instacart employs many part-time or full-time shoppers that help you pick up your desired goods from your selected nearby store.
Now that we know the process of ordering goods with Instacart's mobile app and website. Let us now look into the process of picking goods by the shopper. As you complete your order of goods on Instacart, a shopper gets notified of the order on his Instacart app. After that, the shopper begins picking the user's goods based on the order details. The shopper chats with the user through the process of picking the required goods. Whereby the users tell their requisites and other preferences. Once the order is completed, the shopper either places it for pick up or delivers it to the address at the scheduled time.
Who owns Instacart?
Maplebear Inc. owns Instacart, and the company is part of a General Freight Trucking Industry, situated in San Francisco and California, US. Apoorva Mehta, along with his associates Max Mullen and Bradon Leonardo, started Instacart in 2012. The online grocery service initially began its services in San Francisco and consisted of 200 employees in the year 2015.
After that, it adopted a new policy allowing shoppers to be part-time employees in their online grocery service. Today, Instacart employs more than 2,00,000 shoppers on its platform, who uses Instacart mobile app to purchase groceries and other goods from various stores daily. Studies suggest that about 85% of households in the US have access to Instacart's online grocery platform.
Ordering groceries from Instacart
Shopping for groceries and other goods from Instacart's mobile app is efficient as well as easy. In addition, Instacart's mobile app offers a lot more features and options just at your fingertips. Instacart app is available on both iOS and Android platforms. The first step towards accessing Instacart's mobile app is to log in to the Instacart app. One can log in to Instacart through his Facebook, G-mail, or Email account.
Then, you need to provide your location to the Instacart app to find various stores near your location. After that, a whole list of nearby stores appears on your screen to choose from. After selecting the store, you choose from a variety of goods available on yours. Screen. Once the order is complete, you need to pay for your order and provide your delivery address to the app. Thereby you also need to select the scheduled delivery or pick-up time of your order. Instacart mobile app also allows you to chat with your shopper while he picks up your order.
Instacart's Contactless grocery delivery
Following social norms and avoiding close contact with other individuals has become our duty and our necessity for a safe tomorrow. Instacart also supports this essential attitude with its "Leave at my doorstep" delivery feature.
This feature allows you to accept your orders without coming to your doors to accept them. Instead, you can provide your instructions for the pickup and delivery during the checkout. That will be followed by the one who picks up or delivers your order. Although the delivery of alcohol and medicines still requires proper authorization and approval.
If you are looking to develop a similar app like Instacart for your grocery delivery business, AppsRhino has got you covered.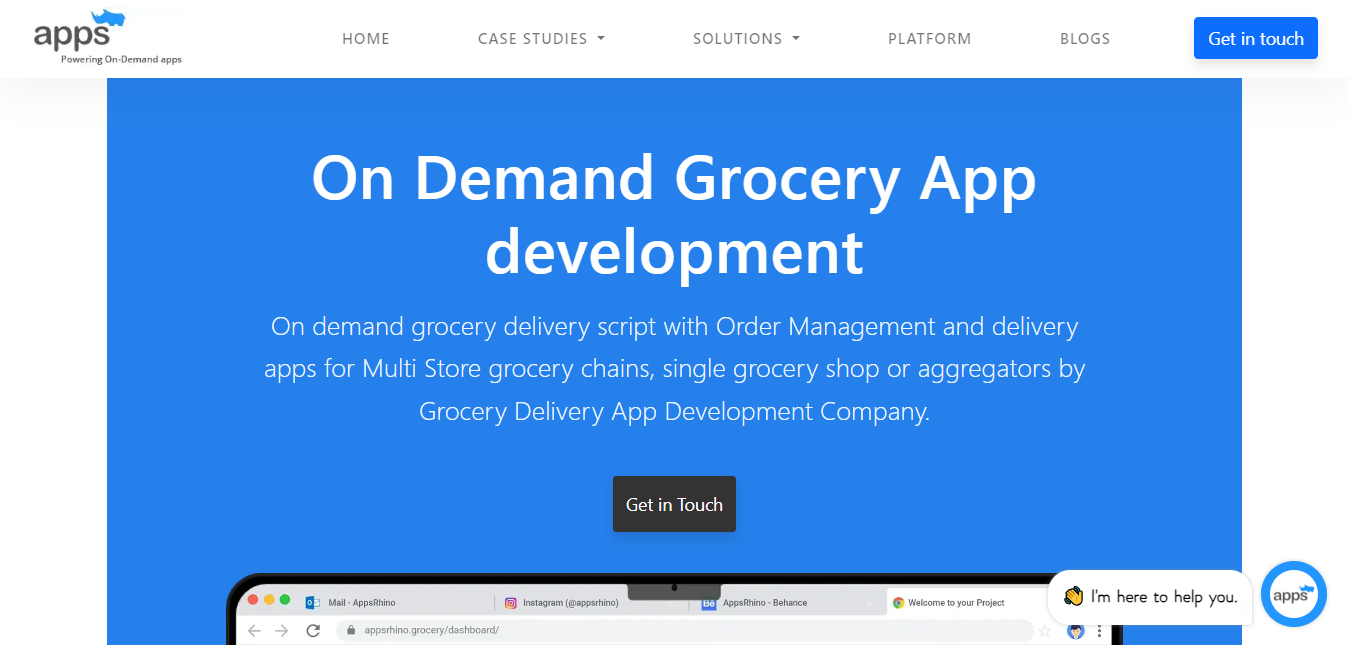 Apart from customer mobile app development, AppsRhino offers the best Tech-driven solutions for Home services, Laundry delivery, Alcohol delivery, Grocery Delivery, On-demand Cannabis, and Taxi Services:
Cost of Instacart's orders
There is no membership required for you to begin shopping on Instacart. You can even order goods directly from various warehouses, clubs, or wholesalers without paying any membership fee. You have to log in to the app or website for ordering goods on Instacart. However, Instacart offers several free delivery promotions for users. Well, Instacart does collect some fees on your orders of groceries and other goods. Those are as follows:
Delivery fees: The delivery fees of orders start at $3.99 for same-day delivery orders of value over $35. The delivery fees vary on orders of different scheduled times, values, and other factors.
Pick-up fees: Pick-up fees on orders may or may not vary from delivery fees depending upon various factors such as order value, schedule time for pick, and others.
Service fees: Service fees on orders also vary from order to order depending on the types of goods, location, and the number of goods. For example, alcohol orders have different service fees.
Instacart Express: Instacart's premium membership offers free delivery of orders of value over $35 or more along with lower service fees.
Conclusion
In conclusion, Instacart has emerged as a game-changer in the grocery delivery landscape, offering convenience and time-saving benefits to shoppers. And it doesn't stop right there. Instacart app has set an example for other grocery businesses to grow as well.
From its seamless app interface to a wide selection of stores, Instacart has revolutionized how we shop for groceries. Embracing this innovative service opens doors to a stress-free and efficient grocery shopping experience.
Happy shopping!
Frequently Asked Questions (FAQs)
Is Instacart available in my area?
Instacart is available in various cities and regions across the United States and Canada. To check if it operates in your area, simply enter your zip code on the website or app.
Can I shop from multiple stores with Instacart?
Yes, with Instacart, you can shop from multiple stores in one order. The platform partners with various supermarkets and retailers, giving customers the flexibility to choose items from different stores.
Are the prices on Instacart the same as in-store?
Instacart prices may vary slightly from in-store prices due to retailer policies and service fees. However, the overall difference is minimal, and you can easily see the total cost before confirming your order.
How quickly can I get my groceries delivered?
Delivery times depend on your location, store availability, and shopper availability. Typically, Instacart offers same-day delivery and allows users to schedule deliveries for specific time slots that suit their convenience.
What if an item is out of stock?
If an item you ordered is out of stock, the shopper may suggest a replacement. You can approve or request a different replacement or receive a refund for the unavailable item.
Can I add special instructions to my order?
Yes, you can add special instructions for your shopper during the checkout process. This allows you to request specific preferences or any other necessary details for your delivery.
How can I contact my shopper or customer support?
You can communicate with your shopper directly through the Instacart app or website. For any other concerns or issues, Instacart offers customer support accessible through the Help Center.
Is tipping the shopper necessary?
While tipping is not required, it is customary to tip your shopper for their service. You can add a tip during the checkout process, and 100% of the tip goes directly to the shopper.