With off-and-on lockdowns and the weather outside becoming increasingly bleak, now is the ideal moment to try an alcohol delivery app.
There's an app for every imbibing requirement, from single-drink ordering to bulk beverage purchases.
The idea is that you don't have to travel far (let alone enter a store) to stock your bar cart with drinks for any occasion.
Your next excellent sip is just a few clicks away! Just google 'alcohol delivery near me,' and you'll find an alcohol delivery service partner.
Top alcohol delivery apps help customers relax by delivering their favorite booze to their doorsteps.
Such Alcohol Delivery Apps are increasingly in demand and, in fact, are growing robustly.
In 2017, Drizly had a 62% gain in revenue, while Wine saw a 21.2 percent increase in online sales of hard liquor and beer. Covid year helped the alcohol delivery apps to boom much like the food delivery apps.
The results for top alcohol delivery apps have been phenomenal, and the prime example is Drizly, which has been acquired by Uber recently for a whopping $ 1.1 billion.
Top 12 Alcohol Delivery Apps
Following are the Top Alcohol Delivery Apps you must know about:
1. Drizly- The Best alcohol delivery app

Drizly, a Boston-based firm, uses its mobile app to distribute beer, wine, and liquor. Drizzly is the app for you if you need your liquor fast.
Drizly can deliver your favorite wine, beer, or liquor in less than an hour.
It works by letting you look through various liquor stores in your area. After that, all you have to do is place your order and wait for it to arrive.
If you don't want to wait for it to be delivered, you may also pick it up. Credit and debit cards are allowed as payment methods on the app; no cash is accepted for orders, but you can tip in cash if you choose.
Pros:
There are numerous solutions open to you.
Reasonably priced items
It is possible to get your order delivered on the same day.
Cons:
Same-day or one-hour delivery is not available in all locations.
Depending on the vendor, shipping costs vary.
This option is not available in all states.
Suggested Reading: How To Build A Professional Healthcare App in 8 Easy Steps!
2. Saucey- Best alcohol delivery app for small orders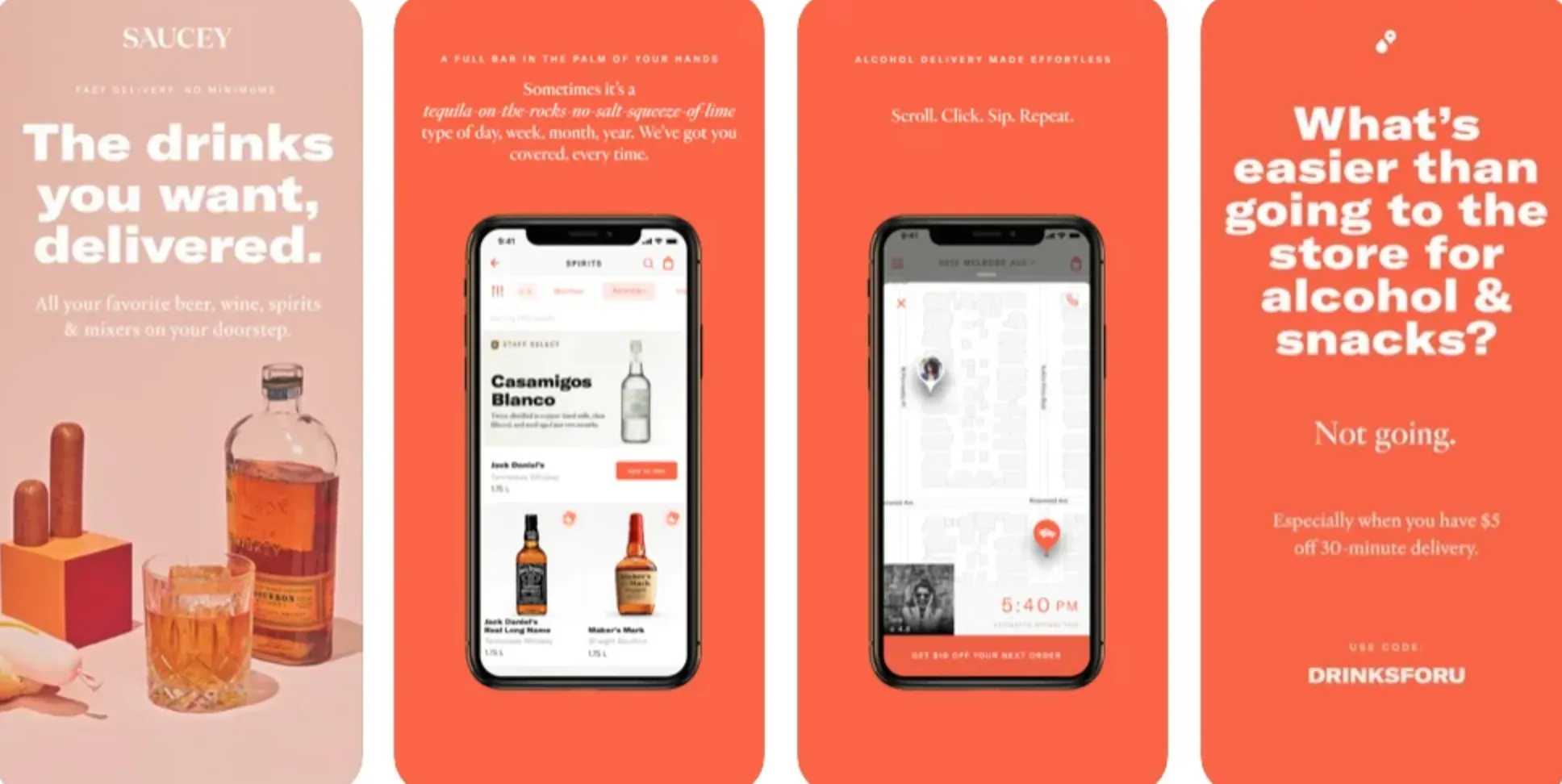 Because of its speed, Saucey distinguishes itself out from the other alcohol delivery apps. Furthermore, if you live in a few major U.S. cities, you may have your order delivered in as little as 30 minutes, which is remarkable.
If you don't have one, you can still obtain your item with two-day delivery. Simply choose the booze you want, put it in your cart, pay for it, and wait for it to arrive.
Saucey is a popular booze delivery app in numerous states right now.
Pros:
Cost-effectiveness
Delivery time is 30 minutes.
Deliveries can be made to any location, including offices, homes, and the beach.
Cons:
It only operates in a few states, including New York City, Chicago, and Los Angeles.
The price of delivery differs from one vendor to the next
Suggested Reading: A Comprehensive Guide on Creating a Saucey Clone App
3. Winc- Best Wine delivery subscription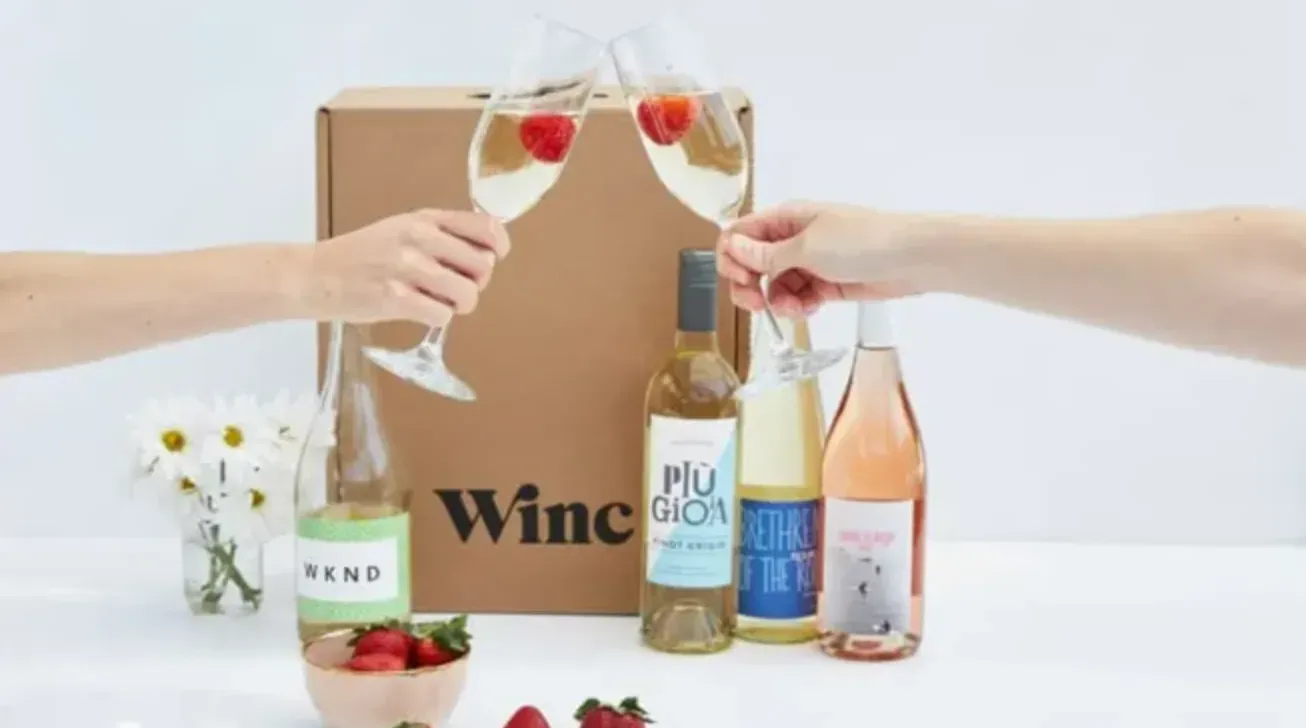 Winc is the internet's #1 way to wine. You receive a monthly supply of wine delivered to your door with Winc.
The owners of this wine club, which opened in 2012, wanted to make wine more accessible, so they built a unique wine club. With Winc, you'll never have to pay for a bottle you don't enjoy.
Begin with a month-to-month membership and cancel or skip a month as needed. A 10% discount is applied to orders of 12 or more bottles.
Pros:
You can have wines selected for you based on your tastes. It is a fantastic collection!
A chance to try a variety of wines.
Flexible subscriptions that allow you to choose and choose your own bottles.
They have super fast delivery of amazing quality wines right to your doorstep.
Cons:
We are unable to ship to all 50 states.
You must purchase 12 bottles to obtain a 10% discount.
It is possible that orders will take up to 7 business days to arrive.
4. Doordash- Best alcohol delivery app for takeout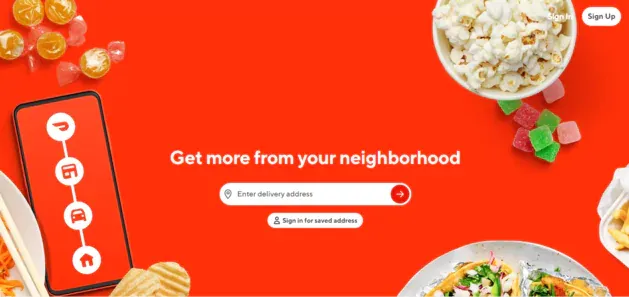 Doordash is one of the best food and beverage delivery apps, and it's also fantastic for quenching your thirst for alcoholic beverages. You can browse and shortlist your favorites with this app for liquor delivery near me.
You can also keep track of or plan your delivery based on your preferences. Restaurants, merchants, brewers, and other businesses can bring alcoholic beverages to your door.
You can now get a delicious drink to accompany your delicious supper delivery. Simply download the app, find a restaurant, order your food and/or beverages, and wait for it to be delivered as quickly as possible.
Pros:
There is no delivery charge on your first order.
Deliveries of ready-to-drink cocktails of bar-quality
There is also wine and beer available.
Cons:
Frequently, ordering alcohol necessitates the purchase of food.
The majority of venues provide only a small assortment of alcoholic beverages.
Each city has a different amount of participating eateries.
Suggested Reading: How DoorDash Works: Business Model and Revenue Model
5. Instacart- Best alcohol delivery app with groceries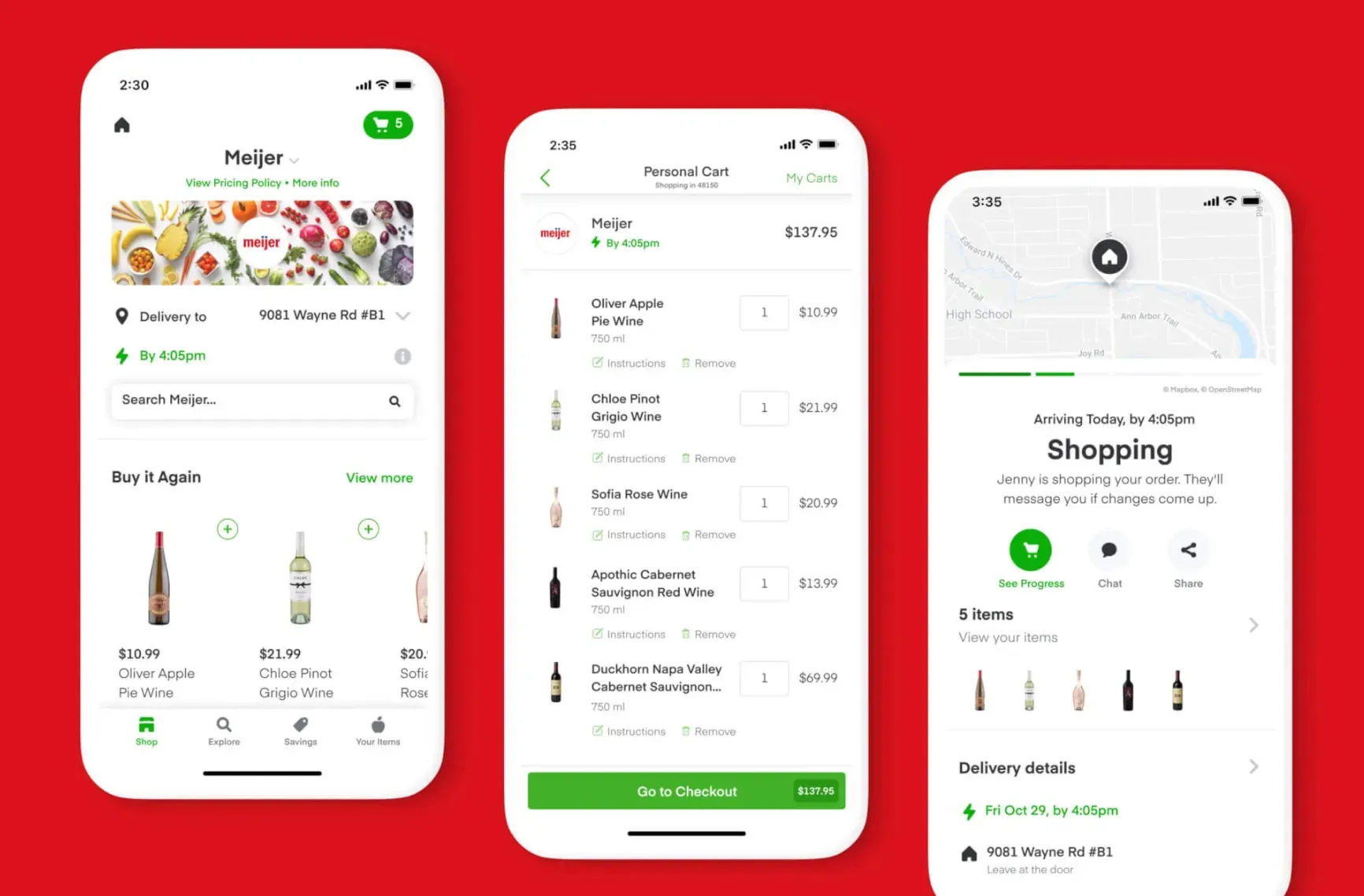 With the addition of alcohol delivery to Instacart's offerings, the customers can now get their favorite drinks within two hours of ordering their liquor.
Snacks, groceries, and other food goods, as well as beverages, can be ordered at any time and from any location. Enter your zip code after downloading the alcohol delivery app to see the local Instacart stores that deliver to your location.
Order a wide range of alcoholic beverages and brands, as well as snacks and groceries as side dishes.
You can receive contactless and same-day delivery in cities like Vancouver, Toronto, and Ottawa, among others. If your product isn't available, talk to the shopper about finding a substitute.
Pros:
You get access to all of the alcohol products that the company sells on a regular basis.
It is possible to place orders that are solely comprised of alcoholic beverages.
Wherever the law allows, new states are added.
Cons:
Its services are available only in 14 states.
There is an alcohol service cost in addition to the standard service charge.
To provide your identification to the driver, you must be at home.
Suggested Reading: Here's How You build an Instacart Clone app in 5 Easy Steps
6. Minibar- Quickest alcohol delivery app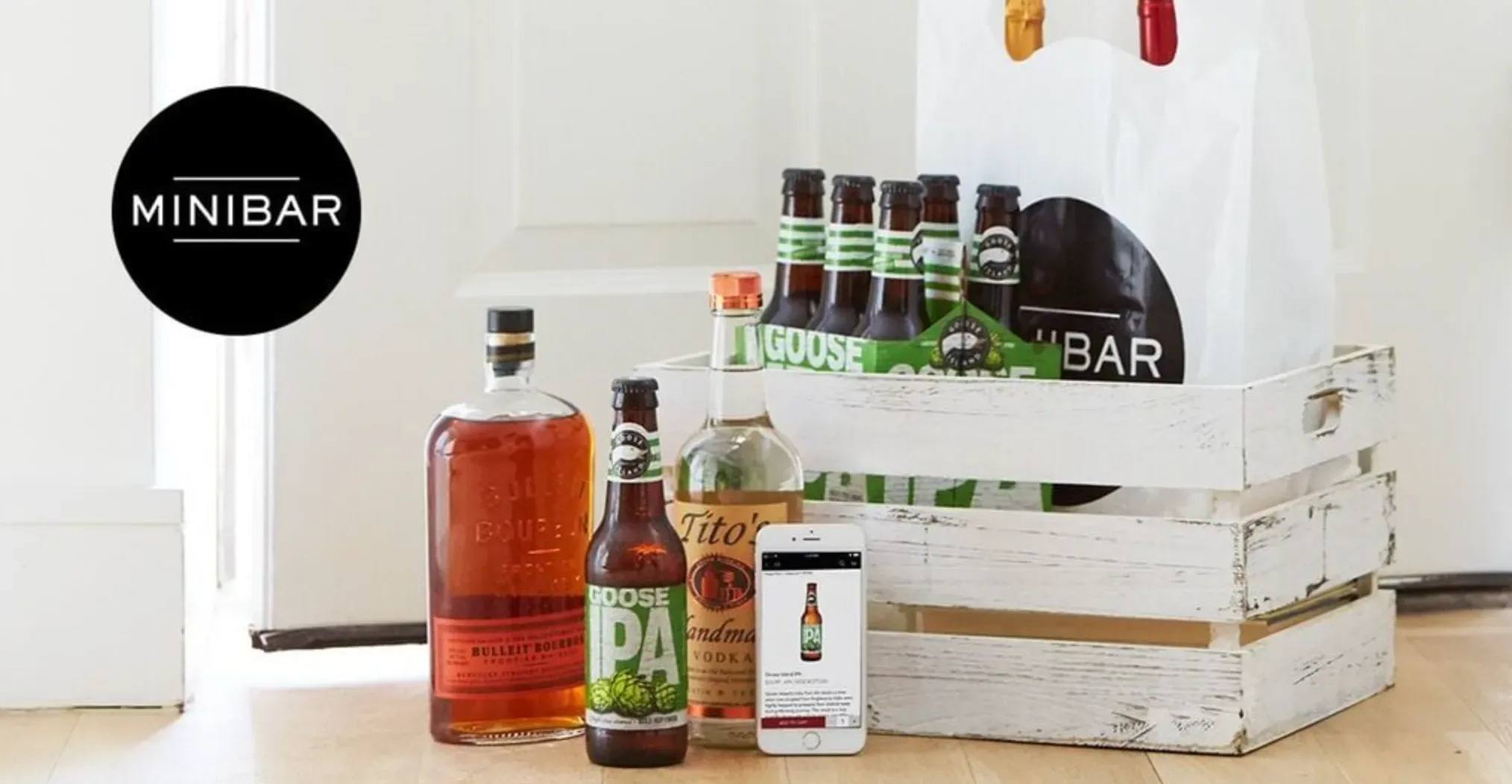 This rapid booze delivery business has completed over 2 million deliveries. When you order drinks from Minibar Delivery, you may choose from a wide variety of options.
This top app for alcohol delivery is a terrific choice if you appreciate drinking the best. Minibar gives you the choice of buying them right away or scheduling them for later delivery.
Wine, whiskey, and beer may be delivered to your door with just a few taps. You'll find some great prices and a wide variety of options.
Pros:
Local liquor stores are collaborators.
Your order can be delivered in as little as 30 minutes.
A blog full of useful advice
Cons:
There are just 18 states that are covered.
There is a requirement for a minimum order.
For some locations, just shipping is offered.
Suggested Reading: Which is a better alcohol delivery app? Minibar or Drizly
7. Swill- Best alcohol delivery app for amateur mixologists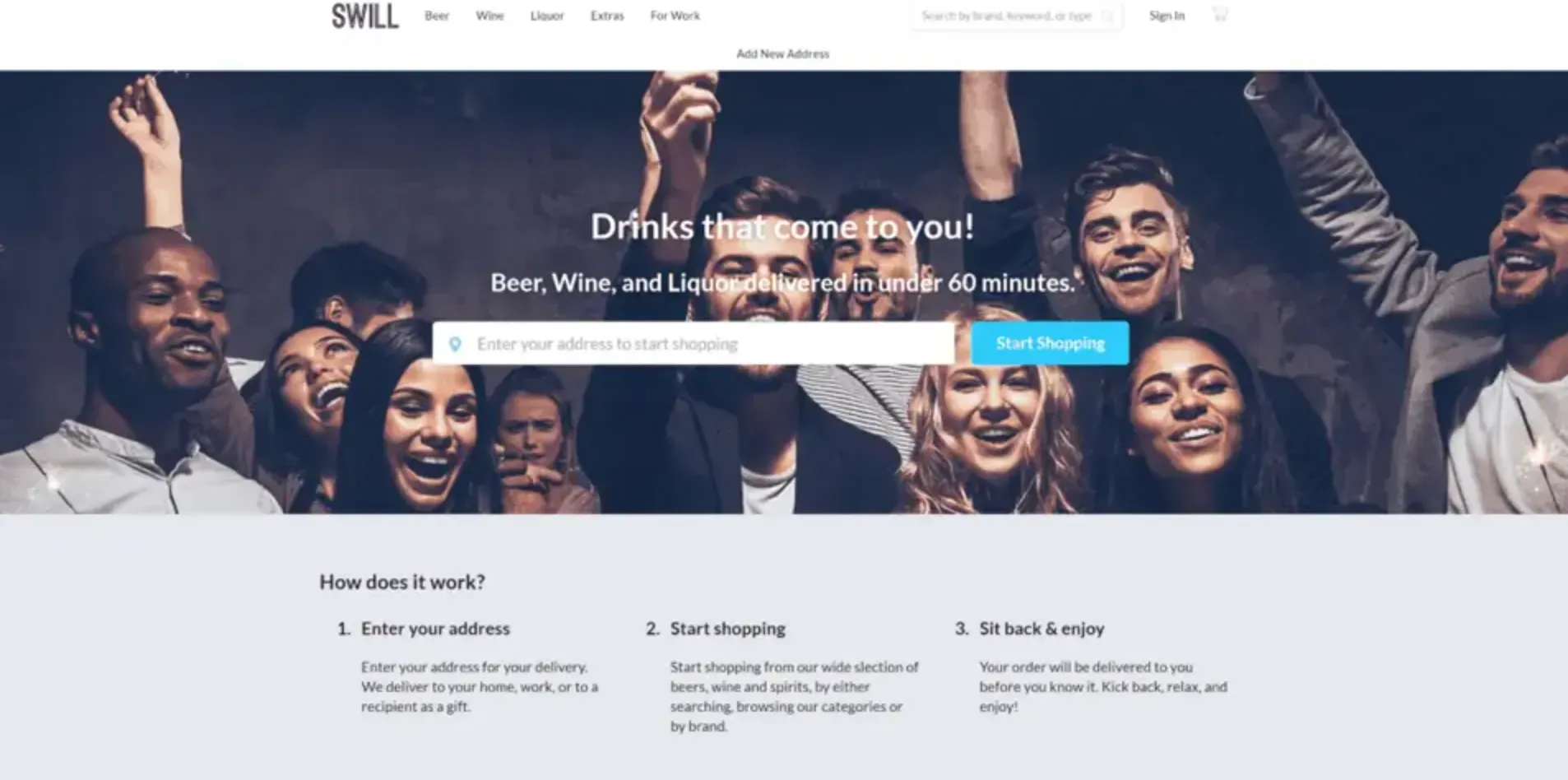 The best part is that your item might be delivered in as little as 60 minutes.
Say your goodbyes to the beer runs! This service provides you with everything you need to be a mixologist at home, including a large selection of sodas, juices, and garnishes to order with your beer, wine, and spirits.
Swill's app connects you with local, on-demand delivery. You can have beer, wine, spirits, and other beverages delivered to your home or place of business.
The app contains a variety of mixers (tonic and soda) as well as unique goods like coconut water, aloe, and energy drinks to enable you to make cocktails at home.
Pros:
Spirits are offered in a wide range of flavors.
Garnishes and mixers are available.
Delivery timeframes might be as little as 60 minutes in some cases.
Cons:
From store to store, the minimum order varies.
For a single delivery, ordering from multiple vendors is not feasible.
The service is limited to major cities.
8. GoPuff- Fastest Alcohol delivery service platform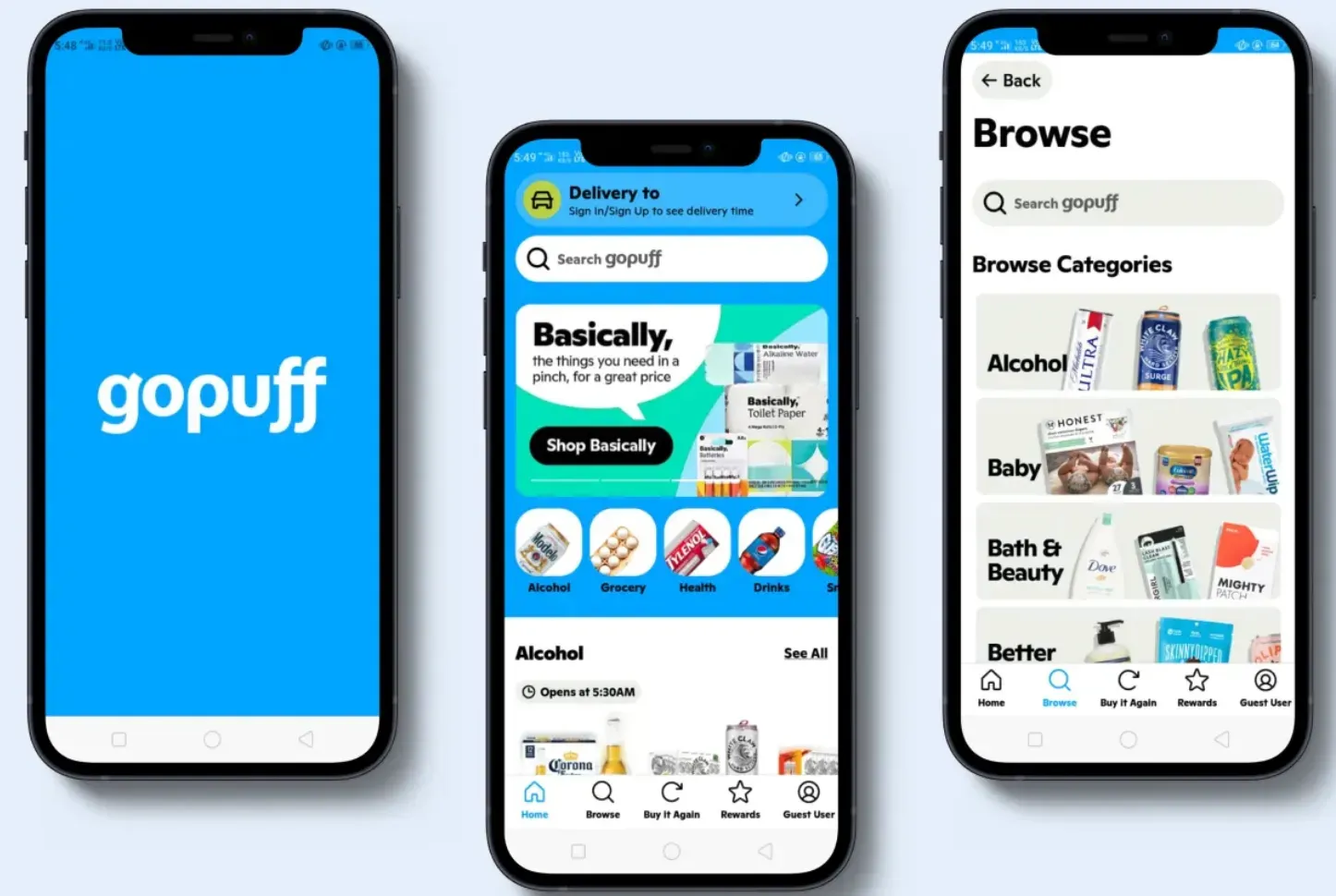 GoPuff is a food and beverage delivery service that, on average, takes less than 30 minutes to bring your items to your door.
In addition to cleaning supplies, over-the-counter drugs, food, electronics, and baby essentials, GoPuff also delivers booze. The best part is that they're open until the wee hours of the morning!
Also, the delivery cost is only $1.95, which will make your evening much better. Joining the FAM membership program is a great way to save a lot of money if you use GoPuff frequently.
With a GoPuff FAM membership, you can get free food and liquor delivery for $5.95 each month.
Pros:
Service is provided until late at night. Daily needs store that provides practically everything
Charges fees for minimum deliveries
Provides service in over 1000 cities (GoPuff near you)
Cons:
Only a few states have access to these services.
Suggested Reading: GoPuff Business Model | Complete Guide
9. Caskers- Best alcohol delivery app for artisanal bottles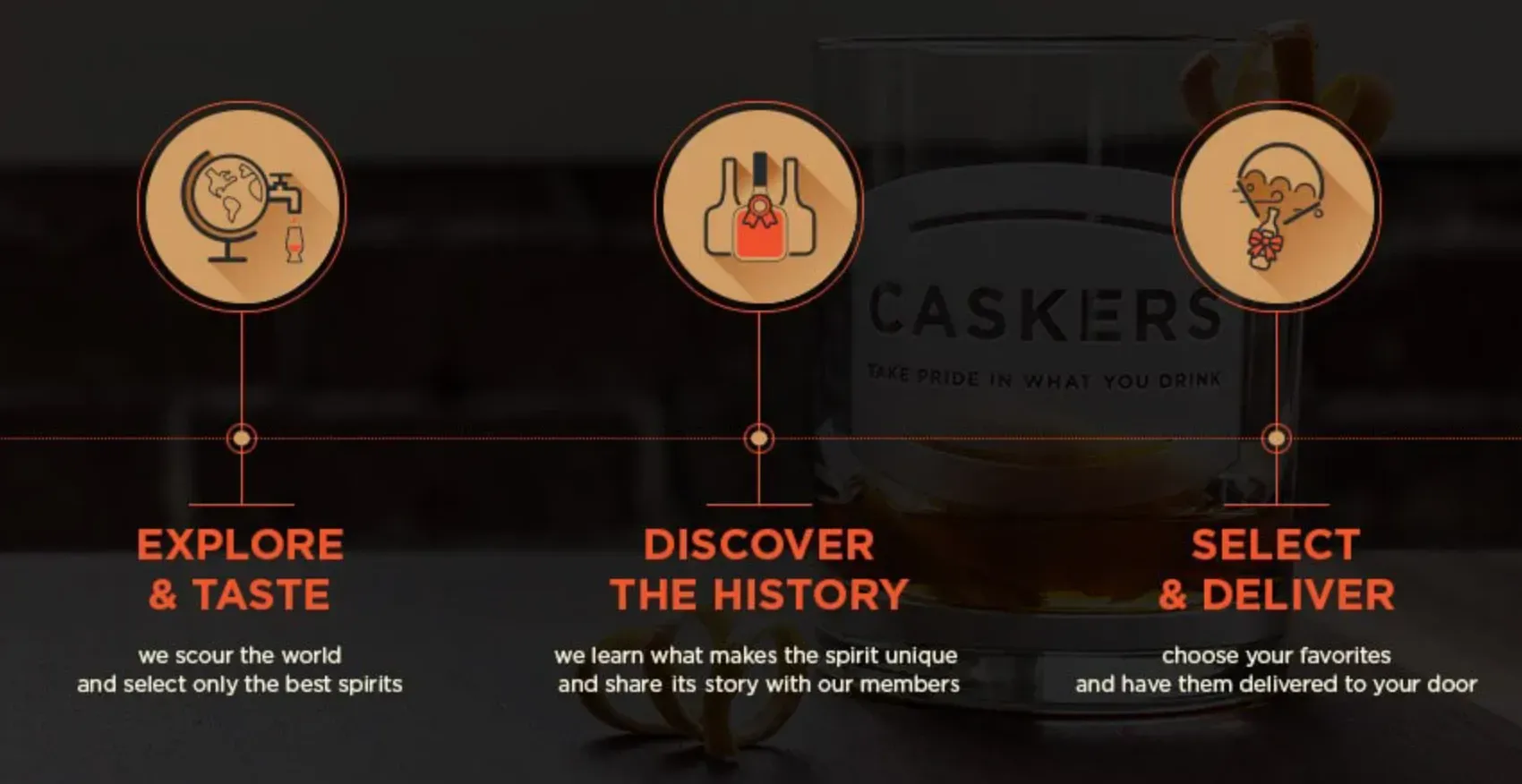 Caskers is a website that helps individuals find craft spirits such as Macallan Rare Cask Single Malt Scotch Whisky and Mount Gay XO The Peat Smoke Expression Rum that aren't typically available at their local liquor store.
There is no membership cost; all you have to do is decide what you want to do and go from there. Because the brand specializes in artisanal spirits produced by small-batch distilleries, you're unlikely to have experienced anything like this before.
You can join one of Caskers' clubs, such as the American Whiskey Club or the World of Whiskey Club, or simply buy something that catches your attention. Prices and delivery differ based on what you choose.
Pros:
Offers a wide range of rare drinks
There are no membership costs
Cons:
Prices vary with the brand and rarity of drinks, which can be a bit taxing on the customers.
Does not cater to a very large market.
10. Drnxmyth- Best hand-mixed, ready-to-drink cocktails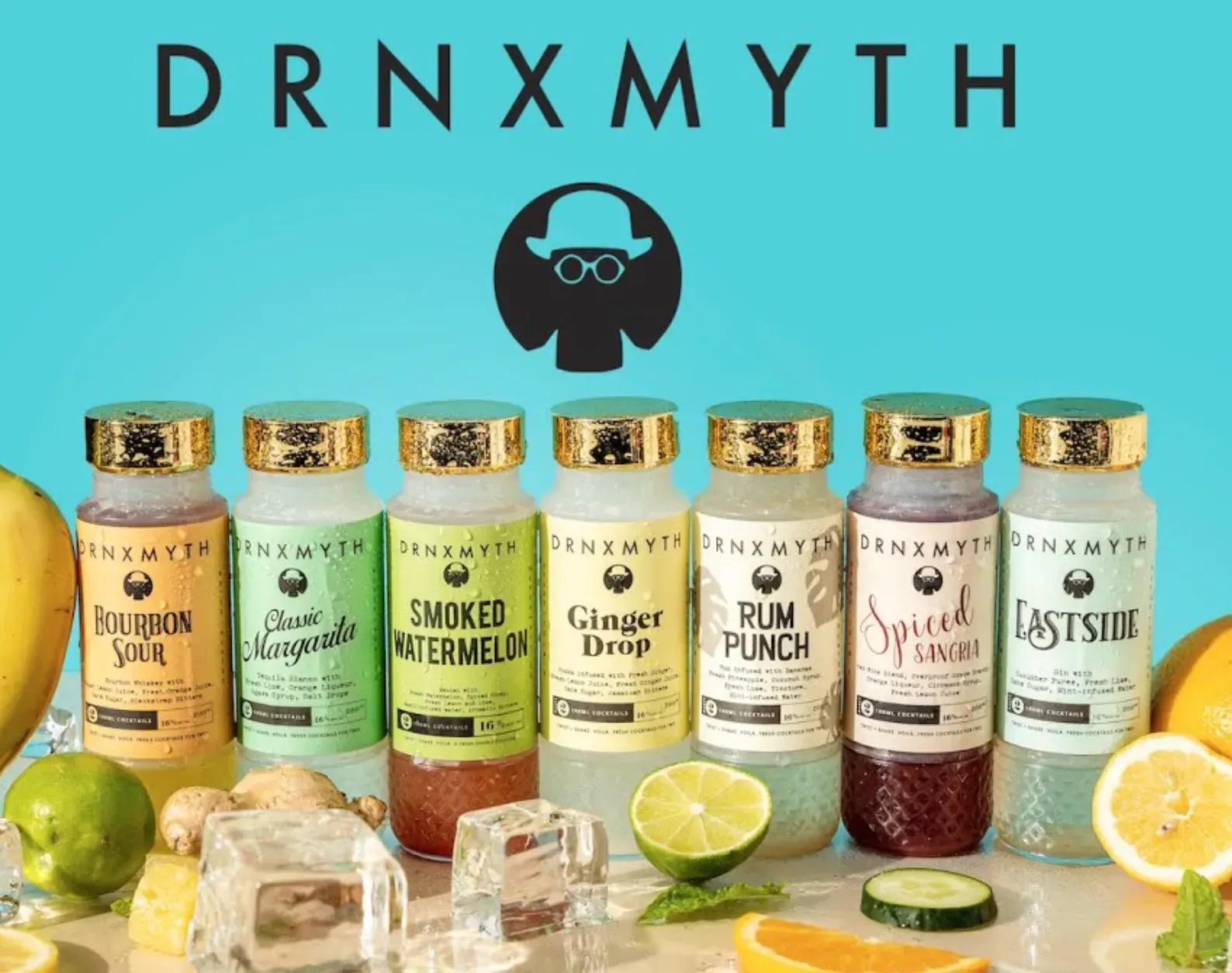 While beer, wine, and liquor enthusiasts will have little trouble finding a service that delivers their favorite concoctions, cocktail lovers will have a more difficult time finding one.
Drnxmyth, on the other hand, is one of the few organizations that will deliver bar-quality cocktails to your door.
All you'll need is ice and a glass to enjoy the bottled beverages, which feature artisan ingredients like cold-pressed juice and liquor.
If you live in New York, Los Angeles, San Diego, or Miami, you can get same-day delivery for $10 or free pickup with DoorDash.
Everyone else, on the other hand, will have to spend close to $20 for shipping, with a cold delivery option available. However, if you enjoy delectable mixed drinks, the price is well worth it.
Pros:
Delivers bar-quality cocktails to your doorstep.
Cons:
Prices are very high as compared to other delivery partners.
11. Boxed- Best wine delivery service to stock up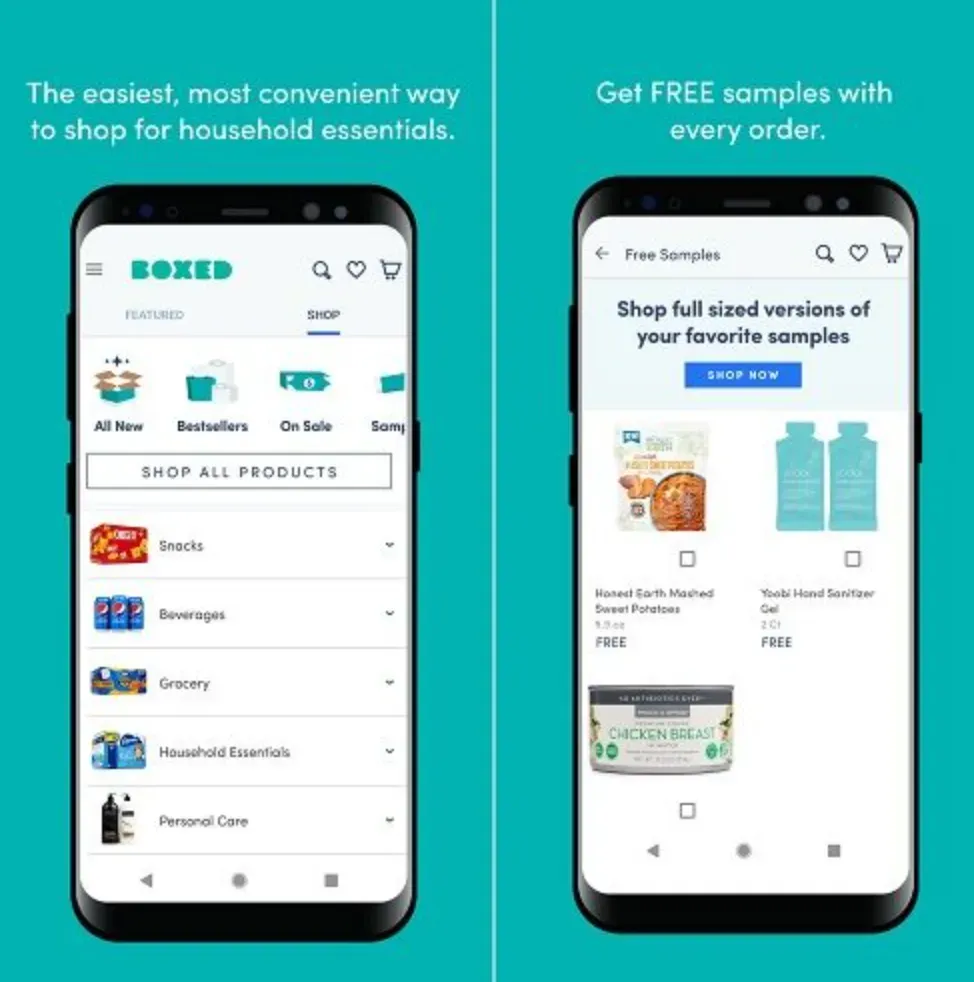 Boxed is a merchant that allows you to stock up on a variety of items in bulk, including wine.
While its alcohol selection is limited to wine, you may choose from a range of bottled and canned packs and bundles, such as an 8-pack of canned rosé for $50 or a 12-pack of Martha Stewart-curated bottles for $140.
Pick up bulk snacks, personal care goods, food, and (like it or not) pet supplies while you're there.
Pros:
Offers snacks and food along with drinks.
Allows for bulk orders which are cheap and easy to stock.
Cons:
High delivery charges
Services are not available uniformly.
The alcohol selection is only limited to the delivery of wines.
12. Craft Beer Club- Best craft beer delivery service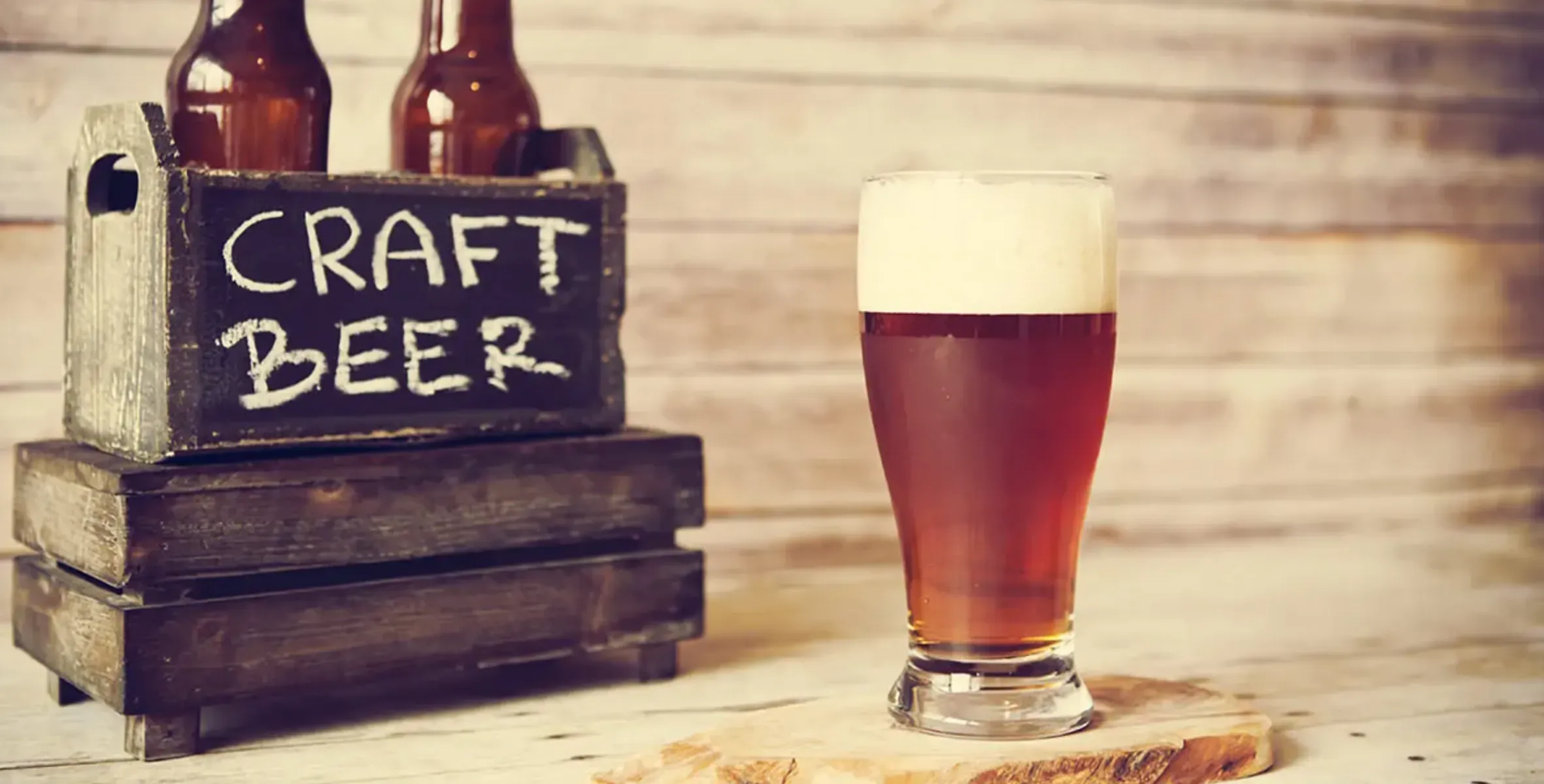 Craft Beer Club is a great way to support small companies. Independent craft breweries, brewpubs, and microbreweries supply the beer for the beer delivery business.
Craft Beer Club selects beverages from breweries in practically every state, so there's plenty to go around. With each shipment, you'll get a new beer (for up to two years).
Do you want to join the club? Join the club for $45 each month and receive 12 beers (four different types of brew, three cans or bottles of each), as well as free shipping from the company.
You may select the number of shipments and the frequency with which they are sent (which makes this a terrific gift), and you can cancel at any time.
Pros:
Good encouragement for the start-ups.
There is a provision for free delivery as well.
Order cancellation is supported by the club.
Cons:
New flavors may not suit everyone. Thus, hampering the sale.
Order deliveries are not very smooth and fast.
Let's sum up
So when there are so many delivery services available, why schlep cases of beer and bottles of wine to your apartment?
Whatever your beverage of choice, we have listed above all the apps that will keep you from having to go to the store.
You'll still need to show your ID and chill your drinks, but the last thing you'll have to worry about is running out of alcohol!
If you want to enter the alcohol delivery marketplace, AppsRhino can develop an alcohol delivery app just like Drizly or Minibar.
AppsRhino offers the best Tech-driven solutions for Home services, Laundry delivery, Alcohol delivery, Grocery Delivery, On-demand Cannabis, and Taxi Services:
Get in touch with AppsRhino and book a demo.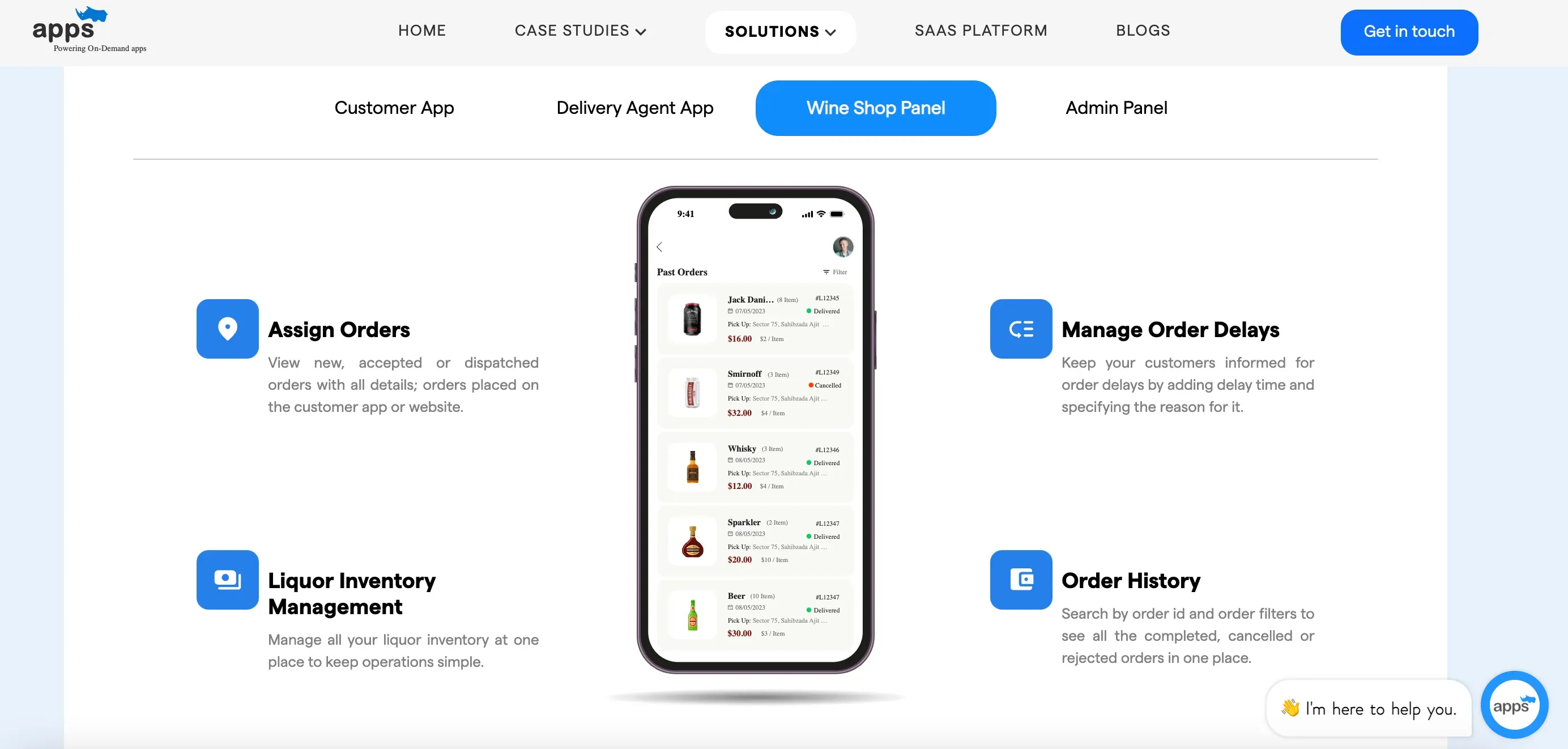 Frequently Asked Questions (FAQs)
How do Alcohol delivery apps work?
Alcohol delivery apps generally work by connecting customers with local stores or licensed retailers that offer alcohol delivery services. Customers can browse the available selection of beverages, place their orders through the app, and have the items delivered to their doorstep by the app's delivery partners.
What types of alcohol can I order through these apps?
These alcohol delivery apps typically offer a wide range of alcoholic beverages, including beer, wine, spirits, cocktails, and mixers. The available selection may vary depending on the partnering stores and local regulations. Users can explore the app to see the specific types and brands of alcohol available for delivery.
Are there any age restrictions for ordering alcohol through these apps?
Yes, there are age restrictions for ordering alcohol through these apps. To comply with legal requirements, customers must be of legal drinking age in their respective region or country.
Typically, customers will be required to verify their age by providing identification upon delivery.
Do these alcohol delivery apps charge any additional fees?
Additional fees may be charged by these alcohol delivery apps. These fees can include delivery charges, service fees, or convenience fees.
The exact fees can vary depending on the app and the specific order. It's advisable to review the pricing details and any applicable fees before placing an order.
How long does it usually take for alcohol to be delivered through these apps?
Delivery times can vary depending on factors such as location, demand, and the availability of delivery partners. Some alcohol delivery apps strive to offer fast delivery, often within an hour or less, while others may take longer.
Customers can usually track the progress of their delivery in real-time through the app.
Can I schedule a specific delivery time for alcohol through these apps?
Scheduling specific delivery times can depend on the policies of the alcohol delivery apps and the availability of time slots.
Some apps may offer the option to schedule deliveries in advance, allowing customers to choose a specific date and time for their alcohol to be delivered. Check the app's features and options to see if scheduling is available.