The coronavirus pandemic and social regulatory conditions gradually increased alcohol sales on the internet. According to the Doodle planning website, the number of meetings for simulated drink activities has increased by 296 percent.
COVID-19 has resulted in a significant shift in consumer preference away from brick-and-mortar stores and online sellers. With increasing customers joining the platforms daily, businesses are also shifting to an online mode to remain competitive.
The alcohol industry is not lagging in adapting to this new normal. According to studies, the on-demand alcohol delivery industry is expected to reach $1,684 billion by 2025, growing at a CAGR of 2% during the forecast period. The exponential growth has attracted significant investment in time and money, resulting in quick returns for business owners.
Human desires are limitless; for Liquor, the desire can be more potent than anything else. Customers have begun to shop for their favorite liquors digitally now that everything can be delivered in minutes via apps. Thanks to a new emerging trend – the development of liquor delivery apps!
What exactly is Drizly?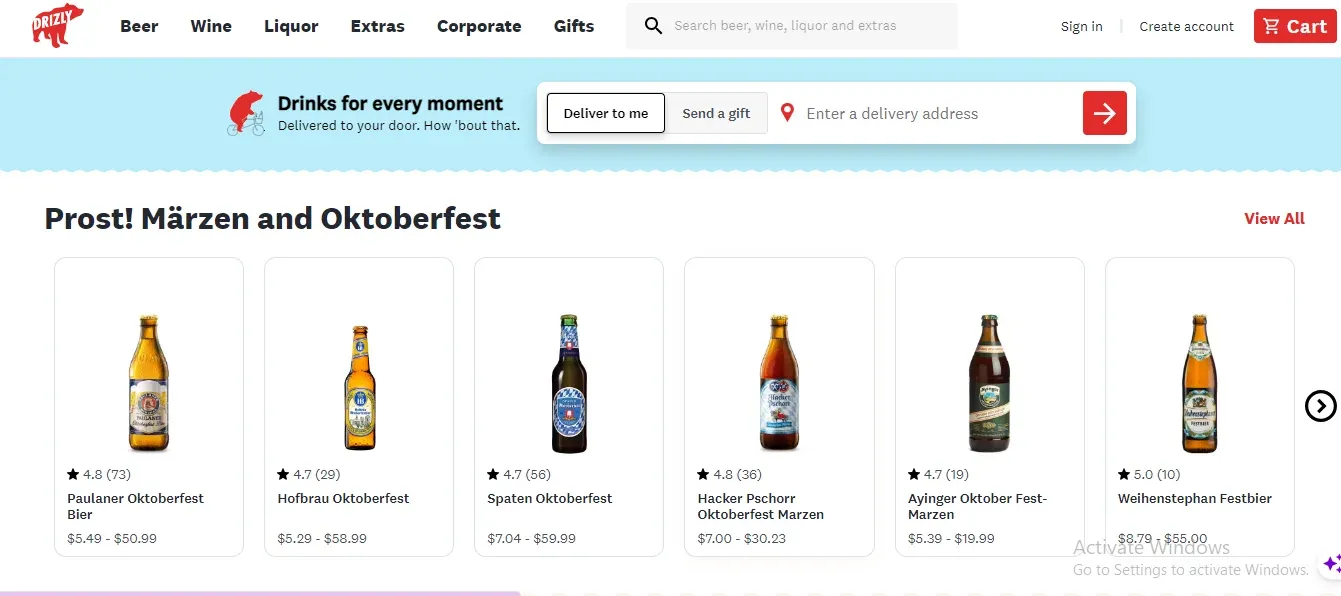 Referring to Drizly as an Uber for alcohol would not be incorrect. This on-demand platform connects customers with local liquor stores. It is one of Boston's best online alcohol storage services and has been in operation since 2012. The Drizly app lists over 1000 liquor stores in Canada and the United States. Customers enjoy this app because it provides exclusive wine and tailored beverages at reasonable prices.
Drizly has amassed a sizable amount of capital when it comes to funding. This online alcohol delivery platform has received over $85 million in investment over several rounds.
How to Create an On-Demand Alcohol Delivery App Similar to Drizly
Steps to create an On-Demand Alcohol Delivery App Similar to Drizly are as follows:
Step 1: Determine what Drizly is!
Drizly is a leading alcohol e-commerce solution that connects buyers and sellers through a mobile app and website. The app has over 3000 liquor stores registered in the United States and Canada, offering the widest selection of spirits and alcohol.
Since its inception in 2013, the company has experienced tremendous growth. It has established itself as a market leader in the on-demand alcohol delivery space. Even though the company does not handle delivery, Drizly's popularity has drawn many customers to the platform.
Drizly's distinguishing features are as follows:
A large number of sellers: Drizly offers thousands of beers, wines, and spirits by shopping at multiple liquor stores at once, thanks to its thousands of sellers.
Price Comparison: Make an informed decision by comparing the prices of alcohol at liquor stores in your area.
1-Hour Delivery: Alcohol is delivered in less than 60 minutes.
Secure Payment: Pay with your credit card through the app and verify your purchase with your ID at the time of delivery or pickup.
Customer Service: Do you have questions about the beer, wine, and spirits available in your area? Obtain responses from your customer team support.
Step 2: Discover what makes Drizly so popular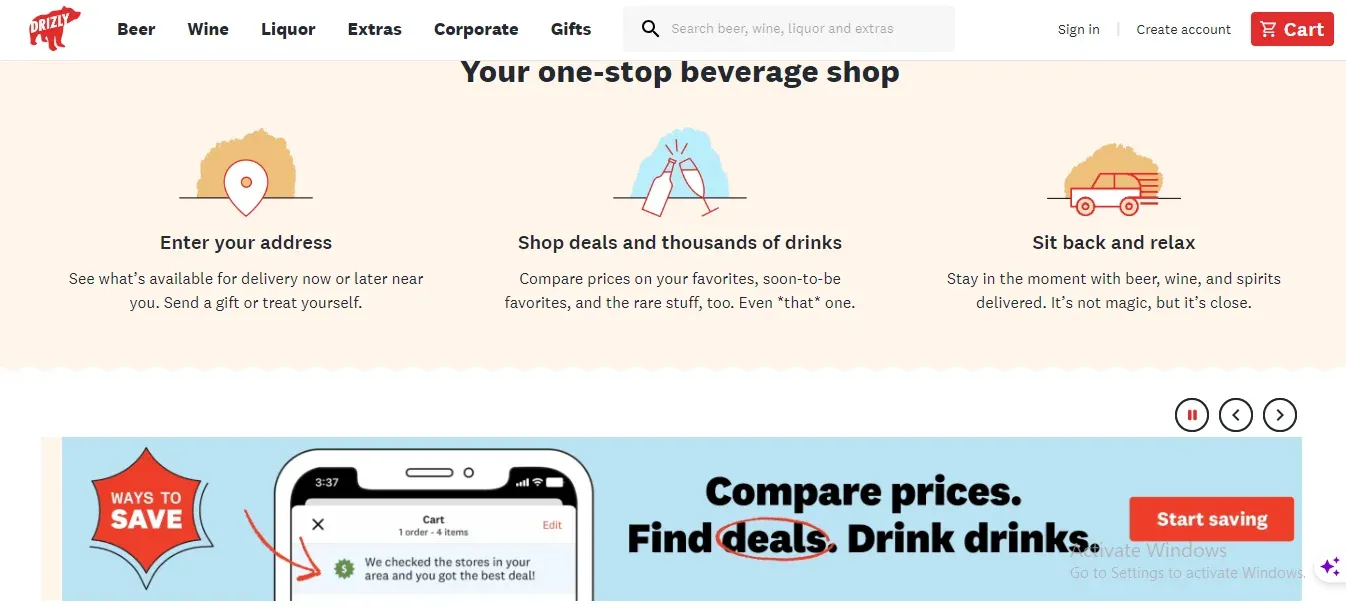 Drizly's winning formula is seamless functionality centered on the user's preferences. Some of the factors that contribute to its success are as follows:
Wide range of choices: Drizly provides a simple and easy-to-navigate interface that allows customers to search for beverages. Customers can quickly narrow their options, brands they prefer, and pricing options.
Customer Preferences: Drizly closely examines and analyses user preferences, making sure to include those learning to improve the experience.
Largest Liquor Selection: With over 2000 listed products, the platform provides customers with many options. Because Drizly does not charge any additional fees for these products, the alcohol is also offered at the lowest possible price.
Multiple parties: Drizly has a large user base in various markets, thanks to over 100 the United States and Canada markets.
Smooth In-app Experience: Drizly provides a tremendous in-app experience to all user categories with an easy-to-navigate UI/ UX.
Store Owner Quality: It is critical to ensure that your alcohol delivery business sellers provide the best products. Drizly ensures this through its quality control process. It must be completed before a store can join the platform.
Step 3: Examine how a Liquor App like Drizly will Work
Drizly, unlike the majority of on-demand e-commerce solutions, does not sell its alcohol or have its fleet. It simply redirects traffic to customers' nearest stores and allows them to proceed. Simply put, it functions as a seller's advertiser. Drizly's business model is based on providing an exclusive and extensive selection of alcohol at reasonable prices. Drizly takes the following steps to ensure that operations run smoothly:
The customer logs into the app and orders beverages from a nearby liquor store.
The order is routed to the store, which handles delivery and ensures that the order is fulfilled as soon as possible.
Customers can monitor the order via the app.
Drizly acts as a go-between for customers and sellers. Thanks to cutting-edge technology and streamlined functionality, users are increasingly registering on the app, bringing more opportunities to sellers. Although sellers handle delivery independently, Drizly provides compelling incentives to stay on the app.
Before adding stores to the platform, Drizly performs a quality check to ensure that standards are met and specific parameters such as product storage, pricing, distribution system, etc. After that, store owners can register for the app and integrate their delivery system by paying the registration and monthly fees. The liquor store's POS system is also integrated, ensuring that the app constantly updates inventory.
Step 4: Determine the Revenue Model of an On-Demand Alcohol Delivery App Like Drizly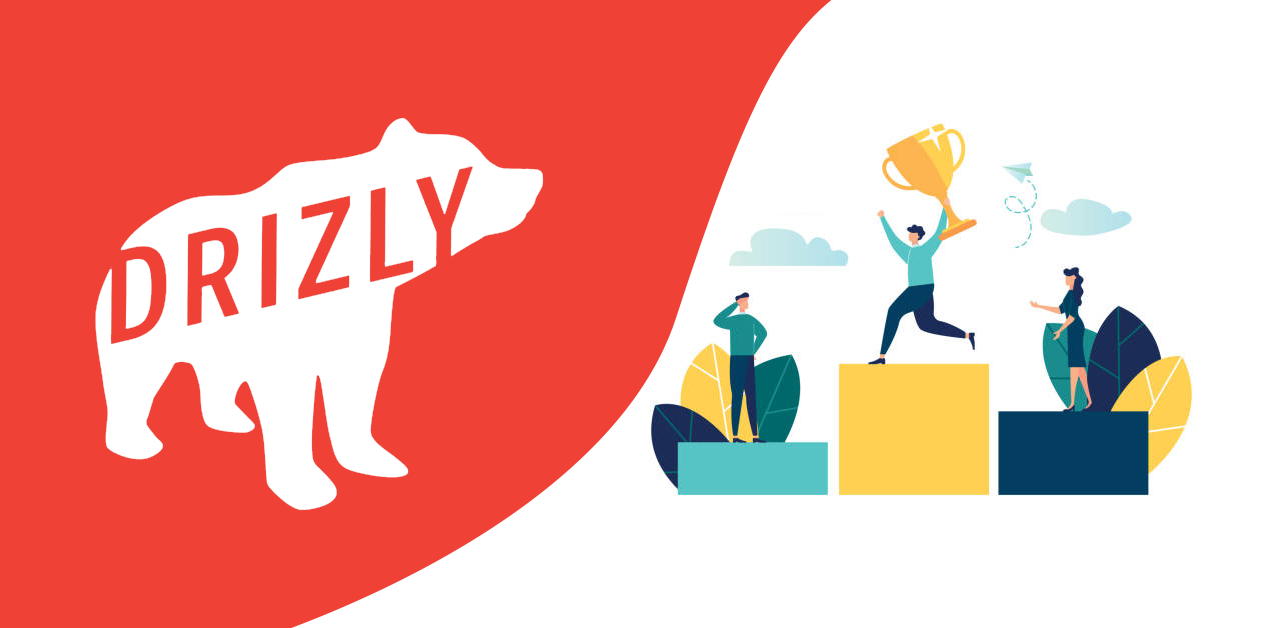 Drizly's primary source of revenue comes from its liquor store partners. From its partner stores, the app charges a monthly fee. This fee ranges from $100 to $10,000 and is determined by various factors such as location, delivery value, and affordability, among others.
Furthermore, Drizly does not require its partner stores to pay a margin on individual sales. Drizly can stay out of the actual alcohol delivery while still providing unrivaled features in this manner.
Drizly charges a $5 delivery fee, which is paid directly to the liquor store when it comes to customers. The app does not add any additional costs to the price of the alcohol, and the prices displayed are those set by the store.
In addition, Drizly has an age verification framework that it can offer to other companies for monetization. How Do You Create An App Like Drizly?
Step 5: Identify Must-Have Features to Consider When Developing an Alcohol Delivery App
Customer App Benefits
Online Order Placement
Convenient Scheduling of Deliveries
Order Tracking in Real-Time
Notifications
Numerous Payment Options
Recommendation Programs
System of Rating and Feedback
Product Search Refinement
Delivery Agent App
Order Status Updation
Management of Profiles
Tracking of the shortest route
App for Store Manager
Cost and Product Management
Order Tracking in Real-Time
Disseminate Notifications
Accounts
Inventory Control
Admin App
Store Management
Cost Control
Customer Service
Tracking of Delivery Agents
Various Payment Options
Analyses
Step 6: Determine the Platform: App Development for the Web, iOS, and Android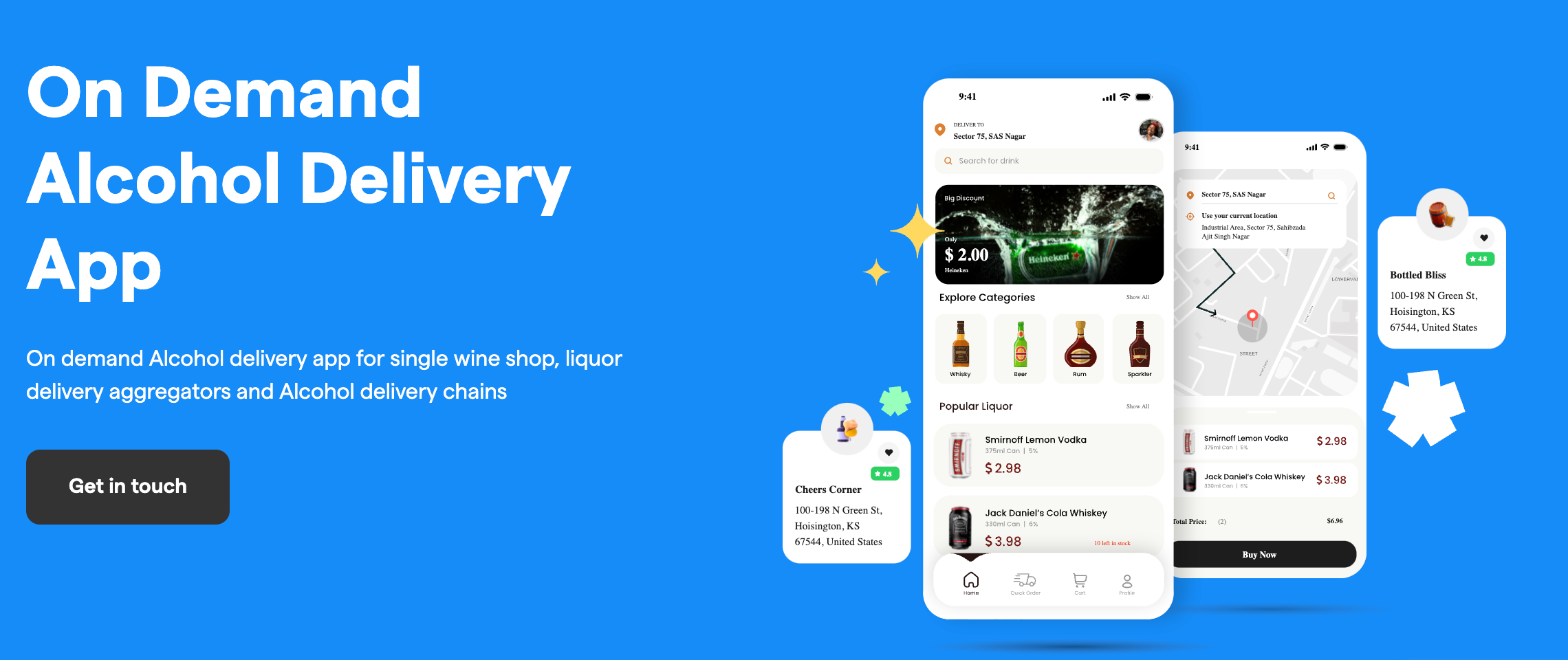 After you've completed a thorough analysis, choose the platform that will best serve your customers. Popular options include:
iOS app creation
Android app creation
Website creation
App development for multiple platforms
Step 7: Engage the Services of a Mobile/Web App Development Company
While you can always hire freelance developers, it is a better idea to hire a mobile app development company because they:
Possess more experience
Possess a diverse set of skills
Emphasis on quality
Capable of being caught at any time
Provide flexible hiring models.
Bring excellent project management skills to the table.
Allow you to keep track of the project's progress.
Step 8: Determine the total cost of creating an On-Demand Alcohol Delivery App
Several factors, including determining the cost of developing an app like Drizly:
The platform
The features and their complexity
The size and expertise of the team
The number of users and their classifications
To get the best price, make sure you thoroughly understand each of these factors. In a budget crunch, you can always opt for MVP development and scale-up.
Are you ready to start developing an On-demand Alcohol Delivery App?
Get in touch with AppsRhino's experts. We bring you the best-in-class services. Backed by our web developers, mobile app developers, business analysts, and anyone you need for a smoother development process. Please get in touch with us right away if you want to learn more.
On-demand liquor delivery is a profitable and promising business. It is expected to thrive in the coming years. As a result, there is no point in postponing the launch of your app like Drizly. Do you want to have some experts on your side? What about a free consultation before you launch your online alcohol delivery service? It's never been simpler.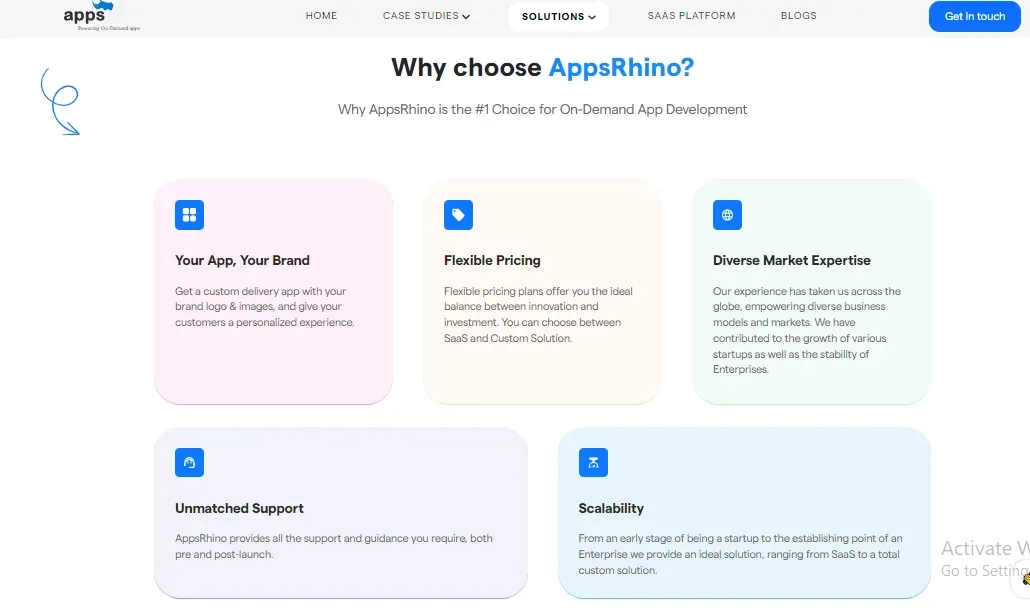 AppsRhino offers the best Tech-driven solutions for Home services, Laundry delivery, Alcohol delivery, Grocery Delivery, On-demand Cannabis, and Taxi Services:
Get in touch with AppsRhino and book a demo.
Suggested Reading:

Why AppsRhino is #1 when it comes to Developing Alcohol Delivery Apps