Alcohol cravings don't change with the seasons. Regardless of day or night, a bottle of beer will always improve your mood. Not everyone has easy access to a nearby liquor store or the time to go there at any given time. So that's exactly when the apps that bring alcohol to your home come to your aid.
The easiest way to buy alcoholic beverages without visiting an alcohol store is through online alcohol delivery services. Making such a wonderful app is something that an on-demand app development firm like AppsRhino, can help you with.
By having your preferred alcohol delivered right to your doorsteps, alcohol delivery applications make the lives of their consumers easy.
In recent years, Drizly's revenue has increased by 62%, and online beer and hard liquor sales have increased by 21.2%.
To get you started and build your own on-demand liquor delivery app, we'll go through one of the most well-known liquor delivery apps, Drizly. Its primary features and steps to build a liquor delivery app guide you in creating a similar on-demand liquor delivery app.
What is Drizly?
It would not be incorrect to describe Drizly as an Uber for alcohol. This on-demand platform connects clients with local liquor businesses. It was founded in Boston in 2012 and is one of the top online alcohol storage services. The Drizly app lists over 1000 liquor shops in Canada and the United States. Customers enjoy this app because it provides an exclusive selection of wine and personalized beverages at reasonable prices.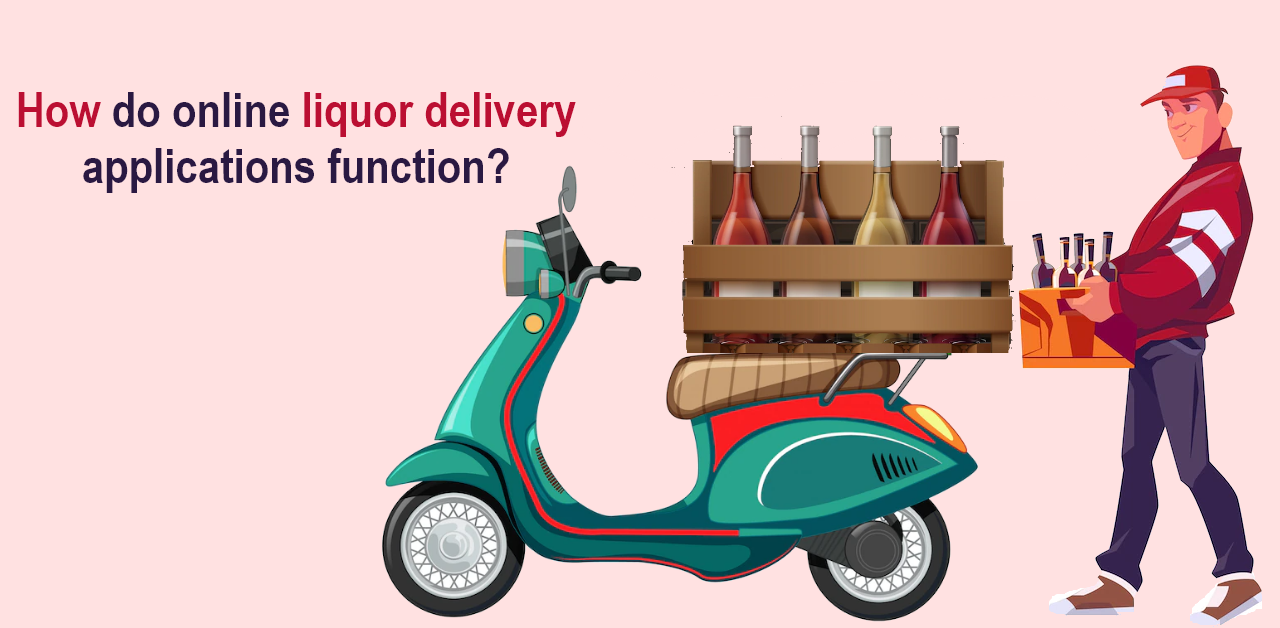 Let us now learn how on-demand liquor delivery apps work:
Step 1: The user downloads the liquor delivery app and looks for their preferred drink at neighboring retailers.
Step 2: Customers can place an immediate order or schedule delivery at leisure. A liquor store registers with a platform to ensure order fulfillment on time.
Step 3: The delivery is assigned to a delivery agent. The customer is kept up to date with suitable ETAs at each stage. Customers may track their orders from when they are picked up until they arrive at their destination.
Step 4: Once the liquor delivery has been completed, the agents can collect money, digital delivery proof, and even client comments.
Drizly's primary focus is selling an exclusive assortment of alcohol in the most convenient and cost-effective method possible.
What makes Drizly so popular?
User preferences are at the heart of Drizly's formula for success. The following are some of the factors that make it successful:
Drizly provides a straightforward and easy-to-navigate interface that allows clients to search for beverages. Customers can quickly narrow down their options, brands they choose, and pricing possibilities.

Drizly closely analyses and examines user preferences, integrating those learning to improve the experience.

The marketplace offers the broadest liquor selection, with over 2000 listed goods. Drizly does not charge additional fees, so the alcohol is delivered at the lowest possible price.

Drizly has a large user base in numerous areas, with over 100 in the United States and Canada markets.

Drizly provides a superb in-app experience to each user group with an easy-to-navigate UI/UX.

It is essential to ensure that your alcohol delivery service sellers provide the best products. Drizly assures this through their quality control method. It must be completed before a store joins the platform.
How to Build an On-Demand Liquor Delivery App like Drizly
There are five fundamental steps to creating an on-demand liquor delivery app like Drizly. If you closely adhere to these five basic stages, you can develop an application similar to Drizly.
Step 1: Develop a detailed plan to create your app
The first step is to build a plan focusing on expenses, revenue flows, and networks in addition to crucial capital and value ideas. You can improve the model of the app once you've decided to create a business strategy. To guarantee there are no obstacles before beginning the operations, you should start looking for funding. Once you have sufficient financial resources, you can plan everything according to your needs and requirements.
Step 2: Speak with developers
This app might be your dream project, and to make your dream come true, you need technical support to carry out your thoughts and objectives. To avoid misunderstandings and enable the project to be completed in time and just the way you want it to be, explain your expectations and suggestions in advance when speaking with a reliable team of developers.
Step 3: Creating a valuable and attractive UI
As and when you start building the program's database, start focusing on the user interface. Ensure the brand manager, engineers, and designers give the necessary consideration and insight to create a clear user experience, as this is what the end user sees. A dull UI will not be able to retain the customers using the app for a long time.
Step 4: Develop the database and back-end
Once the user interface design is finished, you should start working on the storage and back-end programs. It is recommended that you start with small data sets in the beginning to create a test or minimally viable application that will help you understand how the program works. If you are unhappy with the software and it hasn't yet been released, you can suggest changes to improve the performance of the app.
Step 5: Test the app before launching
The debugging process will finally start once the program is finished so that the developer team may perform some checks and fix any flaws as necessary. After this, you can open the software, and it will go live as soon as you like.
The revenue model of an app Like Drizly
Drizly's principal source of revenue comes from its retail liquor partners. From its partner stores, the Drizly app charges a monthly fee. This price ranges from $100 to $10,000 and is decided by numerous aspects such as location, delivery value, affordability, etc.
Furthermore, Drizly does not demand its partner stores pay a margin on each sale. Drizly can keep out of the actual alcohol distribution while giving unequaled features.
Drizly charges a $5 delivery fee, paid straight to the liquor store when it comes to clients. The software does not add any additional costs to purchase the alcohol. The prices displayed are those set by the store. In addition, Drizly has an age verification platform that it can give to other companies for monetization.
Include must-have features when developing an alcohol delivery app
1. Customer App Functions
A customer app allows for requesting orders online. Customers can use their smartphone to identify a nearby store and select from the various beverage options.
2. Delivery Scheduling Made Easy
Do you want your order to be delivered at a different time? You are welcome to utilize the app for scheduling the delivery. Choose between fast delivery and schedule a delivery date and time of your choice.
3. Order Tracking in Real-Time
With sophisticated Google Map integration, you can track your order in real-time and get updated info on your screen.
4. Notifications
Receive notifications about new offers, discounts, promotions, and order status without opening the app.
5. Various Payment Options
You can use COD, credit/debit cards, net banking, wallets, and other convenient ways to pay for your order safely.
6. Programs for Referrals
Use this function to attract your friends to the app and take advantage of referral incentives.
7. System of Rating and Feedback
Do you enjoy or dislike the experience? Leave feedback so that the app team may respond and make changes.
8. Filter for Product Search
With product search filters, customers can browse a range of wine collections. The wine, beer, and whisky delivery app can sort the display by brand, price, type, etc.
Conclusion
Building an app like Drizly has a lot of promise for gaining clients, increasing sales, and earning the most money. Contact the software engineers at AppsRhino. We can exceed your expectations by providing the best-in-class Alcohol Delivery App Development solutions. We will also assist in bringing business ideas to fruition as rapidly as possible.