How is your Alcohol business going? Did you come across any new customers? In this emerging era of new technologies, users prefer to order everything online.
From groceries to clothes and accessories, customers can get anything they wish from the comfort of their homes. According to a report by Statista, the e-commerce business will boost to $4.23 trillion at the end of 2022.
If you wish to sustain your Alcohol business, wouldn't creating an Alcohol Delivery App make your work effortless? With the Alcohol Delivery App, more customers will discover you, reach out to you for Alcohol and write you feedback that will help to grow your business!!
Moreover, you will get an edge over your competitors, and your Alcohol Delivery App may even rule the market!!
Imagine the profits you can make and the new customers you will have. People will know about your business and recommend it to others if they like your service and products.
This blog is an Alcohol Delivery App Guide for you to sustain and grow your business to new levels!
What is an Alcohol Delivery App?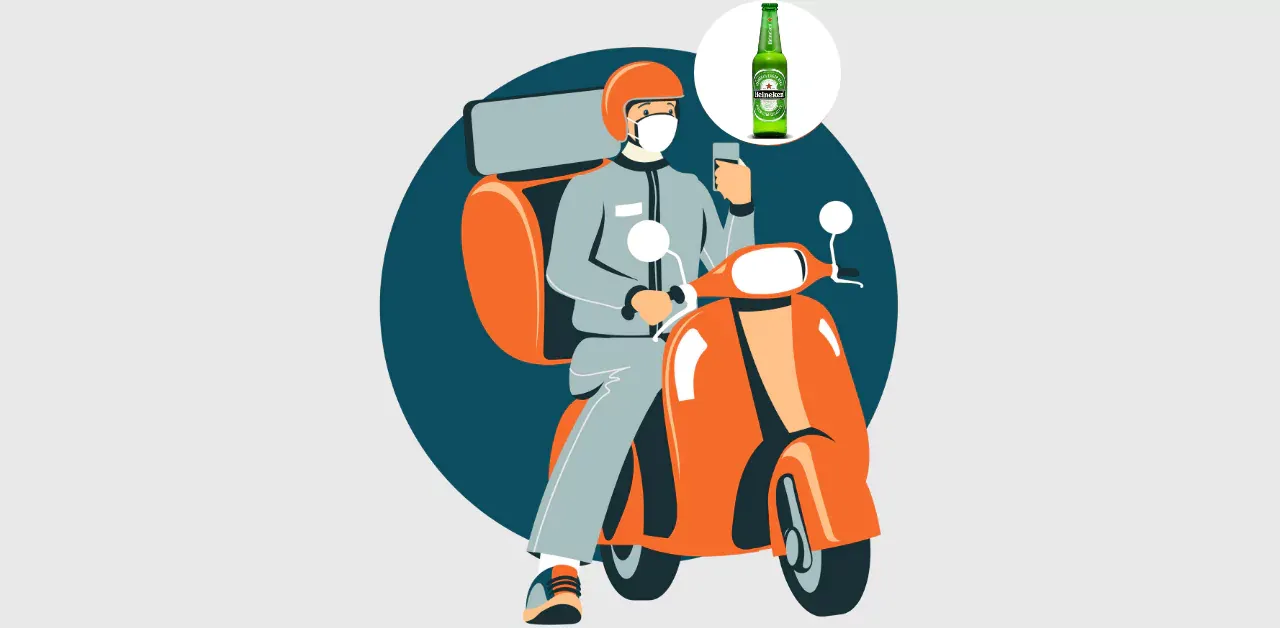 An Alcohol Delivery App is a custom-made application that any business creates to sell Alcohol to its users.
Any Alcohol Delivery App follows the steps below.
Open an Alcohol Delivery App.

Search or select from Alcohol Options.

Customers check prices and add Alcohol (wine, beer, etc. ) to the cart/basket.

Enter delivery details. (Delivery details can include address, landmark, and other location information)

Pay online for the Alcohol or opt for cash-on-delivery.

The delivery partner delivers Alcohol to the customer at their homes after complete verification.

Voila! Now the user can enjoy their Alcohol without running to the Alcohol store.
Many states in the USA and other parts of the world prohibited the delivery of Alcohol initially. But with the spread of covid-19, many state governments removed their prohibition.
Alcohol Delivery App: Pros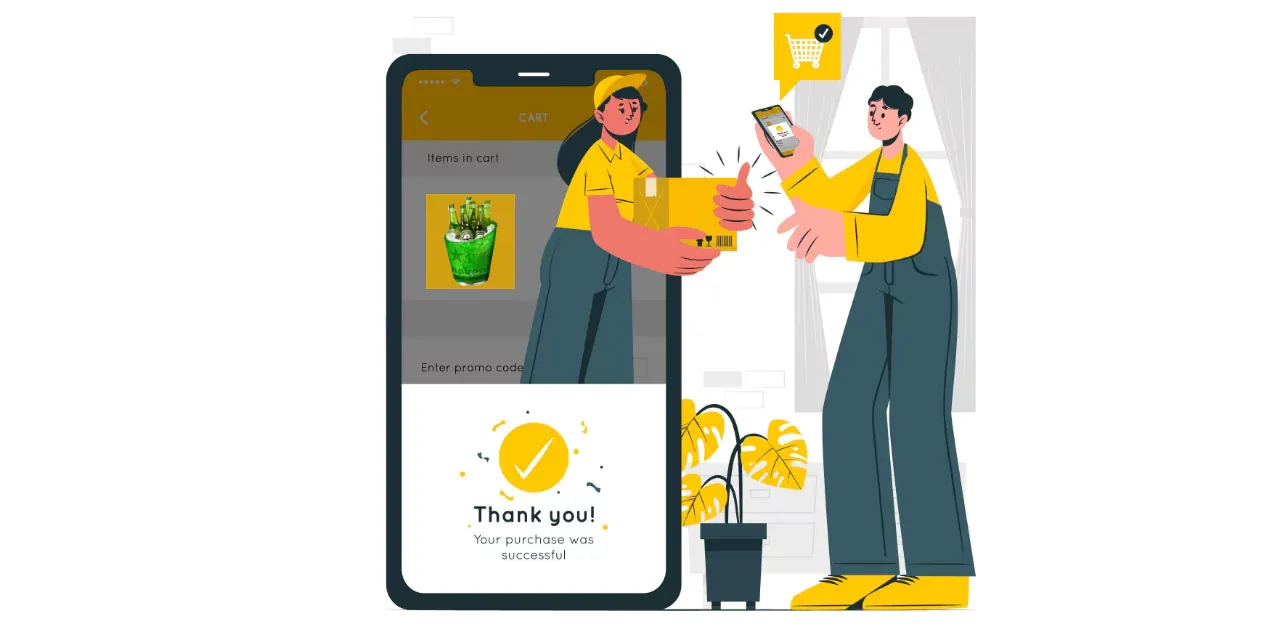 Imagine that some friends are watching a television show on a Saturday evening. They order some food from one of the Food Delivery Apps and want to have some Alcohol along.
What will they do?
These friends would not want to leave the house and drive to the Alcohol store. Their best option is to visit your Alcohol Delivery app and order their favorite liquor from it!!
You can make your customers happy and earn profits by having an Alcohol Delivery App!! To understand the Alcohol Delivery App Pros, let us know the need for delivery.
1. Increase in Alcohol Consumption during and after a pandemic
After the pandemic hit the world, Alcohol consumption sky-rocketed, and users couldn't go out to buy Alcohol. Therefore restaurants and sellers faced issues. During such times, people started switching to Alcohol Delivery apps, and the online business expanded.
The business owners that could cope with the online shift and create online Delivery Apps were able to sustain their businesses and grow more!
2. Ease of access
Customers do not have to go to the store, select products by walking through the store, stand in line, and wait for billing. Alcohol Delivery Apps will let customers have any alcohol type and enter their address details to get it from home.
3. Multiple Payment Options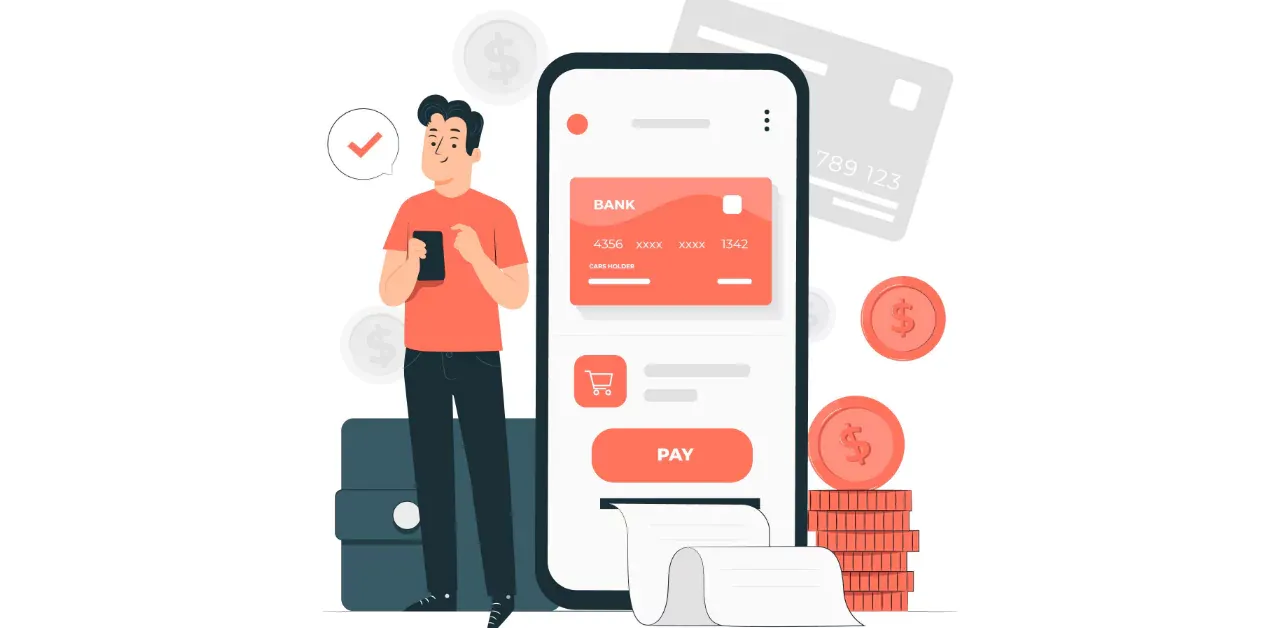 Alcohol Delivery Apps allow customers to pay through multiple modes. Customers can choose from cash-on-delivery, credit cards, debit cards, e-wallet payments, etc.
Multiple payment methods are one of the best Alcohol Delivery App Pros.
Customers are happy when they can pay in whichever way they want. This feature might improve your customer count.
4. Anytime Access to the Application and Orders
Imagine it's late at night, and the customer wishes to order Alcohol for a party the next day!
If the user does not have an Alcohol Delivery App, they will have to worry about going to the store and buying it. This whole process might take their party planning time, and they might face issues.
Your Alcohol Delivery App will let customers select their Alcohol type from the application on the same night while planning the event.
Customers would be able to order Alcohol the next day at the same time without much hassle!!
Your Alcohol Delivery App Guide also says that you can allow customers to order Alcohol anytime and select their preferred delivery time.
Additional revenues and profit opportunities!
Along with the Alcohol orders and delivery revenues, there are other ways your Alcohol Delivery App can earn. Your prime motive for the Alcohol Delivery App Guide is to sustain your business and find your Alcohol Delivery App Pros to generate maximum earnings.
Let us find out some additional monetization techniques for your Alcohol Delivery App!!
1. App and Business Advertisements
After people know about your Alcohol Delivery App and you can collect popularity among the users, brands may approach you for in-app advertisements.
With the technological change, apps encourage various pop-up advertisements and videos so they can attract customers from all grounds.
Your Alcohol Delivery App can charge these advertisers a minimal fee and earn from them.
2. Listing on various Liquor Stores
You can offer the liquor store owners higher positions on your Alcohol Delivery App for commission. The Alcohol Delivery App will list that particular liquor store on the top for the customers to view. This approach would improve the liquor shop's sales, and you will earn indirect profits.
3. Simple Commissions
This technique is the simplest and assures your Alcohol Delivery App permanent commissions. Take nominal continuous commissions for each order customers make from liquor stores through your app. You can start by inviting liquor stores to sell Alcohol from your Alcohol Delivery App and walk your way further!
Alcohol Delivery App Guide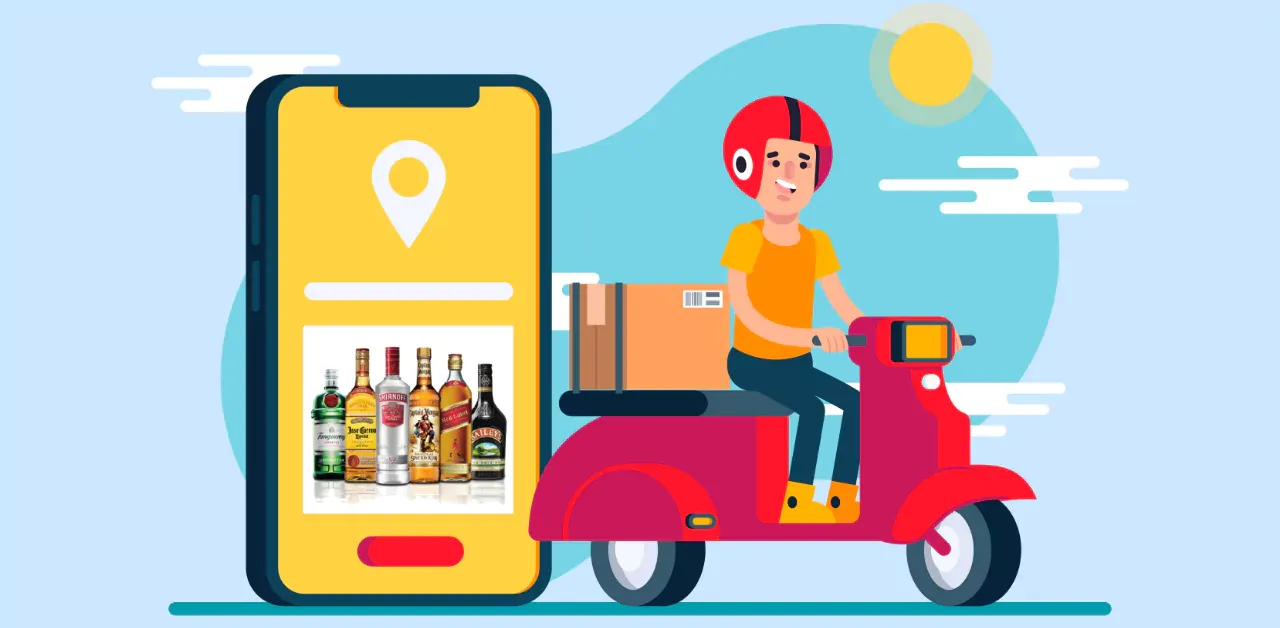 You now know that your Alcohol Delivery App will help you sustain your business. Another one of the Alcohol Delivery App Pros is that your Alcohol Delivery App will help you grow your business to new levels.
You shall now know about building an Alcohol Delivery App. Here is an Alcohol Delivery Guide for you and your evolving Alcohol Delivery Business!
There are two ways by which you can create an Alcohol Delivery App.
1. Starting from the ground
Your first method to the Alcohol Delivery App Guide is to start from the roots. Understand your business requirement and app building.
You shall know about your target customers and initiate your Alcohol Delivery App approach as per the same.

The second step in Alcohol Delivery App Guide is creating a budget for your application. You shall divide your expenses and consider local liquor shop owners, app creation, developers, and marketing.

The next step to the perfect Alcohol Delivery App Guide would be to hire developers. There are three ways you can hire developers for your Alcohol Delivery App. You can hire freelancers, full-time/part-time employees, or remote employees for app development.

After your development team develops your Alcohol Delivery App, you shall proceed to test your application. You shall never ignore Quality Assurance (QA) Testing for your application if you don't want to face bugs and unhappy customers in the future.

The final step to your Alcohol Delivery App Guide is marketing and customer building. After you are through with your clients and liquor store owners, you shall focus on your App users and their needs. The customer only finds pros in your Alcohol Delivery App if they like it.
2. Outsourcing Development Team
You can complete the creation of your Alcohol Delivery App efficiently by hiring a development team. (Select AppsRhino for the best app building and experience)
There are many benefits of outsourcing developers from another company:
Less hiring time.

No training period is necessary.

You can choose the features you want to add to your app, and the team creates their program.

You do not require prior experience in app development and programming.
Top Alcohol Delivery Apps
If you are reading this blog, you are considering building an Alcohol Delivery App, or your Alcohol Delivery App is already on the market.
You shall be aware of your competitors if you are entering the market of Alcohol Delivery Apps.
Here is a list of the Best Alcohol Delivery Apps in 2022.
Drizly

Saucey

Swill

Minibar

DoorDash (for both food and beverage)

Living Liquidz

Hip Bar

Wine Park
Final Words
According to a report by beverage daily, the e-commerce business of Alcohol will grow more than 66% by 2025 and may reach $42 billion expectedly.
Your Alcohol Delivery App will help you develop your business and earn higher profits if it becomes a market success.
You shall seriously consider building your Alcohol Delivery App if you haven't by now. Your business will bloom, and the customer approach will grow as your Alcohol Delivery App spreads through the market.
Contact AppsRhino for the perfect development for your Alcohol Delivery App! We have the best technical support and a qualified community of developers to create the app your customers will love!!