Who would have thought the pandemic would make people do things they have never done before?
For instance, people went berserk to stock up on liquor. The never-before-witnessed long queues in front of liquor stores were undoubtedly the most astonishing thing we have seen in the recent past.
Apart from customers, even entrepreneurs faced new circumstances, such as experiencing a slump in their sales and the government mandates to close their physical establishments.
Those who turned to alcohol delivery apps survived; those who did not bite the dust!
No brownie points are there for guessing that an alcohol delivery app saved numerous entrepreneurs.
Due to them, the total alcohol sales in Covid-19 lockdowns increased by 58%. This statistic reveals how the presence of a mere alcohol delivery app does wonders for one's business!
Suppose you are an entrepreneur engaged in this industry and are worried about the worsening situation of the business domain due to the pandemic. In that case, an alcohol delivery app is what you need!
How has COVID-19 Affected On-demand Alcohol Delivery?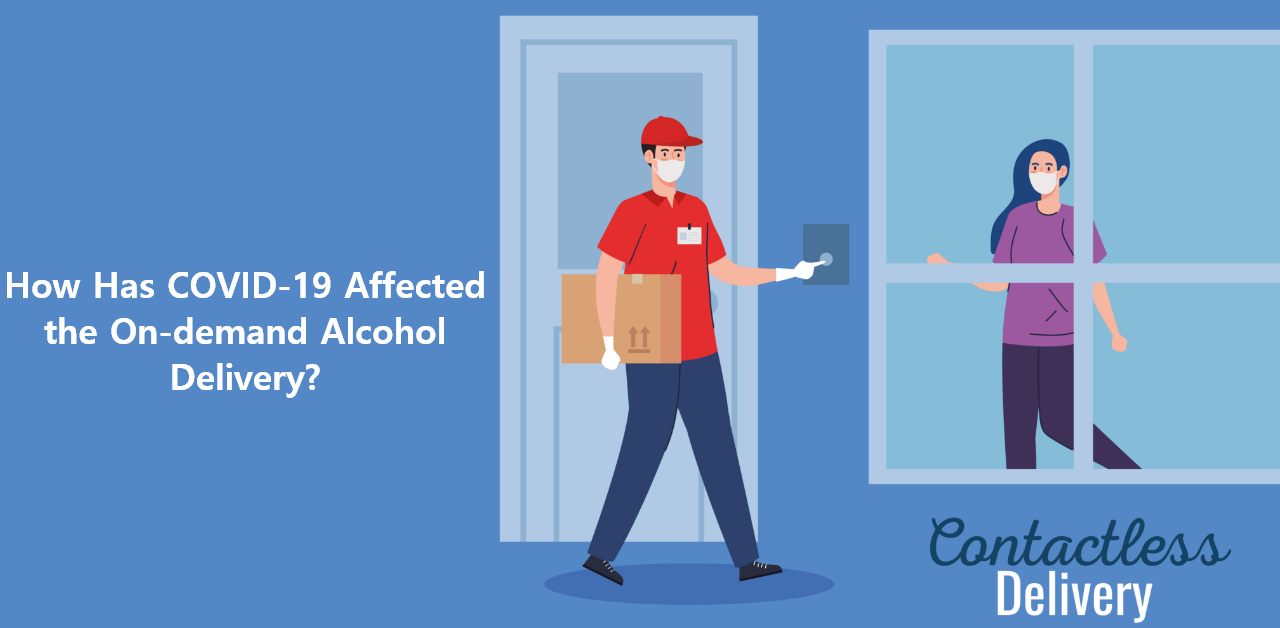 The Internet has existed for a long time; however, its popularity and usage soared during the pandemic.
As people were confined to their houses, they began exploring and using the Internet to shop online.
One such thing that people shopped a lot was liquor, increasing the popularity of on-demand alcohol delivery apps.
Some even started hoarding alcohol because they feared not getting it if the supply was stopped abruptly.
A few reports suggest that eCommerce liquor sales in the United States of America witnessed a steady increment of 291% for the week ending 28th March and a further rise of 387% for the week ending 11th April 2020.
Also, a leading alcohol delivery service in the United States of America, Drizly accounted for a giant leap in its sales from the week beginning 9th March. And by 6th April, the said company witnessed a 550% increase over baseline.
Such was the impact of Covid-19 on liquor sales back in 2020. If we talk about the current scenario, the situation looks like this now.
The CAGR for the alcohol market is anticipated to be 7.9% from 2020 to 2023. The worldwide alcoholic beverages market is expected to reach $1684 billion by 2025.
Why is there a pressing need for Alcohol Delivery Apps?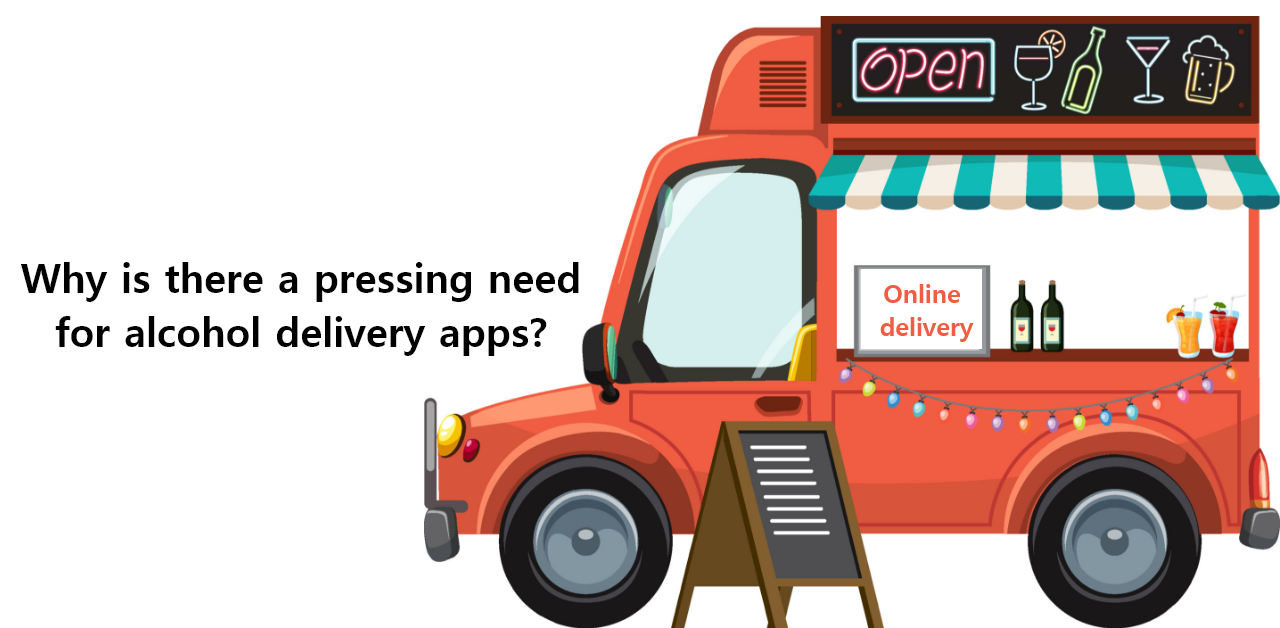 The worldwide alcoholic beverages market is expected to reach $1684 billion by 2025.
The reason for this growth is the surge in the global young-adult demographic, the increment in disposable income, and the rise in consumer demand for premium stuff.
However, physical stores have some limitations regarding increasing their profits.
For instance, they cannot hoard a plethora of liquor due to room shortages. It is this time when an alcohol delivery app steps in. We will read the need to shift to the online platform below:
Guarantees safe service to customers
The onus is on entrepreneurs to provide safe deliveries to consumers amidst the global pandemic. And the alcohol delivery sector is no exception.
Thus, opting for alcohol delivery apps will help you take your services to your customers and allow them to order alcohol online and receive it at their doorsteps.
Doing so not only ensures customer safety but adds to the convenience offered by your alcohol delivery app also.
Adhering to social distancing norms
Since the pandemic is nowhere close to its conclusion, it is apparent that there may come such a scenario where stores and public places will be closed for everyone's safety. And that situation will take a toll on your business and earnings.
Thus, an alcohol delivery app will help you stay in operation and snag customers willing to buy alcohol online.
Also, going online means you abide by the government-laid rules and have a chance of staying relevant.
Efficiently manage a plethora of orders amidst COVID-19.
Since a few areas were hit adversely by the pandemic, it might become difficult for them to handle vast orders of alcoholic beverages.
And to thwart this challenge, you need an excellent alcohol delivery app at your disposal.
Stock up according to demand
An alcohol delivery app lets businesses hoard stock according to demand.
An alcohol delivery app equipped with Artificial Intelligence will help you analyze sales and customer data based on their order histories, enabling you to restock items based on demand and season.
Manage online store with fewer staff members on-premises
The last point revolves around your safety, ensuring you continue working.
During such trying times, it is essential to stick to social distancing and other protocols to avoid getting infected with the virus.
Working with an alcohol delivery app means you do not have to be present in the same physical establishment with your staff; an alcohol delivery app translates to working online and with a few staff members on the premises.
How is an Alcohol Delivery App conducive to increased profits?
According to CAGR 2022-2025, revenue in the Alcoholic Drinks market amounts to US $1484 billion in 2022.
Also, one can expect the market to grow annually by 10.01%. Beer is the market's largest segment, with a market value of US$ 563.90 billion in 2022.
Another fact from the same report is that 6.6% of total revenue in the Alcoholic Drinks market will be generated through online sales by the end of 2022.
Undoubtedly, the online alcohol business is a profitable sector. And you can increase this profit by adopting an alcohol delivery app for your business.
Here we will tell you why adopting alcohol delivery apps will increase your profits by leaps and bounds.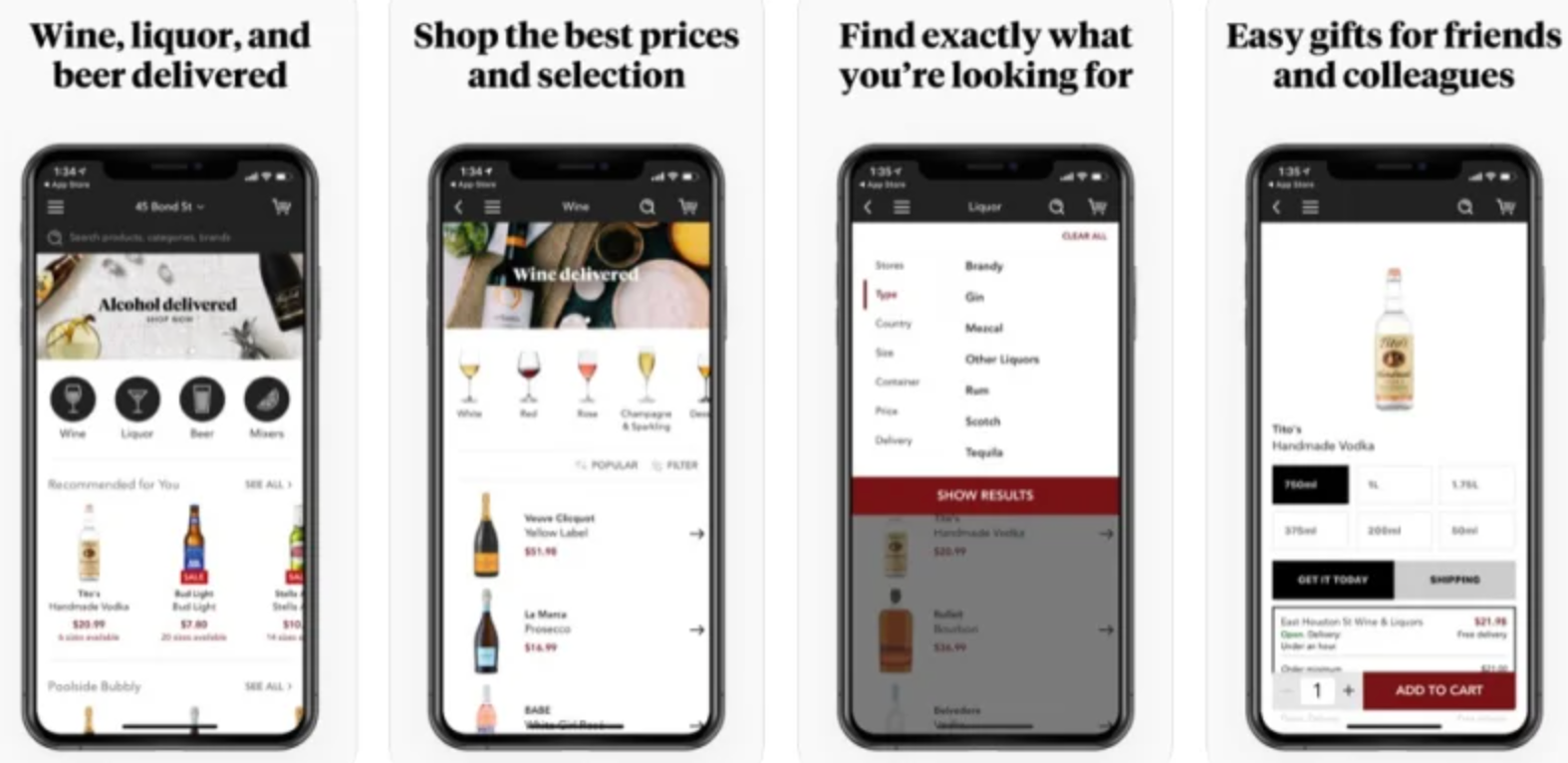 Cater to a broader audience
An alcohol delivery app helps business owners to increase their customer reach. Suppose there is a person with only a brick-and-mortar store.
In that case, only the nearby residents will avail themselves of that person's services.
Now, imagine the same person has also started providing services online. Here, people not close to his store will also try his services out by placing an order online and receiving alcohol at their doorsteps.
Thus, an alcohol delivery app ensures more people discover your services and lures them into trying out your online alcohol delivery services. As a result, your revenue improves and can even skyrocket.
Woo your customers online
It goes without saying that visually appealing things captivate humans. Thus, a beautifully embellished alcohol delivery app will also appear attractive to users.
The benefit of alcohol delivery apps is that they boast dreamlike designs that enhance customer experience by leaps and bounds.
Apart from captivating designs, working on its organized arrangement also does wonders. When you categorize or subcategorize your items, it becomes easier for users to locate their desired products.
Since people love convenience, your app can ensure their return with ease of use and bring more conversions.
Offer a wide range of products
Suppose a shop has only one type of commodity. In that case, a small or large group, depending on the product's demand, will buy it from you.
Another thing to ponder is that in a situation where the product's demand becomes nil. In such a scenario, your business will suffer huge losses.
Thus, to combat these challenges, you require an alcohol delivery app for your business. An alcohol delivery app lets you host a variety of alcoholic beverages from which people can choose.
This way, people of different brand choices will use your alcohol delivery app, and you will have a vast customer base, earning high profits.
Pocket-friendly alcohol delivery app development
Getting an alcohol delivery app for your business can help you save money on numerous expenses as now you will be operating an online business.
A few such costs are less staff expenditure, store rent, and resources bills.

Which app is the best for Alcohol Delivery?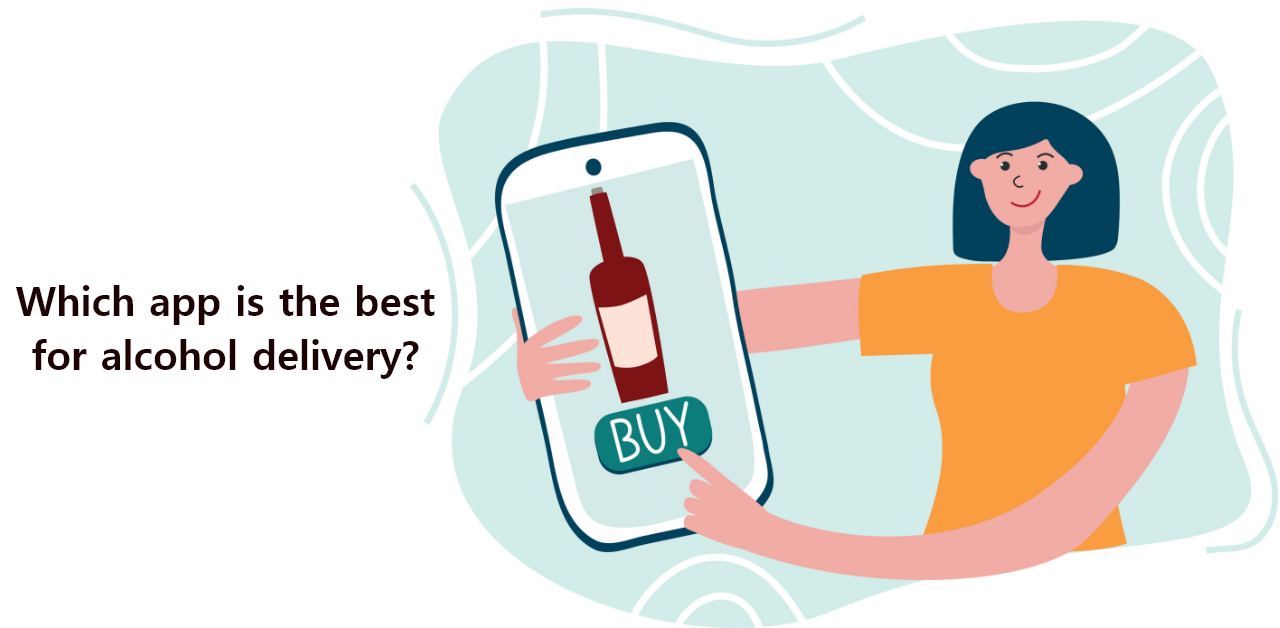 Let us now see the current top alcohol delivery apps on the market.
Drizly

The first app on this list of top alcohol delivery apps is Drizly. It has the following pros and cons.
Pros
The fact that there are numerous options available
This alcohol delivery app has reasonable prices
You get same-day delivery with this alcohol delivery app
Cons
A few locations do not offer same-day or one-hour delivery.
The shipping cost depends on the vendor.
Not every state provides this alcohol delivery option.
Suggested Reading: Build an on-demand alcohol delivery app like Drizly
Saucey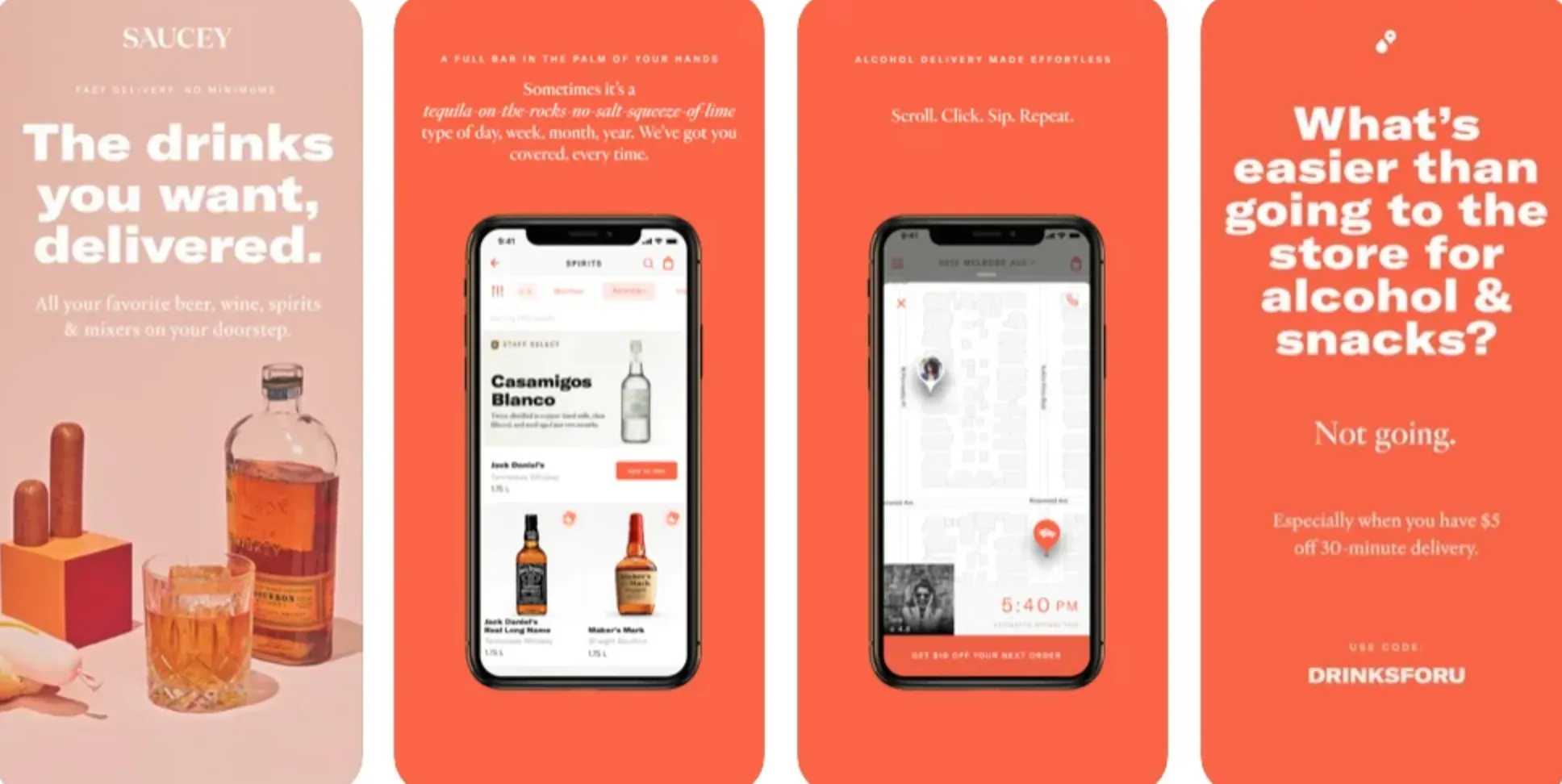 The second app on the list of top alcohol delivery apps is Saucey. It has the following pros and cons.
Pros
This alcohol delivery app offers reasonable pricing.
Saucey guarantees a 30-minute delivery time.
This alcohol delivery service delivers alcohol anywhere: houses, beaches, and offices.
Cons
It Serves in limited states like New York City, Chicago, and Los Angeles.
This service is available in a few states, such as Log Angeles, New York City, and Chicago.
Its delivery charges depend on the vendor you choose.
Suggested Reading: A Comprehensive Guide on Creating a Saucey Clone App
GoPuff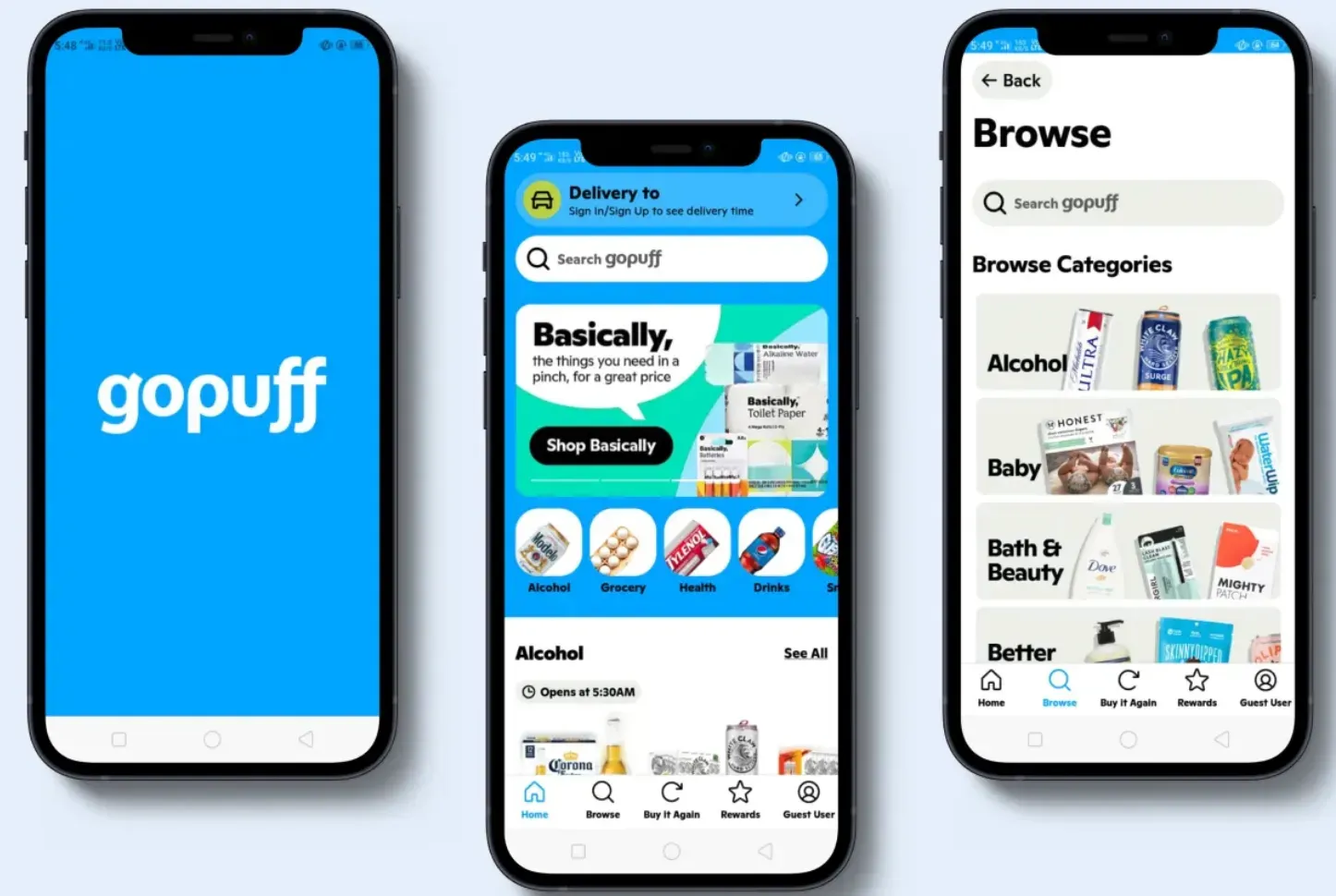 The third alcohol delivery app on the list of top alcohol delivery apps is GoPuff. It has the following pros and cons.
Pros
It is your essential daily store that delivers almost everything of daily need.
Users can avail themselves of its service until late at night.
It has minimum delivery fees.
GoPuff delivers in more than 1000 cities.
Cons
Its services are available only in a few states.
Suggested Reading: GoPuff Business Model | Complete Guide
DoorDash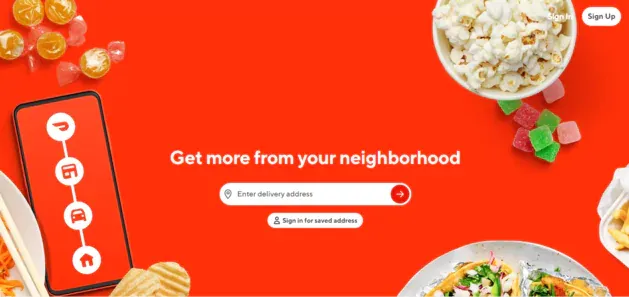 The fourth alcohol delivery app on the list is DoorDash. Its pros and cons are as follows:
Pros
It does not charge its customers for their first orders.
It also delivers ready-to-drink and bar-quality cocktails.
It also offers beer and wine.
Cons
It is mandatory for those who order alcohol daily, even to buy food.
Many establishments offer just limited selections of alcoholic beverages.
The number of restaurants participating in this is very few in each city.
Suggested Reading: How DoorDash Works: Business Model and Revenue Model
Conclusion
The online alcohol delivery industry is lucrative, as 6.6% of total revenue in the Alcoholic Drinks market will be generated through online sales by the end of 2022.
Therefore, you need to get an app to benefit from the online alcohol delivery industry.
An alcohol delivery app will give people the convenience of ordering alcoholic beverages from the comfort of their homes.
And the business that provides such convenience will be on top of their priority list!
Did you notice something amiss here? Well, it is very apparent what it is.
The list of top alcohol delivery apps missed mentioning one of the best alcohol delivery apps, and it happened to be yours!
Yes, you read it right. We at AppsRhino are a team of proficient developers, designers, and testers who ensure that we create apps par excellence for our clients.
AppsRhino offers the best Tech-driven solutions for Home services, Laundry delivery, Alcohol delivery, Grocery Delivery, On-demand Cannabis, and Taxi Services:
If you want to have an alcohol delivery app that takes the market by storm and earns you huge profits, contact AppsRhino today to get started!
Frequently Asked Questions (FAQs)
Why should you consider using an alcohol delivery app for your business?
Using an alcohol delivery app can provide additional convenience to your customers, increase your sales, improve your brand image, and give you a competitive advantage in the market.
How do alcohol delivery apps work?
Alcohol delivery apps work by allowing customers to browse and select products online, enter delivery information, and make payments. The orders are then dispatched to a driver who delivers the order to the customer.
Will an alcohol delivery app integrate with your existing point of sale (POS) system?
Many alcohol delivery apps can integrate with your existing POS system, making it easy to manage orders, inventory, and sales data in one place. Check with the app provider to see if it integrates with your POS system.
Can you set your own delivery fees and minimum order amounts with an alcohol delivery app?
Yes, most alcohol delivery apps allow you to set your own delivery fees and minimum order amounts based on your specific business needs and requirements.
How can you ensure responsible alcohol delivery with an alcohol delivery app?
To ensure responsible alcohol delivery, make sure that the app you choose has a system in place to verify the age of the person receiving the delivery. Additionally, it's important to provide training to your delivery drivers to ensure they understand the importance of responsible delivery practices.